A riff on the popular restaurant appetizer, these Avocado Egg Rolls are easy to make at home and just as good!
I am not normally a big tv watcher. I have a couple shows that I like to watch, but really, especially when it comes down to nighttime dramas, I have been pretty out of the loop lately.
Then I had a baby. And I found myself sitting on the couch, holding that baby, watching way more tv than I have for the past couple of years. When I realized that I have seen pretty much every episode of Chopped, Love it or List It, and Property Brothers, I decided it was time to find something a little more exciting to watch. (Plus, I have found that I need entertaining tv to keep me awake during that 3am feeding, because nothing else is working!!)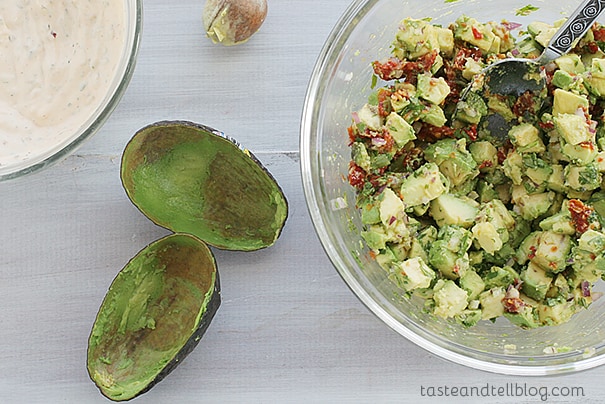 I started with Parenthood. When I had watched every episode, I moved onto Downton Abbey. Last week, I finally caught up on that one, and found myself looking for a new series to turn to. And there it was on Netflix – that series that I have heard so much about over Twitter and Facebook – Friday Night Lights.
I have said it before – even though I do like sports, I don't usually get all crazy about the Super Bowl. But after watching the first few episodes of Friday Night Lights, I'm totally feeling the football vibe. Heck, I may even watch some of it this year instead of hiding out in the kitchen with the food!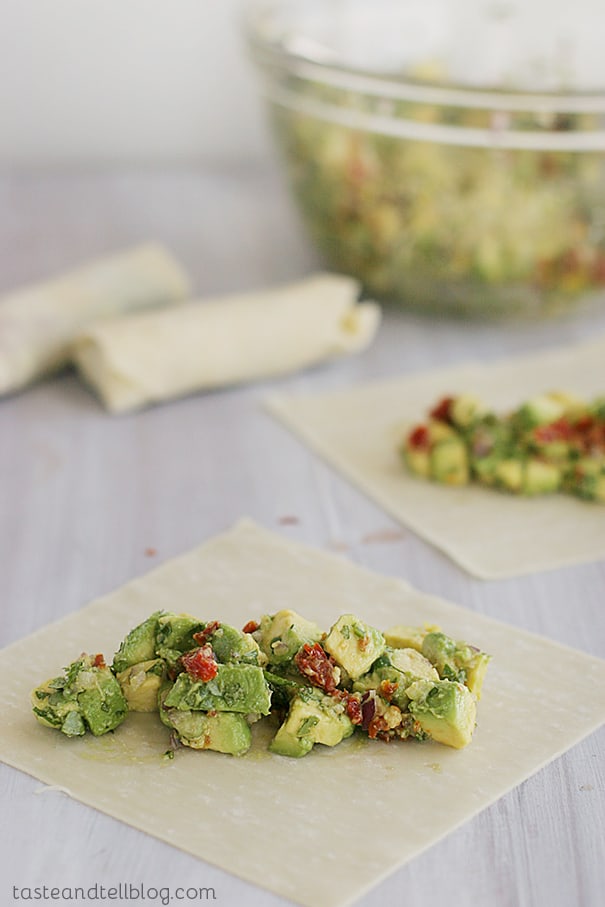 That is, unless these egg rolls will be gracing that table filled with football snacks. These egg rolls alone would be worth hiding out in the kitchen over.
Now, most of us aren't strangers to the popular restaurant version of these egg rolls. But why go sit on a waiting list for an hour when you can whip these up at home pretty effortlessly? And as much as I love their dipping sauce, I decided to go with something that has ingredients that are super easy to find. (Because I don't know about your grocery store, but tamarind paste is nowhere to be found in mine!)
And if there is one time a year that you should break that New Year's resolution and fry up some egg rolls, the big game should be that day. Believe me – these are worth it!!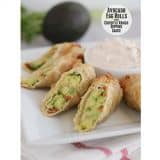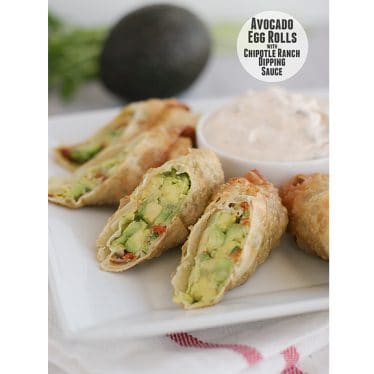 Avocado Egg Rolls with Chipotle Ranch Dipping Sauce
---
Prep Time: 15 minutes
Cook Time: 15 minutes
Total Time: 30 minutes
Yield: 9 full egg rolls 1x
Description
A riff on the popular restaurant appetizer, these Avocado Egg Rolls are easy to make at home and just as good!
---
Scale
Ingredients
Egg Rolls
1/3 cup sundried tomatoes in oil, drained and chopped
3 tablespoons finely minced red onion
2 tablespoons minced cilantro
9 eggroll wrappers
Vegetable oil, for frying
Dipping Sauce
1/2 cup mayonnaise
1/2 cup sour cream
1 tablespoon dry ranch seasoning
1 clove garlic, finely minced or grated
2 chipotles in adobo, seeds removed and chopped, plus 1 tablespoon of the sauce
1 tablespoon chopped cilantro
---
Instructions
Make the dipping sauce: In a small bowl, combine all ingredients and mix well. Refrigerate until ready to use.
Make the eggrolls: Heat several inches of oil in a Dutch oven or heavy pan until it reaches 350F – 375F.
In a large bowl, combine the avocados, sundried tomatoes, red onion and cilantro; mix. Working with one eggroll wrapper at a time, lay the wrapper on a surface in front of you like a diamond. Add about 1/4 cup of the avocado mixture to the center. Fold in the two sides, then fold over the bottom. Roll until the filling is completely enclosed in the center of the roll. Wet the corner of the wrapper so that it will stick. Continue until all 9 rolls are wrapped.
Drop the eggrolls into the hot oil, 2 or 3 at a time, and cook until golden brown. Drain on a paper towel lined plate. Cut diagonally and serve with the Chipotle Ranch Dipping Sauce.
This sponsored post is part of the Avocados from Mexico – Game Day Sweepstakes. This is a working partnership with Avocados from Mexico and Muy Bueno Cookbook
Linked up t