A riff on the popular restaurant appetizer, these Avocado Egg Rolls with Chipotle Ranch Dipping Sauce are easy to make at home and just as good!
Do you love a good copycat recipe? You can also try this Chick Fil A Sauce, BBQ Chicken Pizza, or Southwest Egg Rolls.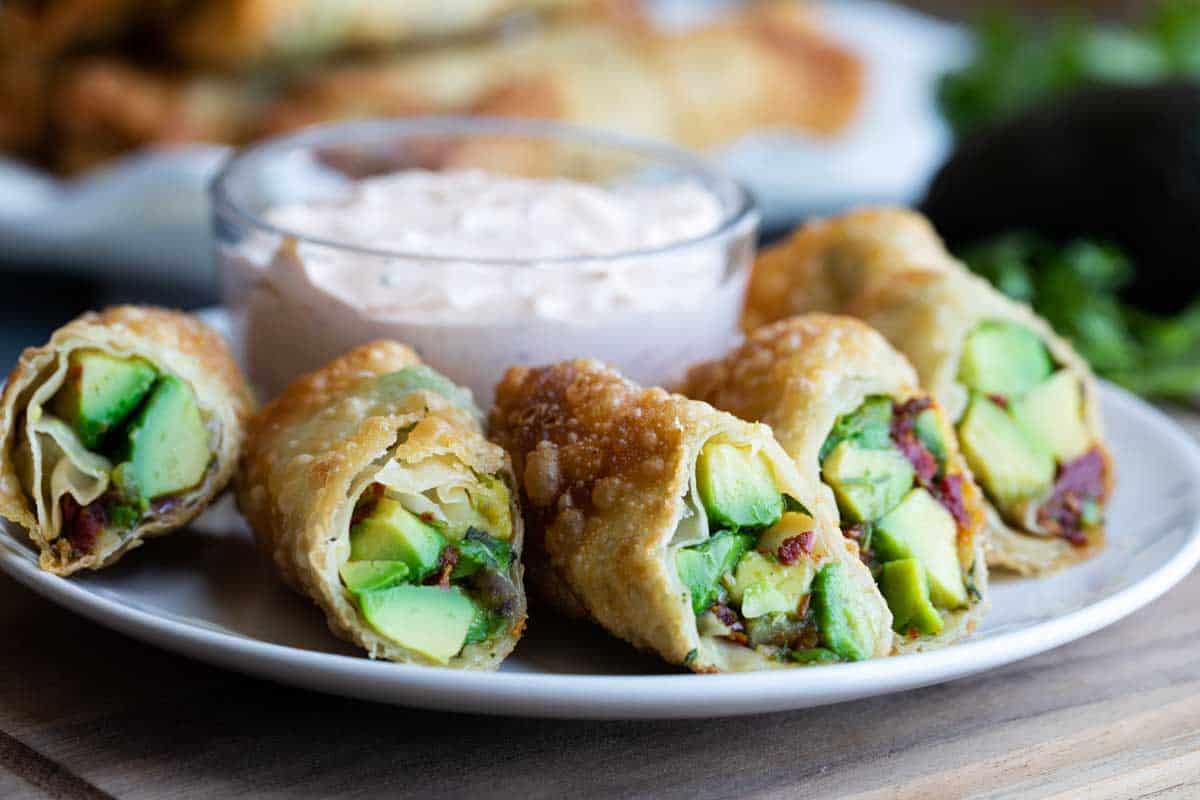 Now, most of us aren't strangers to the popular restaurant version of these egg rolls. But why go sit on a waiting list for an hour when you can whip these up at home pretty effortlessly? And as much as I love their dipping sauce, I decided to go with something that has ingredients that are super easy to find. And I'm pretty sure once you try these, you'll agree that this chipotle ranch dipping sauce is even better!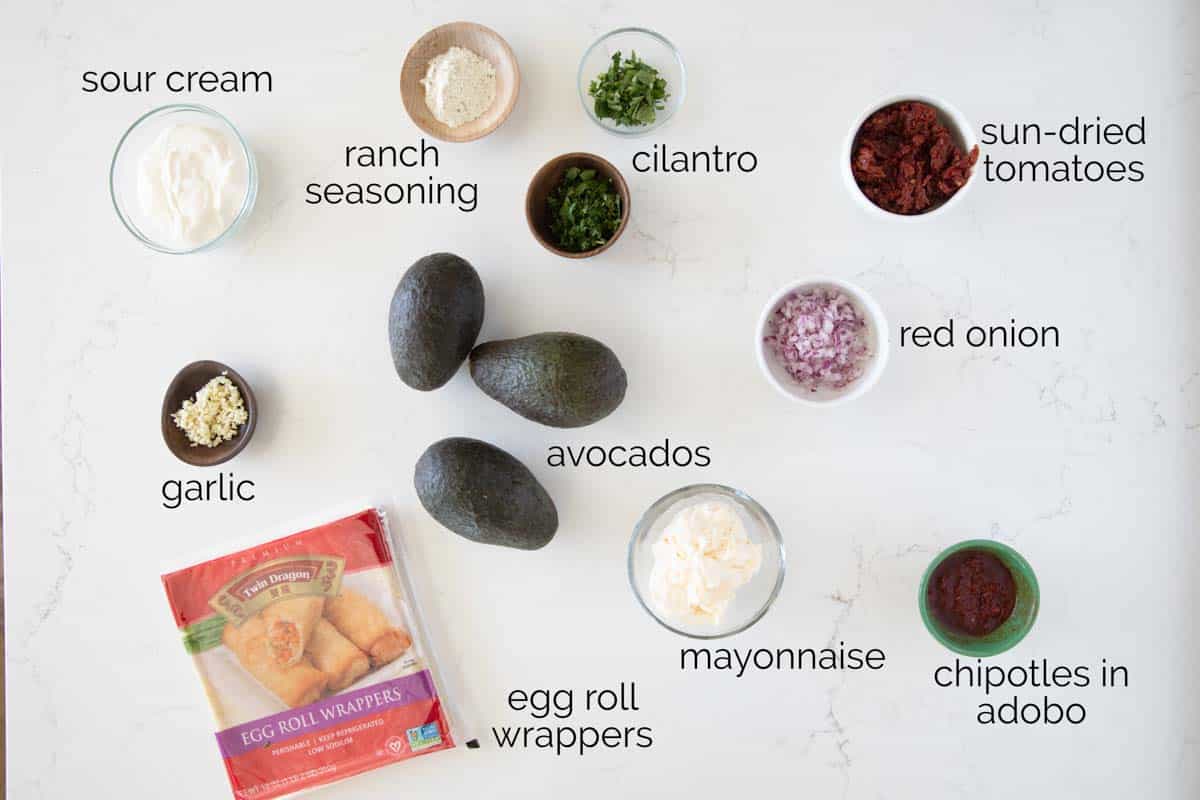 Ingredients
Avocados: You'll need 3 large avocados. If you have smaller avocados, I would suggest using 4.
Sun-Dried Tomatoes: You will want the sun-dried tomatoes that are packed in oil. Just drain them from the oil, and chop them.
Red Onion: I like to make sure the red onion is very finely minced so it is mainly adding flavor, not texture.
Cilantro: There is cilantro in both the egg roll filling and the dipping sauce.
Egg Roll Wrappers: These are easy to find at most grocery stores. I can usually find them in the produce section where the refrigerated dressings are.
Oil: You want to choose a neutral flavored oil with a high smoke point for frying the egg rolls. I like to use vegetable oil.
Mayonnaise & Sour Cream: These are the base for your dipping sauce. I like the mixture of both.
Dry Ranch Seasoning: You can make this yourself with spices, or you can use the powder that comes in an envelope.
Garlic: The garlic will be raw in the dipping sauce, so if you don't want a strong garlic flavor, you can use less. I like to use more, but chop it very finely.
Chipotles in Adobo plus Sauce: Chipotles in adobo are easy to find at the grocery store on the international aisle with the Mexican food. For this recipe, you'll want to take 2 of the peppers and mince them. I like to remove the seeds first, but if you like it spicy, you can leave the seeds in. You'll also want some of the sauce that the peppers are packed in.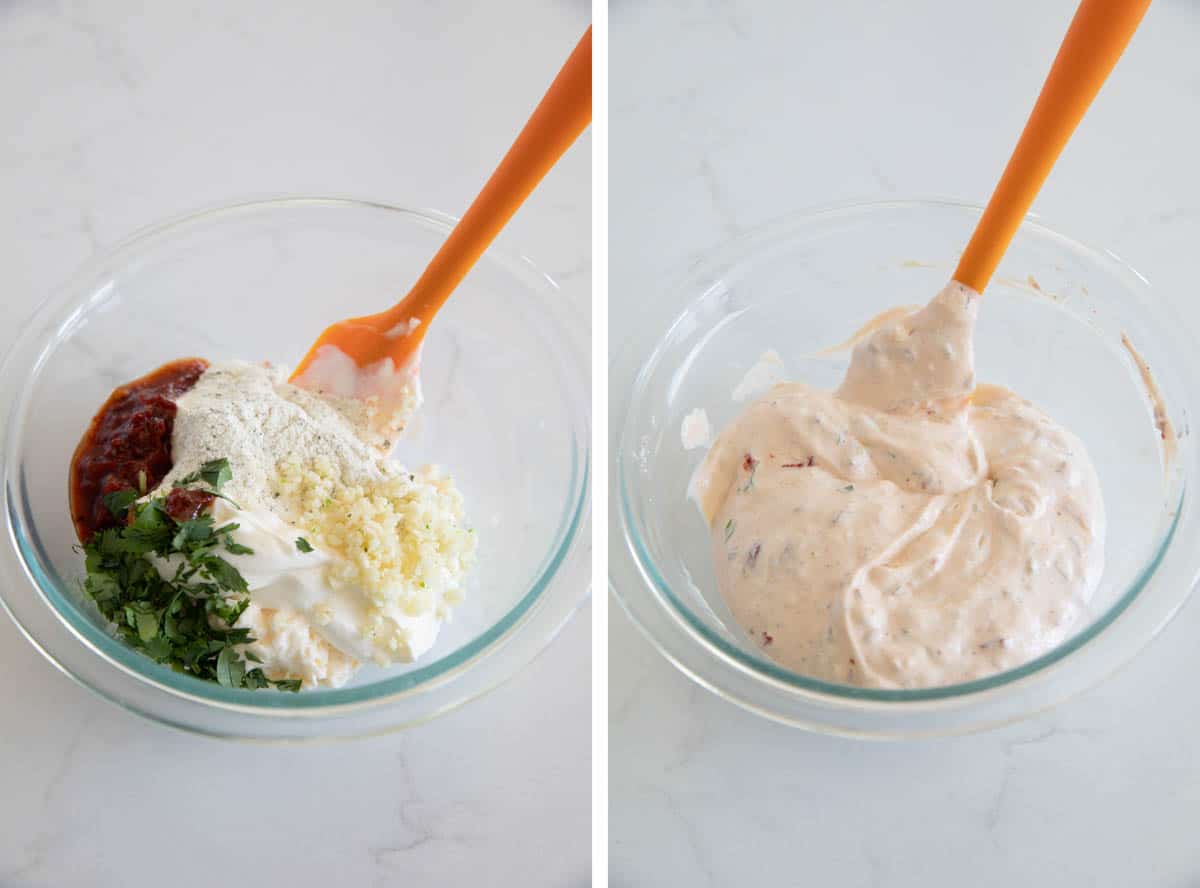 How to Make Chipotle Ranch Dipping Sauce
This is super easy – simply take all of your sauce ingredients and mix them together!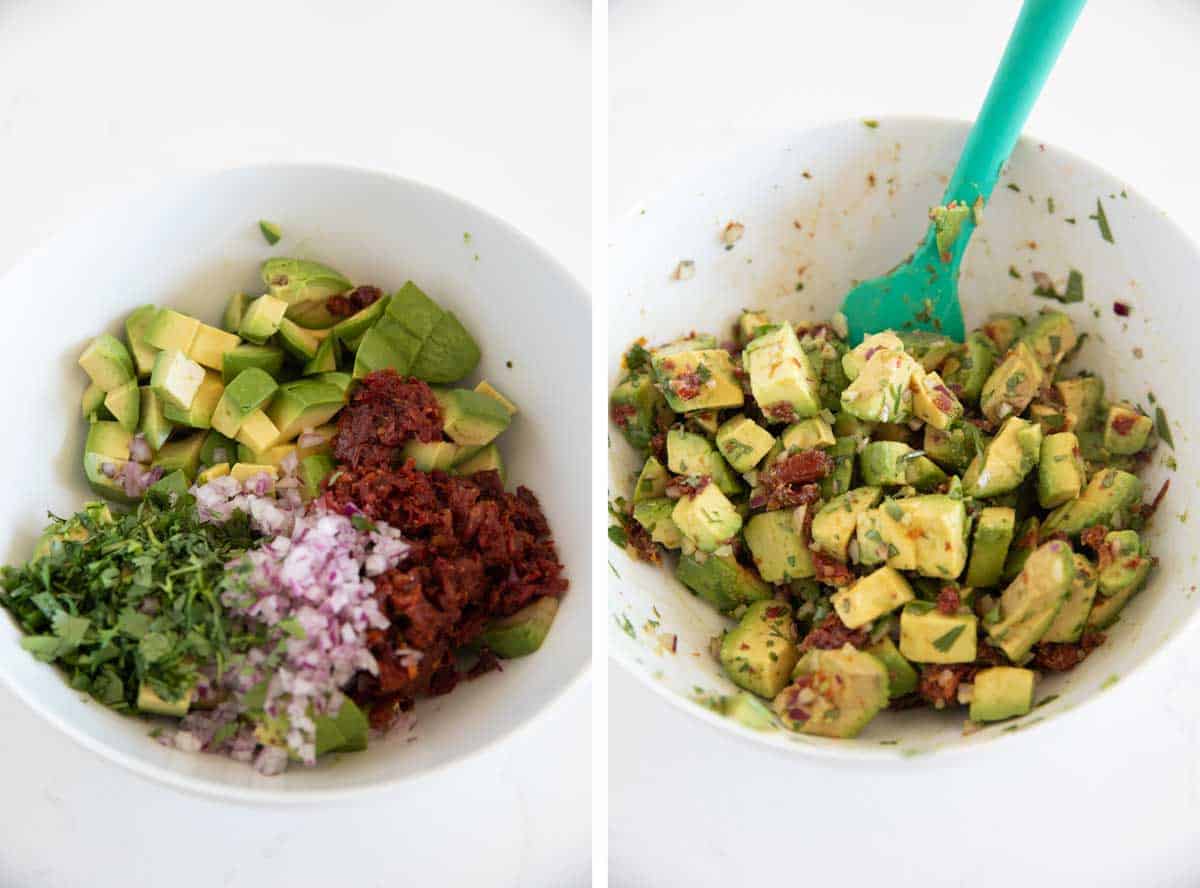 How to Make Avocado Egg Rolls
Start by making the egg roll filling. Cut the avocados into chunks, then mix in the sun-dried tomatoes, red onion, and cilantro.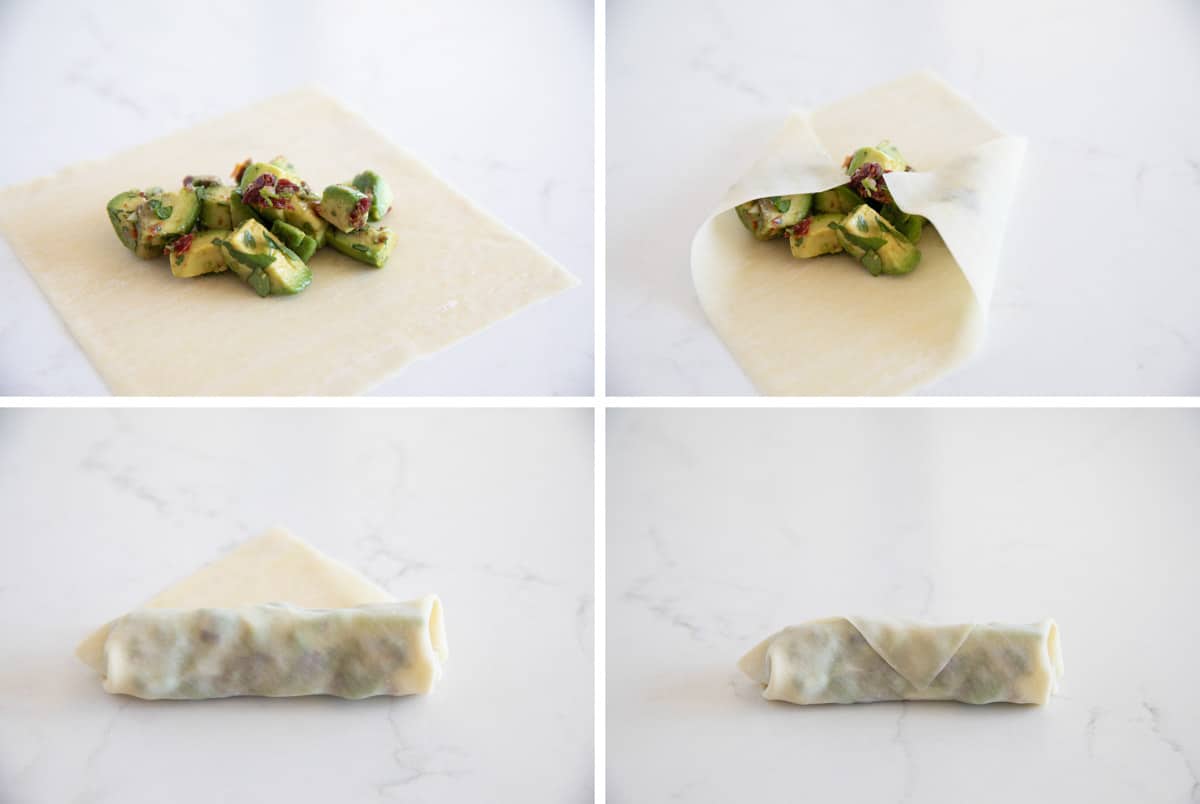 Forming the egg rolls is easier than you'd think!
1 – start by placing about 1/3 cup of the avocado mixture in the middle of an egg roll wrapper, positioning it like a diamond.
2 – fold in the two outside points towards the center.
3 – start rolling up the egg roll.
4 – when you get to the end, wet the corner with some water, then finish rolling it tight. The water will act as glue to keep the wrapper from unrolling.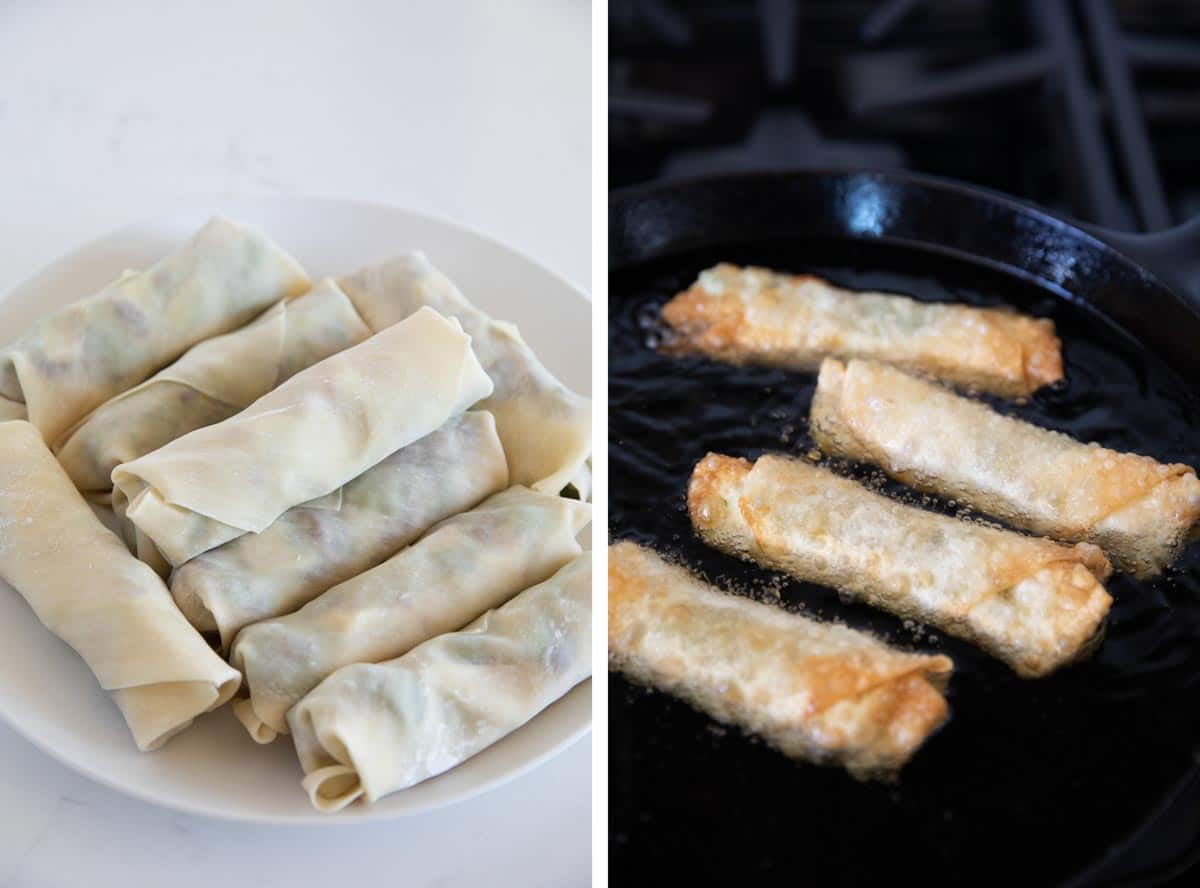 Finish rolling all of the filling in the wrappers. The cook the egg rolls in hot oil until browned, turing them as needed.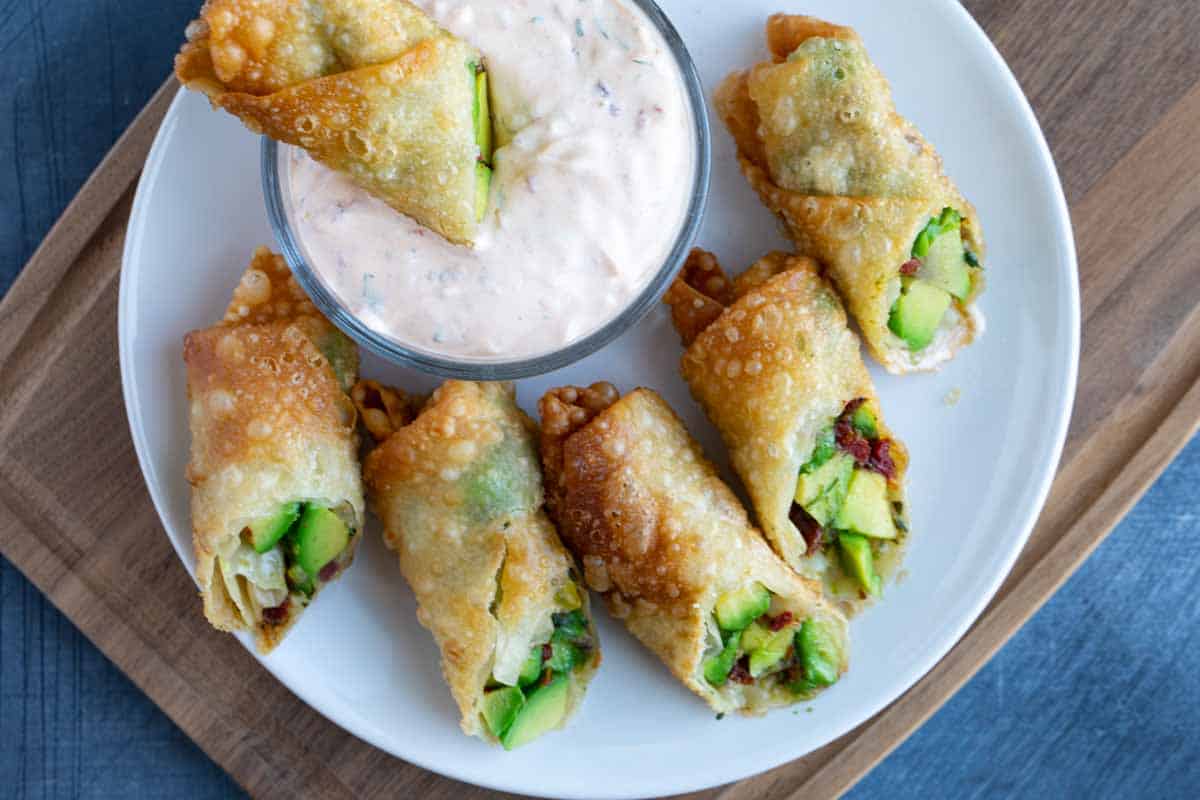 Tips and Tricks
I like to make the dipping sauce first and then refrigerate it until I'm ready to serve the egg rolls. That gives it some time for the flavors to meld together and for it to set up a bit more.
These are best made just before serving. If you want to do some of the work ahead of time, I would suggest rolling the egg rolls, the refrigerating them. Then fry just before serving.
If you do have leftovers, they would be best reheated in the oven or in an air fryer.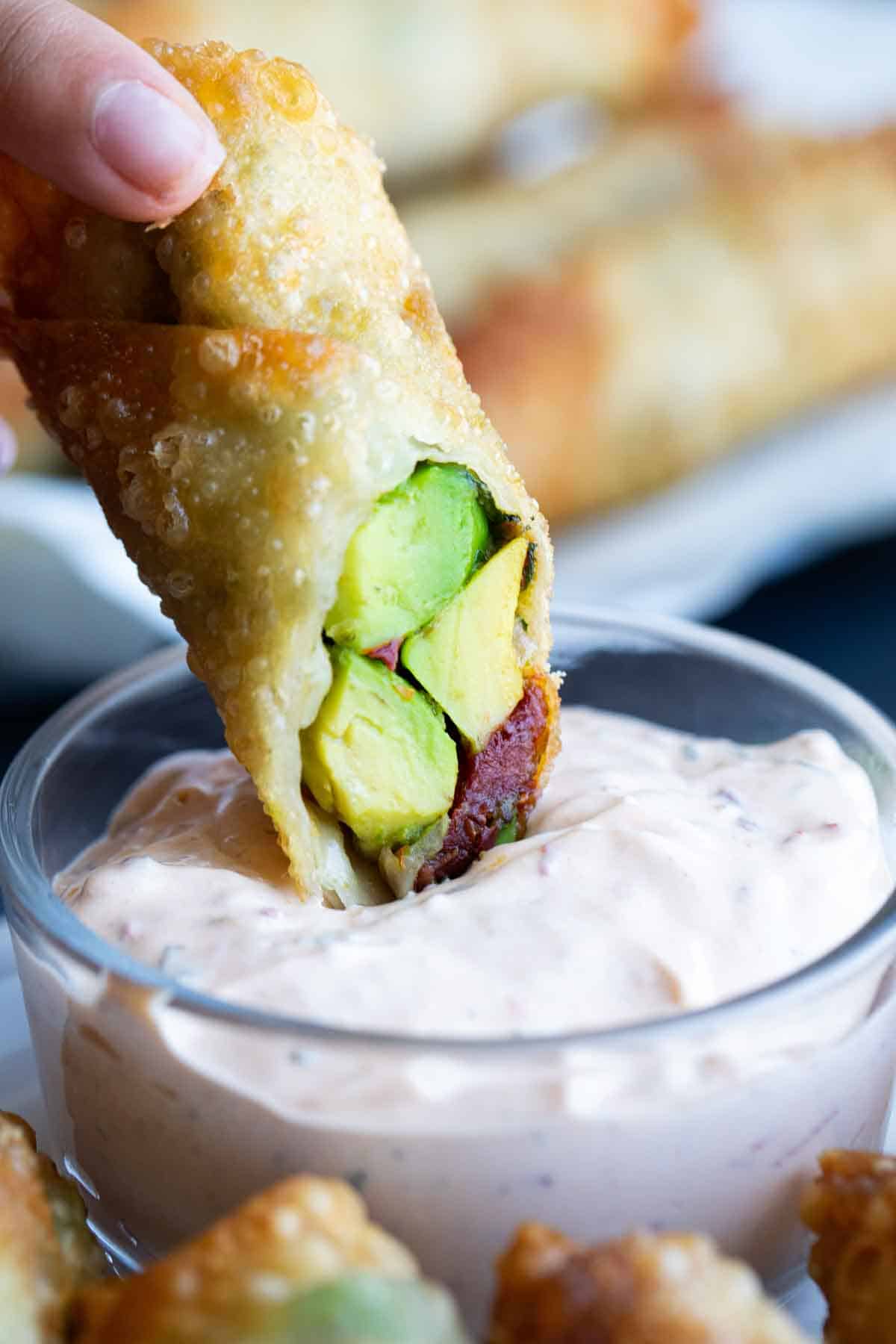 More Appetizer Recipes
Egg Roll Recipe
Sausage Stuffed Mushrooms
Crock Pot BBQ Grape Jelly Meatballs
Spinach Artichoke Dip
Cheese Ball Recipe
Cheeseburger Eggrolls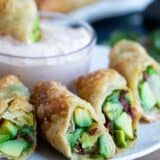 Avocado Egg Rolls with Chipotle Ranch Dipping Sauce
---
Author:
Prep Time: 15 minutes
Cook Time: 15 minutes
Total Time: 30 minutes
Yield: 9 full egg rolls 1x
Category: Appetizer
Method: Fried
Cuisine: Mexican
Description
A riff on the popular restaurant appetizer, these Avocado Egg Rolls with Chipotle Ranch Dipping Sauce are easy to make at home and just as good!
---
Scale
Ingredients
Egg Rolls:
3 large avocados
1/3 cup sun-dried tomatoes in oil, drained and chopped
3 tablespoons finely minced red onion
2 tablespoons minced fresh cilantro
9 egg roll wrappers
Oil, for frying
Dipping Sauce:
1/2 cup mayonnaise
1/2 cup sour cream
1 tablespoon dry ranch seasoning
1 clove garlic, finely minced
2 chipotles in adobo, seeds removed and chopped
1 tablespoon adobo sauce
1 tablespoon chopped cilantro
---
Instructions
Make the dipping sauce:
In a small bowl, combine all of the ingredients and mix well. Refrigerate until needed.
Make the egg rolls:
Heat several inches of oil in a Dutch oven or heavy pan until it reaches 350ºF to 375ºF.
In a large bowl, combine the avocados, sun-dried tomatoes, red onion, and cilantro. Mix.
Working with one egg roll wrapper at a time, lay the wrapper on a surface in front of you like a diamond. Add about 1/3 cup of the avocado mixture to the center. Fold in the two sides, then fold over the bottom. Roll until the filling is completely enclosed in the center of the roll. Wet the corner of the wrapper so that it will stick. Continue with the rest of the wrappers and filling.
Drop the egg rolls in the hot oil, 2 to 3 at a time, and cook until golden brown, turning as needed. Drain on a paper bowl lined plate
To serve, cut in half diagonally. Serve with the Chipotle Ranch Dipping Sauce.
Recipe Notes:
Nutrition information provided as an estimate only. Various brands and products can change the counts. Any nutritional information should be used as a general guide. Nutrition has been figured estimating a retention of 1/2 cup of vegetable oil. Different temperatures and circumstances can change this.
Nutrition
Serving Size: 1 egg roll and 1/9 of the dipping sauce
Calories: 393
Sugar: 1 g
Sodium: 350 mg
Fat: 33 g
Saturated Fat: 6 g
Unsaturated Fat: 26 g
Trans Fat: 0 g
Carbohydrates: 22 g
Fiber: 5 g
Protein: 3 g
Cholesterol: 13 mg
Keywords: avocado egg roll