Perfect for a game day appetizer or meal, these Buffalo Chicken Egg Rolls have crisp outer shells that are filled with chicken, hot sauce, blue cheese, and slaw.
These buffalo chicken egg rolls are perfect for game day, along with these Cheeseburger Egg Rolls or this Crockpot Spinach Artichoke Dip.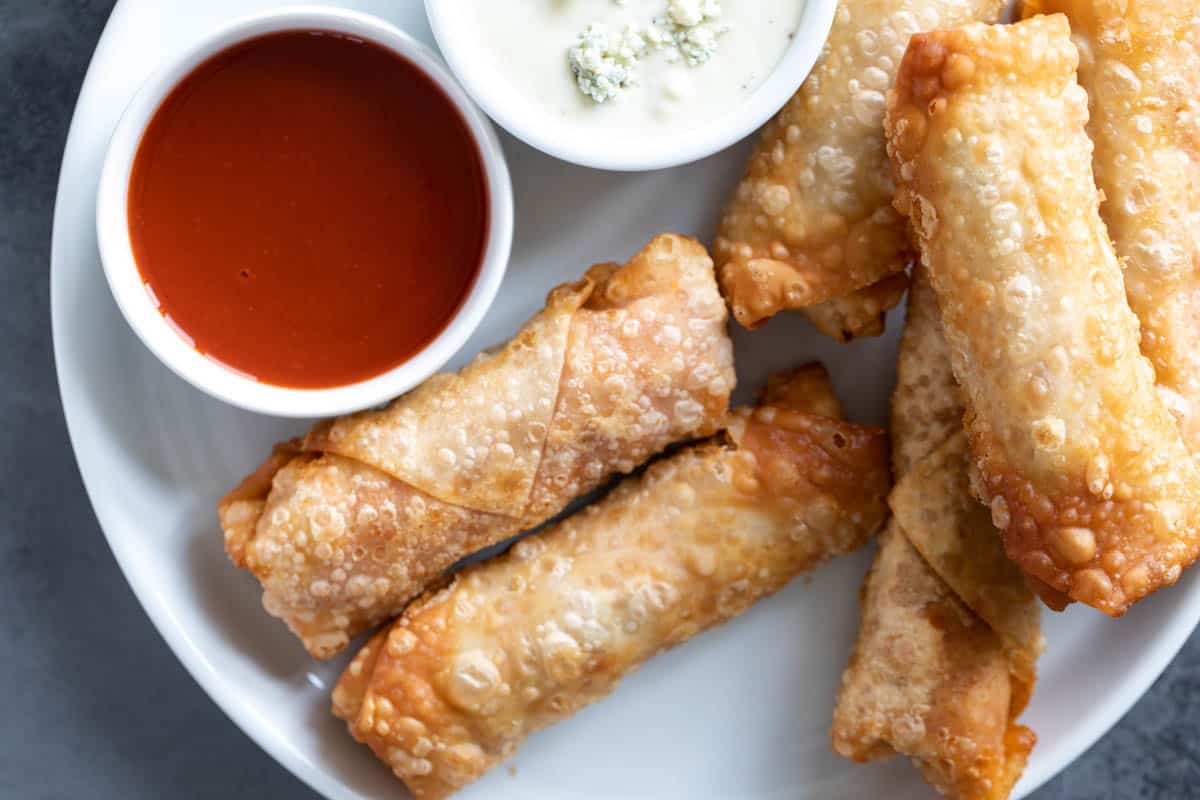 I'm pretty sure that you could turn anything into a buffalo chicken version and I'd be right there, first in line to try it.
There's just something about that spicy sauce with the chicken and the blue cheese – it's all just a winning combination!
If you are also a buffalo chicken fan, and are looking to change things up for game day, these Buffalo Chicken Egg Rolls are the way to do it. These are a great appetizer, but also are delicious as a meal. And they are perfect game day food!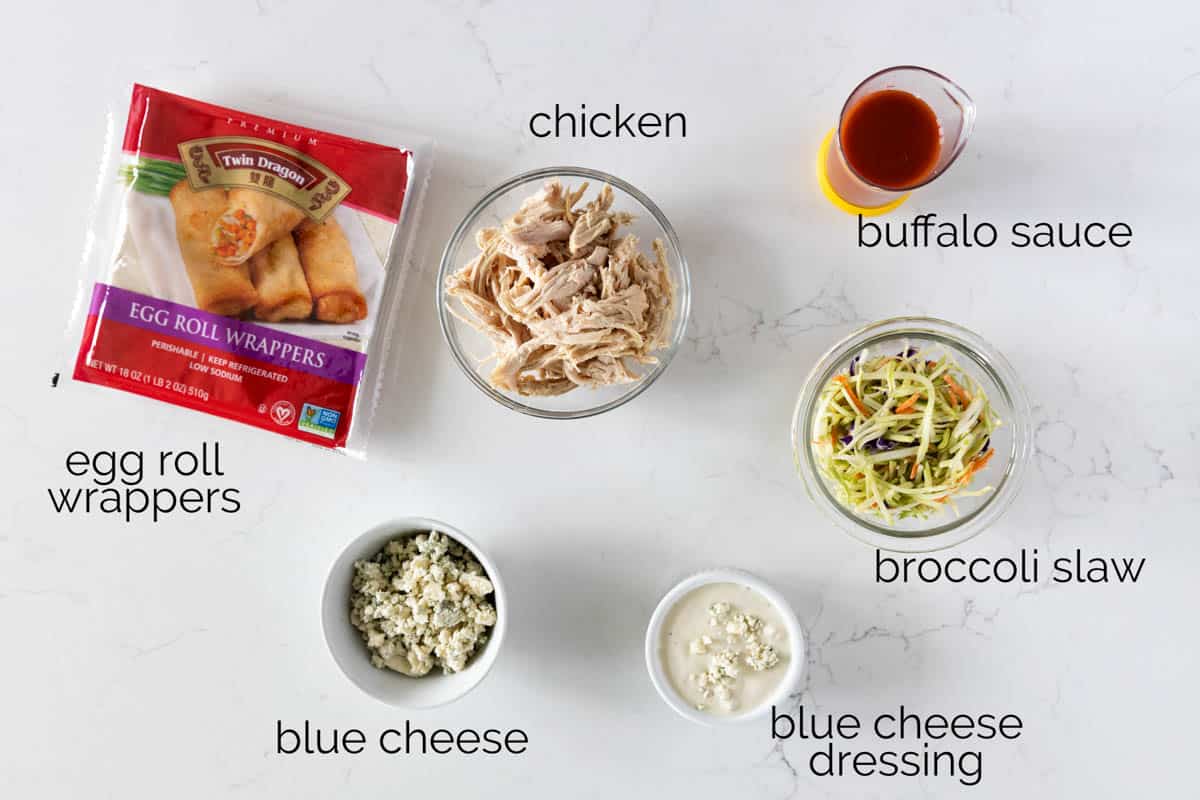 Ingredients
Oil: This is for frying the egg rolls. I usually use vegetable oil, but you can use any neutral oil that is good for frying.
Chicken: I use cooked, shredded chicken to make this easy. You can also use a rotisserie chicken.
Buffalo Sauce: You want to make sure you are using a buffalo sauce, not just a hot sauce. I used Frank's buffalo wing sauce.
Blue Cheese: Blue cheese is made for buffalo chicken! If you don't like it, though, you can leave it out or sub in a different cheese, like monterey jack.
Broccoli Slaw: I like broccoli slaw in these, but you can also sub in coleslaw mix or shredded cabbage. You want the dry mix, not a prepared slaw.
Egg Roll Wrappers: These are easy to find at most grocery stores.
Blue Cheese Dressing: I like to dip my egg rolls in blue cheese dressing. You can use homemade blue cheese dressing or store bought. Or you can dip the in ranch if you like that better.
How to Make Buffalo Chicken Egg Rolls
Start by mixing your filling ingredients together – the chicken, buffalo sauce, blue cheese, and broccoli slaw.
To roll the egg rolls, lay one wrapper on a work surface. I like to put it down like a diamond, with a point facing me. Place one-sixth of the mixture (which was about 1/3 cup) on the wrapper.
Fold the bottom corner up over the filling.
Then fold in the sides. It should look somewhat like an envelope at this point.
Start rolling it all up now, until you have just the top point exposed. Dip your finger in water and wet the corner.
Continue rolling until the filling is completely enclosed. The water on the corner will act like a glue to keep the wrapper in place.
Last is to cook the egg rolls. Heat your oil in a heavy skillet or Dutch oven. Place the egg rolls in the hot oil and cook until golden brown on both sides. This only takes a couple minutes on each side.
Serve the egg rolls with blue cheese dressing or more wing sauce for dipping.
Buffalo Chicken Egg Rolls Video
Want to see how to make them? Watch the video below.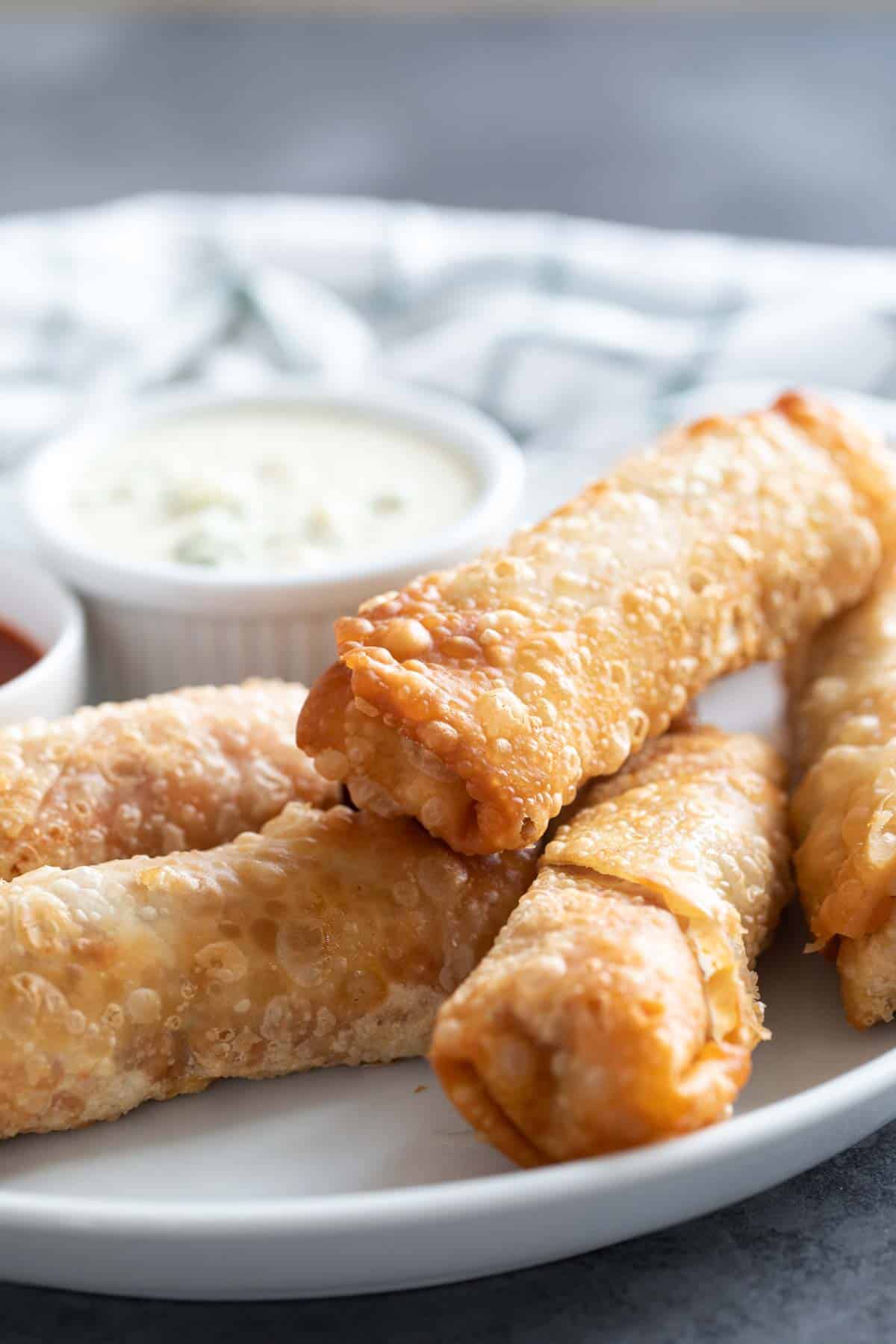 How to Make Baked Buffalo Chicken Egg Rolls
The original recipe that was published here was a baked egg roll instead of a fried one. Why did I change it?
Well, because I like the fried version better. 🙂
But that being said, you can totally bake these if you don't like to fry or if you are wanting to make something a little healthier.
To bake the egg rolls, preheat the oven to 400ºF. Place the egg rolls on a baking sheet and spray them with nonstick cooking spray. This will help to crisp them up. Bake them for 12-15 minutes, or until they are golden and crispy.
I also like to place them on a cooling rack on the baking sheet so that air can circulate around the whole egg roll, preventing the bottom from getting soggy.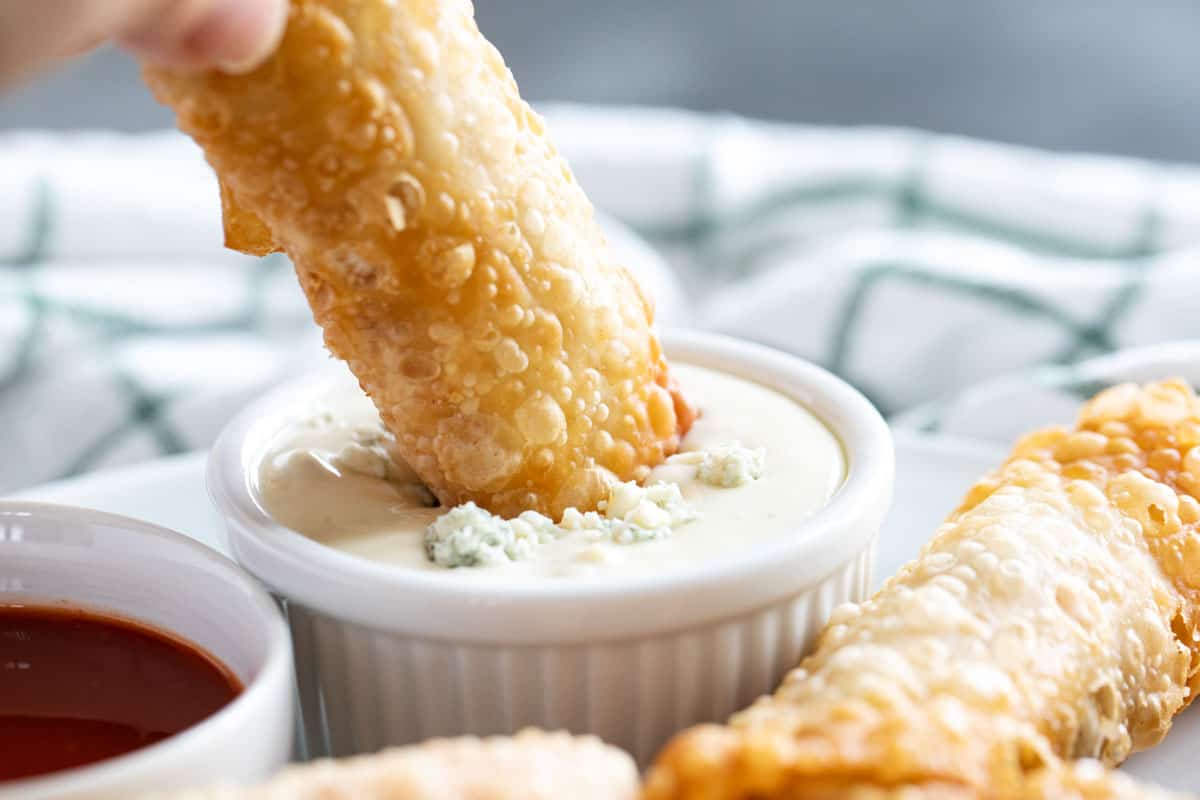 Tips and Tricks
If serving as an appetizer, you can serve the egg rolls cut in half if you want to stretch them further.
These are best served hot, shortly after they have been fried. If you aren't serving them right away, I would suggest keeping them warm in the oven on a low heat.
If you have any leftovers, store them in the refrigerator. They won't be as crisp the second time around, but they will still be delicious! I like to reheat them in the oven, but an air fryer would work well, too.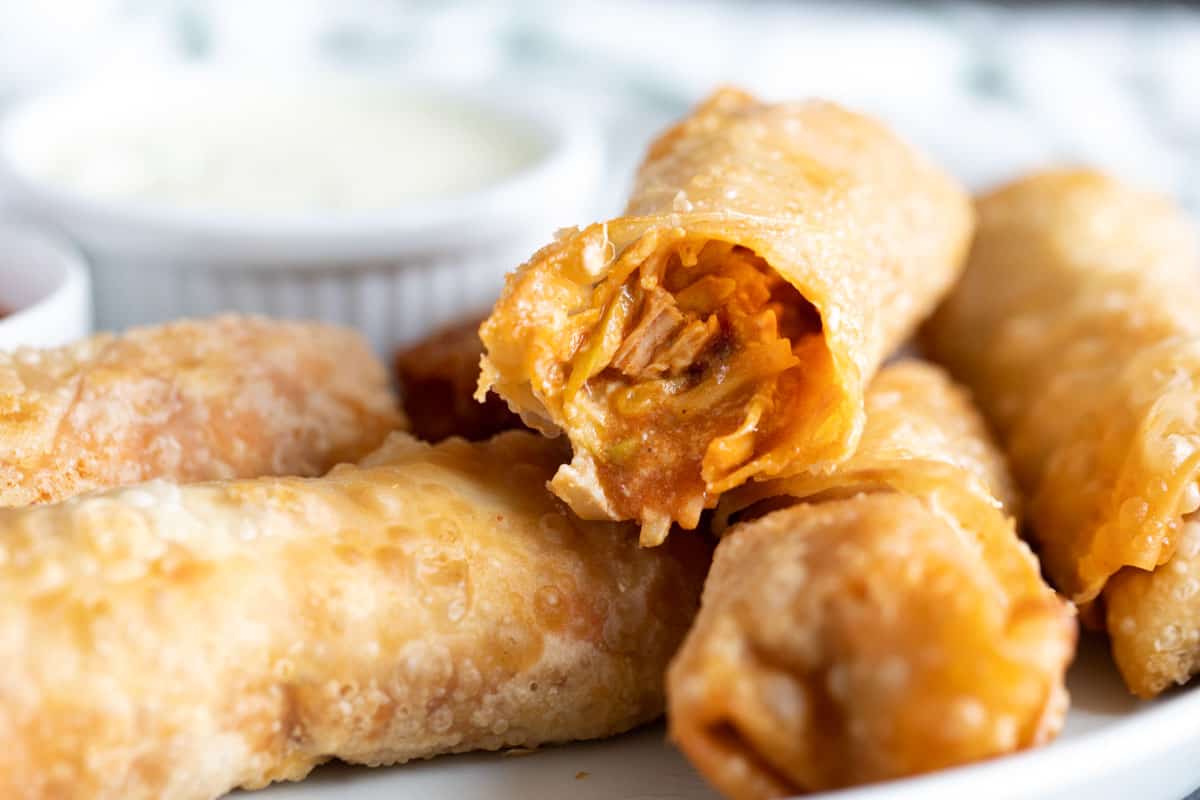 More Buffalo Chicken Favorites
Buffalo Chicken Dip
Buffalo Chicken Tacos
Buffalo Chicken Taquitos
Buffalo Chicken Pizza
Buffalo Chicken Mac and Cheese
Buffalo Chicken Sandwiches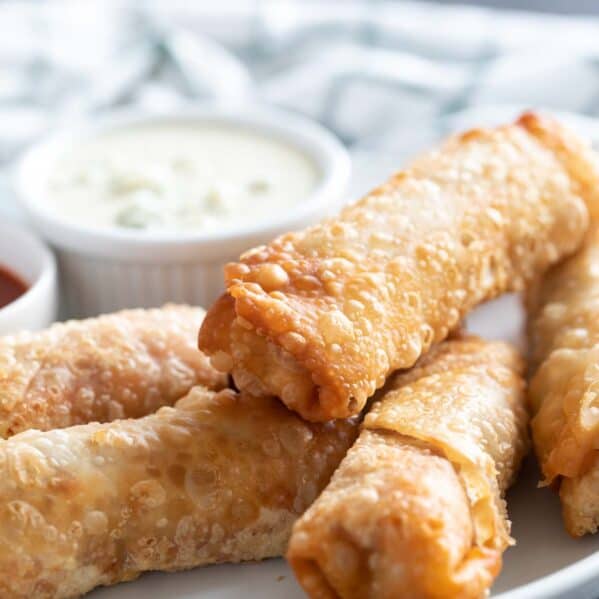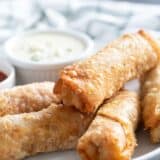 Buffalo Chicken Egg Rolls
---
Author:
Prep Time: 15 minutes
Cook Time: 10 minutes
Total Time: 25 minutes
Yield: 6 egg rolls 1x
Category: Appetizer
Method: Stove Top
Cuisine: American
Description
Perfect for a game day appetizer or meal, these Buffalo Chicken Egg Rolls have crisp outer shells that are filled with chicken, hot sauce, blue cheese, and slaw.
---
Scale
Ingredients
Vegetable oil, for frying (or other neutral high temperature oil)
1 1/2 cups cooked, shredded chicken
1/2 cup buffalo sauce (I use Frank's Red Hot Wing Sauce)
3/4 cup crumbled blue cheese
1 cup broccoli slaw (dry)
6 egg roll wrappers
Blue cheese dressing, for serving
---
Instructions
Fill a heavy skillet with about 1 inch of oil. Set over medium heat and heat to 350ºF.
While the oil is heating up, make your egg rolls. In a large bowl, mix together the chicken, hot sauce, blue cheese, and broccoli slaw.
Lay one egg roll wrapper on your work surface. Place about 1/3 cup of the chicken mixture across the middle of the wrapper, going point to point. (See the photos in the post above for reference.)
To fold, fold the bottom corner over the filling. Fold in the right and left corners – it should now look like an envelope. Roll the wrapper, but leave the top corner open. Dip your finger in a small bowl of water and wet the corner of the wrapper. Fold the corner over the egg roll. The water will help seal the wrapper to itself.
Repeat with the remaining rolls.
Once the oil is hot, place the rolls in the oil in a single layer. Cook until golden brown, about 2 minutes, then turn over and cook another minute or two until the other side is brown. Transfer to a paper towel lined plate to drain.
Serve warm with blue cheese dressing for dipping.
Recipe Notes:
The original recipe here had only 1 cup of chicken and a cup of blue cheese instead of 3/4 cup. It also made 12 egg rolls. These proportions have been changed and updated.
The original recipe was also baked instead of fried. If you'd like to bake the egg rolls, spray them with nonstick cooking spray and bake at 400ºF for 12-15 minutes.
Nutrition information provided as an estimate only. Various brands and products can change the counts. Any nutritional information should be used as a general guide. The nutritional value for the frying oil is based on a retention of 1/4 cup after cooking. Cooking time and temperature can cause this number to change.
Nutrition
Serving Size: 1 egg roll
Calories: 310
Sugar: 2 g
Sodium: 1164 mg
Fat: 19 g
Saturated Fat: 6 g
Unsaturated Fat: 10 g
Trans Fat: 0 g
Carbohydrates: 19 g
Fiber: 1 g
Protein: 15 g
Cholesterol: 39 mg
Keywords: buffalo chicken egg rolls, buffalo chicken rolls, buffalo egg rolls