All of your favorite buffalo flavors in a good-for-you appetizer!
I have been feeling so uninspired to cook lately. I'm going to blame it on summer, but I'm not sure that's really what it is, because it's been so mild here that the heat isn't bothering me at all. And it's not for a lack of recipes that I want to try. I usually try to have a back log of recipes to blog about. But I'm getting down to the last recipes that I have saved up. Honestly – I think I've cooked dinner once in the last 5 days. Yikes.
But then I remember that dinner doesn't have to be hard. Or take very long. Or be complicated. Just like these Buffalo Chicken Rolls. I used a rotisserie chicken, so this was so simple, and dinner was done before I realized it. And it was delicious. And pretty good for you, too!! I originally found these rolls on Pinterest, and I'm so glad I saw them there. This is a dinner idea I will definitely be using again for those nights when I don't think I have the energy to cook!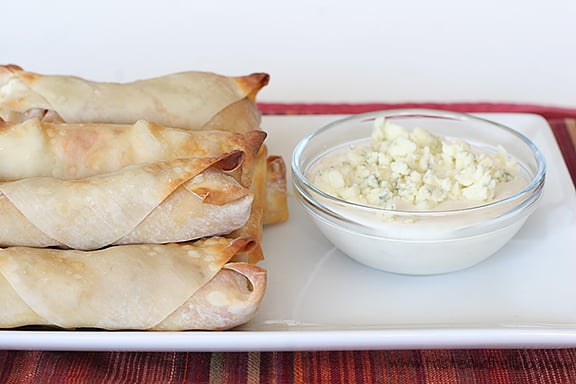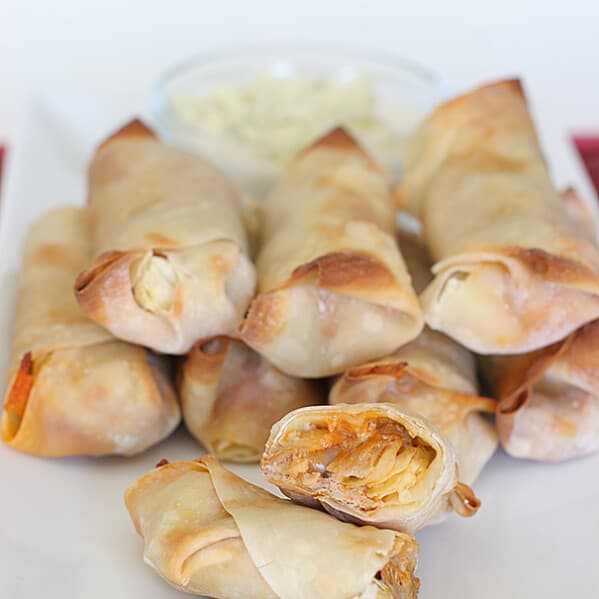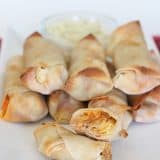 Buffalo Chicken Rolls
---
Prep Time: 15 minutes
Cook Time: 15 minutes
Total Time: 30 minutes
Yield: 12 rolls 1x
Description
All of your favorite buffalo flavors in a good-for-you appetizer!
---
Scale
Ingredients
12 egg roll wrappers
1 cup cooked and shredded chicken
1/2 – 2/3 cup Frank's Red Hot sauce
1 cup crumbled blue cheese
1 cup broccoli slaw or cole slaw (dry)
blue cheese dressing, for serving
---
Instructions
Preheat the oven to 400F.
In a bowl, mix together the chicken and the hot sauce.
Lay one egg roll wrapper on your work surface. Place 1 tablespoon of the slaw on a diagonal at the bottom right of the egg roll wrapper. Place 2 tablespoons of the chicken on, followed by 1 tablespoon of blue cheese.
To fold: Fold the bottom right corner over the filling. Fold in the bottom left, followed by the right, so it now looks like an envelope. Roll the wrap, but leave the top corner open. Dip your finger in a small bowl of water and wet the edges of the open corner. Fold the corner over the eggroll. The water will help to seal the eggroll wrapper to itself.
Repeat with the remaining rolls. Place the rolls on a wire rack on top of a baking sheet. Spray the rolls with non-stick cooking spray. Bake in the preheated oven for 12-15 minutes, or until golden brown.