Traditional hummus with roasted red peppers added for extra flavor.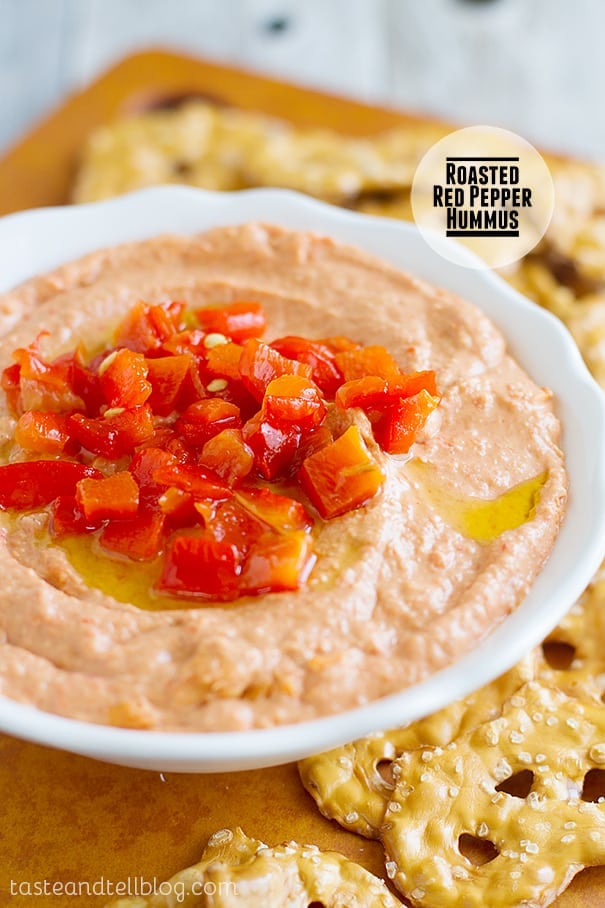 This post has been sponsored by Pretzel Crisps.



I am a terrible snacker. If I'm hungry or want to snack on something, I'll usually grab at pieces of whatever the kids are having, or a handful of cereal or granola, or just nothing at all. I have a hard time taking time out for myself.
One of my goals as of late is to be mindful of everything I am eating. No more eating the crusts from the kids' sandwiches, or taking their last bites of mac and cheese. And part of this is making sure that I have plenty of healthy snacks on hand. Delicious and healthy snacks on hand.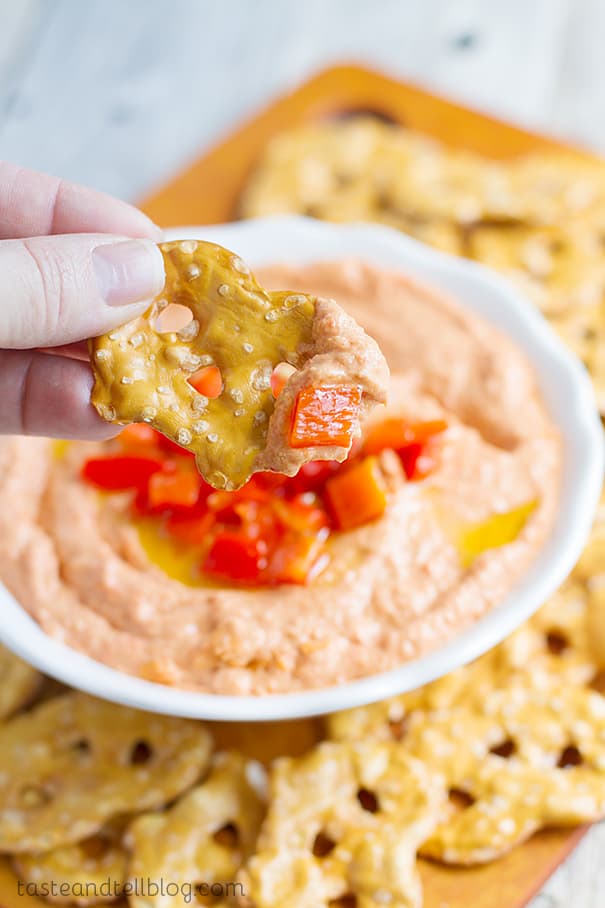 One of my latest obsessions is hummus. And Pretzel Crisps. Combine the two, and I am in snacking heaven.
I have been working with Pretzel Crisps for the last year coming up with fun pairing combinations, and this month, I'll be bringing you a couple of great recipes that perfect for Pretzel Crisps. It's a hard job, but someone's got to do it, right? 😉 But I just can't get enough of them. And the flavors? Oh, all the flavors!!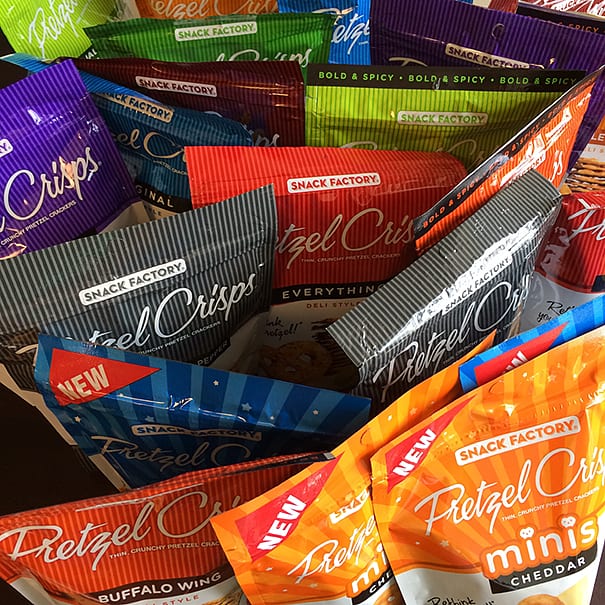 I don't even think I could choose a favorite. And just when I thought they couldn't get any better, they came out with Honey Mustard & Onion and Sea Salt & Cracked Pepper. And don't get me started on the new Minis. My kids devoured those without a second thought.
So back to hummus. I wanted to change things up a bit, something a little different from my normal hummus. So I went with one of my other favorites – roasted red peppers. I choose to roast my own – it's super simple and super cheap that way – but if you are in a time crunch, feel free to substitute in jarred peppers. And while you could get away without taking the skins off the chickpeas, I highly recommend this step. It makes the hummus smoother and you won't regret it!!
I ate this hummus with the Original Pretzel Crisps and the Garlic Parmesan Pretzel Crisps, but really, it would go well with so many of them. I wanted to pull out a bag of the Sea Salt & Cracked Pepper. Just hand me a bag and a bowl of this hummus and I'm a happy snacker!!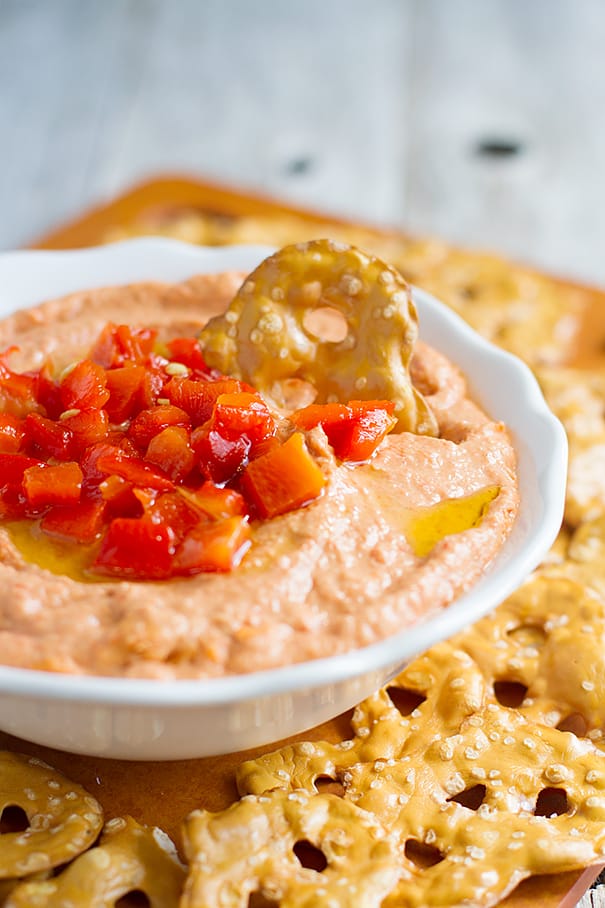 Like what you see here? Make sure you are following Taste and Tell for more great recipes and ideas!!

Facebook ** Pinterest ** Twitter ** Instagram ** Google+
or you can subscribe to my newsletter or Feedly or Bloglovin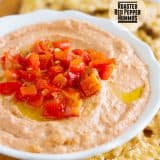 Roasted Red Pepper Hummus
---
Prep Time: 30 minutes
Cook Time: 40 minutes
Total Time: 1 hour 20 minutes
Yield: 4-6 servings 1x
Description
Traditional hummus with roasted red peppers added for extra flavor.
---
Scale
Ingredients
2 large red peppers (or about 1 cup jarred roasted red peppers)
1 can (15 oz) chickpeas
3 tablespoons tahini paste
2 tablespoons lemon juice
1 clove garlic, minced or grated
1 teaspoon salt
1/2 teaspoon cumin
1/4 teaspoon paprika
extra-virgin olive oil, for serving
Pretzel Crisps, for serving
---
Instructions
Preheat the oven to 400°F. Line a baking sheet with foil and place the red peppers on the sheet. Place in the oven for 20 minutes. Remove from the oven, turn the peppers over, and return to the oven for another 20 minutes. The skins should be charred and the peppers slightly collapsed. If they aren't charred yet, continue to cook until they are.
Remove from the oven and place in a bowl. Cover tightly with plastic wrap. Let the peppers sit for 10-15 minutes, then using your hands, remove the skins, stem and seeds.
Drain and rinse the chickpeas. Using your fingers, gently remove the skin from each of the chickpeas. (This does take a little bit of time, but your hummus is smoother. You can skip this step if you don't care if your hummus is super smooth.) Place the chickpeas in a food processor. Add the tahini, lemon juice, garlic, salt, cumin and paprika. Process until smooth. Add in the roasted red peppers, reserving a couple tablespoons for topping, and continue to process until they have been fully incorporated.
Serve topped with a bit of extra-virgin olive oil.
More dips perfect for Pretzel Crisp dipping: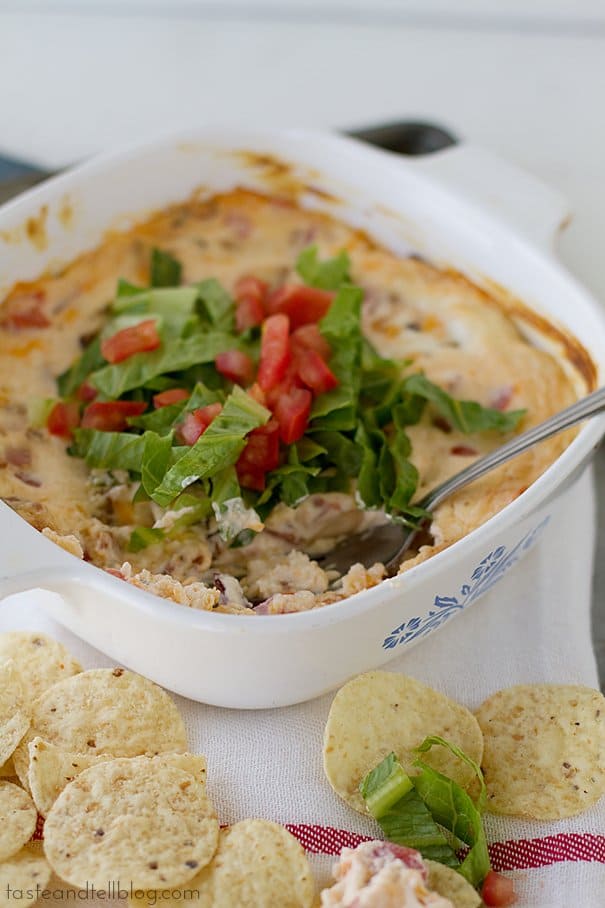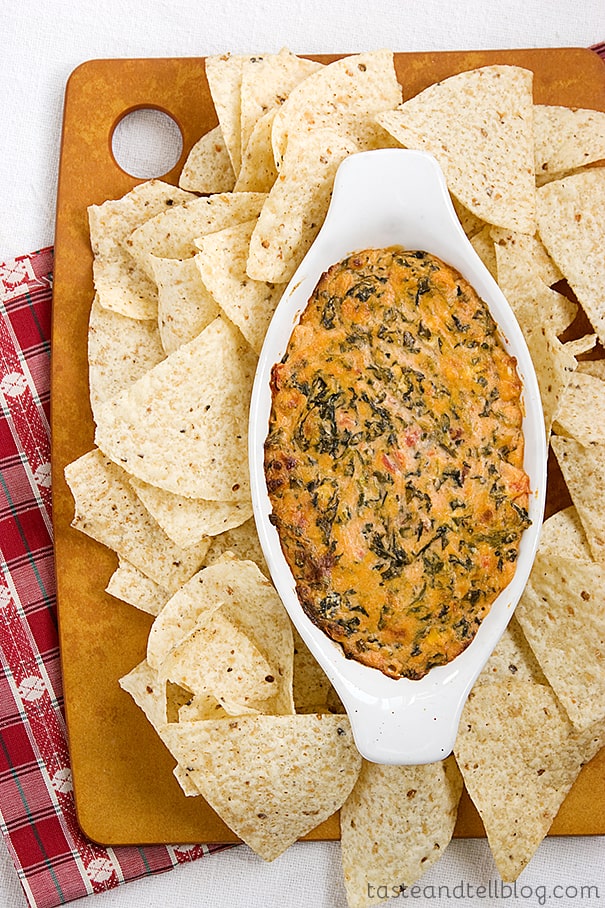 Roasted Cauliflower and Sesame Spread
Around the Web:
Edamame Hummus from Our Best Bites
Creamy Corn and Bacon Cheese Dip from Wine and Glue
Loaded Baked Tater Tot Dip from Averie Cooks
I am in a working relationship with Pretzel Crisps, and this post has been sponsored. I'm so glad to be able to work with companies and organizations that I truly believe in. Thank you for supporting them, too.