These Southwest Egg Rolls are a family favorite – filled with chicken, corn, beans, spinach and tex-mex spices. Serve with Avocado Ranch Dipping Sauce.
Love a good egg roll recipe? Also try this classic Egg Roll Recipe or these Cheeseburger Eggrolls.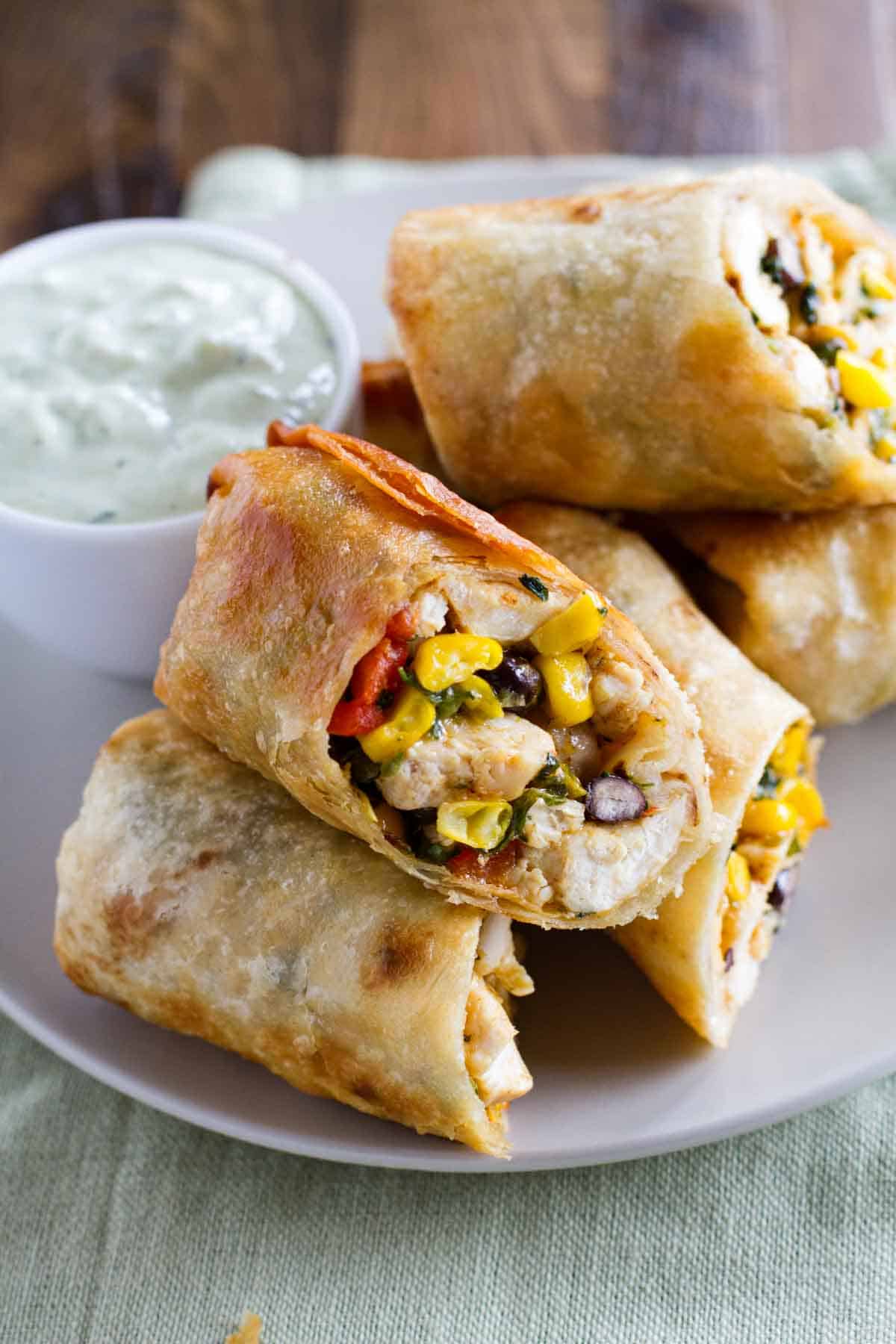 These Southwest Egg Rolls are one of my favorite appetizers. I have been making these for so long now, and they are always on the top of the request list from my husband. This is an appetizer recipe that will be a hit at any party!
Frying vs Baking
I am including directions below for frying or baking these. I prefer frying them but they work out great if you want to bake them as well. The recipe actually has you do a mixture of both – fry them for only a minute or two on each side, put them on a baking sheet, and then let them spend 15-20 minutes in the oven. But you can also just fry them or just bake them.
Frying: If you want to skip the baking completely, just fry them for a few minutes longer. Just make sure to keep an eye on them so that they don't burn.
Baking: If you want to skip the frying altogether, simply assemble the egg rolls and place them on a cooling rack over a baking sheet. Spray with nonstick cooking spray, then bake in a 350ºF oven for about 30 minutes. For best results you can flip them over halfway through the baking time.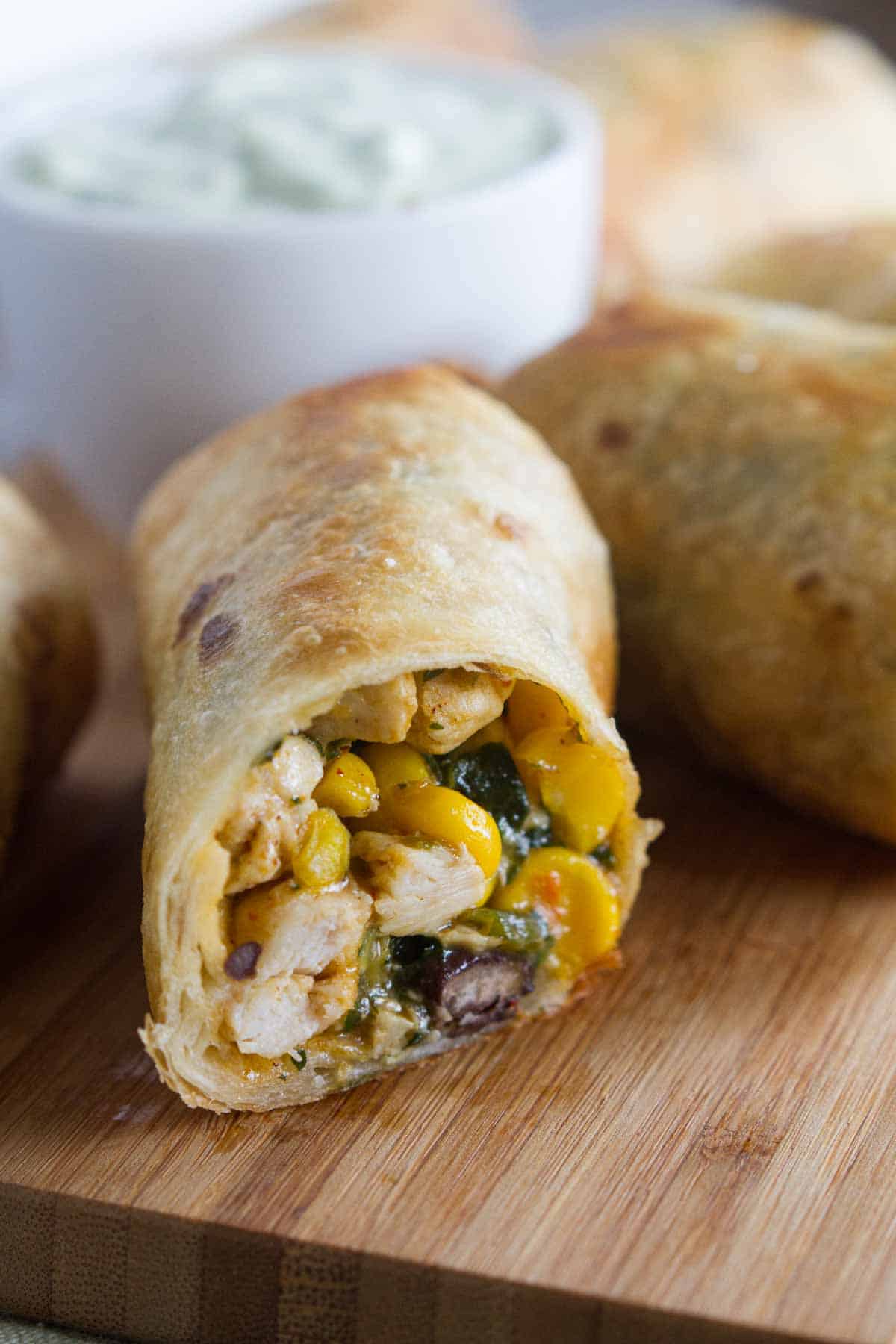 Tips and Tricks
These Southwest Egg Rolls are really easy to put together, and the best part about it them is that they can be assembled ahead of time and then just cooked before serving. In fact, they are even better if they spend some time in the refrigerator first.
Don't skip on the dipping sauce, and don't think that some bottled dressing will substitute, because then you will really be missing out! This avocado ranch dipping sauce is so delicious.
I used to always make these with the normal flour tortillas you buy at the grocery store, but then my husband introduced me to some tortillas (I find them at Costco) that are raw flour tortillas. You just cook them for a few minutes on each side and then you have fresh tortillas. I think I like these better for a few reasons. First, you can just under-cook them, which makes them easier to work with and they continue to cook during the fry/bake. Secondly, they are a lot thinner than the normal pre-made tortillas. And third – they just taste a whole lot better!!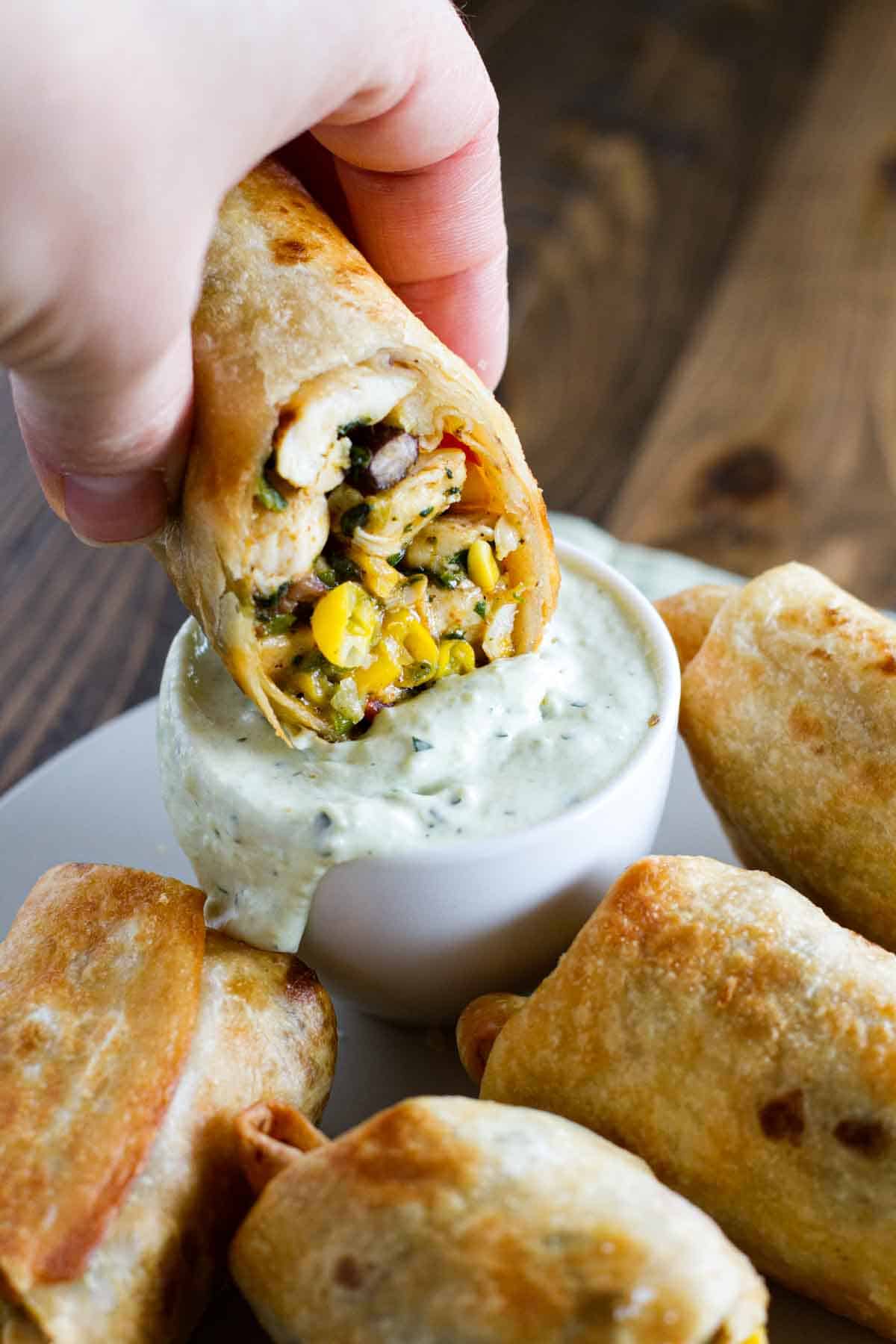 More Tex-Mex Appetizers
Tomatillo Salsa Verde
Bean Dip
Queso Blanco Recipe
Bacon Wrapped Jalapeno Poppers with Taco Filling
Tropical Guacamole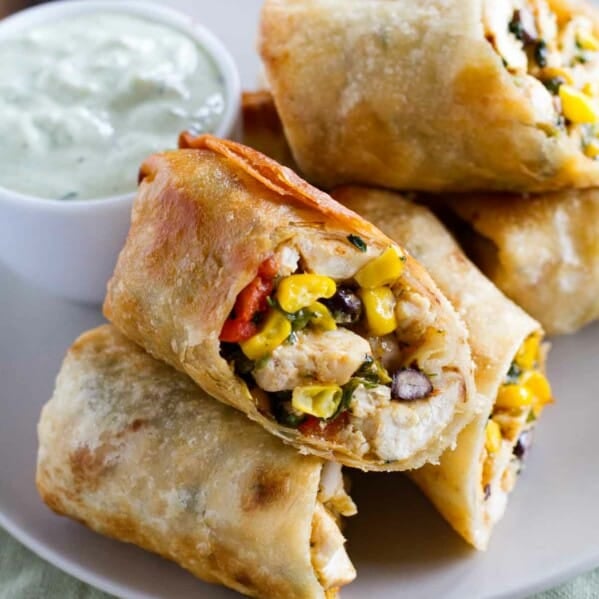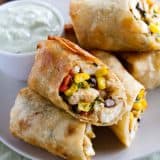 Southwest Egg Rolls with Avocado Ranch Dipping Sauce
---
Author:
Prep Time: 20 minutes
Cook Time: 45 minutes
Total Time: 1 hour 5 minutes
Yield: 10 halves 1x
Category: Appetizer
Method: Bake, Fry
Cuisine: Mexican
Description
These Southwest Egg Rolls are a family favorite – filled with chicken, corn, beans, spinach and tex-mex spices. Serve with Avocado Ranch Dipping Sauce.
---
Scale
Ingredients
Egg Rolls
1 tablespoon vegetable oil
1 1/2 lbs boneless, skinless chicken breasts,cut into small bite-sized pieces
2 tablespoons minced red bell pepper
2 tablespoons minced green onion
1/2 cup frozen corn
1/4 cup canned black beans, drained and rinsed
2 tablespoons frozen spinach, thawed and drained
2 tablespoons diced jalapeños
1/2 tablespoon fresh parsley, minced
1/2 teaspoon cumin
1/2 teaspoon chili powder
1/4 teaspoon salt
dash of cayenne pepper
3/4 cup shredded Monterey Jack cheese
5 8-inch flour tortillas
vegetable oil, for frying
Avocado Ranch Dipping Sauce
1/4 cup smashed, fresh avocado (about half of an avocado)
1/4 cup mayonnaise
1/4 cup sour cream
1 tablespoon buttermilk
1 1/2 tablespoons white vinegar
1/8 teaspoon salt
1/8 teaspoon dried parsley
1/8 teaspoon onion powder
dash of dried dill weed
dash of garlic powder
dash of pepper
---
Instructions
For the Egg Rolls:
Heat the vegetable oil in a large skillet over medium heat. Add the chicken and cook until browned and cooked thorough. Add the bell pepper and onion and cook for another 3 minutes, until the vegetables are just softened.
Add the corn, black beans, spinach, jalapenos, parsley, cumin, chili powder, salt and cayenne pepper. Cook the mixture for 5 minutes. Remove from the heat and stir in the Monterey Jack cheese.
Wrap the tortillas in a clean, lightly moist cloth. Microwave on high for approximately 1 minute, until soft and pliable.
Spoon equal amounts of the mixture into each tortilla. Fold in the ends, then roll tightly around the mixture. Secure with toothpicks, if needed. Place the egg rolls in a dish or on a baking sheet, cover with plastic wrap, then refrigerate until cold. (I think they are best when they are refrigerated for 24 hours.)
When ready to cook, place a cooling rack on top of a baking sheet and preheat the oven to 350ºF.
Heat about 1-inch of vegetable oil in a heavy skillet until about 350º. Working in batches, cook the egg rolls until browned on each side, then transfer to the cooling rack. When all of the egg rolls are fried, transfer them to the oven to bake for about 15 minutes, until heated through.
Alternately, you can just bake these – spray the tops with nonstick cooking spray then bake until warmed through and the tortillas are crispy, 20-25 minutes.
Cut each egg roll in half and serve with the Avocado Ranch Dipping Sauce.
For the Avocado Ranch Dipping Sauce:
Combine all of the ingredients and mix well. Keep refrigerated.
Recipe Notes:
Nutrition information provided as an estimate only. Various brands and products can change the counts. Any nutritional information should only be used as a general guideline. Nutrition information does not include vegetable oil for frying.
Nutrition
Serving Size: 1 half
Calories: 244
Sugar: 2 g
Sodium: 508 mg
Fat: 13 g
Saturated Fat: 4 g
Unsaturated Fat: 6 g
Trans Fat: 0 g
Carbohydrates: 16 g
Fiber: 1 g
Protein: 18 g
Cholesterol: 44 mg
Keywords: southwest egg roll