A make your own takeout classic, this Beef and Broccoli Recipe is easy, fast, and full of flavor. Dinner can be on the table in 30 minutes, just one reason it is so much better than takeout!
Serve this Beef and Broccoli recipe up with some Easy Egg Rolls and Easy Lo Mein for a complete make your own takeout dinner!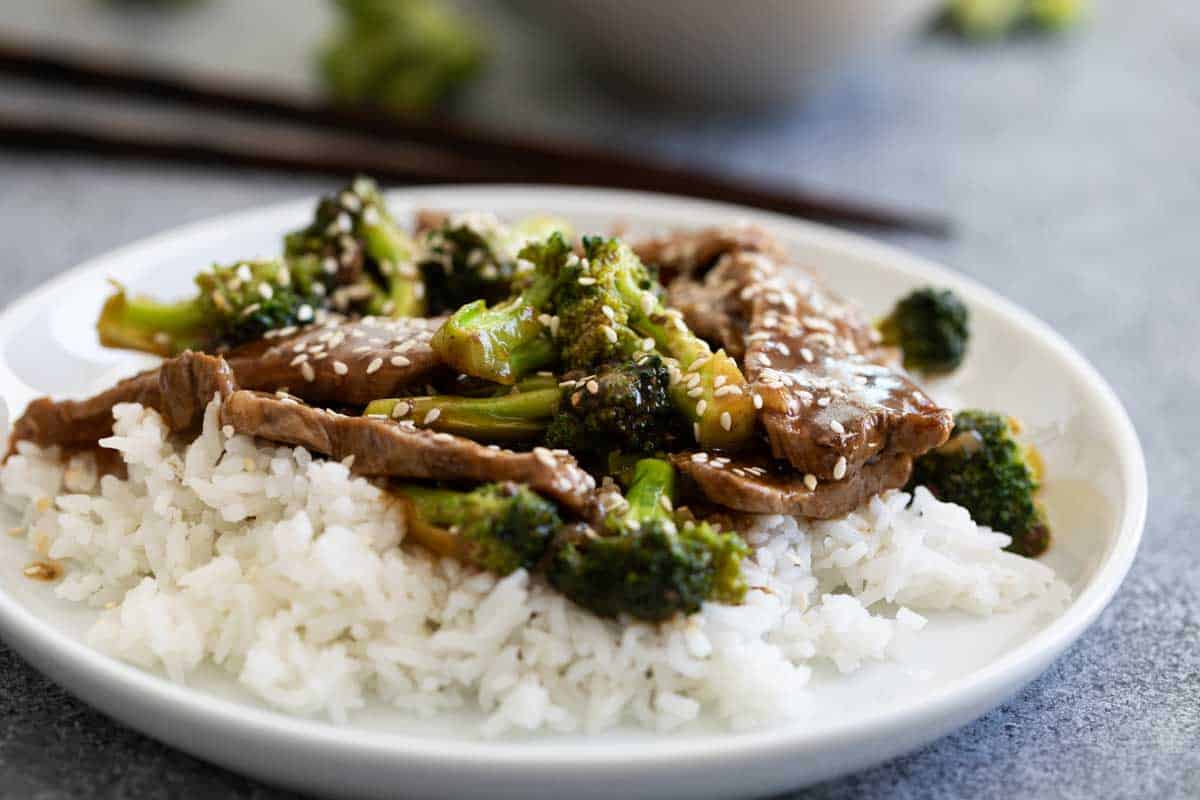 Your favorite classic Chinese takeout dish brought right to your kitchen! From the pantry to the table within 30 minutes, this beef and broccoli recipe will be a regular in your home.
I'm not exaggerating when I say this is the EASIEST beef and broccoli recipe you will find. While ordering this for takeout might seem like the easy way out, it always ends up taking at least twice as long and regularly comes cold. I'm always impressed by how tasty this homemade beef and broccoli is when I make it myself.
Another perk when cooking up this beef and broccoli is that it is guaranteed fresh. It always makes me feel better as a mom knowing exactly what's going in my kids' food. With only a tablespoon of oil and a little sugar, I'm confident that everyone will be filled with a good portion of protein and veggies.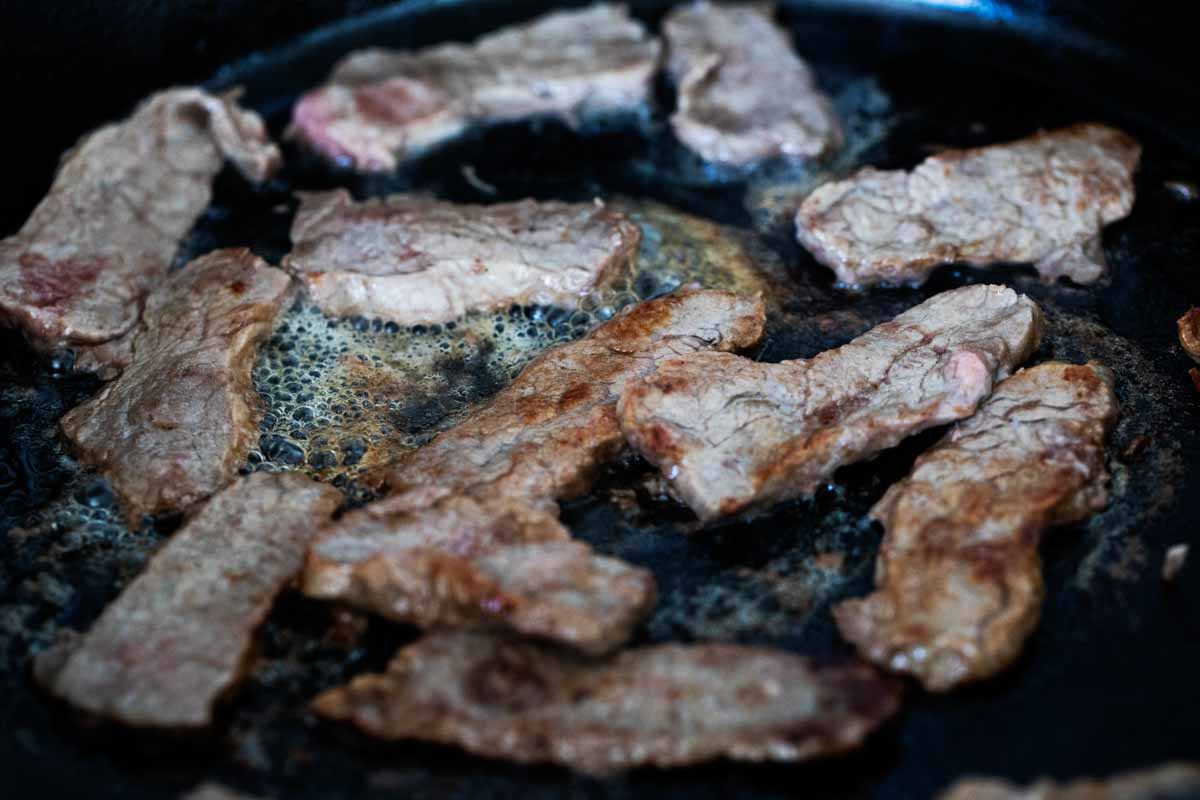 What Kind of Beef to Use for Beef and Broccoli
The most widely used beef for beef and broccoli is flank steak. It is full of flavor, and usually pretty easy to find. I do love flank steak, but if I can find flat iron steak, I prefer it to flank. But I can't always find flat iron steak.
Most cuts of beef will actually work, although you will want something that is easy to thinly slice and that is not too tough. Beef chuck will work as long as you take care to cut away any large pockets of fat. And I've used a sirloin before when that is what I've had on hand.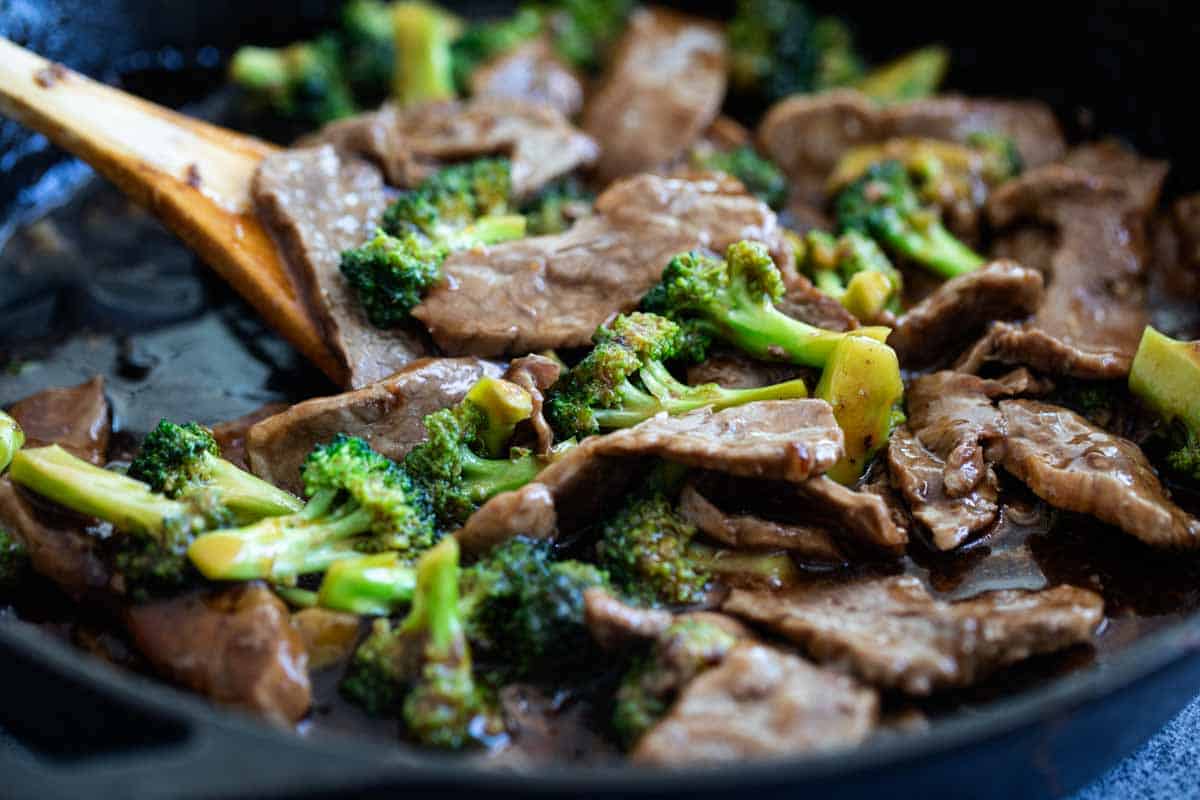 How to Make Beef and Broccoli
This recipe comes together really quickly, and all in one skillet!
Prep all of your ingredients – including thinly slicing your beef and cutting your broccoli. I like to even have all of the sauce ingredients combined, (but you'll keep the whisk nearby to give it a quick whisk before adding it in.)
Cook your beef. You'll want to cook it in batches – this is the part of the recipe that will take the longest. The beef doesn't take long to cook, but you'll want to make sure you don't overcrowd the skillet at any point during this process.
In the same skillet, cook your garlic and ginger, then add the sauce mixture and the broccoli. Cook it for a couple of minutes – but you don't want to overcook the broccoli. Just remember that it will still have a couple of minutes to cook, and you want it crisp tender when it's ready to serve.
Stir in your cornstarch mixture – this will thicken up the sauce. It should thicken up fairly quickly.
Stir the beef back in and let it all heat through for about a minute, and then you're ready to serve!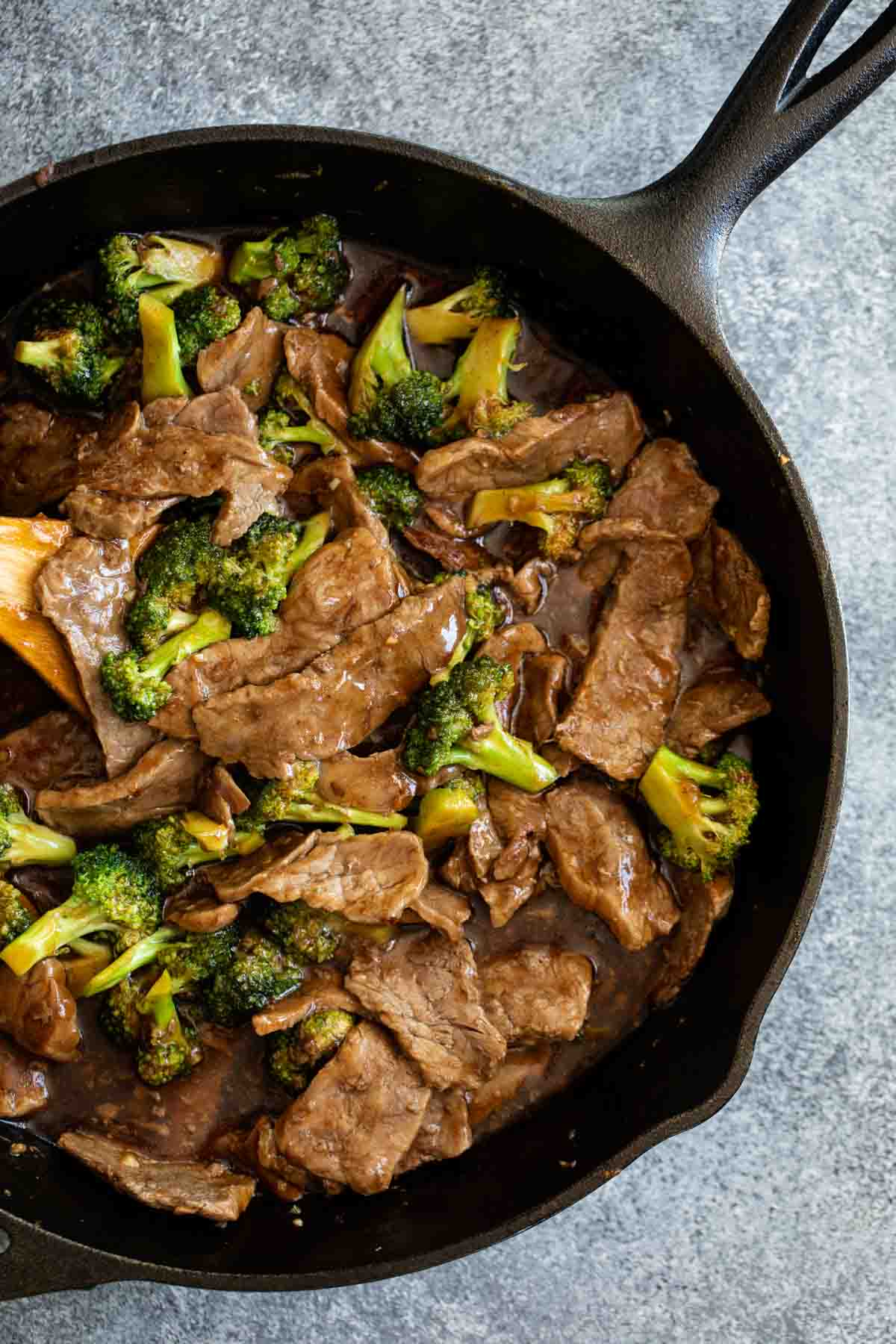 Tips and Tricks
Make sure you cut your beef against the grain. This means that you are cutting through the fibers instead of along the same direction that they run. This makes is so that the beef is more tender and easier to chew.
Feel free to make this your own and add in more vegetables! Some veggies that would work well with this recipe would be carrots, snap peas, mushrooms, and bell peppers.
I always use low-sodium soy sauce. If you only have regular, I would cut back on the amount, as the regular soy sauce will overpower the dish and make it too salty.
If you are serving rice to go along with your beef and broccoli, make sure to start it earlier so that you aren't waiting for it as your broccoli gets mushy.
I like to add some sriracha to my serving for some heat. Adding some red pepper flakes would work, as well.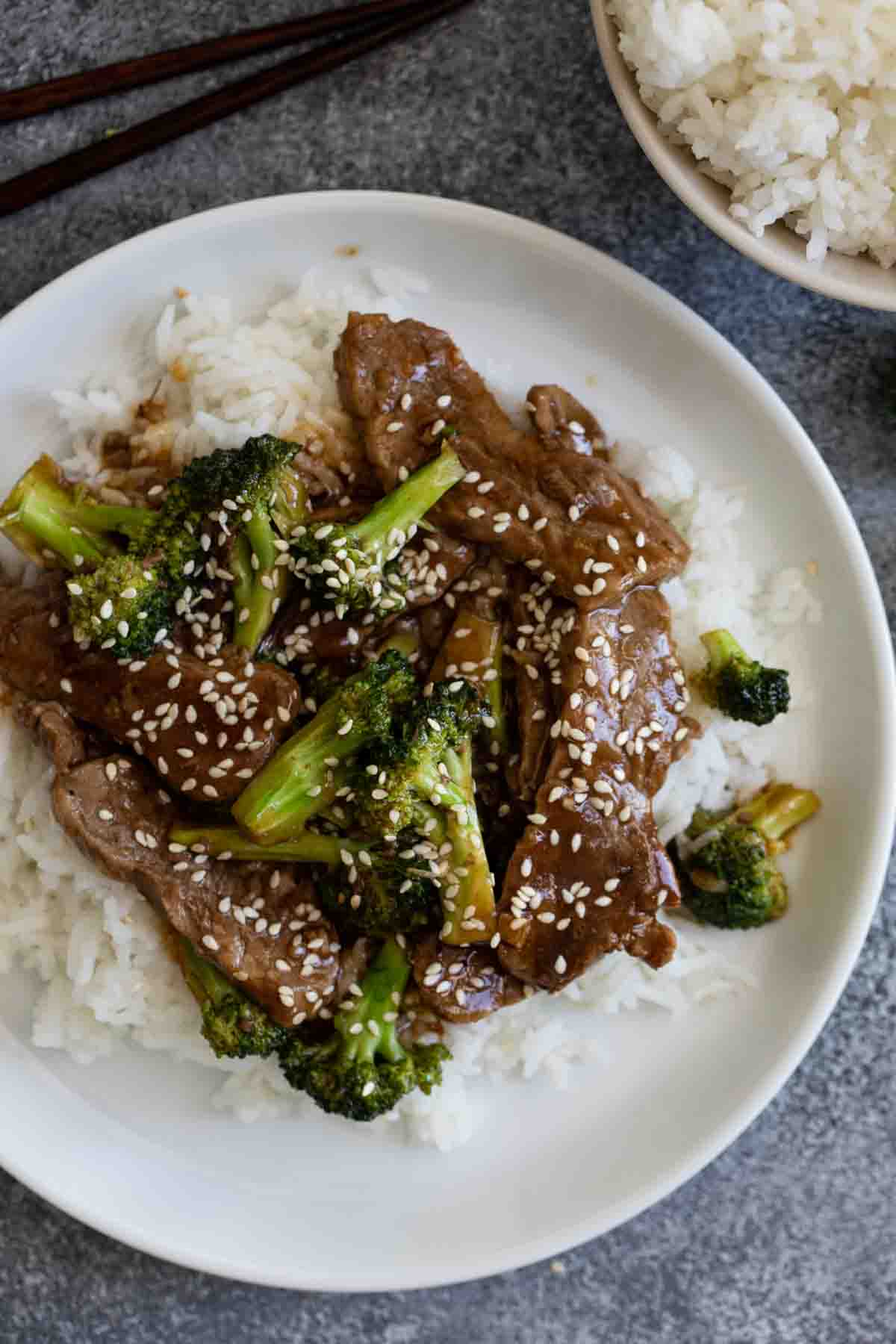 More Take Out Recipes to Make at Home
General Tso's Chicken
Sweet and Sour Chicken Recipe
Steak Stir Fry Recipe with Peppers
Kung Pao Chicken
Pineapple Chicken
**NOTE** This recipe has been changed from the original recipe that was posted here in 2007 after some testing and re-testing. The original recipe that was posted was this Beef Teriyaki on allrecipes.com if you are looking for it.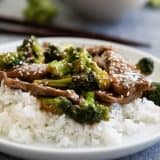 Beef and Broccoli
---
Author:
Prep Time: 10 minutes
Cook Time: 20 minutes
Total Time: 30 minutes
Yield: 4 servings 1x
Category: Main Dish
Method: Stove Top
Cuisine: Asian
Description
A make your own takeout classic, this Beef and Broccoli Recipe is easy, fast, and full of flavor. Dinner can be on the table in 30 minutes, just one reason it is so much better than takeout!
---
Scale
Ingredients
1 tablespoon vegetable oil (or oil of your choice), divided
1 lb flank steak
1/4 cup light brown sugar
1/3 cup low sodium soy sauce
1 cup beef broth
3 cloves minced garlic
1 tablespoon grated ginger
4 cups fresh broccoli florets
2 tablespoons cornstarch
2 tablespoons water
Toasted sesame seeds, optional
Cooked rice, for serving
---
Instructions
Slice the steak thinly against the grain into thin strips.
Heat a large skillet over high heat and add 1/2 tablespoon of the oil. When hot, add enough of the steak to ensure that it is in a single layer. Let the steak cook until browned on one side, then flip and cook the second side until browned. This should only take about 1-2 minutes per side. Remove from the pan and continue to cook in batches until all of the steak is browned.
Combine the brown sugar, soy sauce, and beef broth. Set aside.
In the same pan, add the remaining 1/2 tablespoon of oil. Add the garlic and ginger and cook until fragrant, about 30 seconds. Pour in the soy sauce mixture.
Stir to combine, then stir in the broccoli. Cook for 2-3 minutes.
In a small bowl, whisk together the cornstarch and the water. Add this to the pan, bring the mixture to a boil, and cook until the sauce has thickened.
Add the steak back to the pan and cook just until warmed through.
Serve over rice and sprinkle with toasted sesame seeds, if desired.
Recipe Notes:
Nutrition information provided as an estimate only. Various brands and products can change the counts. Any nutritional information should be used as a general guideline. Nutrition does not include rice or sesame seeds for serving.
Nutrition
Serving Size: 1/4 of recipe
Calories: 312
Sugar: 13 g
Sodium: 976 mg
Fat: 13 g
Saturated Fat: 5 g
Unsaturated Fat: 3 g
Trans Fat: 0 g
Carbohydrates: 19 g
Fiber: 0 g
Protein: 28 g
Cholesterol: 75 mg
Keywords: beef and broccoli