An easy recipe for Beef and Broccoli – a popular Chinese take-out dish.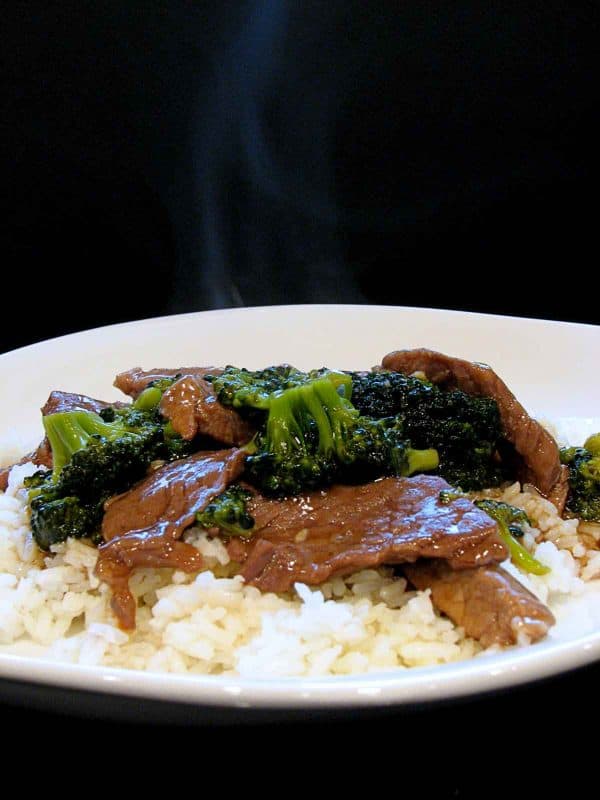 I have had this recipe for some time now, and have been wanting to try it, but for some reason, it has always scared me away. I think it is because you are using beef that is not ground – and usually the only beef I cook with is ground. I leave the rest of it to Josh to bbq. But I was feeling a bit adventurous tonight after reading so many food blogs, I decided to give it a try. Now I don't know why I was so scared – this was really simple!! I adapted it from a recipe I found online, and I liked the changes I made. Josh loved this, and cleaned his plate. I will do a few things differently next time, but there definitely will be a next time!
The sauce didn't thicken up as quickly as I would have liked for it to, causing the broccoli to lose it's bright color. I probably would add a bit more cornstarch so that it will thicken faster. MORE BROCCOLI – maybe because I really like broccoli, but 4 cups was not enough for this amount of sauce and beef. And beware, this is quite saucy – I doubled the amount of sauce from the original recipe – so if you don't like it really saucy, you may want to cut back a bit. I can honestly say I don't remember what type of beef I bought (and I didn't want to dig through the trash to find out) but it worked. I think most cuts would work. I would probably cut the beef into smaller, bite size pieces instead of strips next time.
Serve this over rice for the perfect make your own take out dinner. Why go out when you can make it at home?!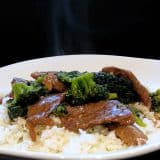 Beef and Broccoli
---
Author:
Prep Time: 15 minutes
Cook Time: 10 minutes
Total Time: 25 minutes
Yield: 4 servings 1x
Category: Main Dish
Method: Stove Top
Cuisine: Asian
Description
An easy recipe for Beef and Broccoli – a popular Chinese take-out dish.
---
Scale
Ingredients
1 1/2 c uncooked white rice
1 2/3 c water
1 lb boneless beef sirloin steak
4 T cornstarch
28 oz beef broth
5 t soy sauce
2 T brown sugar
2 cloves garlic, minced
4 c fresh broccoli florets
---
Instructions
Cook rice according to your preferences (I use a rice cooker)
Slice beef into small strips.
Combine cornstarch, broth, soy sauce, brown sugar and garlic and mix.
In a large skillet over medium/high heat, cook meat until browned
Stir broccoli and liquid into beef. Cook until it boils and thickens, stirring frequently.
—————–
adapted from allrecipes.com