You can't beat a classic, and this really is the Best Deviled Egg Recipe. A little bit sweet, a little bit sour – these are perfect for your next party or potluck.
If you need even more ideas for deviled eggs, make sure to check out my post with 50 deviled egg ideas!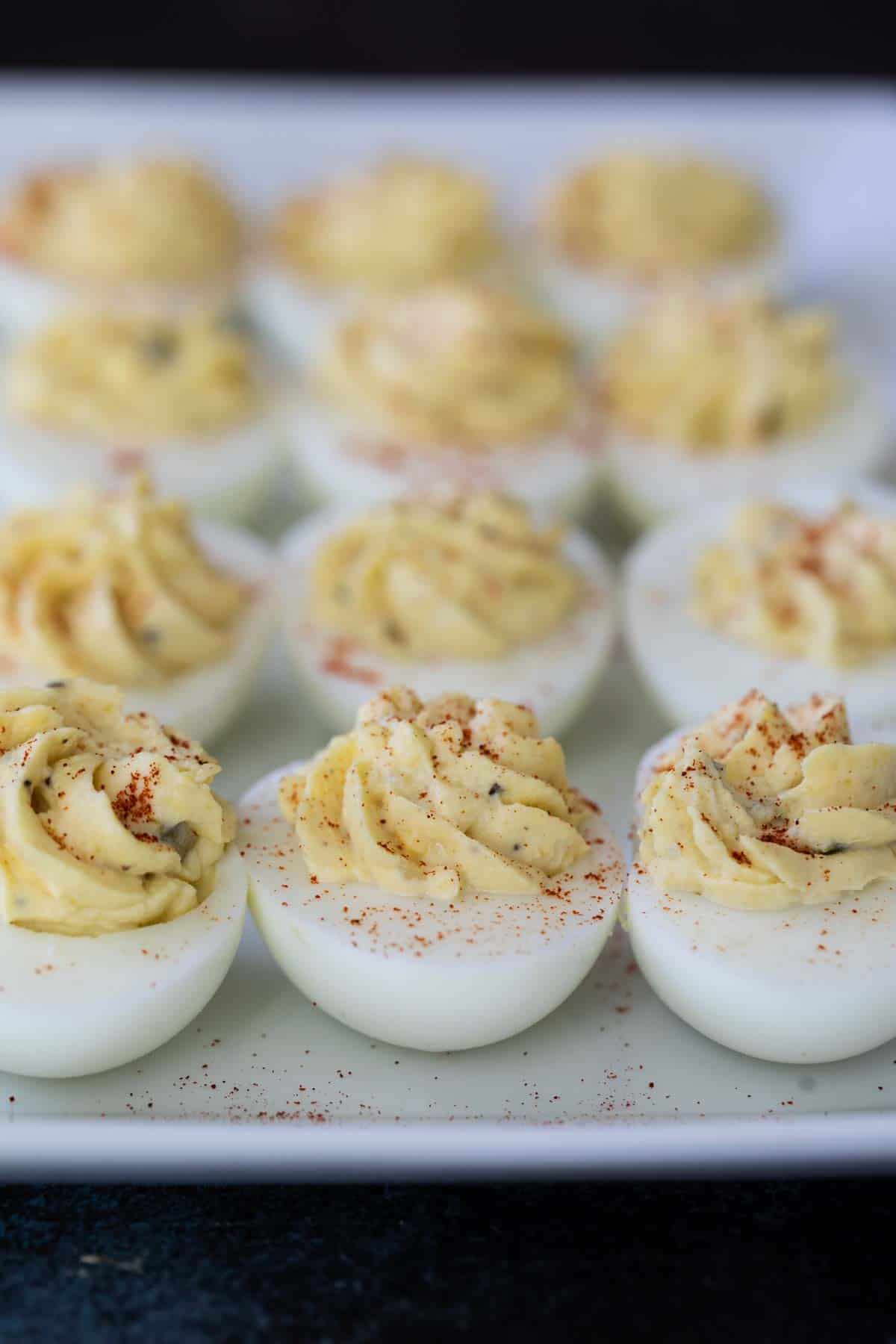 The Best Deviled Egg Recipe
Every year right around Easter, I go deviled egg crazy. I like to get creative with them, (bacon! olives! jalapenos!), but at the end of the day, you really just can't beat a classic deviled egg. Sometimes you need creative, and sometimes you just need basic.
But if you're going basic, you need to make sure it's the best possible.
And these deviled eggs right here – they are the best possible.
These deviled eggs belong on your holiday table. Or at least make them with all of those leftover Easter eggs.
They just might be your favorite part of that meal.
What You'll Need
Many deviled egg recipes just have you mixing the yolks, mayonnaise and mustard. But I feel like those are missing the best parts of a deviled egg. These are the ingredients that I think you need to make the perfect deviled egg!
Hard Boiled Eggs – You can't make them without the eggs! I'll talk more below about my favorite ways to boiled the eggs.
Mayonnaise – I like full fat, regular old mayo here.
Dill Pickle – For me, this is a must. The sour and salty brine brings in so much flavor.
Mustard Powder – Technically, you could use mustard, but I think the mustard powder flavor is more intense.
Sugar – Now, I'm not from the south, so I can't say for sure, but I think the sugar is a southern deviled egg thing. Once I had that little bit of sugar, there was no going back. If sweet isn't your thing, you can easily leave the sugar out or cut it down quite a bit.
Vinegar – Don't be afraid of the vinegar. It helps to add some brightness against all of the fat from the yolks and the mayonnaise.
Salt and Pepper – Never underestimate the power of salt and pepper. Taste your filling, and season as needed. It can make or break a recipe!
Paprika – This is totally optional, but I love to add smoked paprika for a smoky kick.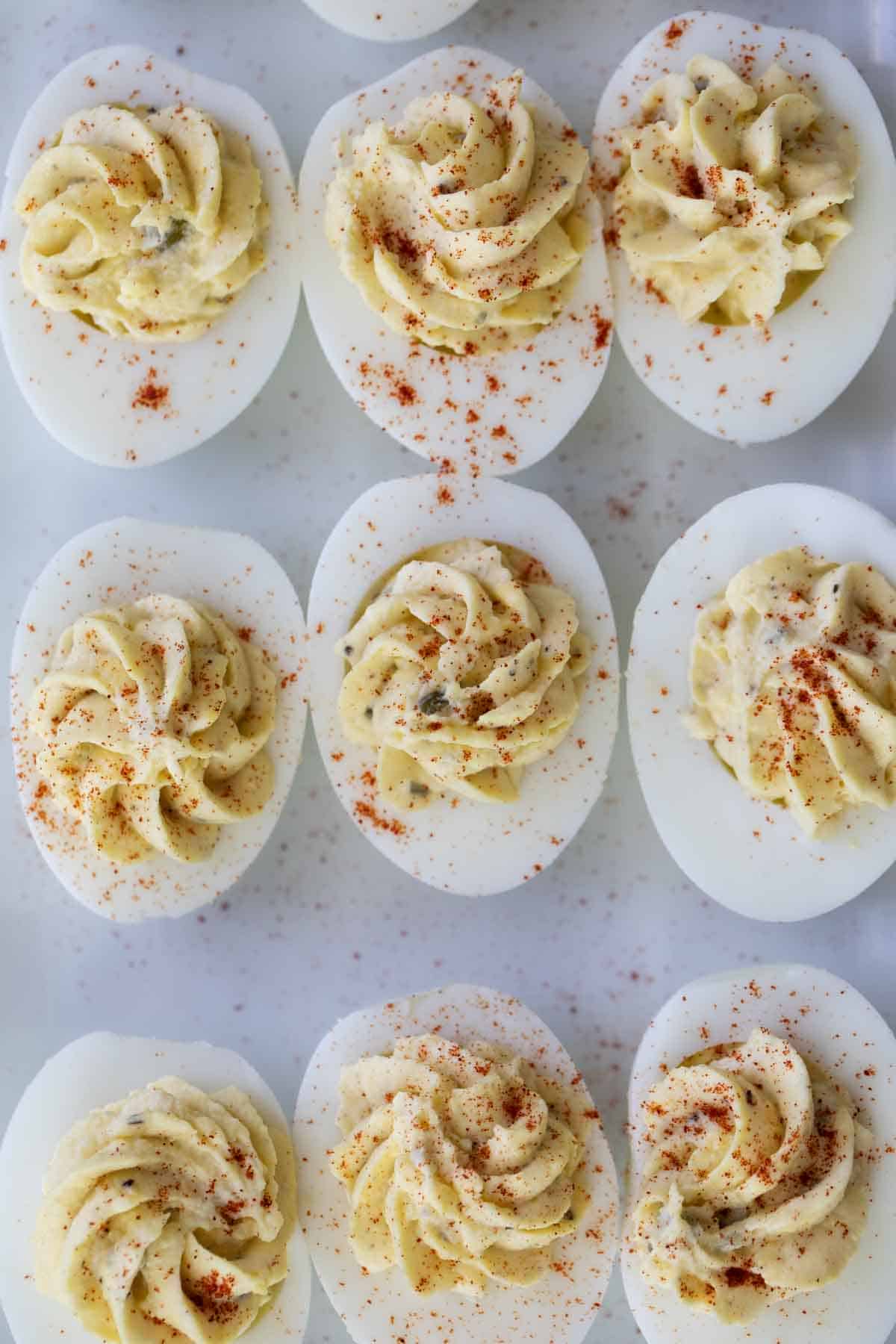 How to Make Deviled Eggs
I think the thing I love the most about deviled eggs is how easy they are. When I'm looking for an appetizer, especially for a holiday, I want something that is easy. And deviled eggs are just such a crowd pleaser – you can't go wrong with deviled eggs!
COOK THE EGGS: I didn't include instructions on how to make boiled eggs, simply because there are so many different ways, and everyone seems to have their own favorite. You can make these by boiling them, steaming them, cooking them in a pressure cooker or baking them in the oven. I find that the eggs peel so well after I cook them in my Instant Pot – I rarely cook the any other way now.
PREP THE EGGS: Once your eggs are cooked, peel them and cut them in half. Remove the yolks to a bowl, and place the egg white halves on a serving plate.
MAKE THE FILLING: Break the yolks with a fork, then add the mayonnaise, chopped dill pickles, mustard powder, sugar and vinegar. Mix all of the filling ingredients gently, then taste it and season it to your preference. Remember that the egg whites don't have any seasoning, so you'll want the filling to be over-seasoned a little bit to compensate for the whites.
FILL THE EGGS: I like to use a piping bag fitted with a large star tip to pipe the filling into the egg whites, but you can simply use a large ziplock bag with the corner cut off. Or even just spoon some of the filling into the egg halves. Finish it off by sprinkling with paprika, if desired.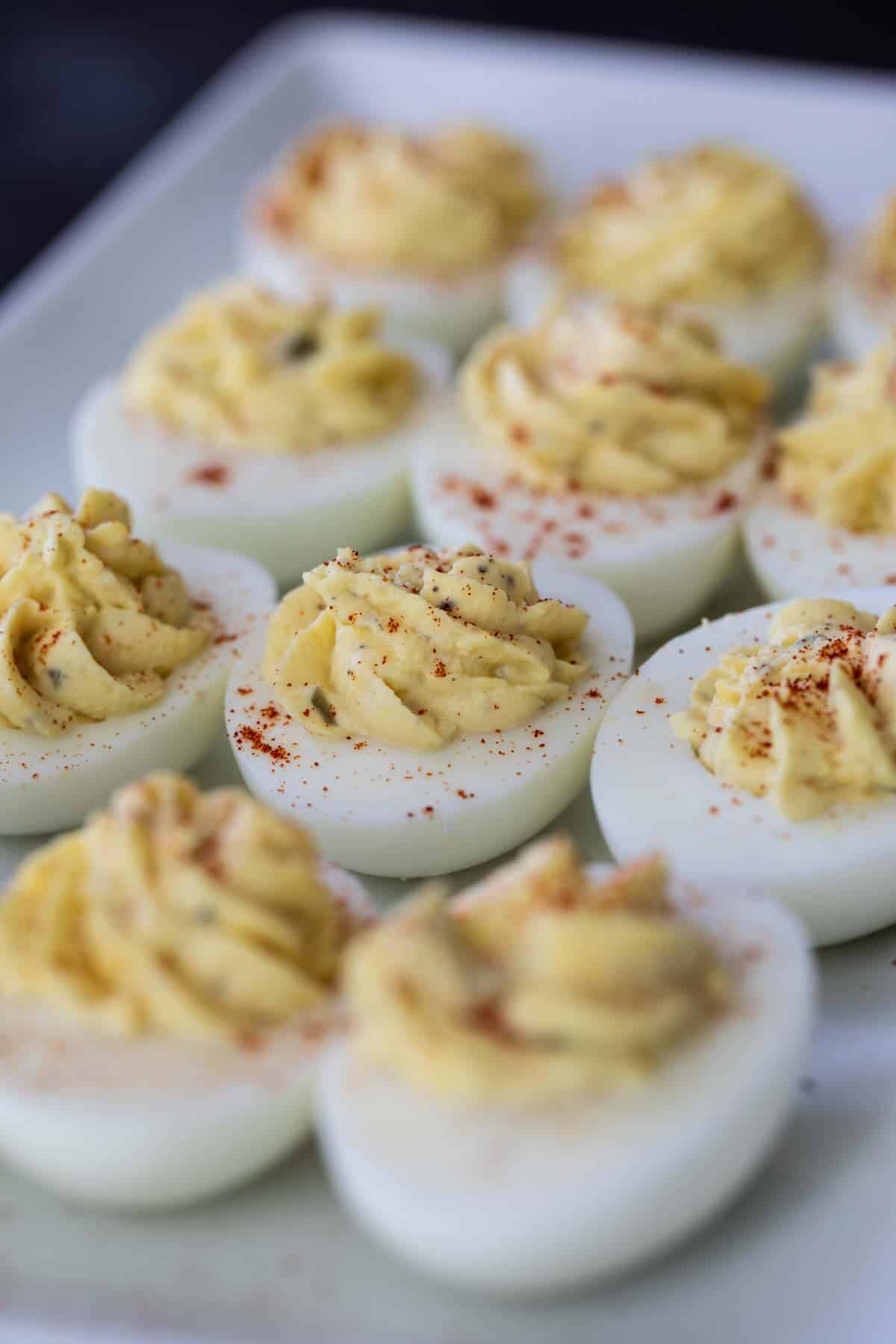 Frequently Asked Questions
Can You Make Deviled Eggs Ahead of Time?
Deviled Eggs are perfect for holidays and potlucks, so of course you want to make them ahead, right?
Fully assembled, I wouldn't make the eggs more than a few hours in advance. If you are serving them shortly, you can assemble and then refrigerate them until you are ready to serve them.
My recommendation is to store the egg whites and the filing separately until before you are ready to serve the deviled eggs. Store them both in air tight containers, and they should keep for 2 days before you need them.
Can you top the eggs with other ingredients?
If you know me, you know of my love of deviled eggs, in all the varieties!! I love adding herbs or bacon, or even unconventional ingredients like jalapenos. Check out my 50 Deviled Egg Recipes, or look at the end of this post for even more deviled egg recipes.
How do you store leftover deviled eggs?
I place any leftover eggs in an airtight container and refrigerate them. You'll want to eat them within a day or two, though.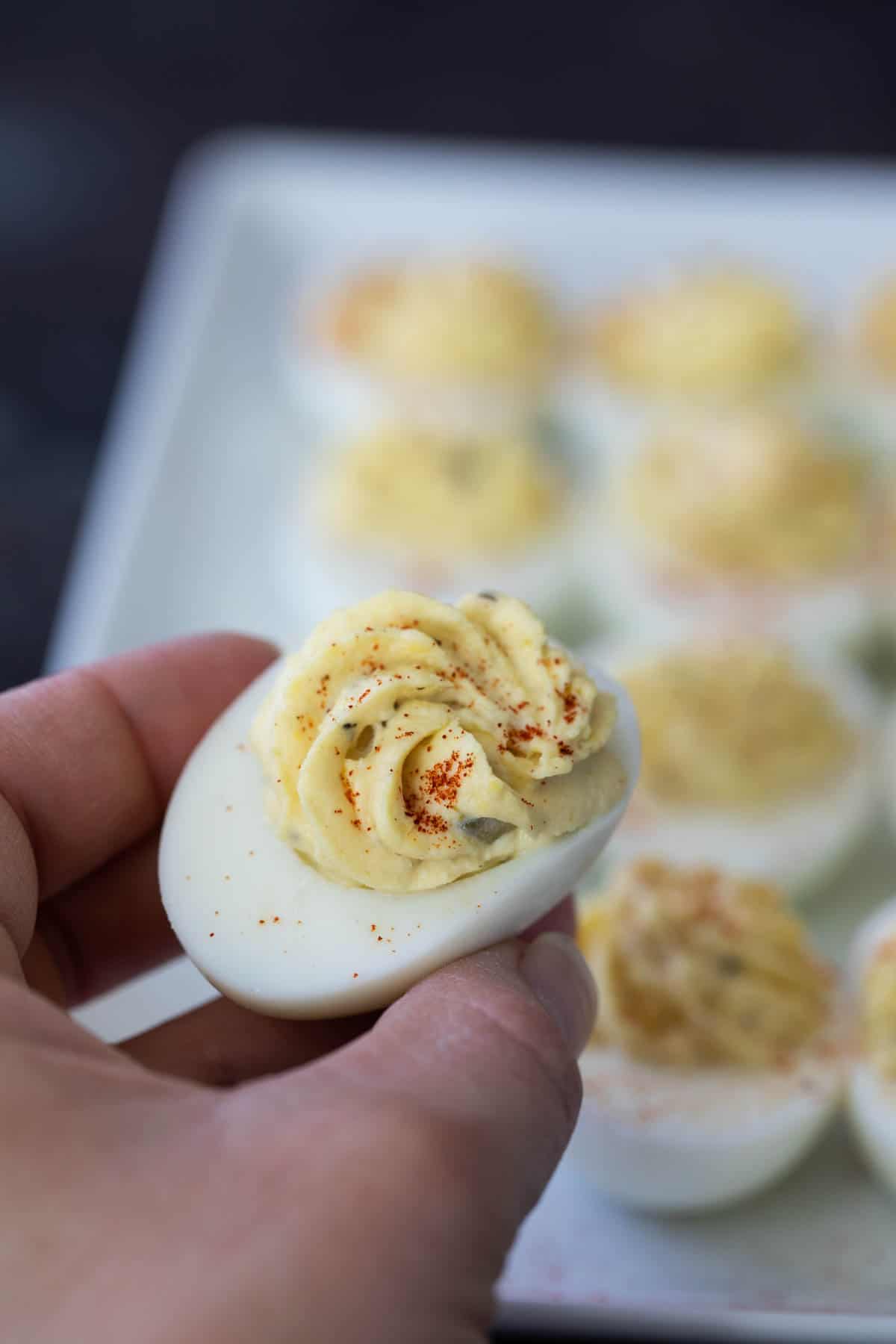 More Deviled Eggs Recipes
Deviled Eggs with Bacon – you can't go wrong with bacon, right?
Asian Deviled Eggs – a hint of ginger and soy sauce make these an irresistible favorite!
Caesar Deviled Eggs – love Caesar salad? Then you'll love this fun twist.
Spicy Southwestern Deviled Eggs – give me all the spice, and the pickled jalapenos in these make them an instant personal favorite.
Deviled Ham and Eggs – this one is definitely not traditional, but would be perfect on a brunch table!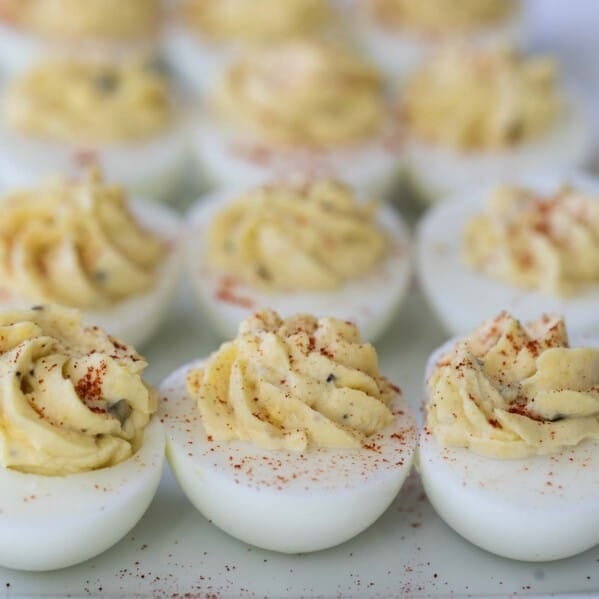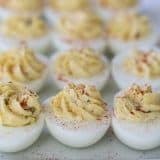 The Best Deviled Egg Recipe
---
Author:
Prep Time: 15 mins
Cook Time: 0 mins
Total Time: 15 minutes
Yield: 12 servings 1x
Category: Appetizer
Method: No bake
Cuisine: American
Description
You can't beat a classic, and this really is the Best Deviled Egg Recipe. A little bit sweet, a little bit sour – these are perfect for your next party or potluck.
---
Scale
Ingredients
6 hard boiled eggs
1/4 cup mayonnaise
1 tablespoon chopped dill pickle
1 teaspoon mustard powder
1 teaspoon sugar*
1/2 teaspoon vinegar
Salt and pepper
Paprika
---
Instructions
Peel the eggs and slice in half lengthwise. Carefully scoop out the yolks and place in a medium bowl. Place the egg whites on a serving platter, cut side up.
Use a fork to break up the yolks. Add the mayonnaise, chopped dill pickle, mustard powder, sugar, and vinegar. Taste, and season with salt and pepper. Remember that the egg whites aren't seasoned, so you'll want to over-season the filling just a bit.
Use a piping bag or a large ziplock bag with the corner cut off to pipe the filling into the egg whites.
Dust the top of the eggs with paprika. Serve immediately or refrigerate until ready to serve.
Recipe Notes:
*this makes a sweet filling. You can definitely cut back on the sugar, or leave it out completely if you don't care for any sweetness at all.
Nutrition information provided as an estimate only. Various brands and products can change the counts. Any nutritional information should only be used as a general guideline.
Nutrition
Serving Size: 1 egg half
Calories: 68
Sugar: 0 g
Sodium: 80 mg
Fat: 6 g
Saturated Fat: 1 g
Unsaturated Fat: 4 g
Trans Fat: 0 g
Carbohydrates: 1 g
Fiber: 0 g
Protein: 3 g
Cholesterol: 95 mg
Keywords: best deviled eggs, deviled egg filling, easter, boiled eggs