An easy and crowd pleasing appetizer – these Sausage Stuffed Mushrooms have fresh mushrooms that are stuffed with sausage and cream cheese.
Appetizers are a favorite around here, and these Sausage Stuffed Mushrooms are right at the top of our list! Check out some other favorites, like this Baked Brie Recipe with Sun-Dried Tomatoes, this Queso Blanco, this Cheese Ball Recipe, or Homemade Egg Roll Recipe.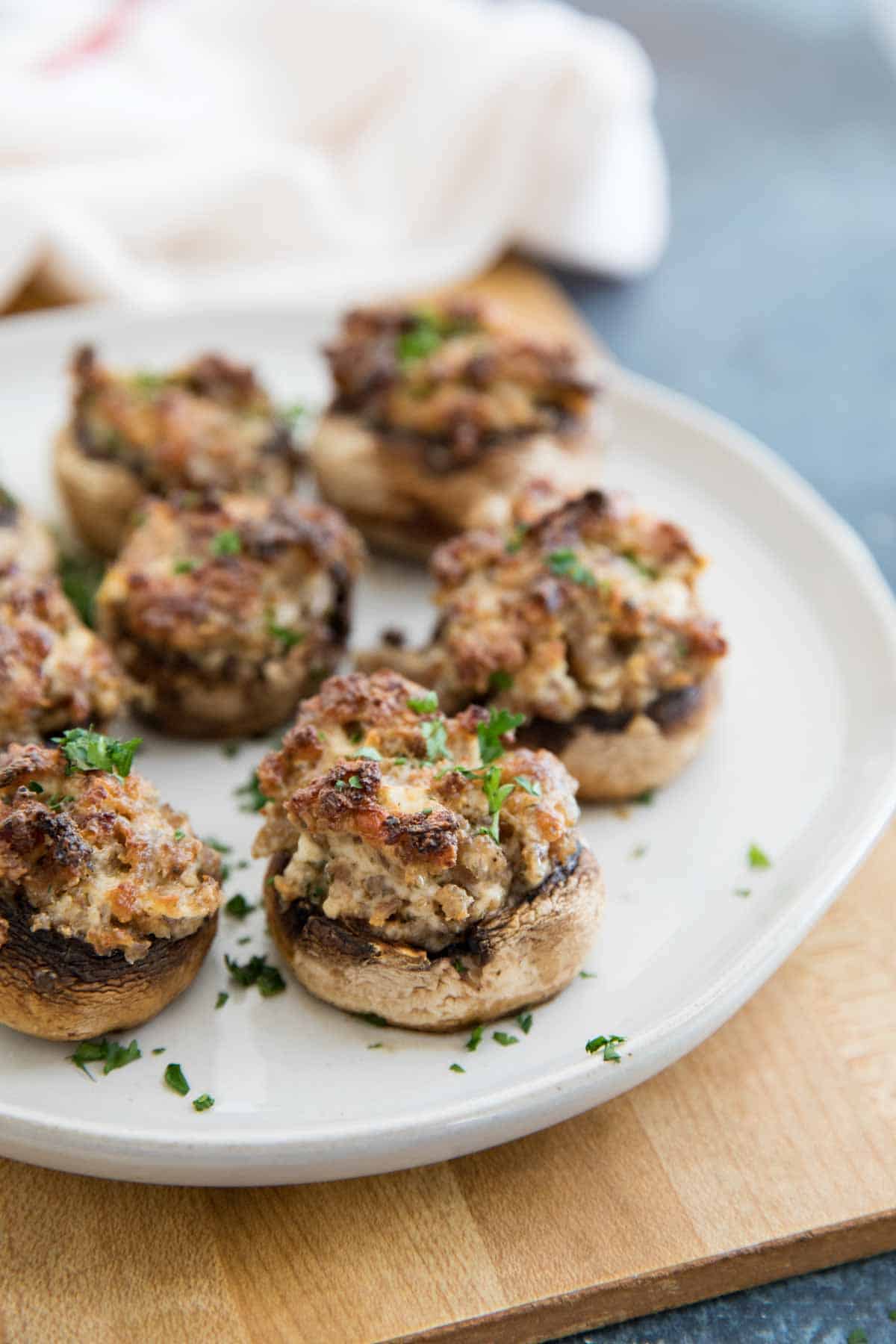 I am all about the appetizer recipes, especially at the end of the year. I'm making my list for our annual all-appetizers New Years Eve dinner menu, and these Sausage Stuffed Mushrooms usually make that list!
And these stuffed mushrooms – ladies and gentlemen – are a recipe that you want in your holiday arsenal. Believe me – you will make these and watch them disappear. And you will be the most popular person at the party. I'm not even kidding you.
The Secret to the BEST Stuffed Mushrooms
You might wonder why these are so good – the ingredients are quite basic, and probably not very different than a lot of stuffed mushroom recipes out there.  But I'm going to give you the big secret – and please don't get grossed out because it totally makes a difference.
You don't drain the fat from the sausage.
That sausage fat is the secret ingredient.  It's what keeps these mushrooms moist and full of flavor.  If you take that out, you'll end up with dry, run of the mill mushrooms.  Please just trust me on this one. I've had more than one (or a dozen) of these so I really know. 🙂
I have made this Sausage Stuffed Mushrooms recipe dozens of times now, and I don't think I've ever been left with any at the end of the night!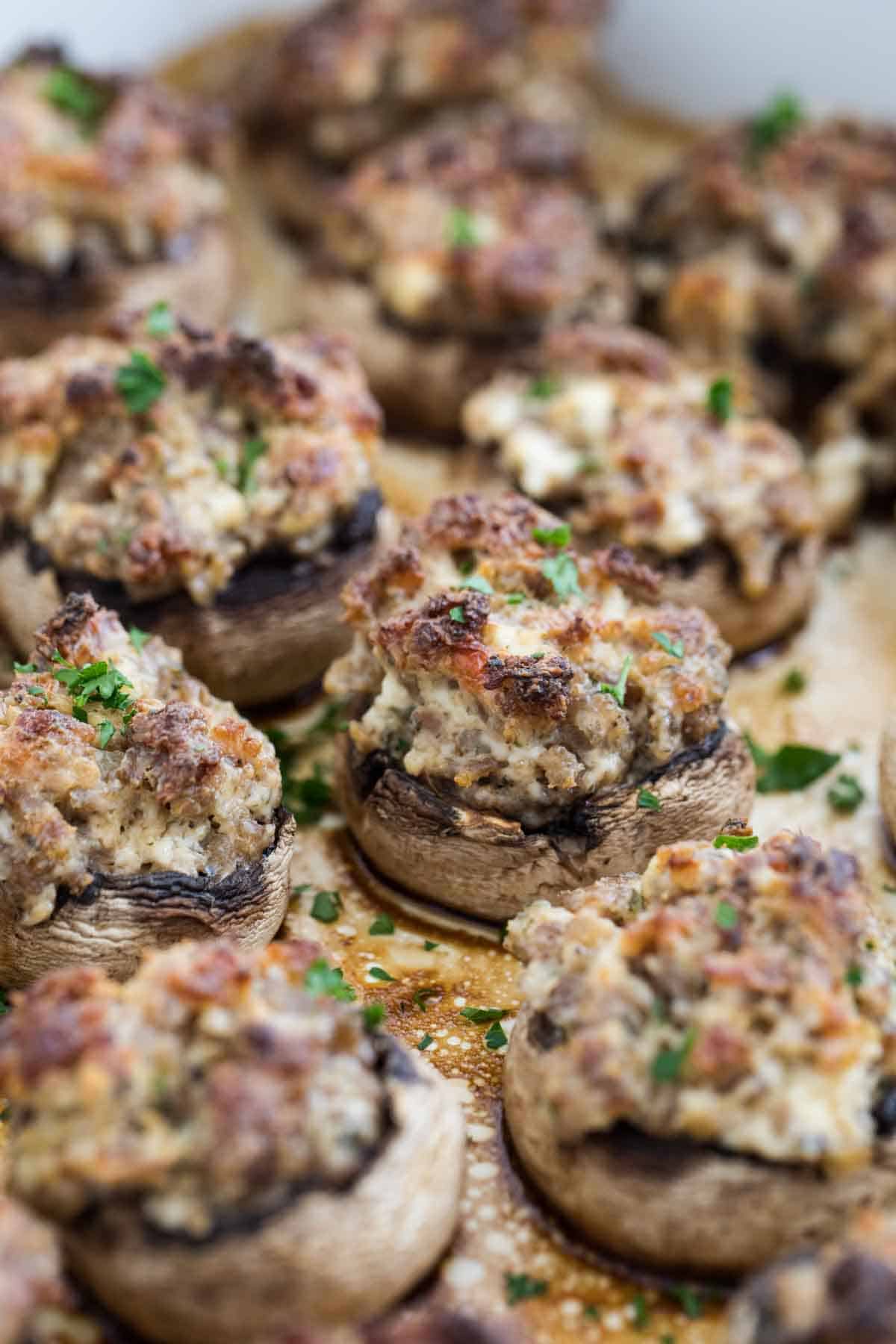 Ingredients
Sausage: I don't know why, but the first time I made these, I used breakfast sausage (the kind that comes in the tube) and have continued to do that to this day. Italian sausage will work, as well, but it's easy to get the breakfast sausage into small crumbles, and the flavor really does work well for this recipe.
Cream Cheese: I have only tested these using full fat cream cheese. I'm guessing reduced fat would work, but I have not tried it.
Parmesan Cheese: I like to use freshly grated Parmesan cheese.
Parsley: This adds a bit of freshness and herbiness. You could probably get away with skipping it if you don't have it, but I personally wouldn't skip it!
Sage: Most sausage (especially breakfast sausage) will have sage in it, so this really intensifies that flavor. Again, if you don't have it, it wouldn't be the end of the world to leave it out, but I love the flavor of the extra sage.
Mushrooms: I like to buy my mushrooms at Costco because they are bigger than the mushrooms at the grocery store. They are easier to fill, and easier to serve. Both small and large will work, though. The number of mushrooms you end up with from this recipe will depend on how big your mushrooms are.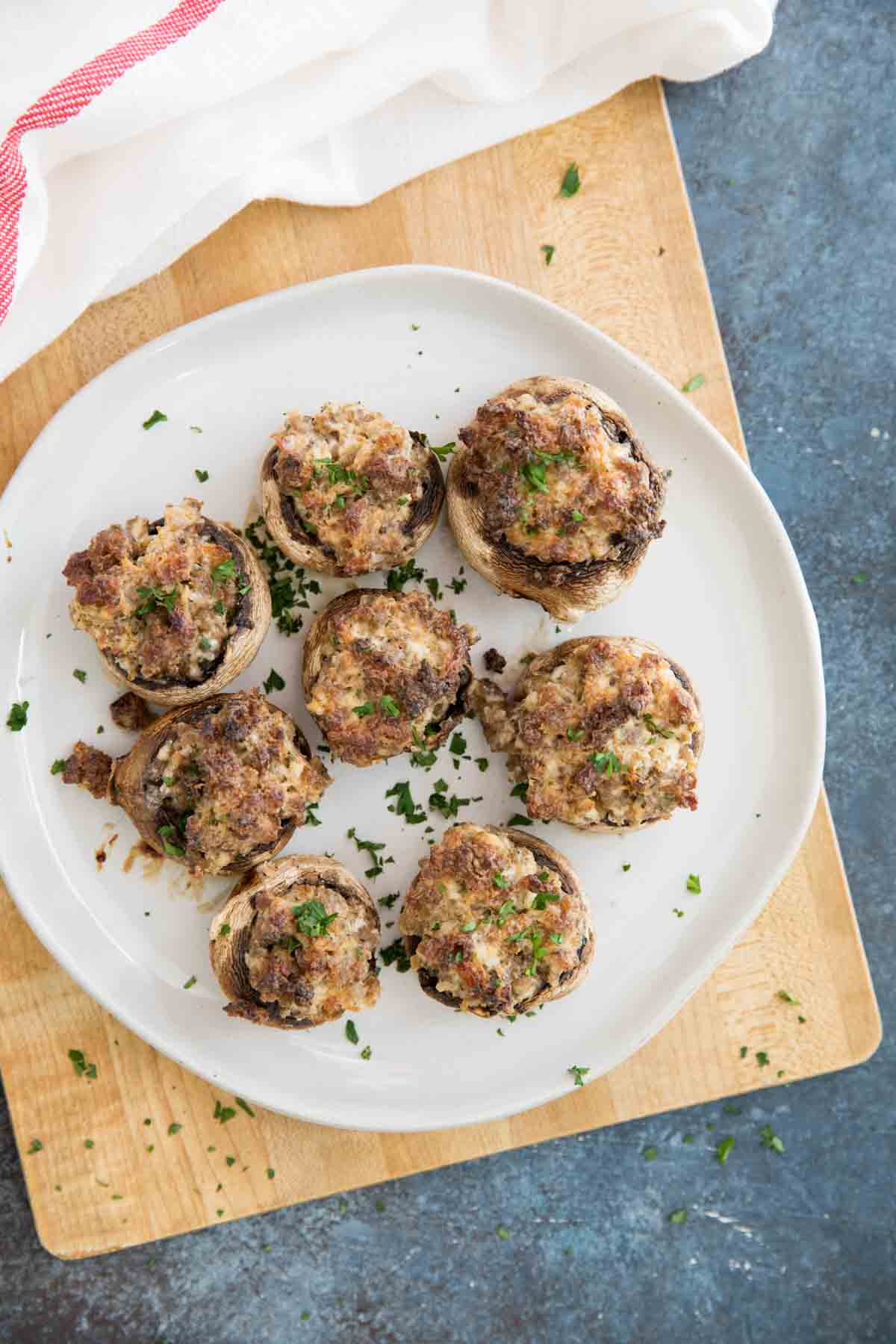 How to Make Sausage Stuffed Mushrooms
COOK the sausage, breaking it up as it browns. Do not drain the grease from the sausage when it is done cooking.
COMBINE the cream cheese, Parmesan, parsley and sage in a large bowl.
ADD the cooked sausage, grease and all! Mix to combine.
STUFF the mushrooms by setting the cleaned mushrooms upside down and filling the cavity with the sausage filling.
BAKE the mushrooms until they are soft and the filling has browned on top. Let the mushrooms sit in the pan for 5-10 minutes once they are done baking to soak up any juices in the pan.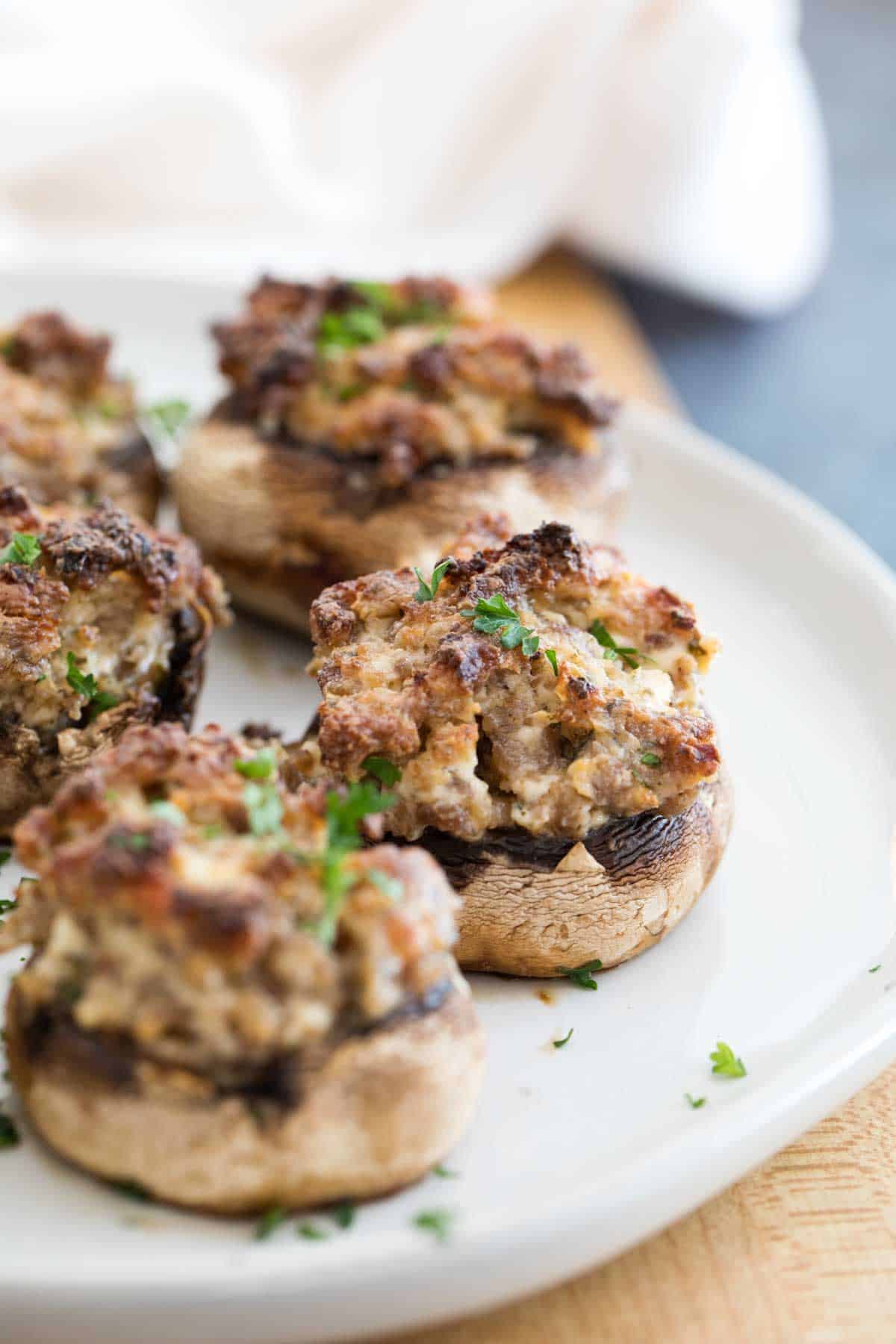 More Easy Appetizers
Southwest Egg Rolls
Slow Cooker Spinach Artichoke Dip
Sausage Stuffed Jalapenos
BLT Dip
Cucumber Dill Toasties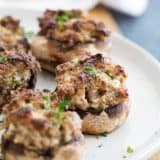 Sausage Stuffed Mushrooms
---
Author:
Prep Time: 15 minutes
Cook Time: 55 minutes
Total Time: 1 hour 20 mins
Yield: 10 servings 1x
Category: Appetizer
Method: Baked
Cuisine: American
Description
An easy and crowd pleasing appetizer – these Sausage Stuffed Mushrooms have fresh mushrooms that are stuffed with sausage and cream cheese.
---
Scale
Ingredients
16 oz sausage
8 oz cream cheese, softened
1/4 cup grated Parmesan cheese
1 tablespoon chopped fresh parsley
1/4 teaspoon ground sage
2 lbs mushrooms, stems removed and cleaned*
---
Instructions
Preheat the oven to 400ºF.
In a medium skillet, cook the sausage until it is browned and cooked through, breaking it up as it cooks. Do not drain.
In a bowl, combine the cream cheese, Parmesan, parsley and sage. Add the cooked sausage (including the grease) and mix until combined.
Place the mushrooms, top side down, in a large baking dish. (You may need 2 baking dishes, depending on the size of the mushrooms.) Fill the center of each mushroom with a large scoop of the sausage mixture.
Bake in the preheated oven for 40-45 minutes, until the mushrooms are softened and the filling is browned.
Let the mushrooms sit in the pan for 5-10 minutes to soak up any juices before serving.
Recipe Notes:
*I like to buy my mushrooms at Costco for these Stuffed Mushrooms because they are so big and are perfect for this appetizer.
SUBSTITUTIONS: I have always used a tube of breakfast sausage for these mushrooms. Italian sausage should work, as well, if preferred.
MAKE AHEAD: The mushroom filling can be made up to 2 days in advance. If you'd like to make the filling and fill the mushrooms, you could do that the morning of, but I wouldn't suggest storing the filled mushrooms for more than 24 hours. These are best baked before serving and served warm.
STORE: Store any leftovers in the refrigerator for 3 days. You can reheat in the microwave for a few seconds.
Nutrition information provided as an estimate only. Various brands and products can change the counts. Any nutritional information should be used as a general guide.
Nutrition
Serving Size: 1/10 of recipe
Calories: 286
Sugar: 3 g
Sodium: 601 mg
Fat: 23 g
Saturated Fat: 10 g
Unsaturated Fat: 3 g
Trans Fat: 0 g
Carbohydrates: 5 g
Fiber: 1 g
Protein: 15 g
Cholesterol: 69 mg
Keywords: sausage stuffed mushrooms