An easy and crowd pleasing appetizer – fresh mushrooms are stuffed with sausage and cream cheese.
We are heading into the time of  year when I start making a lot of appetizers.  The holiday parties are going to be starting.  You always need apps for before Thanksgiving or Christmas dinners.  And New Years is all about the appetizers to me.  I'm just warning you that there will be more appetizers here from now until the end of the year!
And these mushrooms – ladies and gentlemen – are a recipe that you want in your holiday arsenal.  Believe me – you will make these and watch them dissappear.  And you will be the most popular person at the party.  I'm not even kidding you.
You might wonder why these are so good – the ingredients are quite basic, and probably not very different than a lot of stuffed mushroom recipes out there.  But I'm going to give you the big secret – and please don't get grossed out because it totally makes a difference.
You don't drain the fat from the sausage.
That sausage fat is the secret ingredient.  It's what keeps these mushrooms moist and full of flavor.  If you take that out, you'll end up with dry, run of the mill mushrooms.  Please just trust me on this one.
The other secret ingredient?  This cheese.  I have actually made these mushrooms dozens of times over the years, but this is the first time I have added the grated cheese to the top.  But I recently discovered this cheese – and I'm not kidding you – it is now one of my favorite cheeses ever.  I recently had the honor of accompaning a small group of bloggers to a local dairy farm here in Utah.  This same dairy farm started making their own artisan cheese a year ago.  (More on this coming up tomorrow!!)  We were able to taste test several different cheeses, and let's just say – I could never live without cheese, and ate way more than my fair share of those samples.
I couldn't leave without purchasing 2 of my favorites that I tasted that day – a juustoleipa (which is amazing when it is lightly fried on a griddle), and this aggiano, which is a hard, aged cheese.  Kind of like a Parmesan, but oh, so good.
I thought and thought about what I wanted to do with it.  I knew I needed to incorporate it into a recipe somehow, or I'd just end up eating the whole thing just plain.  And all of a sudden, these mushrooms popped into my head.  Which is kind of funny, because I don't normally top them with any cheese.  But more cheese is never a bad thing!  I loved the nutty finish the cheese brought, and thought that these were one of the best batches of mushrooms I had ever made!!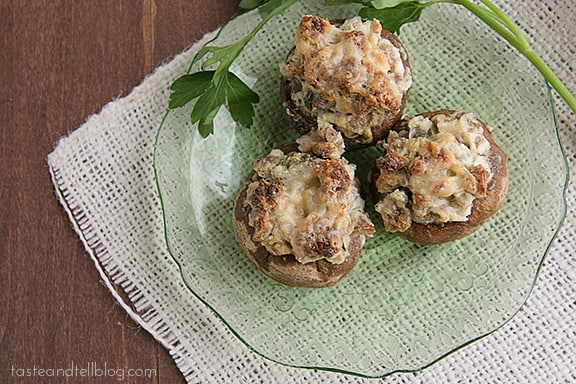 Print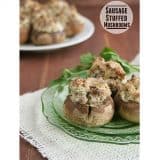 Sausage Stuffed Mushrooms
Prep Time:

15 minutes

Cook Time:

45 minutes

Total Time:

1 hour

Yield:

10-12 appetizer servings
---
Description
An easy and crowd pleasing appetizer – fresh mushrooms are stuffed with sausage and cream cheese.
---
Ingredients
12-16 oz sausage
8 oz cream cheese, softened
1/4 teaspoon ground sage
1 tablespoon fresh chopped parsley
1 1/2 – 2 lbs mushrooms, stems removed and cleaned
3-4 tablespoons grated Aggiano (or any hard, aged cheese, such as Parmesan)
---
Instructions
Preheat the oven to 400F.
In a medium skillet, cook the sausage until browned and cooked, through, breaking it up as it cooks. Do not drain.
In a bowl, combine the cream cheese, sage and parsley. Pour the sausage over the top (including the grease) and mix until combined.
Place the mushrooms, top side down, in a large baking dish. Fill the center of each mushroom with a large scoop of the sausage mixture. Bake in the preheated oven for 40 minutes, top evenly with the grated Aggiano, and return to the oven for about 5 more minutes.
Allow the mushrooms to sit in the pan for 5-10 minutes to soak up any juices before serving warm.
More stuffed mushrooms that I want to make:
Southwestern Stuffed Mushrooms with Black Beans, Brown Rice and Red Pepper from Cookin' Canuck
Enchilada Stuffed Mushrooms from Lauren's Latest
Bacon and Cream Cheese Stuffed Mushrooms from Mountain Mama Cooks