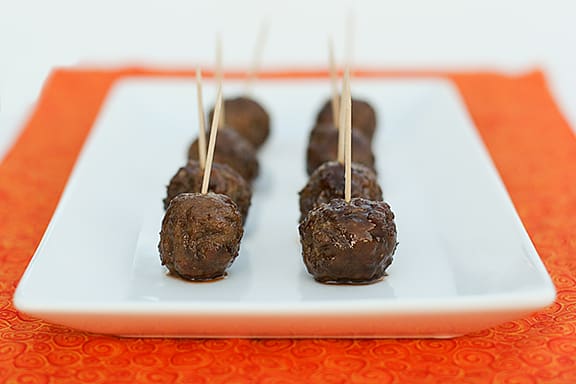 As much as I love the summer and the fresh produce that comes with it, there is something about the fall and winter that I love food wise as well.  Not only do I get to start making my favorite kinds of food – comfort food, but we also get to start thinking about the holidays and the delicious and fun food that they bring.  One thing I especially look forward to seeing all over blogland are all of the appetizer recipes.  There are so many parties coming up, and appetizers are one thing that we can all usually use more of!
Whenever my family gets together for New Years, it seems like we always just have an appetizer party.  No need to make a fancy meal, or even bother with a meal at all.  Appetizers and finger foods are perfect, because you can set them out and people can eat and graze all night long.  And there is always such a huge assortment of food there, you never really get sick of anything.  So when I saw these meatballs that The Peppered Pantry posted, I knew I wanted to try them out so I'd have a super easy appetizer on my hands for this upcoming holiday season.
In all honesty, I needed a super easy dinner idea for one night.  And I just happened to have a half a bag of IKEA meatballs in the freezer.  (I love those things!!)  Holly's original recipe was made with blackberry jam, but I didn't have any on hand, and this recipe kind of reminded me of the cocktail wieners you see at holiday parties that are made with grape jam.  So grape jam it was for me!  And they were super delicious!!  In fact, my husband was gobbling them up, and I asked him what he thought was in them.  He started listing off ingredients, and I had to laugh, knowing that there are just 3 ingredients and it took me a whole 3 minutes of hands on time!
So as a dinner idea or an appetizer for one of those upcoming holiday parties, this is a super easy and delicious recipe!
Grape BBQ Meatballs
adapted from The Peppered Pantry
1 cup grape jam
2 cups prepared bbq sauce
a bag of frozen meatballs (or use homemade!  They are super easy to freeze.)
Preheat oven to 400F.
Put the meatballs in an 8×8 inch dish and cook in the preheated oven for 10 minutes.  While the meatballs are cooking, place the jam and bbq sauce in a small saucepan over medium heat.  Let cook for 5 to 10 minutes.  Pour the sauce over the meatballs and continue cooking for 15 more minutes.
Works well as an appetizer, or even as a main dish!