Nothing says fall like apples! These pancakes are infused with apple cider, and then covered in a sweet and delicious caramel apple syrup for the perfect fall breakfast.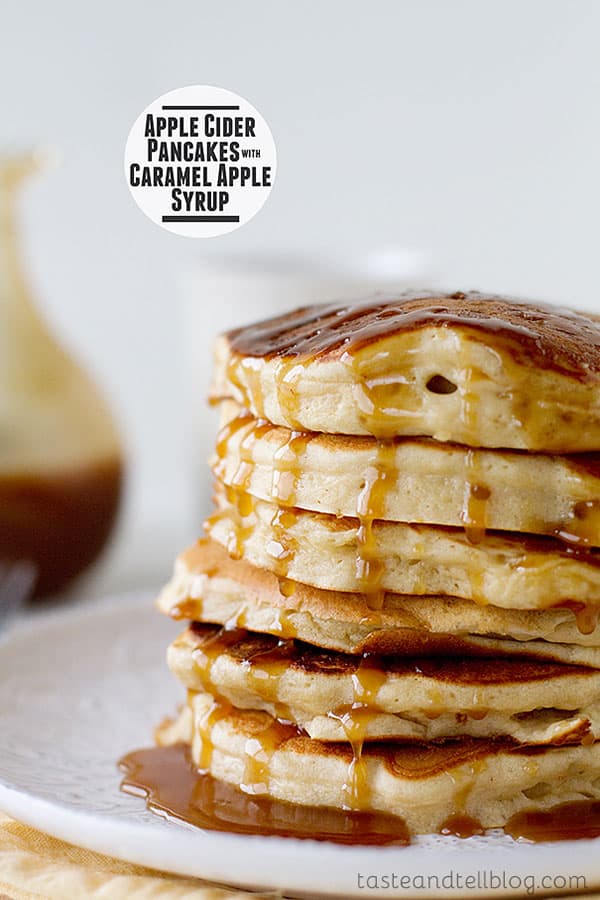 This post is sponsored by Yoplait



I am now ready to fully embrace fall. I actually got out a new fall candle the other day while it was raining an chilly outside, and the combination made it totally feel like fall. Finally. And in true Utah fashion, there is already snow dusting the tops of the mountains, making me wonder if we will even have a real fall this year, or if we are going to dive straight into winter!
Regardless, it's time to bring on the fall foods. Especially the fall sweets. I've got an awesome giveaway coming on Monday, but then I'm starting October off with a bang, with a week full of pumpkin recipes! I'm so excited to share them all with you all.
But now – we are going the apple route. Or the apple cider route.
For some reason, I totally have had apple cider on the brain. Which, unfortunately, has led to a lot of recipe disasters in my kitchen. Don't get me wrong – I have my fair share of recipes that don't turn out, but not as many as I had in a row. All while trying to make something amazing with apple cider.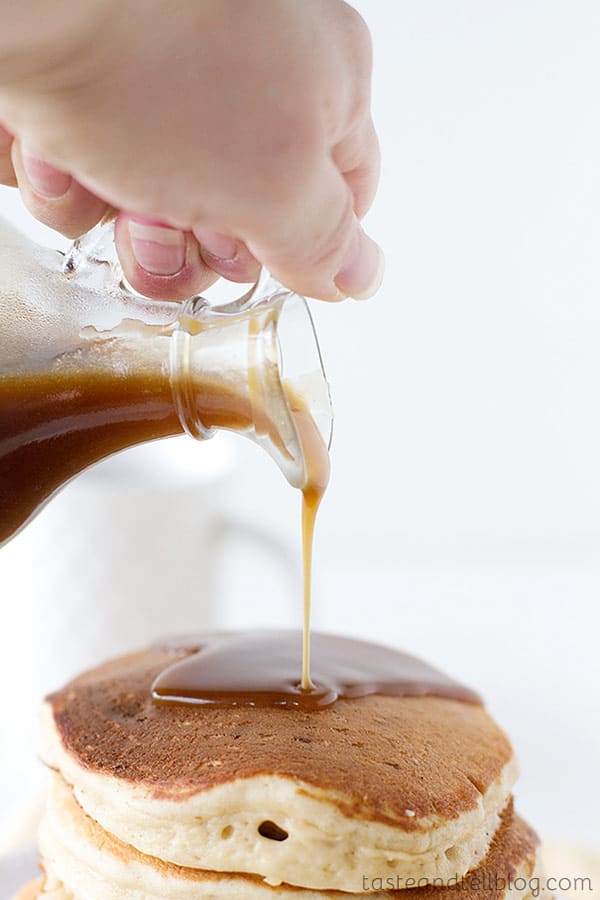 These Apple Cider Pancakes are light and fluffy, partly because of the addition of delicious Yoplait Greek yogurt in the batter. And this isn't just any yogurt. The new Yoplait Greek yogurt is perfect in this recipe. We eat a lot of yogurt, and usually have quite a bit of it on hand. And while it is perfection to just eat it on its own, there is so much more you can do!! Like pancakes. Adding the Greek yogurt to these pancakes gives them such a perfect texture, and I love the extra protein that it is adding.

And then there's my other pancake tip – whipped egg whites. My mom has been doing it as long as I can remember, and I have adopted this habit as well. If you are a fluffy pancake person, you have to start whipping your egg whites. You won't be sorry!!
The pancakes are also infused with apple cider, giving them a slightly sweet apple flavor. But the real magic is in the syrup. Only 3 simple ingredients, but that syrup really takes these apple cider pancakes to another level.
When making the syrup, I like to keep mine on the thicker side, and only add 1/4 cup of cider. The only problem with this is that you can get sugar crystals if your syrup cools down. (So make sure you are serving it hot!!) If you add more liquid, the crystals don't for quite as easy, but the syrup does get thinned out.
I am always down for the apple & caramel combination – and now I'm excited that I can eat it for breakfast with these Apple Cider Pancakes with Caramel Apple Syrup!
To see what 3 food and lifestyle bloggers thought of the new Yoplait Greek Yogurt, check out this video.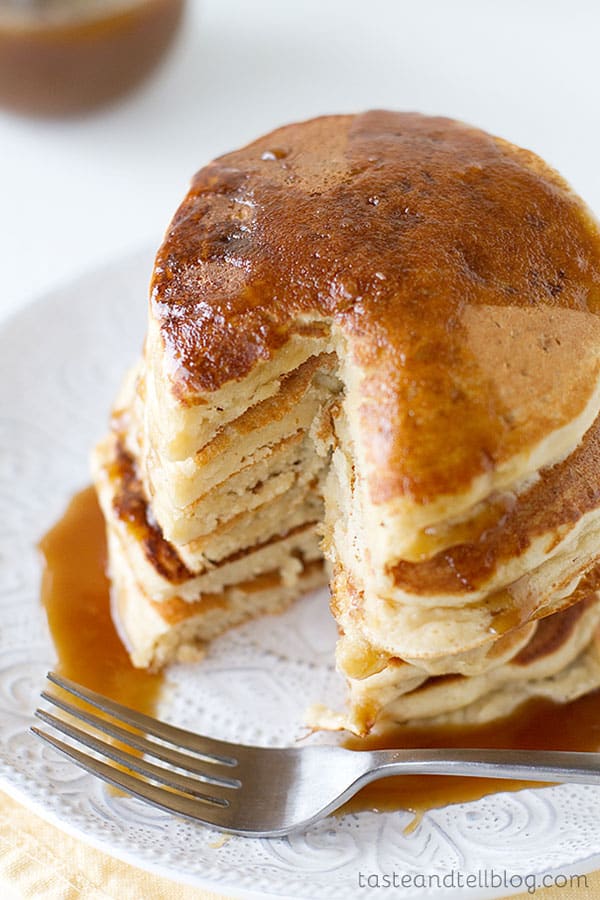 Like what you see here? Make sure you are following Taste and Tell for more great recipes and ideas!!

Facebook ** Pinterest ** Twitter ** Instagram ** Google+
or you can subscribe to my newsletter or Feedly or Bloglovin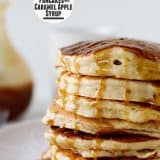 Apple Cider Pancakes with Caramel Apple Syrup
---
Prep Time: 15 mins
Cook Time: 15 mins
Total Time: 30 mins
Yield: 4 servings 1x
Description
Nothing says fall like apples! These pancakes are infused with apple cider, and then covered in a sweet and delicious caramel apple syrup for the perfect fall breakfast.
---
Scale
Ingredients
Pancakes
2 cups all-purpose flour
2 tablespoons sugar
2 teaspoons baking powder
1 teaspoon baking soda
1/4 teaspoon salt
2 containers (5.3 oz each) Yoplait Greek Blended Vanilla Yogurt
1 cup apple cider
2 eggs, separated
Caramel Apple Syrup
1/4 cup butter
1/4 – 1/2 cup apple cider*
1 cup brown sugar
---
Instructions
To make the pancakes:
In a large bowl, combine the flour, sugar, baking powder, baking soda and salt. In another bowl, combine the yogurt, cider and egg yolks. Combine the wet ingredients with the dry ingredients and mix just until combined.
In another bowl, beat the egg whites until stiff peaks form. Add 1/4 of the egg whites into the pancake batter and stir in to lighten up the mixture. Add in the remaining whites and fold in, just until combined.
Heat a griddle over medium heat. Spray with nonstick cooking spray or melt a small amount of butter on the griddle. Pour batter by 1/4-cupfuls onto the hot griddle. Cook until browned, then flip and cook on the second side.
To make the syrup:
In a small saucepan, melt the butter. Add in the apple cider, then stir in the brown sugar. Cook, whisking until it comes to a boil. Boil for one minute, whisking constantly. Serve warm.
Recipe Notes:
*Using less cider will result in a thicker syrup, but using more cider will result in a smoother syrup.
More Pancake Recipes: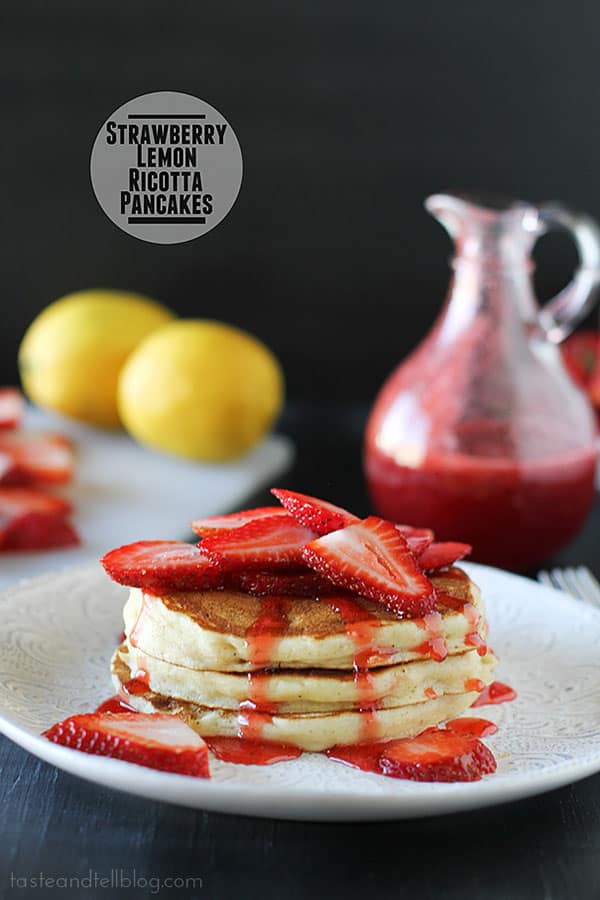 Strawberry Lemon Ricotta Pancakes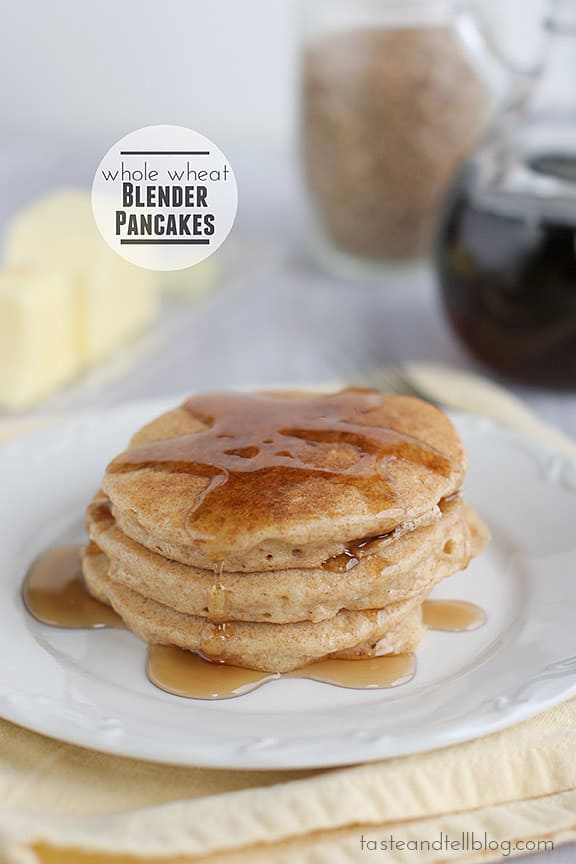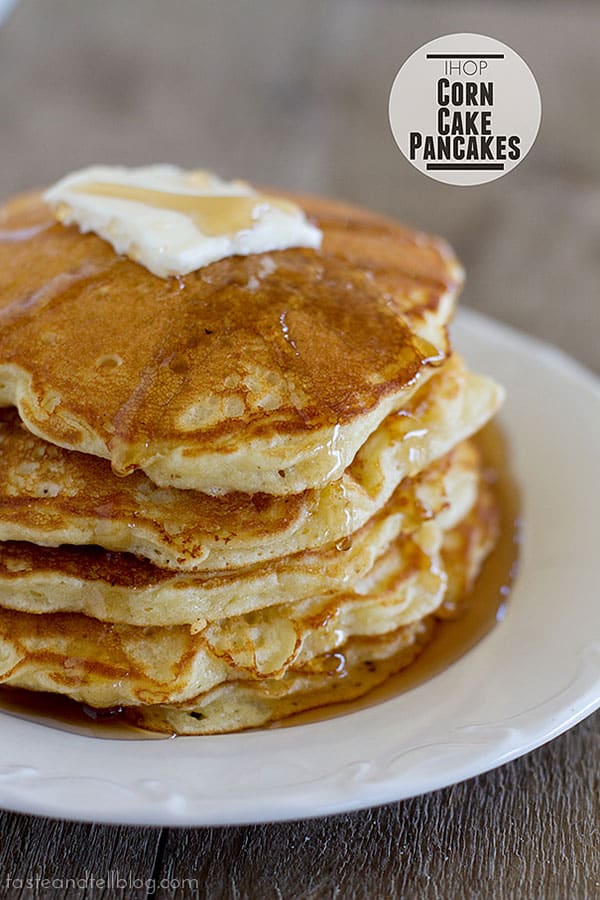 Around the Web:
Lemon Ricotta Pancakes from The Novice Chef
Blueberry Buttermilk Pancakes from The Novice Chef
Banana Oat Blender Pancakes from Mountain Mama Cooks
Don't miss a thing! Follow me on Pinterest to see what I'm pinning!
Visit Taste and Tell's profile on Pinterest.



**Thank you to Yoplait for sponsoring this post. As always, all opinions are my own.**