An easy recipe for a healthier breakfast choice – whole wheat oatmeal pancakes packed with chocolate chips.
It seems like lately, I've had more than my fair share of recipe failures. You make a killer recipe one day, and then I guess your confidence gets away from you the next day, because the next 2 recipes don't turn out quite right. It gets a bit discouraging at times. (Although I do sometimes love the challenge of trying to perfect a recipe!!)
But there is one thing I always do when I am on a streak of failing recipes – I hit up a family cookbook. I am almost guaranteed that the recipes that I make from one of these treasured cookbooks will come out a winner. So that is where I turn when I need a guarantee. And a few days ago, I knew I needed a guaranteed winner for breakfast.
I have a go-to pancake recipe that I've probably made 100 times. (My kids really like pancakes!!) I mostly have the recipe memorized, but I've mentioned before – I'm not always so awake first thing in the morning. So more times than not, I pull out this family cookbook and open it up to a well used page that holds my beloved pancake recipe. (Yes, one day I will share that recipe with you all!)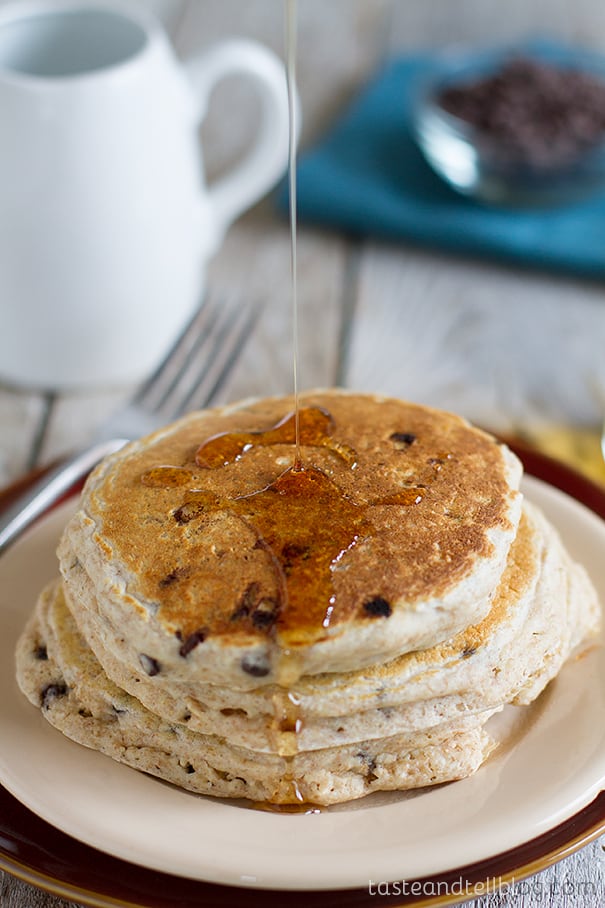 Every time I would make those pancakes, I would stare at a recipe for Oatmeal Pancakes that was sandwiched between my favorite pancake recipe and another favorite pancake recipe – Whole Wheat Blender Pancakes. Well, I couldn't avoid it anymore – I had to try the recipe.
In the same manner that is common to many family/church/community cookbooks, there wasn't much instruction given on how to make the pancakes. Simply an ingredient list, "process dry" and "let sit 5 min. Temp. med/med high". But luckily they are just pancakes and the recipe was pretty easy to figure out.
The only change I made from the original recipe was to swap in whole wheat flour, leave out the sweetening, and add the chocolate chips. Truth be told, with the first batch I made, the thought of adding chocolate chips didn't even occur to me, so they were plain. My plan was to make the pancakes for breakfast and photograph the leftovers. And really, my kids are often pancake snobs, so I wasn't even sure they would like these.
And then they ate the whole batch. Just the 3 of them. Did I mention I didn't even add chocolate chips to that first batch? I'd say they were a hit. Since I knew I had to blog these pancakes since they were so quickly devoured, I set out to make a second batch. And then it hit me. Chocolate chips. Actually, my first thought was to add raisins, but I know so many people aren't raisin fans. I knew I had to go with chocolate chips because everyone likes chocolate chips, right?? 😉
The end result was a killer pancake. I added a full 1/2 cup of chocolate chips, and really, you could probably get away with less than that, but I thought these turned out pretty perfect as is. My husband was off of work early the day I made these, and happily couldn't stop eating these, either.
Another win for the family cookbook!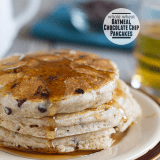 Whole Wheat Oatmeal Chocolate Chip Pancakes
---
Prep Time: 10 minutes
Cook Time: 10 minutes
Total Time: 30 minutes
Yield: 8 pancakes 1x
Description
An easy recipe for whole wheat oatmeal pancakes packed with chocolate chips.
---
Scale
Ingredients
1 1/2 cups oatmeal
1/2 cup whole wheat flour
1 tablespoon baking powder
1/2 teaspoon salt
2 egg whites, lightly beaten
1 1/2 cups milk
1 teaspoon vegetable oil
1/3 – 1/2 cup miniature chocolate chips
---
Instructions
In a food processor or blender, combine the oats, flour, baking powder and salt. Pulse until the oats are ground finely. Pour the mixture into a large bowl.
Combine the egg whites, milk and vegetable oil, then gently stir into the dry mixture. Stir just until combined. Let sit for about 10 minutes.
Heat a griddle over medium heat. Spray with nonstick cooking spray.
Gently stir the chocolate chips into the batter. Pour about 1/3 cup of the batter onto the hot griddle. Cook until the pancake starts to bubble and browns on the edges, then flip and cook on the second side. Continue until all the pancakes have been made.
Recipe Notes:
Adding a full 1/2 cup of mini chocolate chips adds quite a bit of chocolate flavor. Feel free to cut back on this amount if you want less sweetness.
More pancake choices: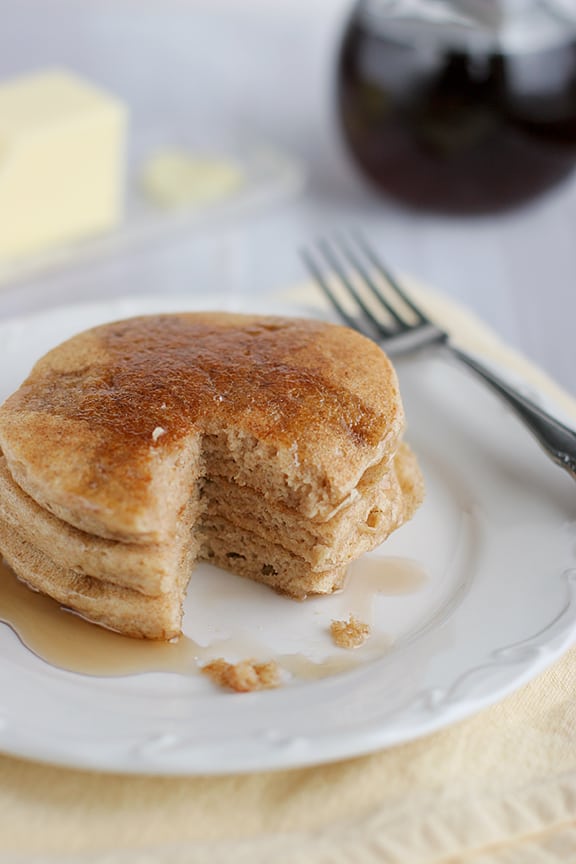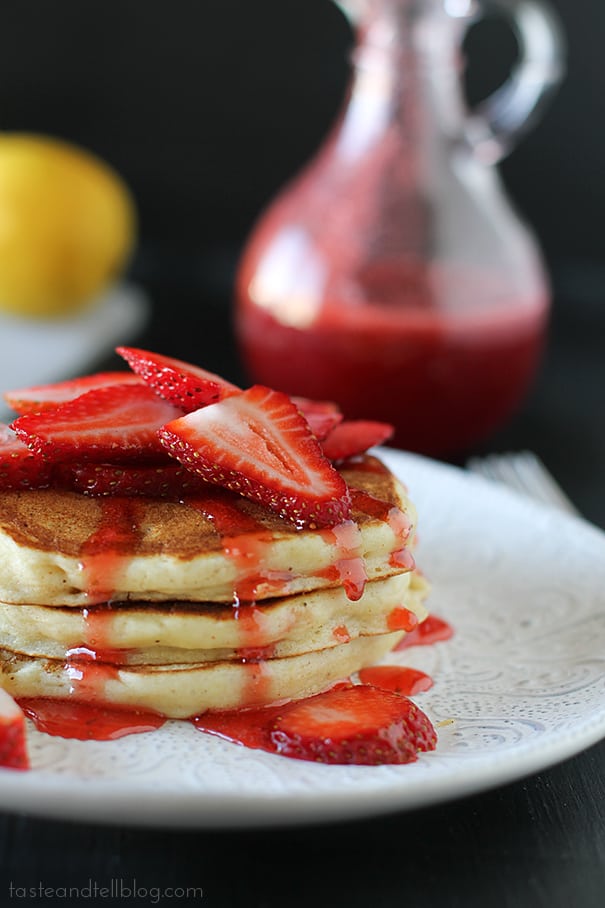 Strawberry Lemon Ricotta Pancakes
Around the Web:
Banana Nutella and Oatmeal Pancakes from Picky Palate
Almond Ricotta Pancakes from Nutmeg Nanny
Lemon Poppyseed Pancakes with Lemon Syrup from Cooking Classy