Spiced cupcakes are filled with fresh apples and then topped with caramel sauce and a thick caramel icing in these Caramel Apple Cupcakes that are perfect for fall.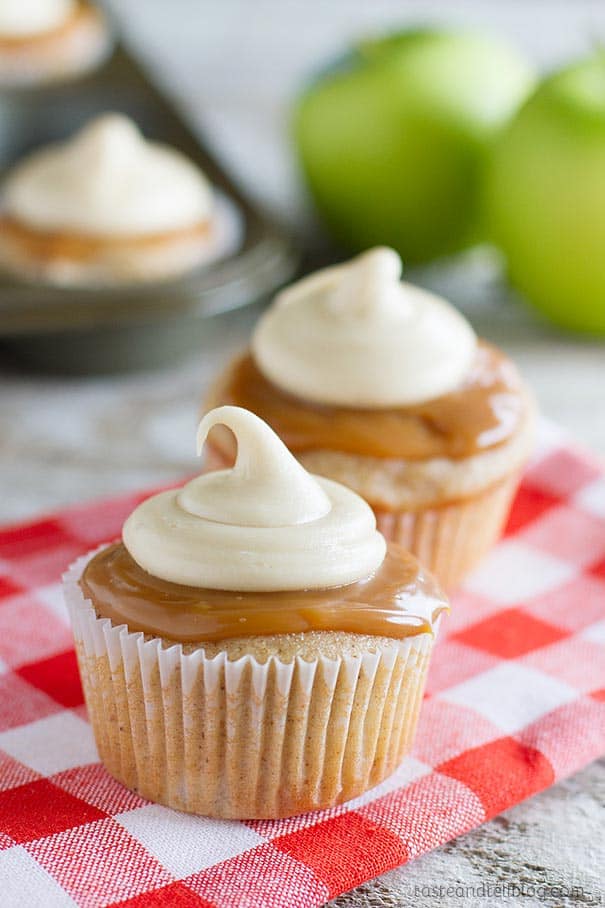 Well, I caved. I know the official start of fall isn't for a couple more weeks, but I couldn't help myself. I've spent too much time on Facebook and Pinterest lately, and all everyone is talking about is apple and pumpkin. So even though the days may still be hot as can be, it looks like you all are ready to turn to fall.
(But don't worry – I'm sure I'll still have another summer recipe or two thrown in the mix before the summer is officially gone!)
I love making cupcakes. I would seriously make a new one every week if I could get away with it. And while I do enjoy eating them, I really have fun creating them. And these Caramel Apple Cupcakes were no exception. I actually ran across a caramel apple cupcake recipe in a cookbook, but the recipe started with a cake mix and the topping was simply caramel sauce drizzled on the top. And while I'm sure those cupcakes were just fine, and maybe even delicious, I knew I wanted something more.

So I went to town. I had my family to test these on, and from what I could tell, everyone loved them. I know I did. I sampled way too many of them, so I had to leave them all behind at my sister's house so that I would stay away from them.
For the Caramel Apple Cupcakes, you start with a simple spiced cupcake, and then load in the fresh apples. I used granny smith apples so that the tart apple flavor would shine through. The cupcakes are baked and then cooled. I knew I wanted to add the caramel icing, but I wanted to add another layer of caramel as well. I had seen people do caramel candy melted with cream or evaporated milk, but I know that you have to get the temperature just right, otherwise it will totally harden so that you can't even bite into it. My solution? The caramel dip that you can find in the produce section of the grocery store. It's thick enough to stay in place on top of the cupcake, but stays soft and delicious.
The caramel icing isn't your typical cupcake icing. It's much thicker, not like most light and fluffy frostings. But I love this stuff. It does harden if you don't work fast enough, so be prepared to make the icing and pipe it on right away.
These caramel apple cupcakes scream fall, and I'm excited to be welcoming in fall baking. There's nothing better than a house that smells like sweet spices while you are baking!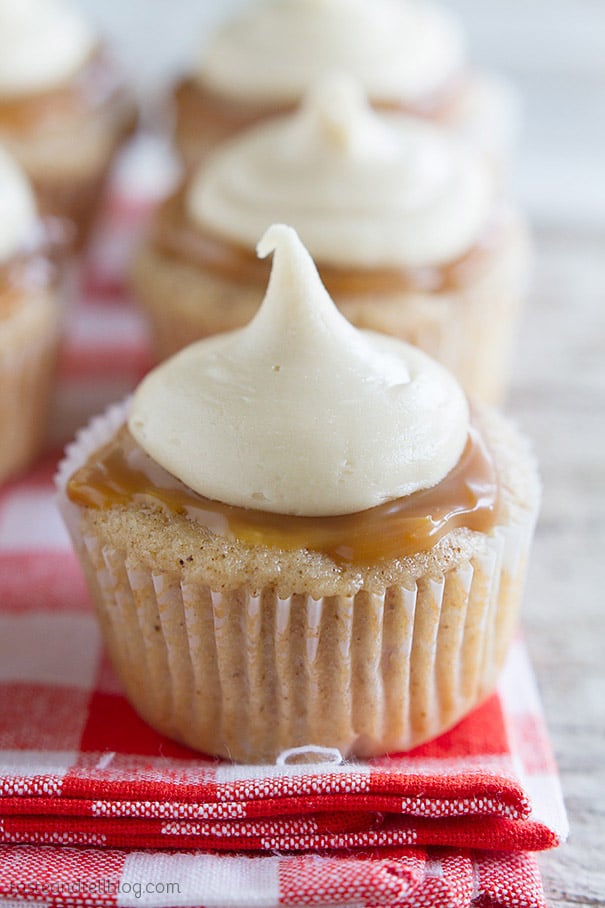 Like what you see here? Make sure you are following Taste and Tell for more recipes and ideas!
Facebook | Pinterest | Instagram | Twitter | Google+ | Weekly Newsletter | Feedly | Bloglovin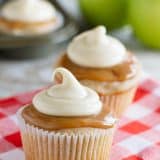 Caramel Apple Cupcakes
---
Prep Time: 30 mins
Cook Time: 25 mins
Total Time: 55 mins
Yield: 24 cupcakes 1x
Description
Spiced cupcakes are filled with fresh apples and then topped with caramel sauce and a thick caramel icing in these Caramel Apple Cupcakes that are perfect for fall.
---
Scale
Ingredients
Cupcakes:
1/2 cup butter, at room temperature
1 cup sugar
1 egg
1 3/4 cups all-purpose flour
3/4 teaspoon baking powder
1/2 teaspoon salt
1/2 teaspoon allspice
1/2 teaspoon cinnamon
1/2 teaspoon nutmeg
1/4 teaspoon baking soda
1/4 teaspoon cloves
3/4 cup milk
2 cups chopped tart apples
Topping
1/2 cup caramel apple dip (found in the produce section)
1/2 cup butter
1/2 cup brown sugar
3 tablespoons heavy cream
3 cups powdered sugar
1/2 teaspoon vanilla extract
---
Instructions
Preheat the oven to 350. Line 24 muffin tins with paper liners.
In a large bowl or stand mixer, beat the butter until smooth. Add in the sugar and beat until light and fluffy. Add the egg and mix. Scrape down the sides of the bowl as needed.
In a bowl, combine the flour, baking powder, salt, allspice, cinnamon, nutmeg, baking soda and cloves.
Add 1/3 of the flour mixture to the butter and sugar mixture. Mix until combined. Add half of the milk, mix, then 1/2 of the remaining flour, the remaining milk and then the remaining flour, beating in-between additions. Stir in the chopped apples.
Divide the mixture between the prepared cups, filling each about 2/3 full. Bake until the center springs back when touched, about 20-25 minutes. Allow to cool completely.
Spread about 1 teaspoon of the caramel topping on top of each cupcake.
Melt the butter in a saucepan over medium heat. Add the brown sugar and cook until dissolved, a few minutes. Stir in the cream. Remove from the heat and add in half of the powdered sugar. Beat until combined, then add the remaining powdered sugar. Add the vanilla then beat until smooth and shiny. Transfer to a piping bag and pipe the frosting on top of the caramel sauce.
Recipe Notes:
*Note – this frosting sets up fairly quickly, so you'll want to pipe the frosting on before it cools completely. If it does cool, you'll want to slightly heat it up and beat it to smooth it out before piping.
SHOP THIS POST!
More Cupcakes You've Gotta Make: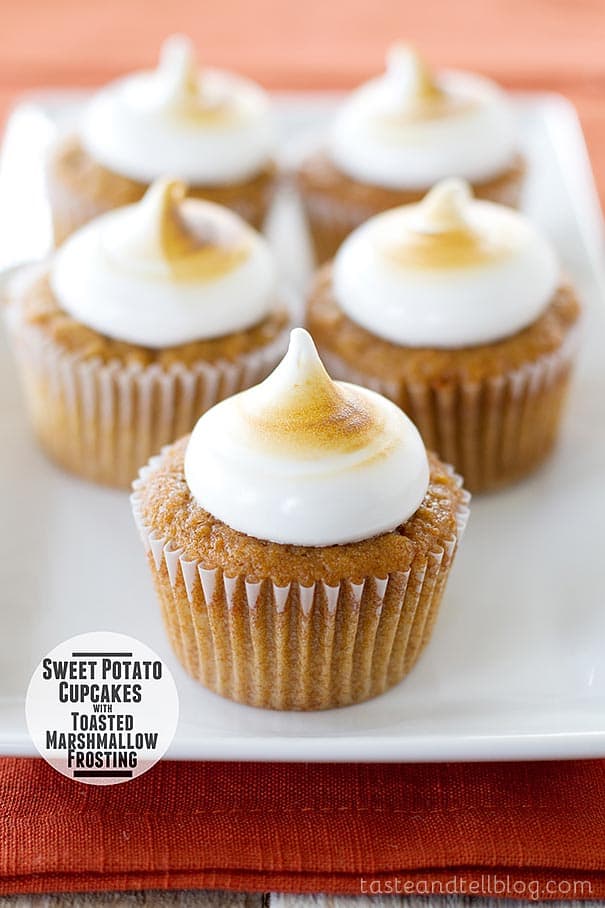 Sweet Potato Cupcakes with Toasted Marshmallow Frosting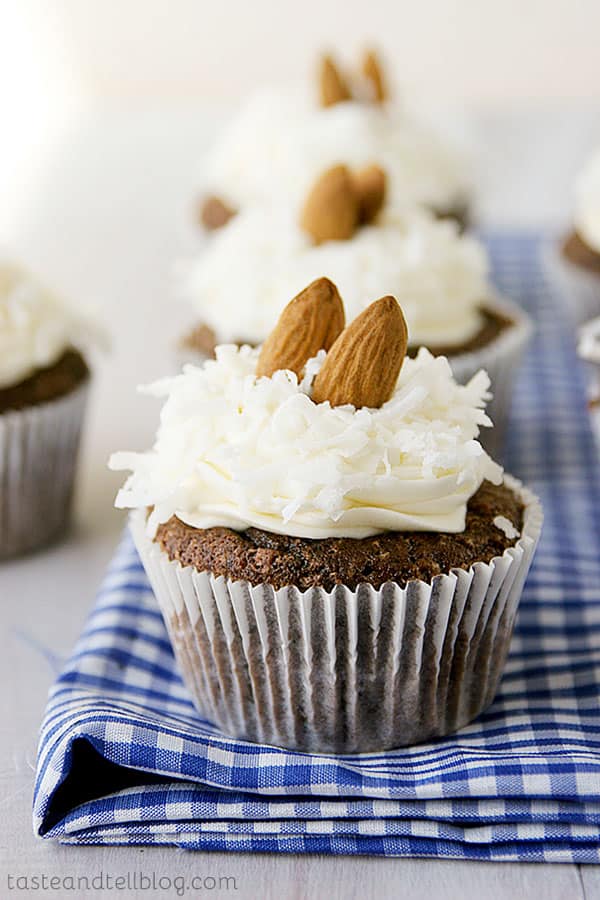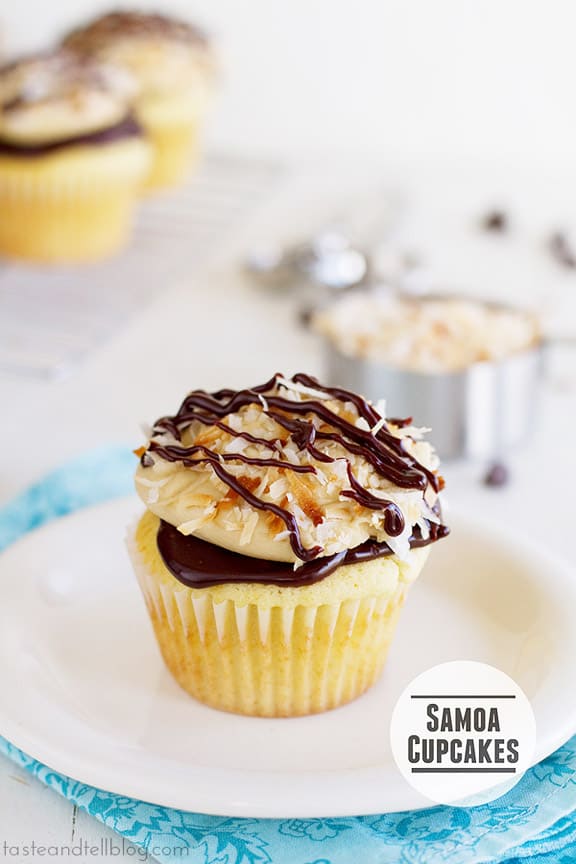 Around the Web:
Brown Sugar Butterscotch Cupcakes from Sally's Baking Addiction
Snickerdoodle Cupcakes from Deliciously Sprinkled
Butterfinger Cupcakes from Confessions of a Cookbook Queen
Don't miss a thing! Follow me on Pinterest to see what I'm pinning!
Visit Taste and Tell's profile on Pinterest.