When dessert turns into breakfast, you know I'll be a fan! These Carrot Cake Pancakes are full of all of the best carrot cake flavors and topped with a maple cream cheese syrup.
If you love carrot cake flavors, make sure and also check out my Carrot Cake Recipe, Carrot Cake Cupcakes, Carrot Cake Cheesecake, or Carrot Muffins.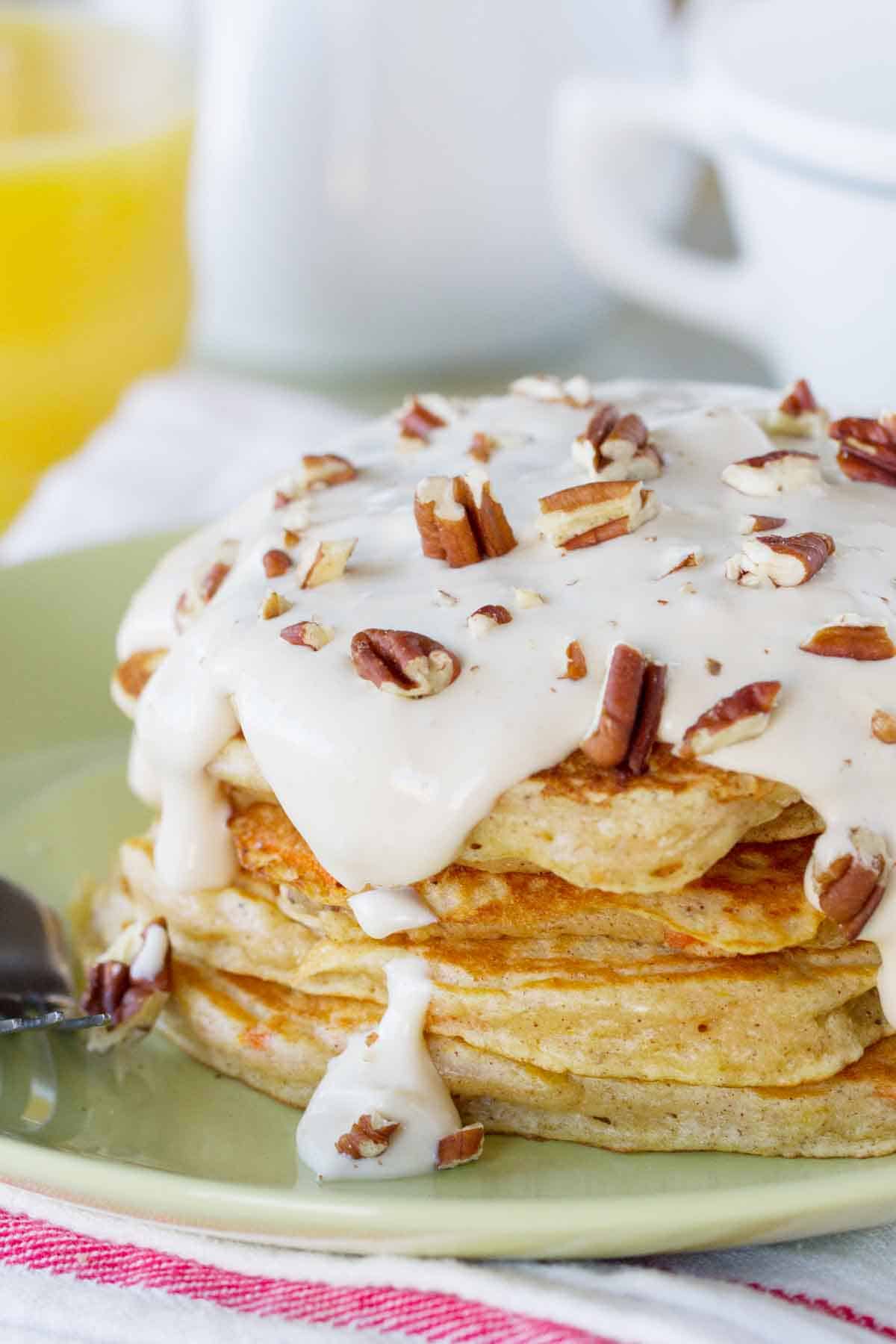 If there is one thing I can get behind, it's breakfast for dinner. Or breakfast for lunch. Or breakfast for breakfast, for that matter. Although around these parts, breakfast for breakfast is a rarity (especially on weekdays) unless you count scrambled eggs, cereal, or some simple French toast.
But ladies and gentlemen, that just might change.
These Carrot Cake Pancakes are all kinds of right. All of the best flavors from carrot cake, made into breakfast. No one will complain about these pancakes!!
I was afraid these were going to be overly sweet, but the pancakes themselves are not overly sweet. The syrup definitely takes the sweet level up, but not too much.
I loved these so much that I ate that entire plate of pancakes myself. #noshame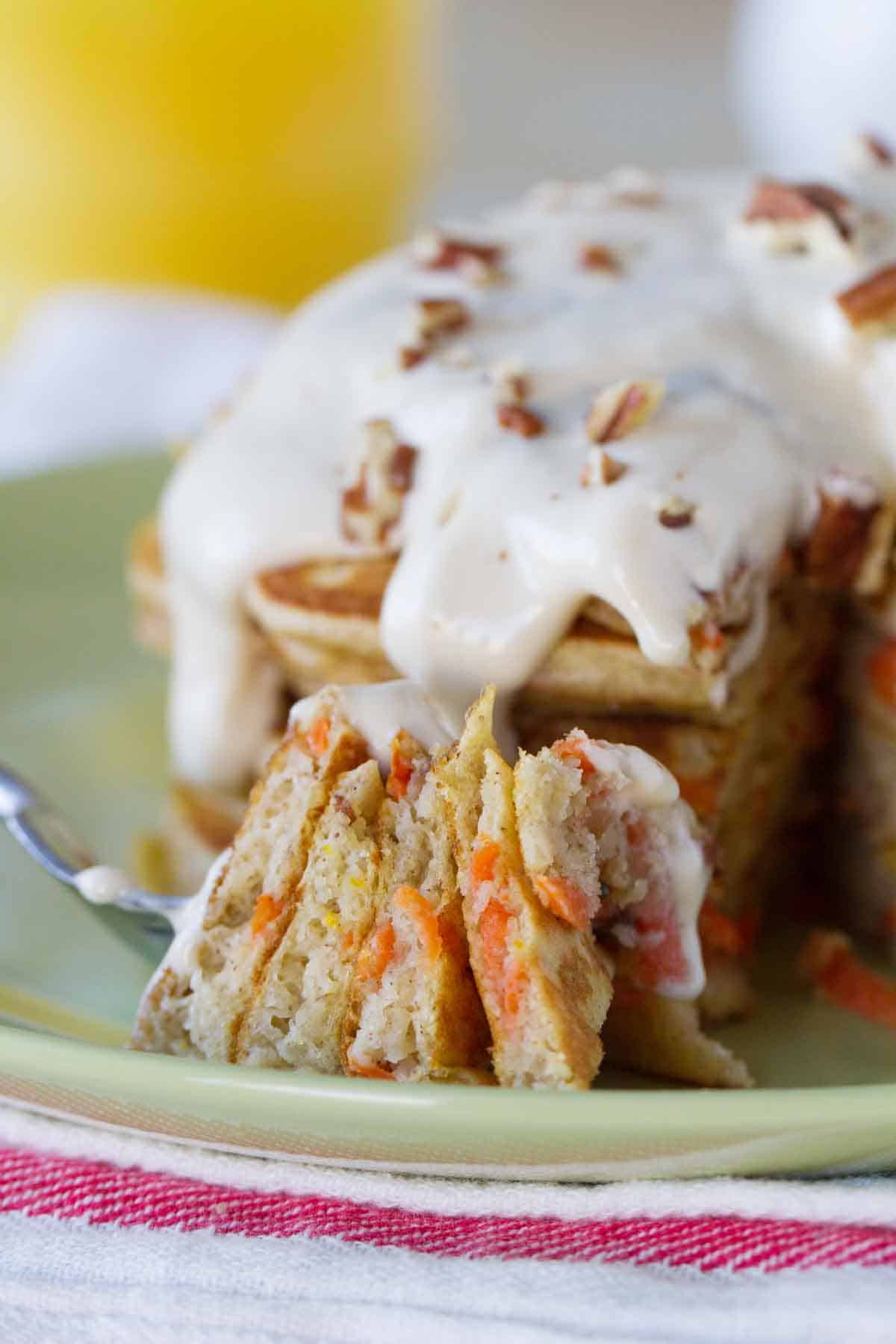 Ingredients and Substitutions
This ingredient list is a little more extensive than a regular pancake recipe, but these are totally worth it!
Flour: I use all-purpose flour.
Sugar: For sweetening.
Baking Powder and Baking Soda: The two will work together to give you fluffy pancakes.
Pumpkin Pie Spice: If you don't have pumpkin pie spice, it's easy to make yourself. Or you can just use a mixture of spices that you like.
Eggs: I use large eggs.
Buttermilk: If you don't have this on hand, you can make your own buttermilk substitute.
Butter: You'll need melted butter for the pancakes, plus more for the griddle. The melted butter in the pancakes can be substituted for vegetable oil, if desired.
Vanilla: This gives an extra boost of flavor.
Carrots: You'll want to use freshly shredded carrots – pre-grated carrots tend to be really dried out. If you want smaller pieces of carrot throughout the pancakes, you can grate and then chop the carrots.
Orange Zest: Carrot and orange go together so well, and the orange zest adds and wonderful brightness. You can leave this out, if desired.
Pecans: Not only are they traditional for carrot cake, but the pecans add great flavor and texture. They can easily be omitted, though. You can also swap these out for walnuts.
Crystallized Ginger: This can usually be found with the spices on the baking aisle. Again, it provides another layer of flavor, but feel free to leave it out, if desired.
Cream Cheese: I use full fat cream cheese.
Maple Syrup: This is combined with the cream cheese to make a syrup or drizzle, If you want a looser or runnier topping, you can add more maple syrup.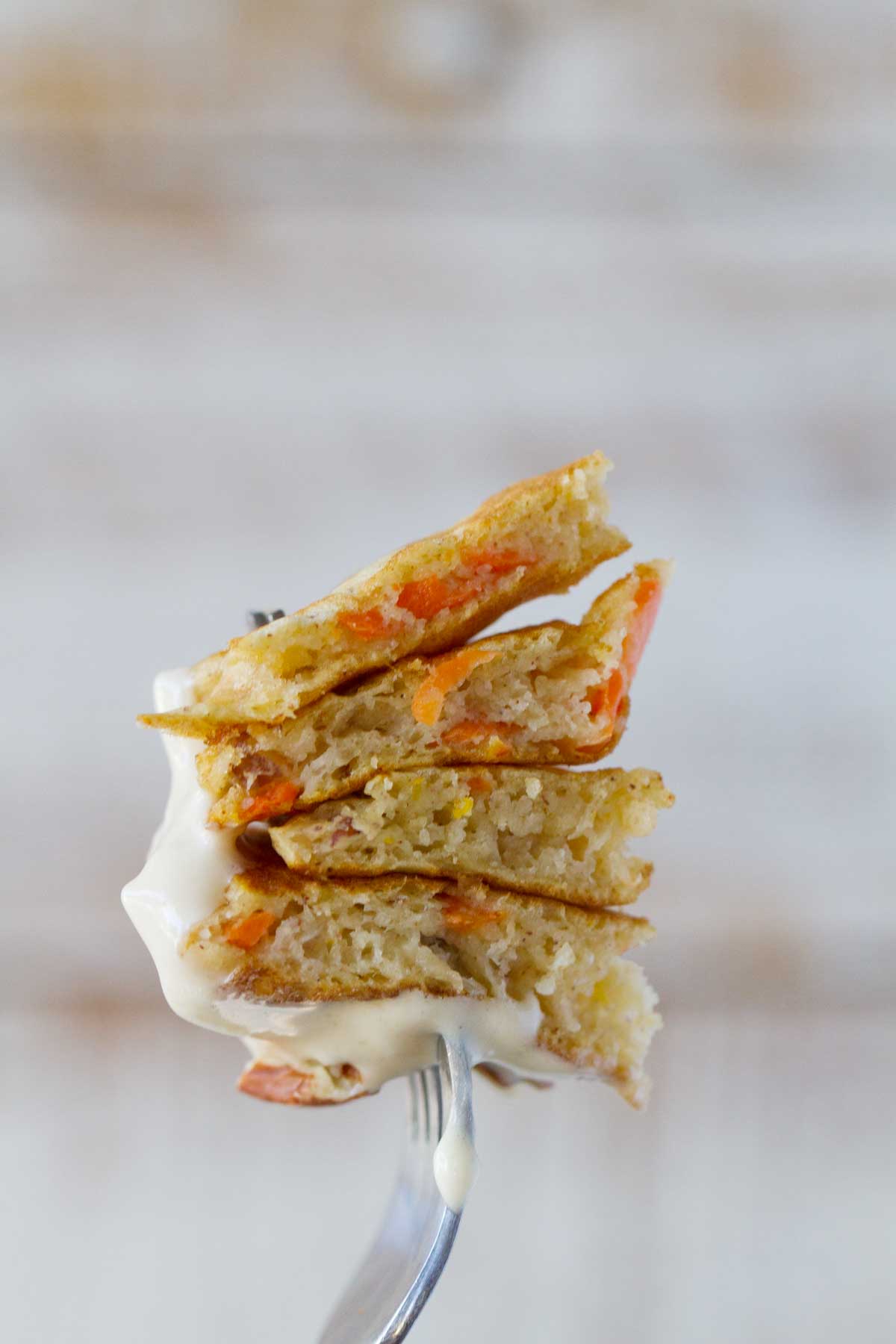 Tips and Tricks
As with most pancake recipes, you'll want to make sure that you don't overmix the batter. Overmixing creates tough pancakes.
This recipe calls for letting the batter sit for 30 minutes. This is to give the baking powder and baking soda time to activate, which gives you fluffier pancakes. You can skip the waiting, but your pancakes may just be a little less airy.
While the cream cheese glaze gives these pancakes even more of a carrot cake feel, you can leave it off and just use maple syrup.
While these pancakes are perfect for Easter Brunch, they are actually delicious year round!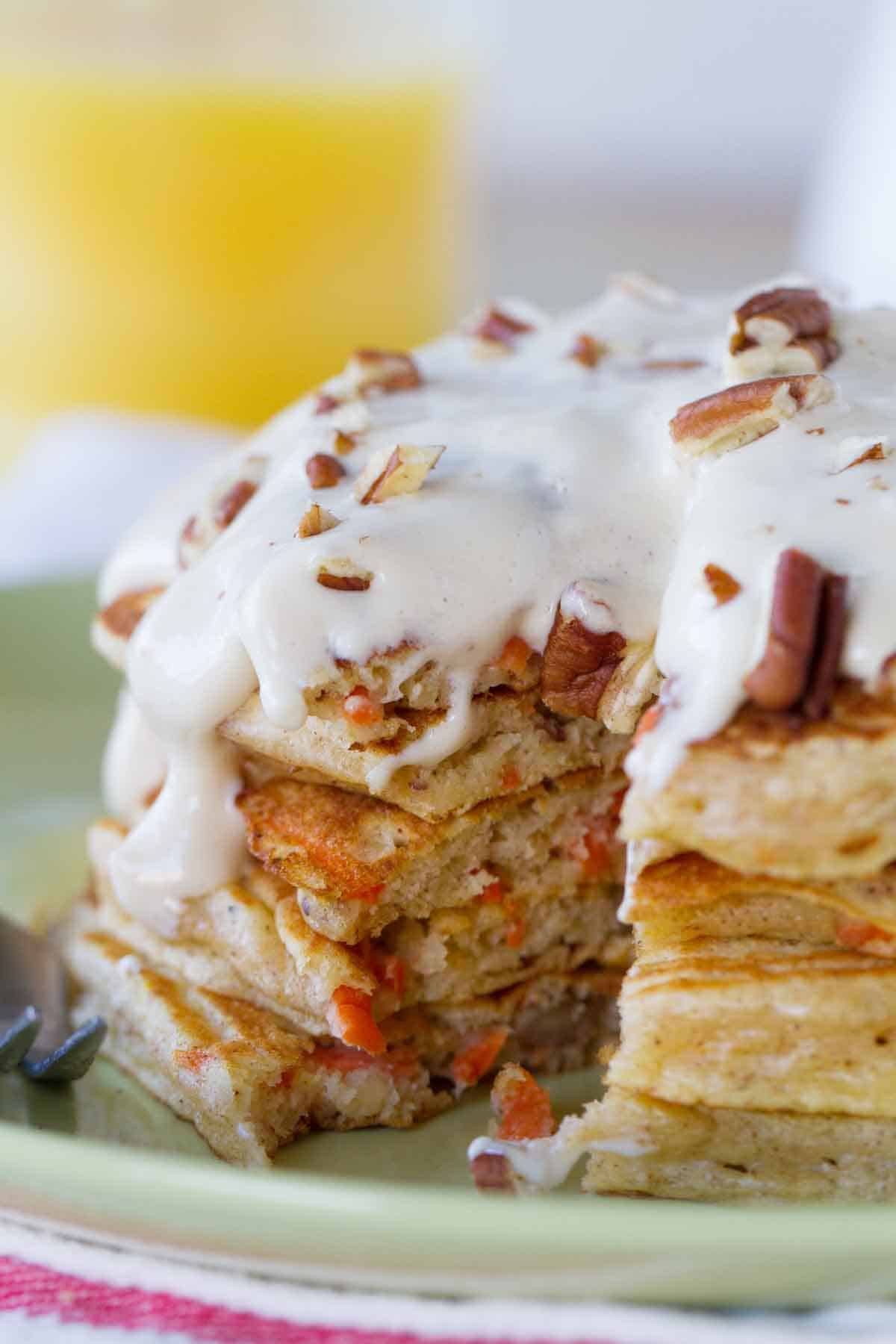 More Pancake Recipes
The Best Pancake Recipe
Homemade Pancake Mix
Lemon Pancakes
Strawberry Pancakes
Oatmeal Pancakes with Chocolate Chips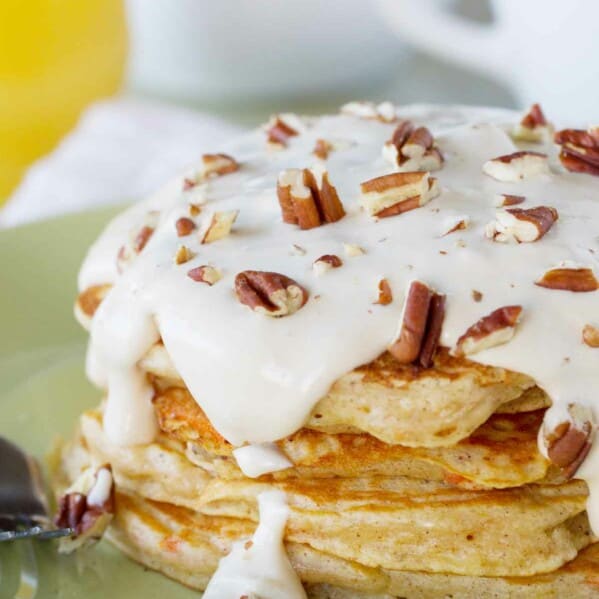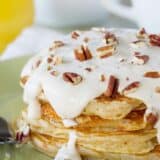 Carrot Cake Pancakes
---
Author:
Prep Time: 40 minutes
Cook Time: 15 minutes
Total Time: 55 minutes
Yield: 4 servings 1x
Category: Breakfast
Method: Stove Top
Cuisine: American
Description
When dessert turns into breakfast, you know I'll be a fan! These Carrot Cake Pancakes are full of all of the best carrot cake flavors and topped with a maple cream cheese syrup.
---
Scale
Ingredients
1 1/2 cups all-purpose flour
1/4 cup sugar
1 teaspoon baking powder
1 teaspoon pumpkin pie spice
1/2 teaspoon baking soda
1/2 teaspoon fine sea salt
2 large eggs
1 1/2 cups buttermilk
3 tablespoons unsalted butter, melted, plus more for the griddle
1/2 teaspoon vanilla extract
1 cup loosely packed grated peeled carrots, patted dry on paper towels
1 teaspoon grated orange zest
1/4 cup pecans, toasted and chopped, plus more for serving
2 tablespoons crystallized ginger, finely diced
4 oz cream cheese, at room temperature
1/2 cup pure maple syrup
---
Instructions
In a large bowl, whisk together the flour, sugar, baking powder, pumpkin pie spice, baking soda and salt.
In another bowl, combine the eggs, buttermilk, melted butter, and vanilla. Whisk to combine. Stir in the carrots and orange zest.
Add the wet ingredients to the dry ingredients, stirring just until mostly combined. Add the pecans and ginger and fold in. Cover the bowl and set in the refrigerator for 30 minutes.
Heat the oven to 200ºF. Place the cream cheese in a heat proof bowl and beat until smooth. Add the maple syrup and beat on high until combined and light. Place the bowl in the oven and heat until it is a pourable consistency.
Heat a griddle or nonstick saute pan over medium heat. Butter the surface of the griddle. Drop scant 1/4 cupfuls of the batter onto the hot griddle, spreading out with a spatula if needed. Cook until bubbles start to form and burst, about 2 minutes. Flip the pancakes and cook on the second side until cooked and browned, another minute or two. As the pancakes are finished, transfer them to a parchment lined baking sheet and set in the oven to keep warm.
To serve, stack the pancakes on a plate and drizzle with the maple cream cheese. Top with chopped pecans.
Recipe Notes:
*prep time includes resting time.
slightly adapted from BRUNCH AT BOBBY'S
Nutrition
Serving Size: 1/4 of recipe
Calories: 649
Sugar: 21 g
Sodium: 794 mg
Fat: 27 g
Saturated Fat: 13 g
Unsaturated Fat: 8 g
Trans Fat: 0 g
Carbohydrates: 91 g
Fiber: 3 g
Protein: 14 g
Cholesterol: 794 mg
Keywords: carrot cake pancakes