These Apple Cider Doughnuts scream fall! Doughnuts made with a homemade apple sauce are dipped in an apple cider glaze and cinnamon sugar for a treat that is a must-have for fall.
Now that it's officially fall, I can freely break out the fall-themed recipes, right? Even though it *still* doesn't feel like fall outside?
I guess technically I've been baking with apples for a few weeks now, and I'm back again today with another!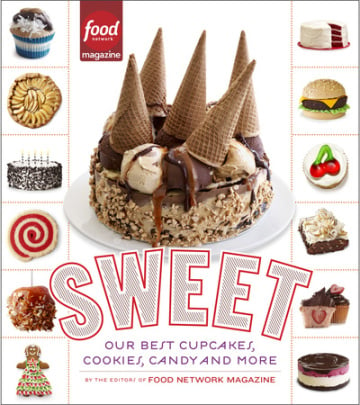 Before we talk apples and doughnuts and fall, though, can we talk cookbooks? Because I have another cookbook that I have been so excited to share with you all!!
I used to subscribe to multiple food magazines. But then my time started to vanish when I started having kids, and unfortunately, most of the magazines were one of the things that went by the wayside.
I subscribed to the Food Network Magazine for a couple of years, but now it's been a couple of years since my subscription ran out. But they always get me at the checkout stand, and I end up buying them and wondering why I don't just renew my subscription!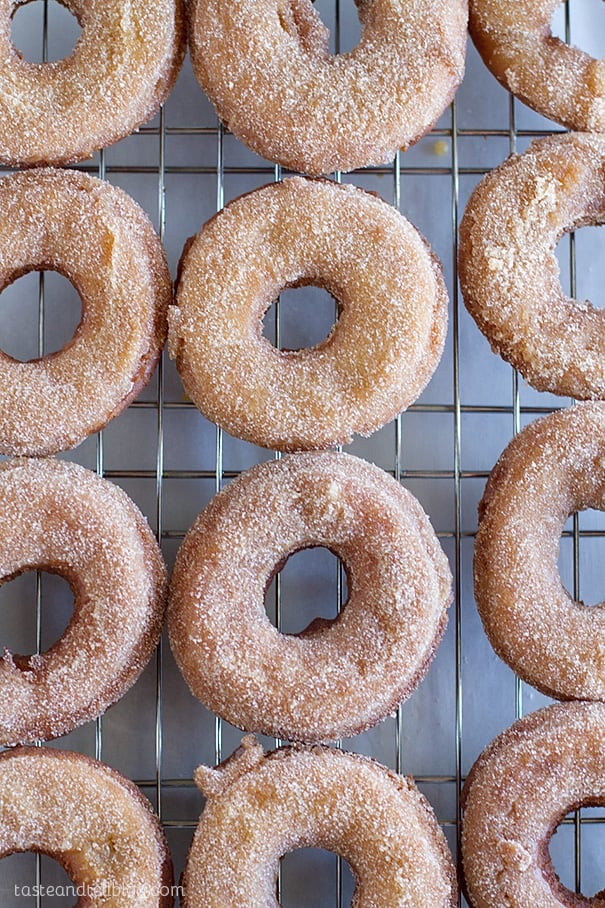 Because I do really love that magazine, I was super excited when I saw that the editors of the Food Network Magazine were compiling all of the best sweet recipes from the magazine into a cookbook. It didn't take much to sell me on this one!
Here are my thoughts:
Number of Photos: Many
You all will be happy – a photo of every recipe! There are also many recipes with step by step photos when the decorating is more involved.
Difficulty Level of Recipes: Easy to Medium
These aren't recipes that require a pastry school degree to make, but because they are baking recipes, some of them are a little more involved. (Like these doughnuts!) There are also many cakes that might take more time or patience to complete.
Availability of Ingredients: Easy
You should be able to find all of the ingredients for these recipes at any grocery store.
Other Recipes I Want to Try:
Chocolate Egg Cream Cupcakes
Salted Pretzel-Marshmallow Bars
Banana-Marshmallow Meringue Pie
White-Chocolate Cranberry Cheesecake
Ice Cream Crunch Cake
Buy it on Amazon.
More information here.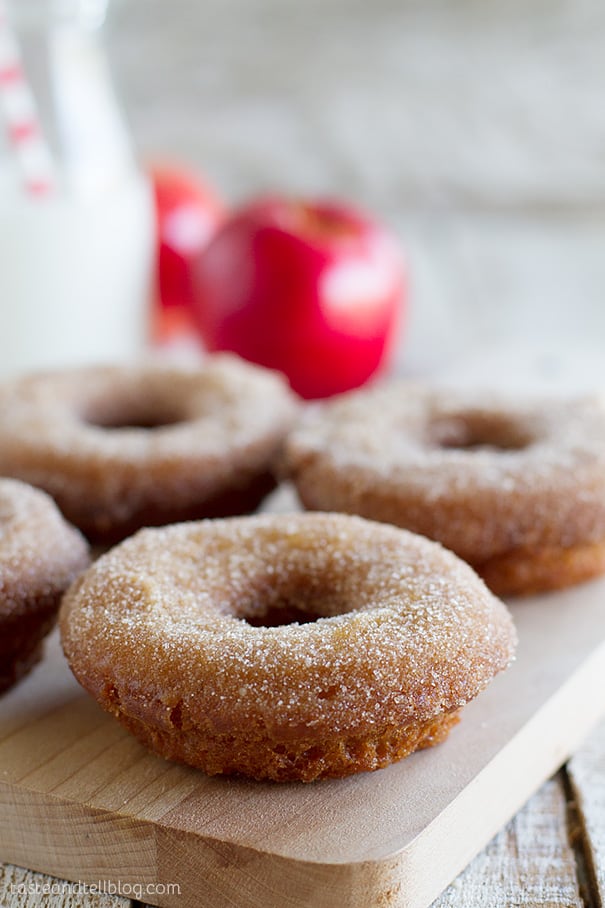 When I received my copy of this cookbook, I couldn't decide where to start. I actually changed my mind about 8 times before spotting these apple cider doughnuts, and I knew when I saw them that I had to make them.
Truth time – up until this point, I had never had an apple cider doughnut. I have heard stories year after year of people celebrating fall by heading to their local apple orchard to get some amazing apple cider doughnuts. And maybe I'm just out of the loop, but I'm pretty sure there isn't a local orchard here that sells apple cider doughnuts. Or anywhere at all, for that matter. (If any of you Utahns can set me straight, please do!!)
So since I can't go buy any, it was time to make some! I know that some people are intimidated by frying, but please believe me – it is 100% worth it. And sometimes necessary. I'm all for baking doughnuts from time to time, but every once in awhile, you just need to fry something.
I went online to see the reviews for these doughnuts, and a lot of people had issues with the dough being too sticky. It is sticky, so just make sure you flour the surface well. And I suggest refrigerating the dough for a full 24 hours. And be gentle. But really, it wasn't too hard for me work with. And the doughnuts this dough produced? Well, let's just say that these apple cider doughnuts totally lived up to my expectations.
These are quite sweet, with an apple cider glaze and then cinnamon sugar, but I thought they were perfect. My husband preferred them without the glaze, but I think that is what gave them some of the apple cider flavor. I wouldn't change a thing!
Like what you see here? Make sure you are following Taste and Tell for more great recipes and ideas!!

Facebook ** Pinterest ** Twitter ** Instagram ** Google+
or you can subscribe to my newsletter or Feedly or Bloglovin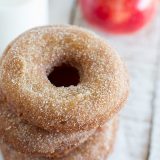 Apple Cider Doughnuts
---
Prep Time: 30 minutes
Cook Time: 30 minutes
Total Time: 1 hour
Yield: 12 doughnuts 1x
Description
These doughnuts scream fall! Doughnuts made with a homemade apple sauce are dipped in an apple cider glaze and cinnamon sugar for a treat that is a must-have for fall.
---
Scale
Ingredients
For the Doughnuts:
2 red apples*
1 1/2 cups apple cider
3 1/2 cups all-purpose flour, plus more for dusting
4 teaspoons baking powder
1 1/2 teaspoons ground cinnamon
1 teaspoon salt
1/4 teaspoon baking soda
1/4 teaspoon ground nutmeg
2/3 cups sugar
3 tablespoons vegetable shortening
1 large egg plus one egg yolk
1/4 cup buttermilk
1 teaspoon vanilla extract
vegetable oil, for frying
For the glaze:
1 cup apple cider
1/2 cup powdered sugar
For the cinnamon sugar topping:
1 cup sugar
2 teaspoons ground cinnamon
---
Instructions
Core the apples and coarsely chop. Combine the apples with the 1 1/2 cups of cider in a saucepan and set over medium heat. Cover the pan and cook until the apples start to soften, 8-10 minutes. Uncover and continue to cook until the cider is completely reduced, 10-15 minutes. Puree with an immersion blender or transfer to a blender to puree until smooth. You should have about 1 cup of sauce. If you have more, return to the pan and continue to cook down until you only have one cup of applesauce. Let the sauce cool slightly.
In a bowl, whisk together the flour, baking powder, cinnamon, salt, baking soda and nutmeg. In another bowl, mix together the sugar and the shortening with a mixer on medium speed until the mixture looks sandy. Beat in the egg and the egg yolk, then the applesauce mixture. Scrape the bowl as needed. Beat in half of the flour mixture, then the buttermilk and vanilla, then the remaining flour. Do not overmix.
Place a piece of parchment paper on a baking sheet and flour. Pour the dough out onto the parchment paper, and with floured hands, pat it into a 7×11-inch rectangle. (The dough will be sticky.) Cover with plastic wrap and refrigerate overnight.
When ready to make the doughnuts, heat 2 inches of vegetable oil in a large heavy pot to 350ºF. Line a baking sheet with paper towels and set aside.
Start the glaze by simmering the 1 cup of cider in a small saucepan over medium heat until it is reduced to about 1/4 cup. Whisk in the powdered sugar until the glaze is sticky and smooth.
In a shallow bowl, mix together the 1 cup of sugar and 2 teaspoons of cinnamon.
Flour a work surface and turn the dough out onto the surface. The dough is still a bit sticky, so make sure there is enough flour down so that the dough doesn't stick. Lightly roll the dough out to a 9×12-inch rectangle. Using a 3 inch doughnut cutter (or a 3 inch biscuit cutter plus a 1 inch cutter for the center) cut out 12 doughnuts. Add 2 or 3 doughnuts at a time to the hot oil and fry until golden brown and cooked through, 2-3 minutes per side. Transfer to the paper towel lined baking sheet to cool. Repeat with the rest of the doughnuts, including the doughnut holes.
Once cool enough to handle, dip the top of each doughnut into the apple cider glaze, then dip into the cinnamon sugar mixture. Serve the doughnuts warm.
Recipe Notes:
*The recipe calls for Cortland or McIntosh – I used Gala since that is what I had on hand.
slightly adapted from Sweet
**I received this book from Blogging for Books for this review, but all opinions are my own. This post contains affiliate links. If you purchase an item from Amazon from the link Taste and Tell receives a small commission. Thank you for supporting Taste and Tell through your purchases!**