A classic apple crisp recipe gets a make over with lots of caramel sauce. This Caramel Apple Crisp is the perfect fall treat! Serve with ice cream for an extra decadent treat.
Love that caramel apple combination? Also check out this Caramel Apple Dip or this Apple Bundt Cake with Caramel Frosting.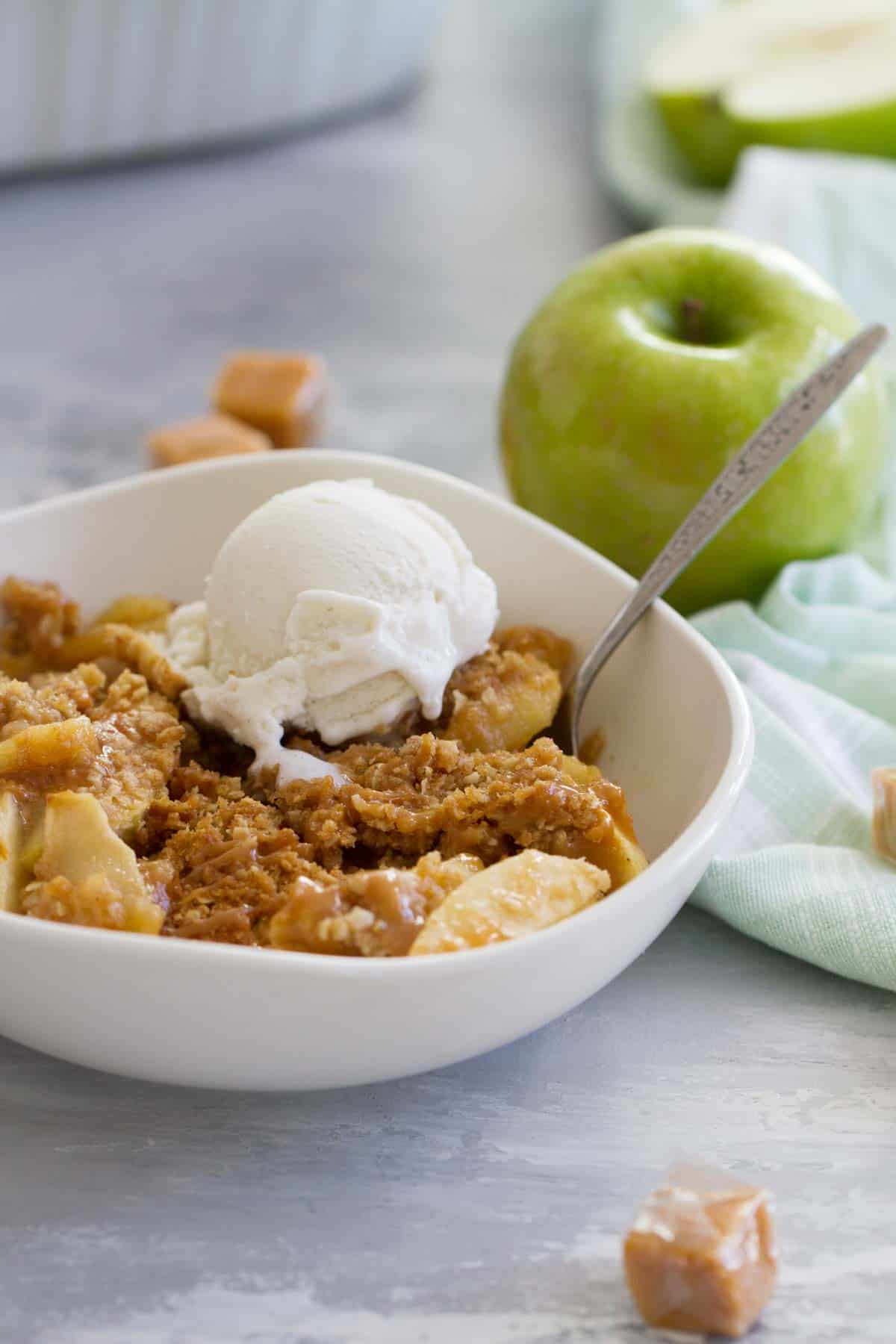 Caramel Apple Crisp
I feel like I do the same thing every year. I try to stretch out summer as long as possible. And don't get me wrong – I LOVE fall. Fall and spring are by far my favorite seasons. But I love long, summer evenings. I love being able to sit out on the porch any time of day. I love playing with my kids and savoring the sunshine. And I know that a lot of these I can also get in the fall. But the one reason I try to put off fall as long as possible is because I know that winter is right around the corner. And I'm not a winter person.
I love a good, traditional apple crisp recipe. In fact, my mom made one just a few nights ago that we all gobbled up in record time. But I wanted to dress mine up a little bit – add a little bit of glitz and glam. And I can't think of a better companion to apples than caramel. In fact, I would have been happy with just the apples and the caramel, but throw in a crisp topping – I'm totally game! This was a great way makeover a traditional apple crisp. If you are a caramel and an apple lover – this is the crisp for you!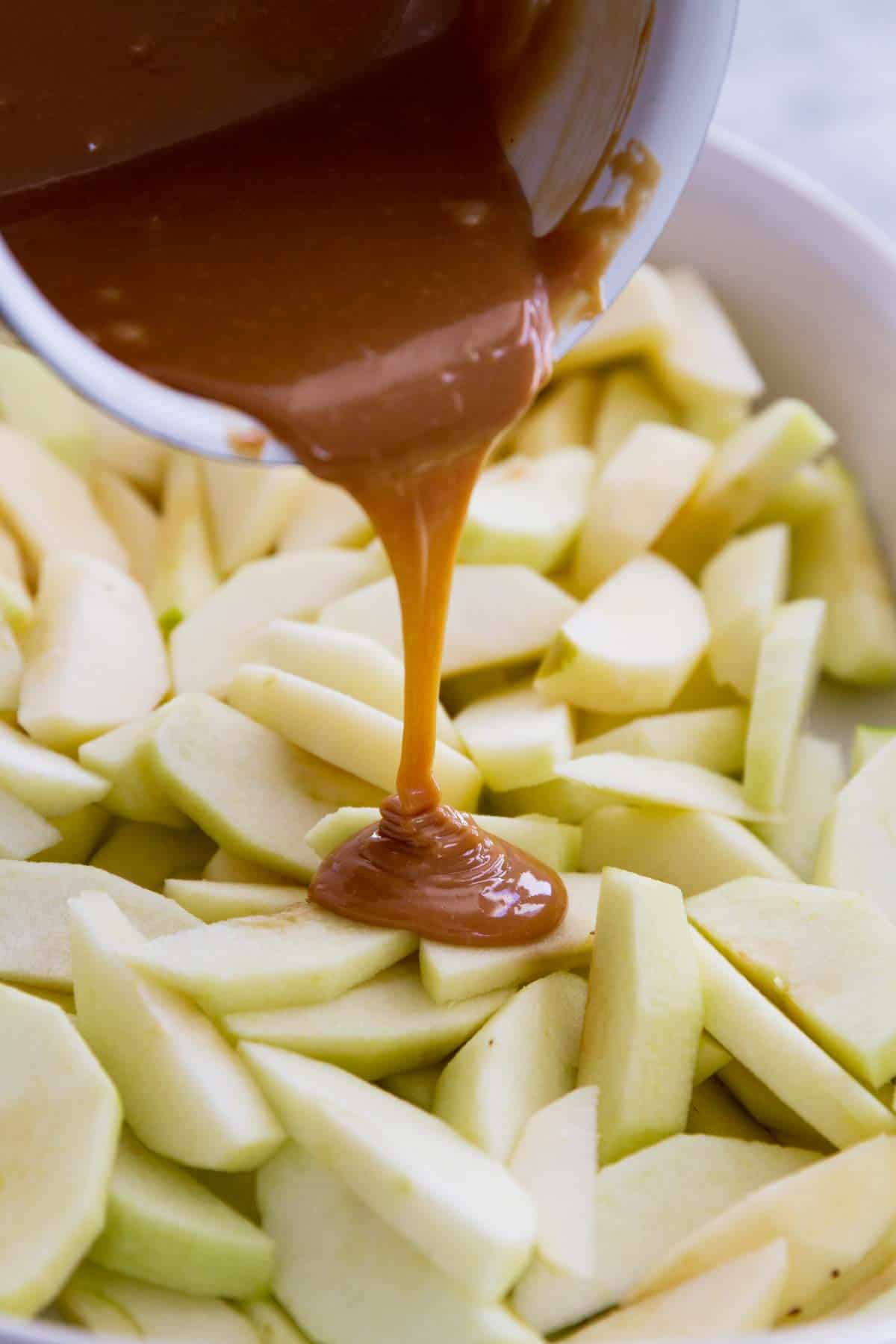 How to Make Apple Crisp
This Caramel Apple Crisp Recipe is really quite easy. It will take some time to peel and cut the apples, and also some time to unwrap the caramels, but besides that, everything else is quite quick!
Place your peeled and cut apples in a baking dish that has been greased or sprayed with nonstick cooking spray. To make the caramel sauce, simply melt some of the caramels with some milk. For the caramels, I use the small caramels that you can buy in a bag in the candy section at the grocery store. It is equal to about 10 ounces of caramel. Pour that melted caramel right over your sliced apples.
Make the crisp topping from flour, oats, brown sugar, cinnamon, salt, and butter. Cut the butter into the mixture. Sprinkle that topping over the caramel and apples, then put the whole thing in the oven to bake.
Once the apple crisp is golden brown, you will melt some more caramels and milk and then drizzle that over the top of the crisp.
Serve this easy apple crisp with ice cream for the ultimate fall dessert!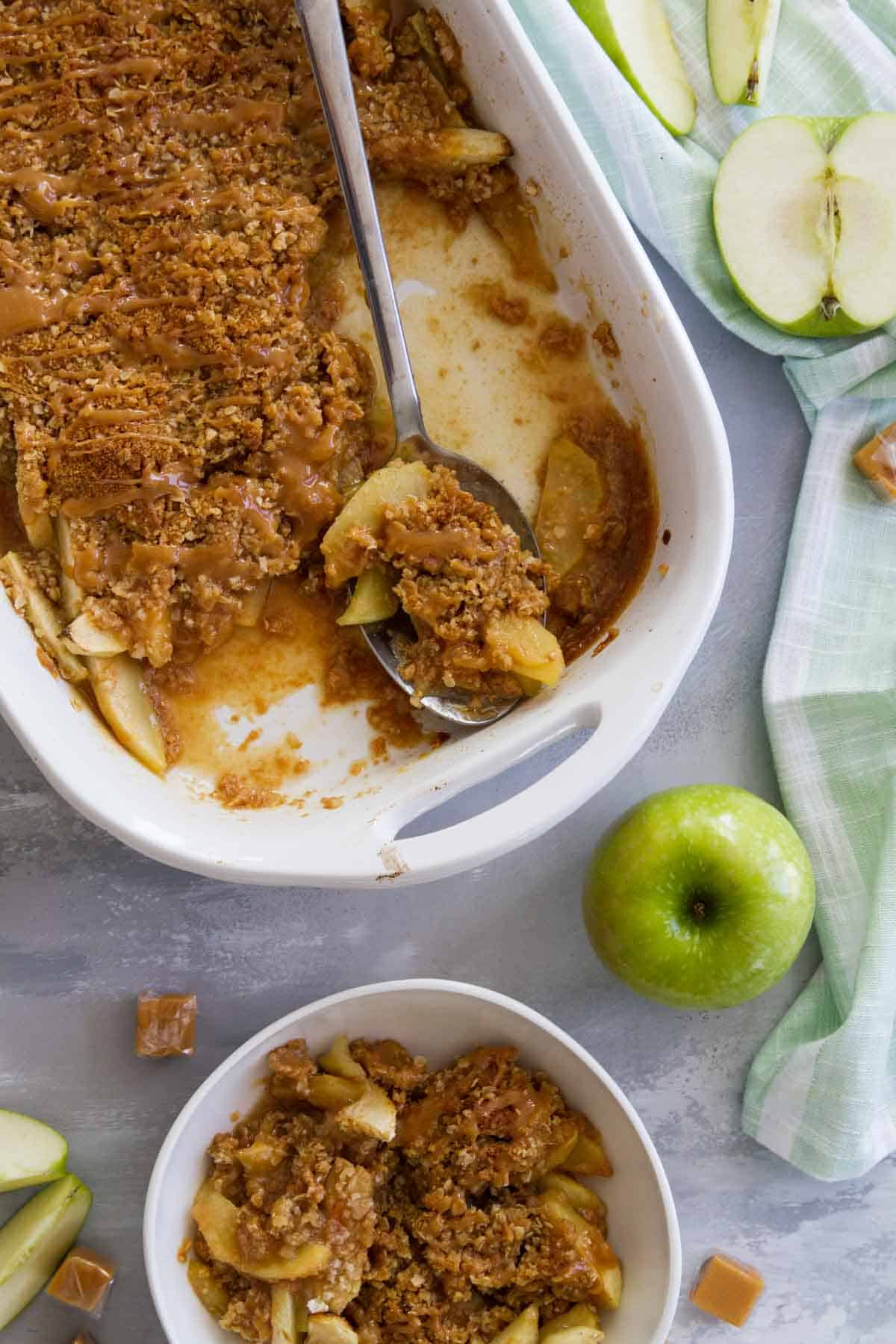 Tips to Make the Caramel Apple Crisp Topping
Quick cooking oats are best, although regular old fashioned oats will work. The quick cooking oats give you a better texture and break down a bit more than the old fashioned oats would. If you use old fashioned oats, your crisp may be more chewy.
What does it mean to cut the butter into the mixture? This simply means that you will be breaking up the butter into the flour mixture. The dry ingredients will combine with the butter – stop when the pieces look like coarse crumbs. I have a pastry cutter that I love to use, but you can also easily do this with a fork. Simply press the bits of butter into the flour/sugar mixture. Doing this against the sides of the bowl is easiest.
You can also use dark brown sugar for a more intense taste.
See how to make this Caramel Apple Crisp here:
The Best Apples for Apple Crisp
When it comes to baking with apples, I go by the same rule that I do when I'm making an apple pie. Granny Smith apples will hold up the best when baking, but I also like to add in a golden delicious or two for the extra sweetness that they bring. You could really use any kind of apple you want, but Granny Smith apples will keep some of their crispness and the tart flavor is great for baking.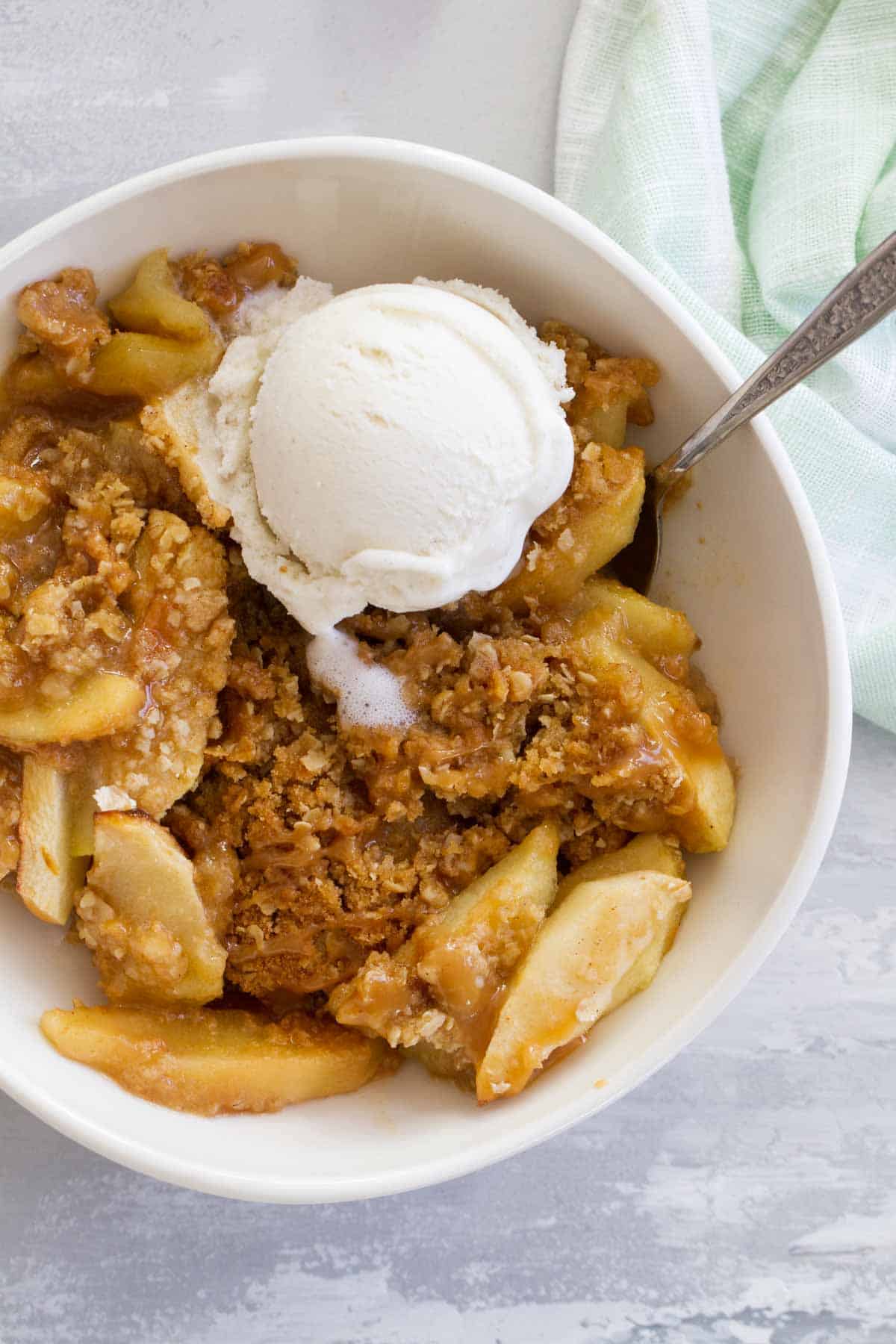 More Apple Dessert Recipes
Apple Cinnamon Sheet Cake
Apple Bars
Apple Cider Doughnuts
Sour Cream Apple Pie
Caramel Apple Cupcakes
Tools Used to Make this Caramel Apple Crisp Recipe
A good apple peeler is important to get this recipe started!
A good pastry cutter can really help with the crisp topping. I actually use my pastry cutter all the time!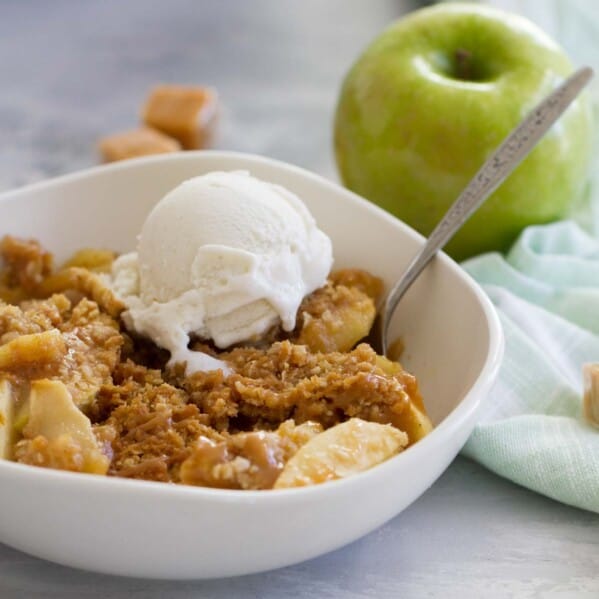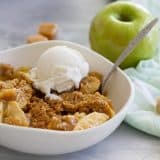 Caramel Apple Crisp Recipe
---
Author:
Prep Time: 15 minutes
Cook Time: 45 minutes
Total Time: 1 hour 15 minutes
Yield: 8 servings 1x
Category: Dessert
Method: Bake
Cuisine: American
Description
A classic apple crisp recipe gets a make over with lots of caramel sauce. This Caramel Apple Crisp is the perfect fall treat! Serve with ice cream for an extra decadent treat.
---
Scale
Ingredients
8 cups peeled and sliced tart apples
33 caramels, divided
2 tablespoons plus 2 teaspoons milk
3/4 cup all-purpose flour
3/4 cup quick cooking oats
3/4 cup light brown sugar
1/2 teaspoon ground cinnamon
1/8 teaspoon salt
1/2 cup cold butter, cubed
---
Instructions
Heat the oven to 375ºF. Grease a 9×13-inch baking dish.
Place the apples in the baking dish.
In a saucepan, combine 25 of the caramels with 2 tablespoons of the milk. Melt over medium-low heat until smooth, then pour evenly over the apples.
In a bowl, combine the flour, oats, brown sugar, cinnamon and salt. Using a pastry cutter or fork, cut the butter into the mixture until it resembles coarse crumbs. Sprinkle the mixture over the apples.
Bake in the preheated oven until the topping is browned, 35-45 minutes.  Cool for 10 minutes.
In a small microwave safe bowl, combine the remaining 8 caramels with the remaining 2 teaspoons of milk. Cook in the microwave in 15 second intervals, stirring often, until the caramel is melted and smooth. Drizzle the caramel over the crisp.
Serve with ice cream, if desired.
Recipe Notes:
Adapted from Taste of Home Church Supper Desserts
Nutrition information provided as an estimate only. Various brands and products can change the counts. Any nutritional information should only be used as a general guideline.
Nutrition
Serving Size: 1/8 of recipe
Calories: 430
Sugar: 50 g
Sodium: 40 mg
Fat: 14 g
Saturated Fat: 11 g
Unsaturated Fat: 1 g
Trans Fat: 0 g
Carbohydrates: 75 g
Fiber: 6 g
Protein: 4 g
Cholesterol: 31 mg
Keywords: caramel apple crisp