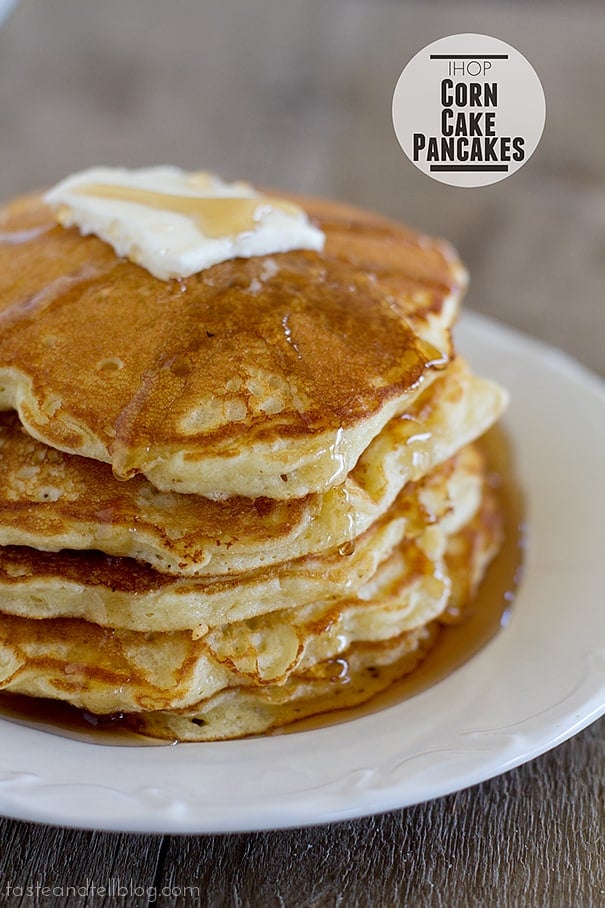 Photo Updated May 2013
There are some foods that have thousands of different recipes for them floating around the internet – chocolate chip cookies, cinnamon rolls, meatloaf, pancakes… And everyone probably claims that their version is the best version. Well, this just may be a personal preference, but these really were the best pancakes I had made in quite some time!!
This recipe comes from my binder of printed recipes, and I'm sad that I didn't make them before now. I had never had a corn cake pancake before, but I will be having them a lot more often now!
IHOP Corn Cake Pancakes
A copycat recipe of IHOP's Corn Cake Pancakes, these sweet pancakes have are made with an addition of cornmeal.
Ingredients
1½ cups all-purpose flour
⅓ cup cornmeal
1 teaspoon baking powder
½ teaspoon baking soda
½ teaspoon salt
2 eggs
⅔ cup granulated sugar
1 cup milk
¾ cup buttermilk
⅓ cup butter, melted
Instructions
Preheat a griddle to medium.
Combine flour, cornmeal, baking powder, baking soda and salt in a medium bowl.
In another medium bowl, mix eggs and sugar with an electric mixer on medium speed for 30 seconds. Add the milk, buttermilk and melted butter; mix well.
Mix the dry ingredients into the wet ingredients with the mixer until smooth. Let the batter sit for 10-20 minutes.
Spray the hot griddle with nonstick spray. Spoon ¼ cup portions of the batter onto the hot griddle and cook for 2 to 3 minutes per side until brown. Serve hot with butter and maple syrup.
Notes
*You will want to make sure you wait at least the 10 minutes before pouring the batter on the griddle. The batter is super thin to start, but will thicken slightly as it sits. If the pancakes are still spreading too much when you put them on the griddle, wait another 5 minutes and try again.