Pancakes for dessert!! These fluffy Cheesecake Pancakes are topped with a cream cheese frosting and graham cracker crumbs for a fun and delicious treat.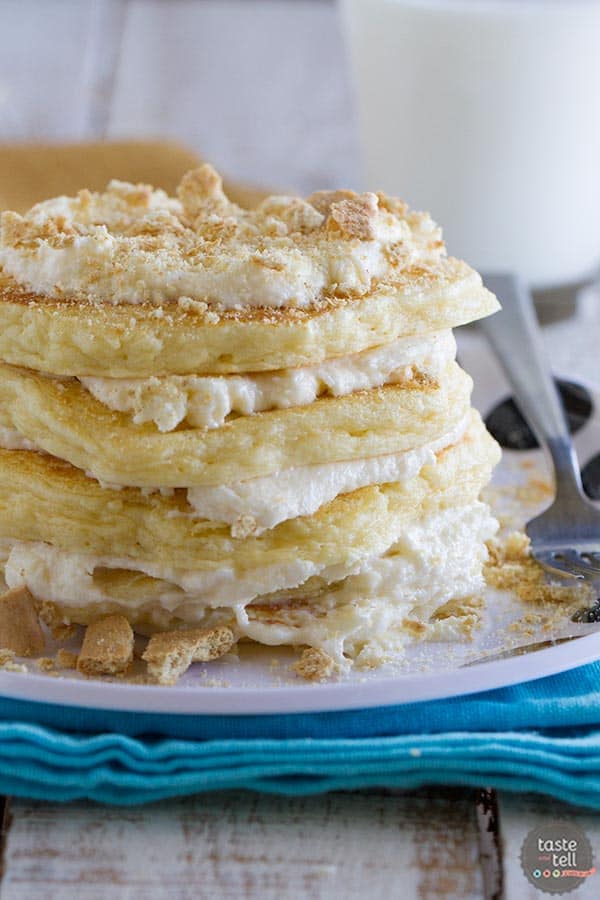 I've said it before, but my kids are pancake obsessed. We have them at least once a week – usually more. In fact, there is rarely a morning that will go by when my kids don't ask for them for breakfast. So when I saw that Karly Campbell, from Buns in My Oven, was writing a whole cookbook dedicated to pancakes, I knew I would need a copy in my collection once it came out.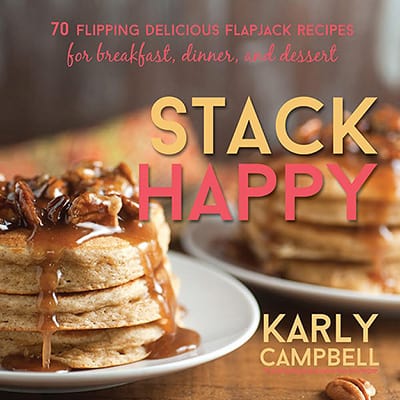 Stack Happy is one of those cookbooks that you want to take one recipe a week from until you have made them all. Pretty much everything is covered in this cookbook – pancakes for breakfast, pancakes for dinner, pancakes for dessert – this book will seriously leave you dreaming of pancakes!!
One thing that I was really excited about – even though I haven't tried any yet – is that there is a section devoted to savory pancakes. As much as I love sweet pancakes, I cannot wait to try some of the savory options. Like the BLT Potato Pancakes. YUM!! Plus there are healthier pancake options, as well – and they all sound divine!
Karly also gives you tips and tricks for making the perfect pancakes. She is a fluffy pancake girl – as am I – and she gives some hints on making fluffy, perfect pancakes. There are also plenty of recipes for pancake toppers, from Salted Caramel Syrup to Cinnamon Honey Butter. Breakfast will never be the same!!
Here are the details:
Number of Photos: Lots! There is definitely not a lack of photos in this book. Lots and lots of big, beautiful photos. A photo of every recipe!
Difficulty Level of Recipes: easy. Most recipes are done quickly, and are pretty simple to make.
Availability of Ingredints: easy. You shouldn't have a hard time finding any of the ingredients in this book.
More recipes I want to try:
Peach Pecan Pancakes
Raspberry Cookie Butter Pancakes
Cinnamon Sugar Donut Pancakes
Hoecakes
Blueberry Almond Butter Pancakes
Whole Wheat Flaxseed Pancakes
BLT Potato Pancakes
Garlic & Dill Cauliflower Cakes
Chocolate Peanut Butter Cup Pancakes
Chocolate Chip Cookie Dough Pancakes
Buy Stack Happy on Amazon.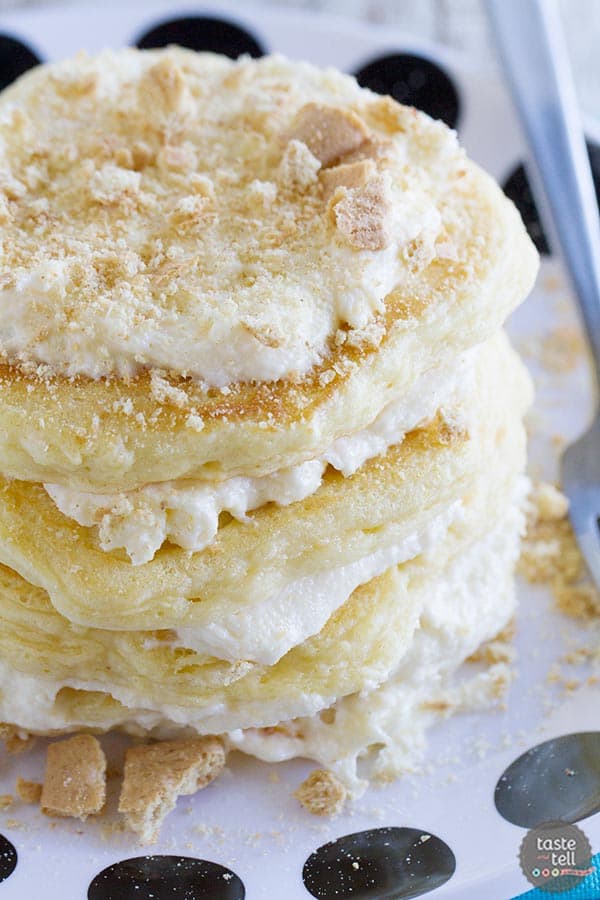 Of course, I went straight for the sweet dessert pancakes. 🙂 We all know that I am a cheesecake fanatic, so of course, I was drawn to the cheesecake pancakes. And the donut pancakes, but I had to start somewhere, and cheesecake won out this time.
These Cheesecake Pancakes are definitely worthy of dessert. We actually had them as an afternoon snack, and they were perfect. I didn't stack them up like I normally would with pancakes, but I smeared the cream cheese frosting on top of a pancake and just gave each of my kids one pancake like that. They were all in love with them!!
One hint with these pancakes – the batter is very thick, which gives you the fluffy pancakes. The recipe said to use a spoon to spread out the batter on the griddle, but I found that it was easiest to get my fingertips wet and just use my hands. Super easy, super fast, and one delicious pancake!!!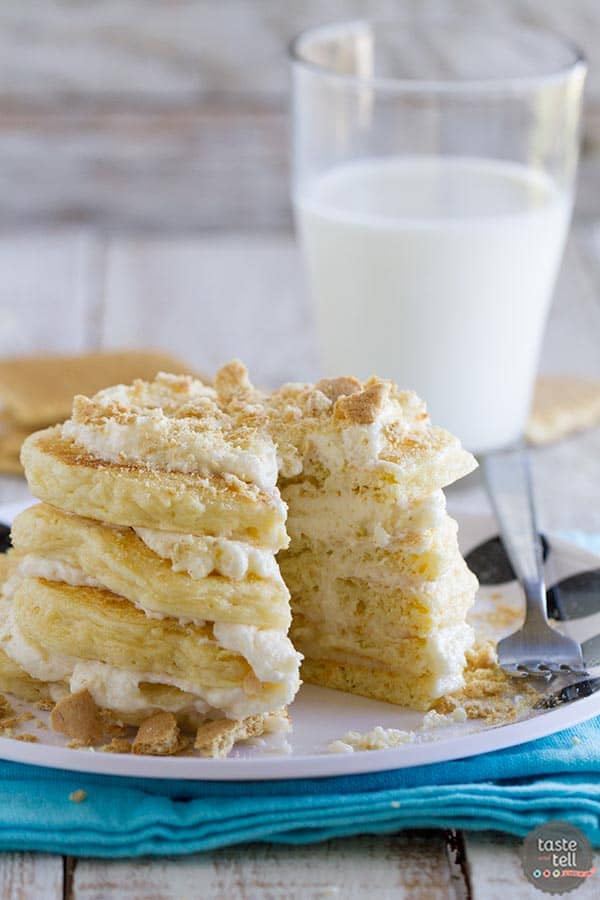 Like what you see here? Make sure you are following Taste and Tell for more great recipes and ideas!!

Facebook ** Pinterest ** Twitter ** Instagram ** Google+
or you can subscribe to my newsletter or Feedly or Bloglovin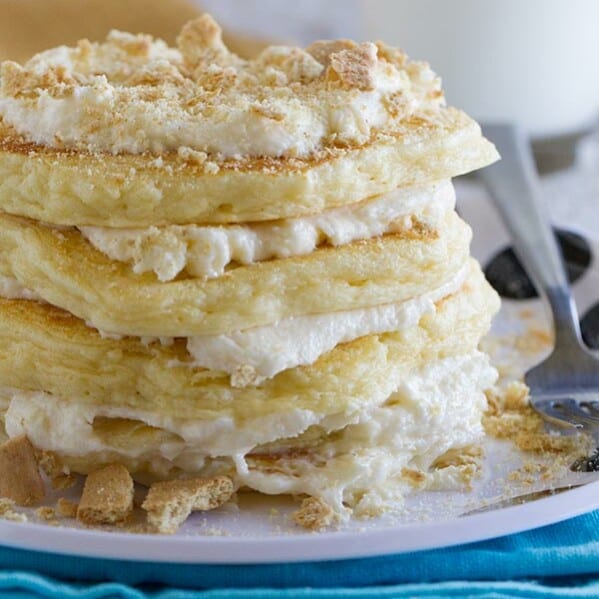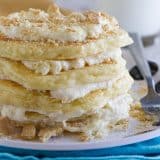 Cheesecake Pancakes
---
Prep Time: 10 mins
Cook Time: 10 mins
Total Time: 20 mins
Yield: 8 (4-inch) pancakes 1x
Description
Pancakes for dessert!! These fluffy Cheesecake Pancakes are topped with a cream cheese frosting and graham cracker crumbs for a fun and delicious treat.
---
Scale
Ingredients
Pancakes:
3/4 cup flour
1/4 cup cheesecake flavored pudding mix
1 tablespoon sugar
1 teaspoon baking powder
1/2 teaspoon baking soda
1/4 teaspoon salt
1 cup buttermilk
1 egg, lightly beaten
2 tablespoons vegetable oil
Frosting:
4 oz. butter, at room temperature
4 oz. cream cheese, at room temperature
3/4 cup powdered sugar
2 tablespoons cheesecake flavored pudding mix
1 tablespoon milk
1 graham cracker, crumbled (optional)
---
Instructions
Heat a large skillet or a griddle over medium heat.
In a large bowl, mix together the flour, pudding mix, sugar, baking powder, baking soda and salt. In another bowl, mix together the buttermilk, egg and oil. Stir the wet ingredients into the dry ingredients and stir just until combined (lumps will still remain).
Spray the skillet or griddle with nonstick cooking spray. Place 1/4 cup of the batter into the pan. Use a spoon or wet fingers to spread the batter into a circle – the batter is quite thick and will not spread on it's own. Cook for 3 minutes per side, or until browned and cooked through. Repeat with the remaining batter.
While the pancakes are cooking, make the frosting: in a medium bowl, beat the butter and cream cheese until light and fluffy. Add the powdered sugar, pudding mix and milk and continue to beat until combined.
To serve, spread the frosting on the pancakes. Top with crumbled graham cracker.
**This post contains affiliate links. If you purchase an item from Amazon from the link Taste and Tell receives a small commission. Thank you for supporting Taste and Tell through your purchases!**