This Sweet and Spicy Ham Glaze Recipe is so easy with only 3 ingredients – jam, chipotle peppers and of course, the ham! You'll love this easy baked ham recipe that's a little bit sweet and a little bit spicy.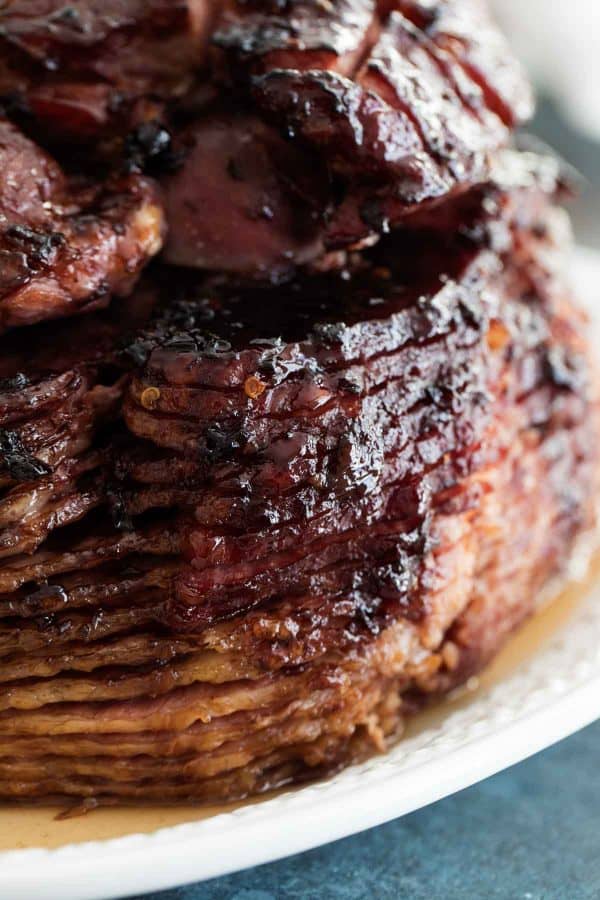 I feel like Thanksgiving dinner always gets the glory. People talk about the turkey and the side dishes and the rolls and the pies for weeks in advance.
But what about Christmas dinner?
I'll admit that it seems like we don't always keep things super traditional on Christmas. (We've even done a Mexican meal for Christmas dinner before!) But oh, how I do love a good ham dinner. I love that it's so easy to make a baked ham, I love the tradition behind it, and I love that you get to have all of those Thanksgiving side dishes again.
If you are looking to change things up a little bit this year, but still keep that Christmas ham, this Sweet and Spicy Ham Glaze Recipe is for you. The glaze is so super easy. And you still get that sweetness that everyone expects, but with a little bit of spice to liven things up. I'm seriously addicted to this baked ham recipe, and can't wait to make another for Christmas day!
Tips for making this baked ham recipe
I made this ham several times, and my biggest tips are:
Use a bone in, spiral cut city ham for the best flavor and texture. This ham should be easy to find – especially around any big holidays. While this ham is fully cooked, you will still need to warm it through.
Cover it while cooking. I like to tightly cover it with aluminum foil for the majority of the cook time. I don't add the glaze until the last 45 minutes of cooking, so the ham stays covered until that glaze gets added. If you leave the ham uncovered, it will most likely dry out too much during the cook time.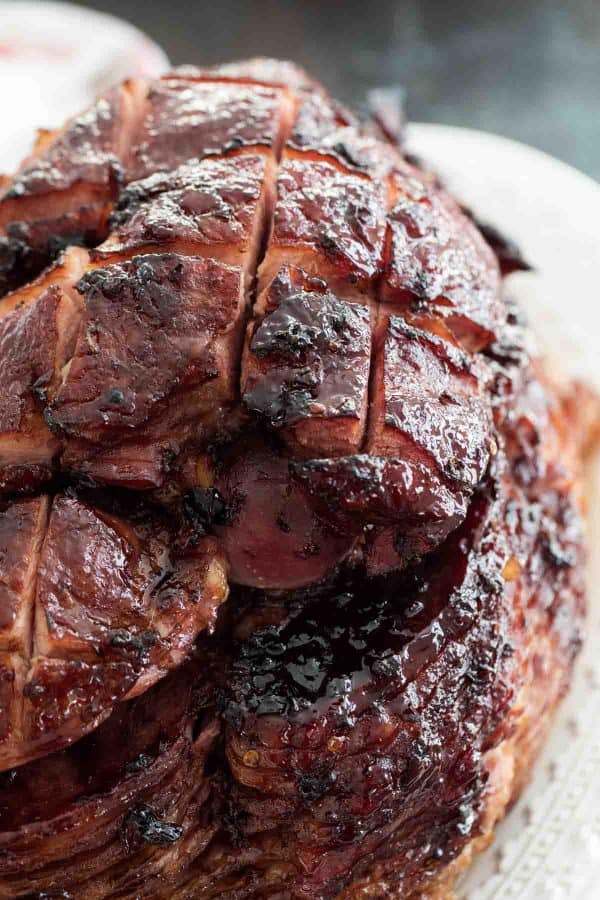 How to make this Sweet and Spicy Ham Glaze Recipe
The glaze could not be easier, since it only consists of 2 ingredients. Blackberry preserves and chipotles in adobo sauce. I haven't tried this with any other preserves besides blackberry, but I do think that most jams would work just fine if you don't care for blackberry.
For the chipotles in adobo, I will use a paring knife to cut the chiles open, then use that same knife to scrape the seeds out. Then finely chop the chiles. I found that the glaze gave a good spicy kick without any seeds, but if you really like heat, you can leave some or all of the seeds in.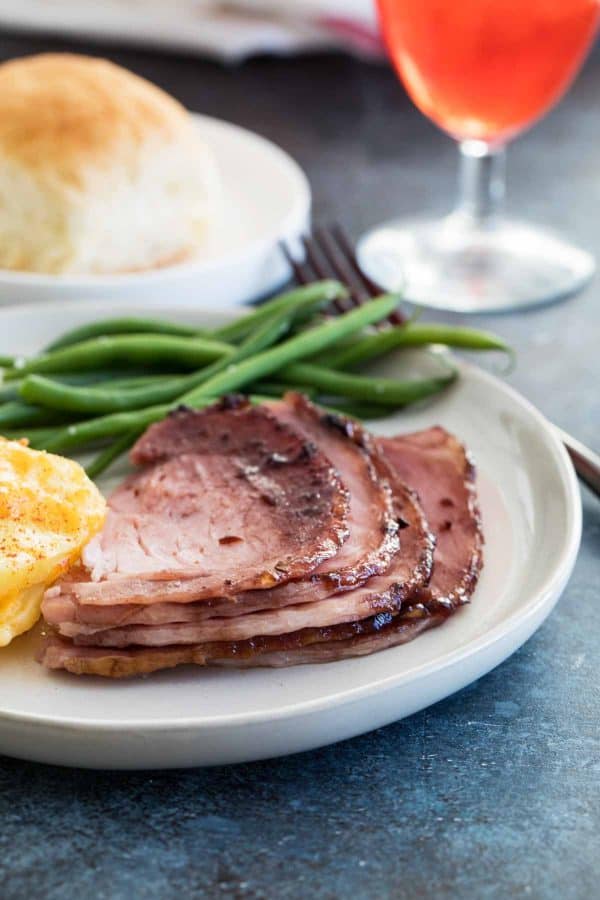 How long do you cook a ham?
Most hams that you can buy at the grocery store are precooked. But you will still need to warm them through to 145ºF. If you are using a bone in ham, it will take 15 to 18 minutes per pound. You don't want to overbake the ham, though, so a good instant read thermometer would be a great thing to have on hand. A boneless ham will need to be cooked about 10 minutes per pound.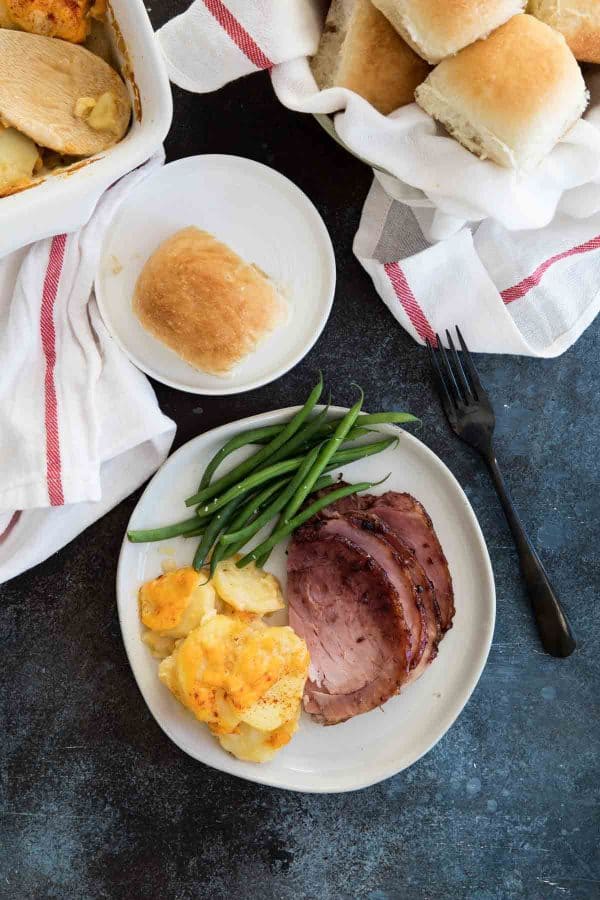 How much ham do you need per person?
How much ham you need person will vary, but as a general rule, I would plan about 3/4 lb per person if you are making a bone in ham, and 1/3-1/2 pound per person for a boneless ham. This is the weight before the ham is cooked. Your ham will lose some of that weight as it is baked, but a 10 pound bone-in ham should feed 12-14 people. But don't forget to save some for leftovers – you don't want to miss out on making this Creamy Shells and Ham Casserole, this Ham and Cheese Breakfast Casserole Recipe, this Ham and Cheese Crescent Bake, or this Ranch Ham and Cheese Pasta.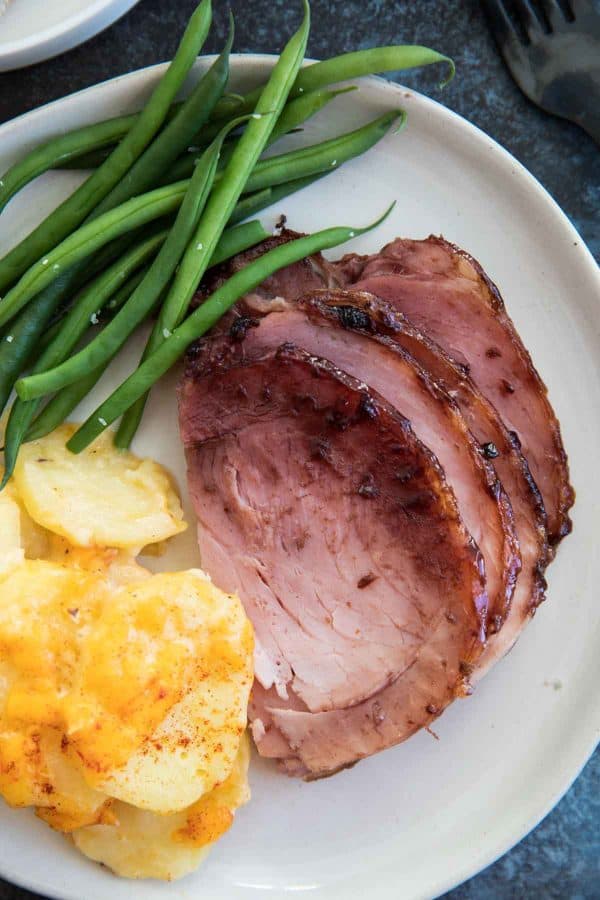 Perfect side dishes for ham
Scalloped Potatoes
Scalloped Corn and Broccoli
Lion House Rolls
Apple Pomegranate Salad
Sesame Green Beans
Tools used for this Sweet and Spicy Ham Glaze Recipe
You can use a roasting pan for this ham, but I usually just use a regular 9×13-inch baking dish. It works just fine, unless you are wanting to bake a ham larger than 10 pounds.
One of my most indispensable kitchen tools is my Thermapen. It is worth every penny – I use it almost daily!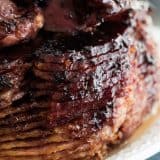 Sweet and Spicy Ham Glaze Recipe
---
Author:
Prep Time: 10 mins
Cook Time: 2 hours 30 mins
Total Time: 2 hours 45 mins
Yield: 14 servings 1x
Category: Main Dish
Method: Bake
Cuisine: American
Description
This Sweet and Spicy Ham Glaze Recipe is so easy with only 3 ingredients – jam, chipotle peppers and of course, the ham! You'll love this easy baked ham recipe that's a little bit sweet and a little bit spicy.
---
Scale
Ingredients
1 large spiral cut, bone in ham (about 10 lb)
2/3 cup seedless blackberry jam
2 chipotles in adobo, seeds removed, finely minced
---
Instructions
Preheat the oven to 325ºF.
Place the ham in a shallow baking dish or roasting pan, fatty side up. (Your ham will most likely be a half ham, so you will place the ham cut side down.). Cover the dish tightly with aluminum foil and place in the oven to bake. Set a timer for 15-18 minutes per each pound.
45 minutes before the ham is done, combine the jam and the chipotles in adobo in a small dish.
Remove the ham from the oven and uncover. With a sharp knife, score the top of the ham in a diamond pattern. Brush the glaze mixture over the top and sides of the ham.
Return the ham to the oven and continue to bake for 45 minutes, or until an internal temperature of 145ºF is reached, basting the ham once or twice.
Remove from the oven and serve.
Recipe Notes:
Nutrition information provided as an estimate only. Various brands and products can change the counts. Any nutritional information should only be used as a general guideline.
Nutrition
Calories: 572
Sugar: 8 g
Fat: 27 g
Saturated Fat: 10 g
Unsaturated Fat: 0 g
Trans Fat: 0 g
Carbohydrates: 12 g
Fiber: 2 g
Protein: 61 g
Cholesterol: 229 mg
Keywords: ham glaze recipe, baked ham recipe