An easy, flavorful turkey recipe with a hint of honey and herbs.
I have been food blogging for 5 1/2 years now.  And I've been cooking for even longer.  In all this time, I have never cooked my own turkey.  It's not that I don't like turkey – it's just that I always have wonderful family that take over the task.  And I've gladly turned over the responsibility of the turkey, because let's face it – a 16 lb. bird is pretty darn intimidating.   But guess what?
The turkey was the easiest part of our meal.
Not kidding.  I turned over the rolls and the pie to my mom, while I sat back with my feet up while the turkey roasted away.  I cooked my first turkey breast last year, and was surprised at how easy it was.  But the whole turkey was just as easy.  I will no longer be scared to have a turkey turn out Griswold-style.  I'm seriously betting this turkey is fool proof. (As long as you use your meat thermometer and you don't keep the turkey in the oven for 8 hours!!)
I was a little worried that the gravy would be too sweet by using the drippings, but it was delicious.  I loved everything about it, and wouldn't change a thing!!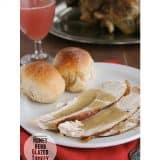 Honey Herb Glazed Turkey
---
Prep Time: 15 minutes
Cook Time: 4 hours 30 minutes
Total Time: 5 hours
Yield: 10-12 servings 1x
Description
An easy, flavorful turkey recipe with a hint of honey and herbs.
---
Scale
Ingredients
1 16-lb turkey, neck and giblets removed
1 onion, quartered
extra-virgin olive oil
1 teaspoon salt
1/2 teaspoon ground pepper
1 teaspoon dried thyme
1/2 cup honey
1/4 cup melted butter
1 teaspoon dried sage
1 tablespoon fresh minced parsley
1/2 teaspoon dried basil
1/2 teaspoon salt
1/2 teaspoon ground pepper
---
Instructions
Preheat the oven to 300F. Rinse the turkey and pat dry with paper towels. Place turkey in a large roasting pan. Stuff the cavity with the quartered onion.
Brush the turkey completely with olive oil. Sprinkle over the salt, pepper and thyme. Roast the turkey in the preheated oven for 2 1/2 hours.
In a bowl, combine the honey, melted butter, sage, parsley, basil, salt and pepper. Stir until completely combined. Baste the turkey with the mixture. Continue to cook the turkey until an instant-read thermometer reads 180F when inserted in the thickest part of the thigh, about another 2 hours. Continue to baste the turkey with the honey mixture as the turkey roasts.
Remove the turkey from the oven and cover with foil. Let sit for 10-15 minutes before carving.
—————————
adapted from allrecipes.com