A delicious side dish, corn and broccoli are baked with cheese until bubbly and hot. This Scalloped Corn and Broccoli makes a comforting side dish that everyone will beg for.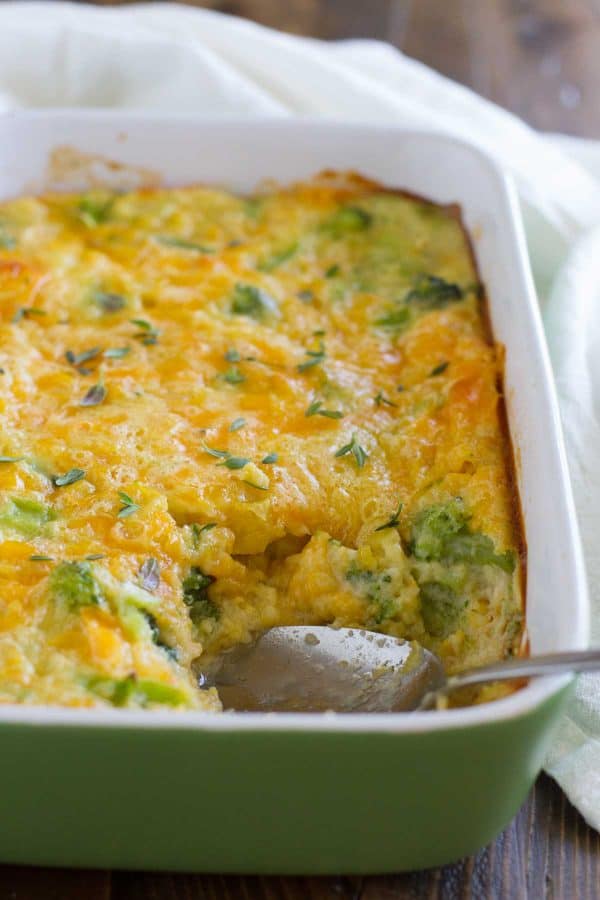 Do you remember when you were a kid and time seemed to move so slowly? You would be so excited for Halloween, or for Christmas, for summer break, or even just for the weekend. But the days always seemed to last forever, and the anticipation leading up to that day would just about kill you.
Well, things change when you're a grown up.
There are many, many things that are better as an adult. And I really do think things get better with age. But I would really, really love to go back to the time when time seemed to stand still. Because it's moving way too quickly for my liking lately.
But since I don't have that magic machine to make time freeze where it is, I guess I should figure out how to embrace the season. And since the holiday season is right around the corner, I can start talking about all things Thanksgiving. (Don't worry – I won't break out the Christmas recipes quite yet!!)
I originally posted this Scalloped Corn and Broccoli in January of 2009. (Speaking of time moving too quickly, how is it that I have been blogging for so long already?????) I served it with, and posted it alongside, some amazing Panko Pork Chops with Creamy Herb Dressing. And while this side dish is pretty perfect with so many things, all I could think about is how delicious this would be as a Thanksgiving side dish. Or any holiday side dish, for that matter.
First, it's super simple. A few minutes is all it takes to throw this easy Thanksgiving side dish together before it goes into the oven for a long bake. Second, it's delicious and comforting, just like any holiday side dish should be.
So get into planning mode, and add this Scalloped Corn and Broccoli to your holiday feast. And don't be surprised when everyone loves it more than the turkey. 🙂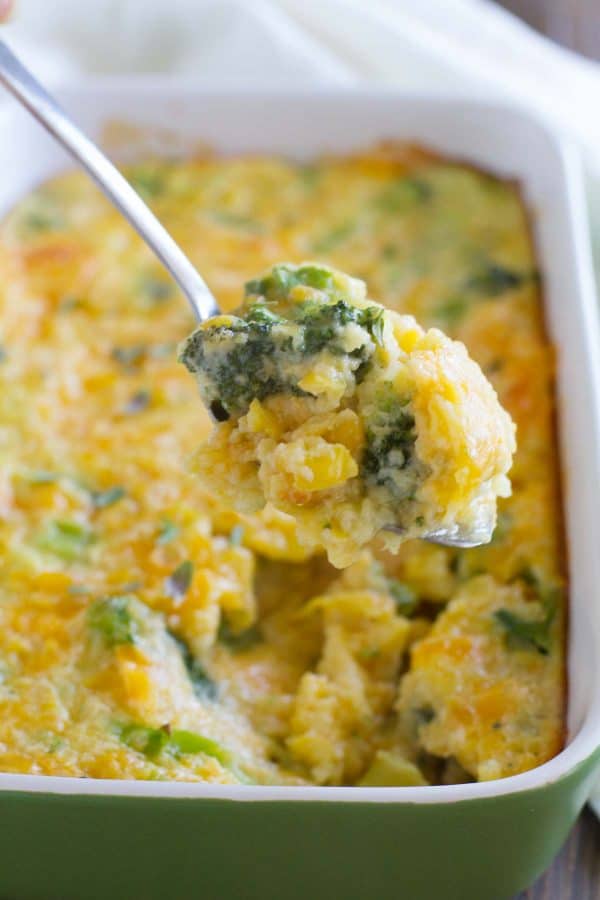 How to Make Scalloped Corn and Broccoli
It really doesn't get much easier than this vegetable side dish. All you have to do is combine the creamed corn, eggs, sugar, flour, salt, shredded cheese and broccoli and spread it in a baking dish. Note: this recipe calls for a 2 quart baking dish, not a 9×13-inch baking dish. If you use a 9×13-inch dish, your end recipe will be very thin.
Once combined, bake it until it is hot and bubby!
Do you thaw the broccoli before adding it?
Nope – you can put it right in frozen!
Can I make this broccoli casserole early?
I have not tried making this recipe in advance, but I would assume it would be fine to mix everything together and not bake it until you are ready for it. But really, this only takes a good 5 minutes to mix everything together before you bake it, so there is probably not a big reason to mix it up before. But you can make it and bake it ahead of time, and then just warm it up when it is time to eat.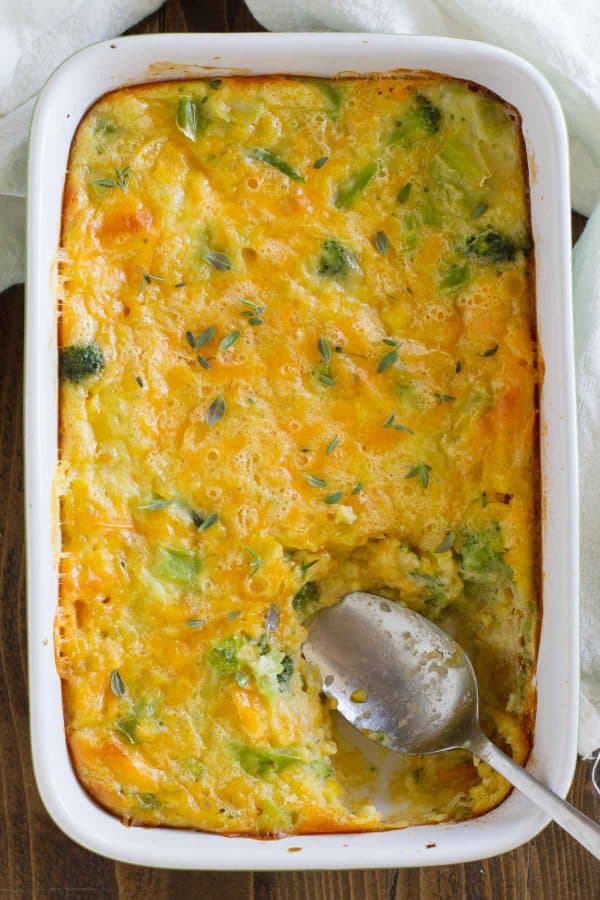 More Thanksgiving Side Dishes that would be perfect for your table
Cheddar Cauliflower Gratin
Scalloped Sweet Potatoes
Brussels Sprouts Gratin
Blue Cheese and Walnut Mashed Potatoes
Funeral Potatoes
Tools Used to Make this Scalloped Corn and Broccoli
I mentioned above that you need a 2 quart baking dish for this. Most 8×8-inch and 9×9-inch baking dishes are 2 quarts. I also have a few rectangular dishes that are 2 quart as well.
A good set of mixing bowls is a necessity in your kitchen!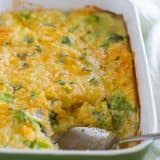 Scalloped Corn and Broccoli
---
Author:
Prep Time: 5 mins
Cook Time: 60 mins
Total Time: 1 hour 5 mins
Yield: 4 servings 1x
Category: Side Dish
Method: Bake
Cuisine: American
Description
A delicious side dish, corn and broccoli are baked with cheese until bubbly and hot. This Scalloped Corn and Broccoli makes a comforting side dish that everyone will beg for.
---
Scale
Ingredients
1 (14.75 to 15 ounce) can creamed corn
2 eggs, beaten
1 tablespoon sugar
2 tablespoons all-purpose flour
1 teaspoon salt
1/2 cup shredded Cheddar cheese
5 ounces frozen chopped broccoli
---
Instructions
Preheat the oven to 350ºF. Spray a 2 quart baking dish with nonstick cooking spray.
In a bowl, combine the corn, eggs, sugar, flour and salt. Stir in the cheese and the broccoli and pour into the baking dish.
Bake until hot and bubbly, 1 hour.
Recipe Notes:
adapted from allrecipes.com
Nutrition information provided as an estimate only. Various brands and products can change the counts. Any nutritional information should only be used as a general guideline.
Nutrition
Calories: 191
Sugar: 5 g
Sodium: 735 mg
Fat: 8 g
Saturated Fat: 6 g
Unsaturated Fat: 1 g
Trans Fat: 0 g
Carbohydrates: 20 g
Fiber: 1 g
Protein: 8 g
Cholesterol: 110 mg