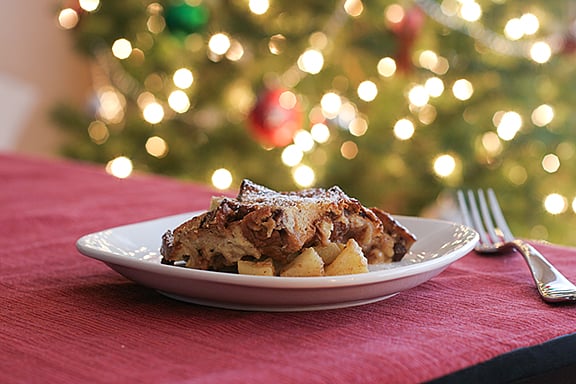 Am I the only one that is kind of amazed that Christmas is already this week?  Where does the time go?  I feel like we haven't done half of what we want to do.  We are going to the lights at Temple Square tonight, but I still need to take Abbi to see Santa, and we still have to finish the Christmas shopping.  And I just found out that we will be celebrating Christmas with my husband's family on Christmas Eve, which means we will be by ourselves all day on Christmas.  Which means I get to throw our own little Christmas feast!  I'm excited, but still in the planning stages.  I need to make sure I don't go overboard since there are just the two of us and a toddler!
One thing I have planned out for sure is our Christmas morning.  This will be our 4th Christmas morning with German Scones.  I've talked about this tradition we started back in 2007 a few times on this blog, and here I go talking about it again!  I think my husband is more excited for the scones than he is for Christmas!
But if you don't have Christmas breakfast planned, I have a great recipe for you today.  I needed a breakfast casserole for a breakfast this past weekend, and didn't have a tried and true one to turn to.  I asked around, and got some great suggestions, but in the end, I went with this casserole.  At first, I was afraid it was going to be too sweet, but it was just perfect.  And I loved the apple/raisin combo.  If you aren't a huge raisin fan, those can be easily left out.  And the greatest part about it is that it is made the night before – all you have to do that morning is throw it in the oven!
I have a couple of Christmas recipes for you this week – just in case you are like me and aren't quite prepared yet!
Apple Raisin French Toast Casserole
adapted from allrecipes
serves 6-8
prep time:  15 minutes
wait time:  8 hours to overnight
cook time:  45-50 minutes
1 cup brown sugar
1 teaspoon cinnamon
1/4 cup butter, melted
3 apples, peeled, cored and cut into a large dice
1/2 cup raisins
1 pound loaf cinnamon raisin bread, cut into cubes
6 eggs, lightly beaten
1 1/2 cups milk
1 teaspoon vanilla
1 teaspoon cinnamon
Grease a 9×13 pan.
In a large bowl, mix the brown sugar and cinnamon.  Mix in the butter, apples and raisins.  Pour mixture into the prepared pan.  Pour the bread over the apple layer.
Whisk the eggs with the milk, vanilla and cinnamon.  Pour over the bread.  Using a spatula (or if you don't mind getting a little messy, use your hands!), push the bread down to make sure it is all soaked by the bread/milk mixture.
Cover the pan with foil and refrigerated for 8 hours, or overnight.
Remove the pan from the refrigerator and preheat  the oven to 375F.
Bake the casserole for 30 minutes, covered, then remove the foil and cook for an additional 15 to 20 minutes.  Sprinkle with powdered sugar, if desired.
———————————-
Here are some other great breakfast casseroles – both savory and sweet!
Egg Vegetable Casserole at Two Peas and Their Pod
French Toast Casserole at Couponing Made Simple
Spanish Style Breakfast Casserole at Kayotic Kitchen
Creme Brulee French Toast Casserole at Confessions of a Foodie Bride
Green Chile Breakfast Casserole at The Meaning of Pie