Prepare breakfast ahead of time for easy mornings with this easy and family pleasing Ham and Cheese Breakfast Casserole Recipe.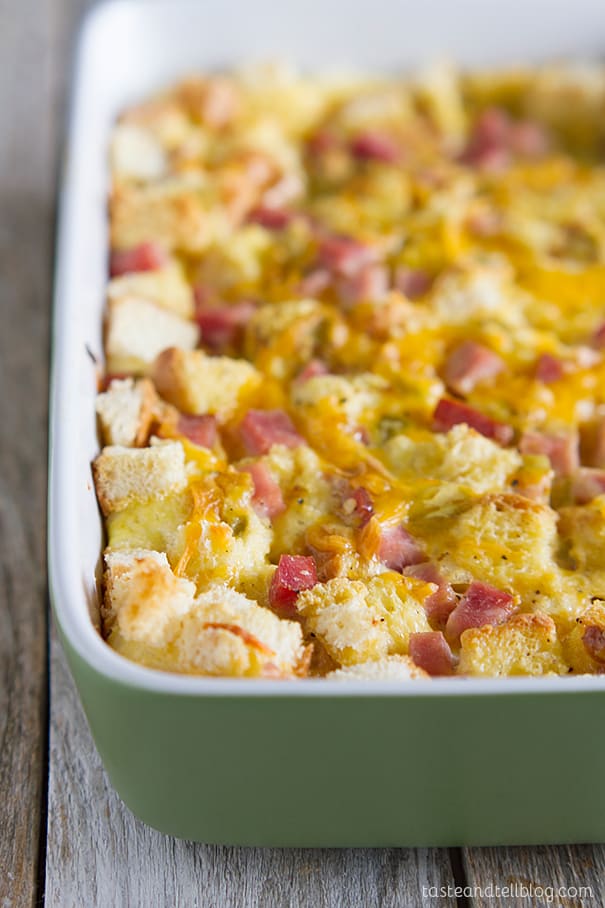 This post has been sponsored by Jones Dairy Farm.



I just got back from a week in upper Idaho/Wyoming/Montana last night. It was a lot of fun, but my husband wasn't able to come because he couldn't get the week off of work. Luckily, my family was there and helped me out a ton – I wouldn't have been able to do it without them. It was so much fun, but at the same time, being a single parent for the week was a lot of work.
As I was putting the kids down, I noticed that my daughter had put her head under her pillow and was crying. I went and sat down next to her to find out what was wrong. And then she asked me, with tears in her eyes, if we could go on vacation again the next morning.

Here I was, just wishing for a long shower and a good night's sleep in my own bed, and my daughter was ready to go out and do it again.
As much as I wish that we could pack up the car and do it again (maybe after a few nights of good sleep!), I told her that we couldn't because it's time to start getting ready for school.
Yikes – I can't believe I'm going to have a school going child this year.
She is super excited to go to school (especially to ride the bus!) and has been counting down the days. My kids are normally early risers, so we have requested morning kindergarten. And I've mentioned it before, but even though my kids are early risers, that doesn't mean that I'm a morning person. So I've been racking my brain, trying to think of ideas for breakfasts that don't require a lot of hands on time while I'm getting her ready in the chaos of the morning.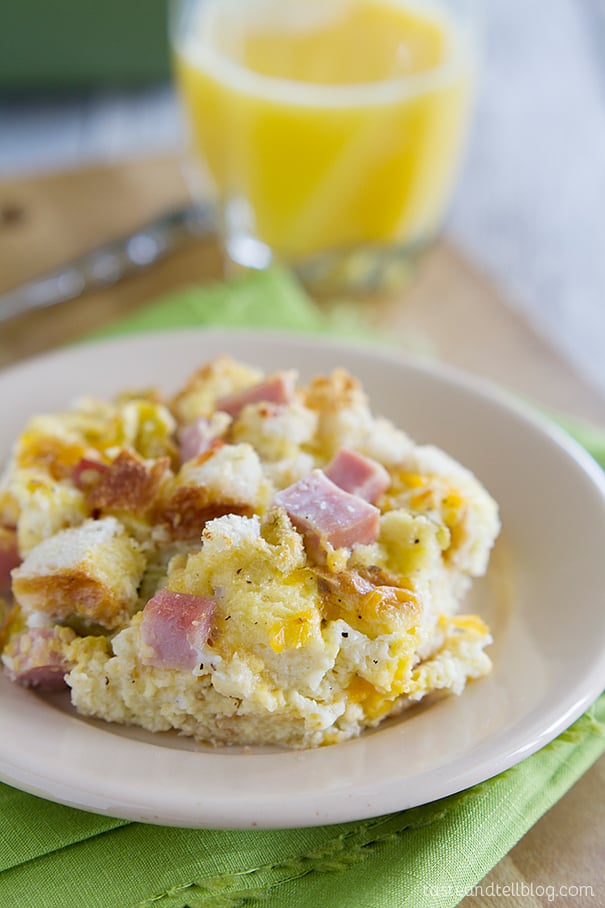 I'm all for preparing ahead of time, and I'm pretty sure this breakfast casserole is my answer! All it takes is 15 minutes the day before to prepare, then into the refrigerator it goes. It does take a little bit of time to bake in the morning, but it's easy to get it baking while you are getting the kids up and ready. And then there is a hot breakfast for everyone before you send the kids off to school.
I made this Ham and Cheese Breakfast Casserole Recipe with some leftover French bread, but you could easily substitute in whatever bread you have on hand. And then I added in some cubed Jones Dairy Farm Ham Steaks. I always have some in my freezer, but this would also be a perfect recipe to use up any leftover ham from Easter or Christmas. A few eggs, some milk and mustard, and then lots of cheese – you have an easy make ahead breakfast that the whole family will enjoy.
I think this breakfast casserole recipe would be the perfect way to send the kids back to school!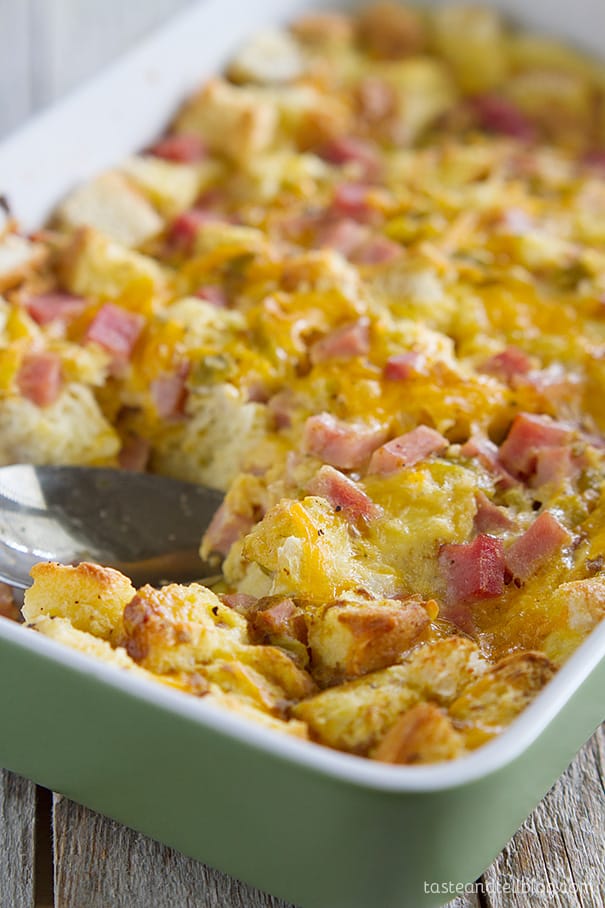 Like what you see here? Make sure you are following Taste and Tell for more great recipes and ideas!!

Facebook ** Pinterest ** Twitter ** Instagram ** Google+
or you can subscribe to my newsletter or Feedly or Bloglovin


Print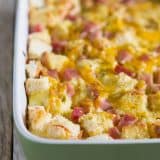 Ham and Cheese Breakfast Casserole Recipe
Prep Time:

15 minutes

Cook Time:

1 hour

Total Time:

1 hour 15 minutes

Yield:

6-8 servings
---
Description
Prepare breakfast ahead of time for easy mornings with this easy and family pleasing Ham and Cheese Breakfast Casserole Recipe.
---
Ingredients
6 cups of cubed day old French bread
1 (4.5 oz) can diced green chiles, drained
10 oz Jones Dairy Farm Ham Steaks, cut into cubes
1 cup (4 oz) shredded cheddar cheese
6 eggs
2 cups milk
1 tablespoon spicy brown mustard
1/4 teaspoon salt
1/4 teaspoon pepper
---
Instructions
Spray a 9×13-inch baking dish with nonstick cooking spray.
In a large bowl, combine the bread cubes, green chiles ham and cheddar cheese. Mix completely, then pour into the prepared baking dish.
In the same bowl, lightly whisk the eggs to break up the yolks. Add in the milk, mustard, salt and pepper and whisk to combine. Pour the mixture evenly over the top of the bread mixture. Use your hands or a large spoon to gently press down on the bread to make sure it is completely soaked by the egg mixture. Cover and refrigerate overnight.
Remove the casserole from the refrigerator 30 minutes before baking. Preheat the oven to 300°F. Bake the casserole, uncovered, until a tester inserted in the center comes out clean, about 1 hour.
More Make-Ahead Breakfast Casserole Recipe Ideas: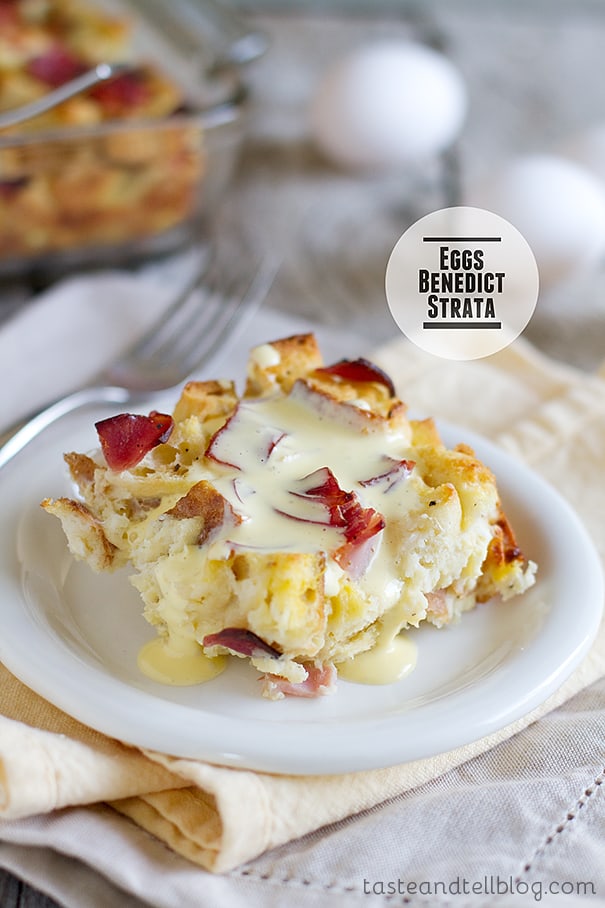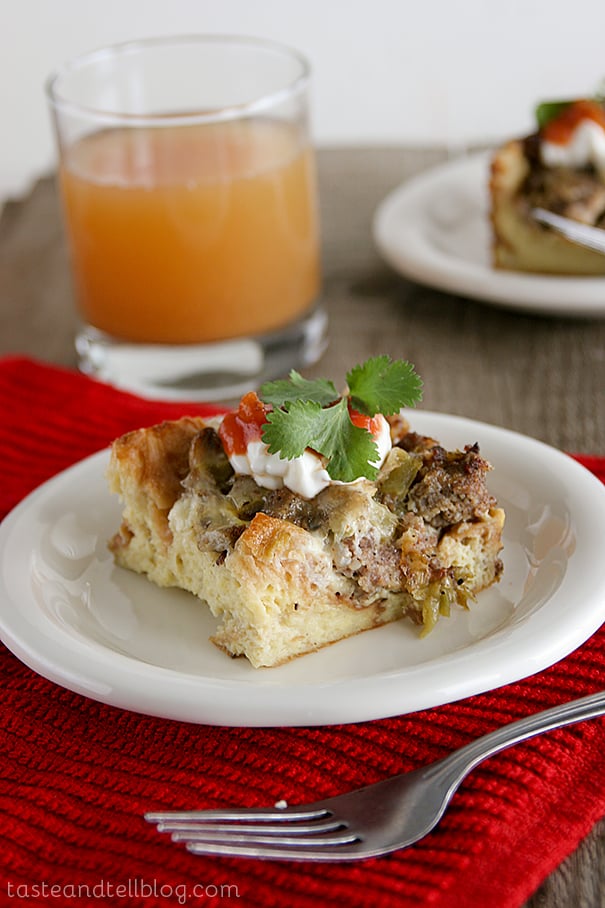 Sausage, Mushroom and Green Chile Breakfast Casserole
Orange-Maple French Toast Casserole
Around the Web:
Easy Cheesy Breakfast Casserole from Gimme Some Oven
French Toast Bake from Lil' Luna
Make Ahead Sausage Breakfast Casserole from Fifteen Spatulas
**Thank you to Jones Dairy Farm for sponsoring this post. Because of sponsors like Jones Dairy Farm, I am able to bring you all of the recipes I feature here.**