Have leftover ham from yesterday's meal? This ham and cheese crescent bake is an easy (and delicious!) way to work through those leftovers!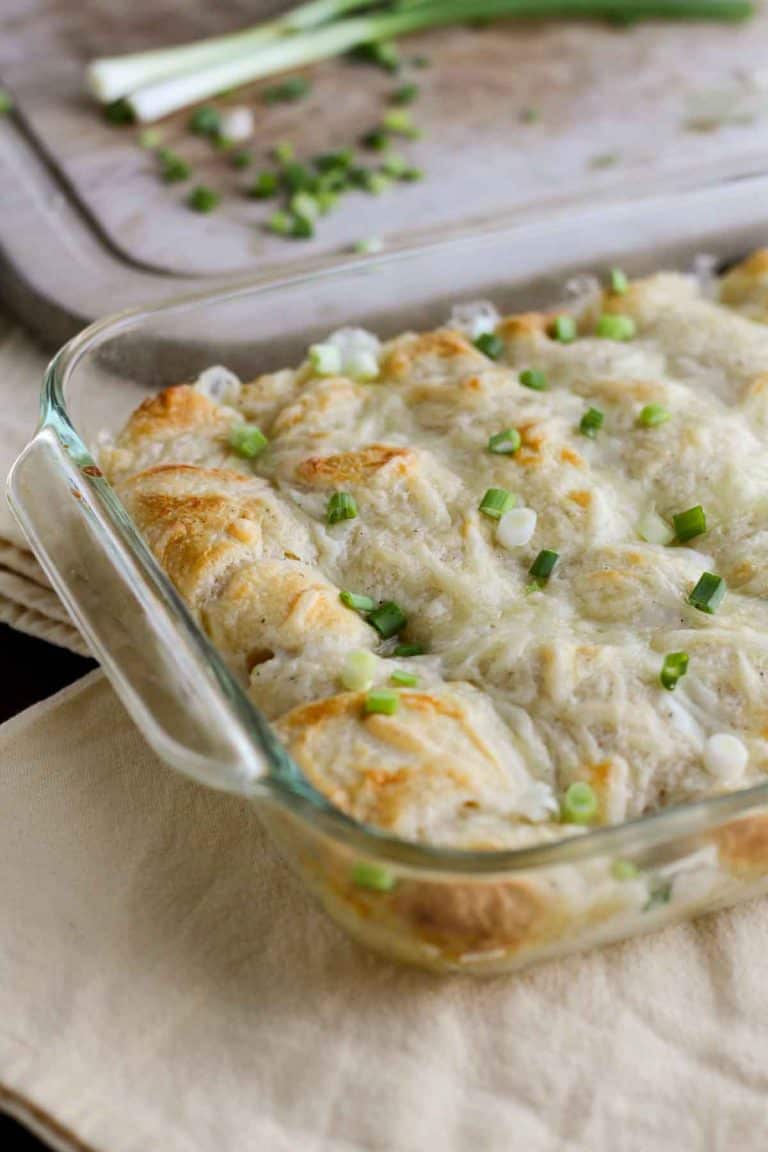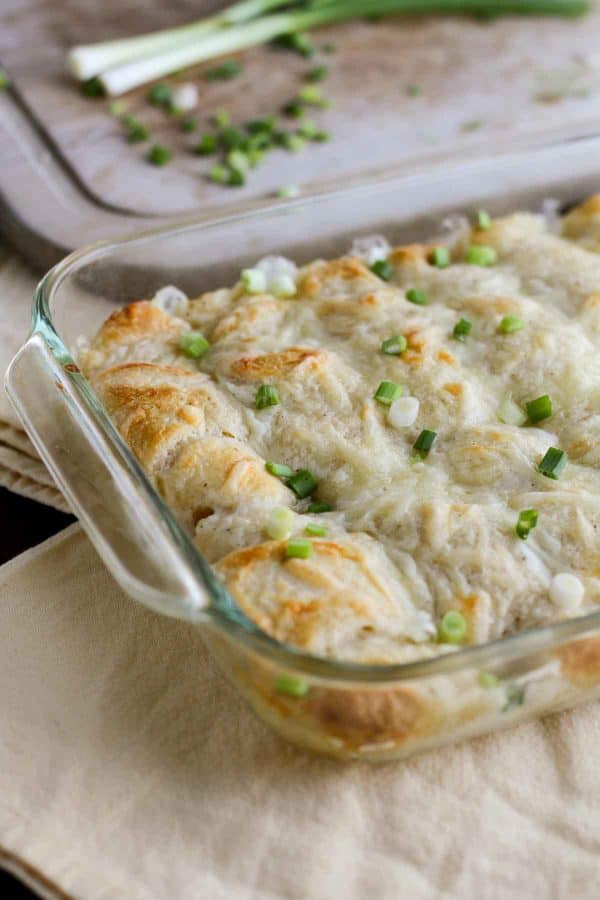 I'm convinced that I've turned into an old lady.
I used to wear heels every single day. Ok, maybe I took an occasional Saturday off, but I dressed up for work 5 days a week and had church on Sundays, so heels were a normal part of my wardrobe.
And then I had a child.
If you've ever been pregnant, you know that it is difficult to wear heels when you are carrying a child. Not only do you not have the balance that you once had, but if you are like me, you swell up like a balloon and have to wear flip flops through your entire pregnancy. And then the baby comes along, and although your feet may fit back into those heels, (that is if they didn't grow like they do for many women), there is no way you want to be walking around carrying a child while you are wearing heels.
So I bought a few pairs of flats. And that's fine. But yesterday, as I was getting ready for church, I decided – since it was Easter Sunday and all – that I wanted to go all out. And these days, that means wearing heels.
And this is where the old lady part comes in, because I put those cute peep toe heels on. And lasted about 14 seconds before I was walking back to the bedroom to find my sensible flats. Some say that you have to sacrifice for fashion sometimes, but I think I'll wait until all of my kids are walking on their own!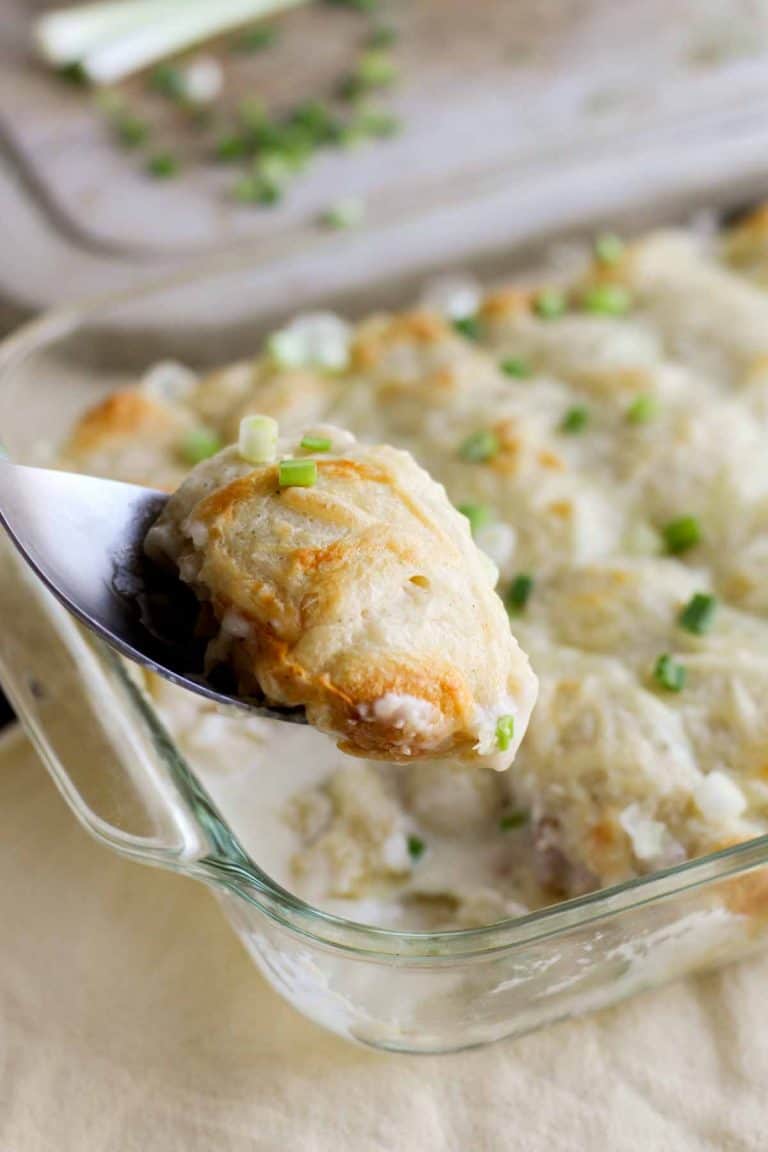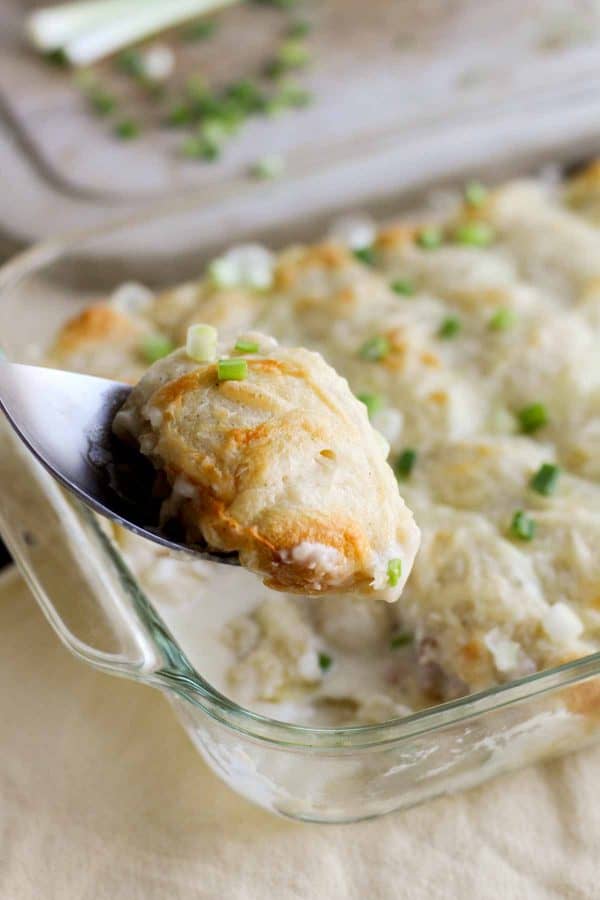 But one thing that I am more comfortable in as the years go by is finding ways to use up leftovers. I still struggle sometimes, but sometimes, I hit the jackpot. Big time.
Like with this Ham and Cheese Crescent Bake.
All I can tell you is that if you have leftover ham from Easter, please make this. And if you don't have leftovers? Well, you can go out and buy a ham steak for it. Because you want to try this. Granted, it's not an everyday indulgence, but this meal will please both kids and adults. Even the leftovers are pretty amazing. I seriously kept finding other things to give my husband for lunches just so I could savor these as leftovers.
More Ways to Use Up That Leftover Ham
Pea and Ham Risotto
Ranch Ham and Cheese Pasta
Ham and Asparagus Quiche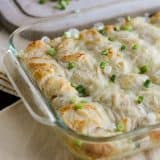 Ham and Cheese Crescent Bake
---
Author:
Prep Time: 15 minutes
Cook Time: 30 minutes
Total Time: 45 minutes
Yield: 4-6 servings 1x
Category: Main Dish
Method: Bake
Cuisine: American
Description
A great way to use up ham leftovers, this easy casserole combines a homemade sauce with ham and cheese filled crescent rolls that are all baked together.
---
Scale
Ingredients
Crescents
4 oz cream cheese, at room temperature
4 tablespoons butter, at room temperature
2 green onions, diced
2 cups cubed, cooked ham
1 clove minced garlic
1/2 cup grated Swiss cheese
salt and pepper
2 cans (8 oz each) crescent rolls
Sauce
2 tablespoons butter
3 tablespoons flour
1 cup chicken broth
1 cup milk
1 cup Swiss cheese
chopped green onions, for garnish
---
Instructions
Preheat oven to 350F. Spray a 9×13-inch baking dish with nonstick cooking spray.
In a bowl, cream together the cream cheese and butter. Add in the green onions, ham, garlic and Swiss cheese. Season with salt and pepper.
Open the crescent rolls and divide each can into 8 triangles. Place a mound of the filling mixture on the wide end of the crescent roll and roll up.
In a large skillet, melt the butter. Whisk in the flour and cook for a minute or two. Slowly whisk in the chicken broth and then the milk. Cook until the mixture has thickened. Season with salt and pepper.
Spread a small amount of the sauce over the bottom of the baking dish. Place the rolls in the baking dish, making 2 rows of 8 filled rolls each. Pour the remaining sauce over the rolls. Sprinkle the 1 cup of Swiss cheese over the top.
Bake for 30 minutes, or until the cheese is melted and the sauce is bubbling. Let cool slightly, sprinkle on green onions and serve.