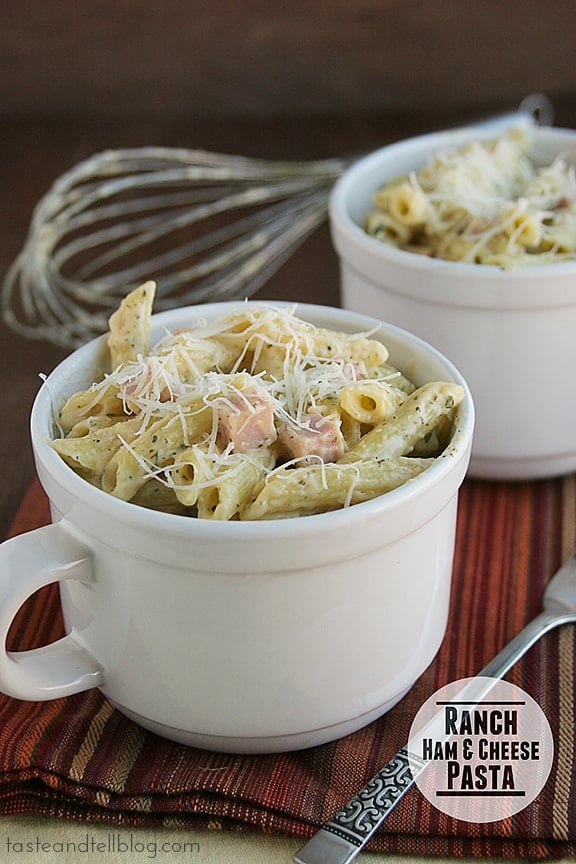 I have been cooking like crazy lately. I think it's something about wanting to get back to "normal" (as if normal exists!) after Camden came. Or maybe it's something to do with the new year. But I've been cooking dinner almost every night, which hasn't been normal at all the last few months. It's been fun. I've made a lot of old favorites. And I've made quite a few new dishes to share with all of you.
The good thing is that I now have a stockpile of recipes, so I won't be running out of things to post about any time soon. The bad thing is that if I don't type up what I've made right after I made it, I might forget where the recipe came from. I sat down to type up a post, and saw the photo for this recipe. This pasta was so good, I knew that it would be up next in the queue. I knew I had the recipe somewhere, but my recipe notebook situation isn't very pretty right now. Too many notebooks that need to be gone through.
Luckily, after some searching, I found where I had written out the recipe. Thank goodness!!
This is one of those super easy I-need-something-for-dinner-last-minute recipes. There are quite a few spices, but I think you should have most, if not all, on hand already. I actually had some ham in the freezer (which inspired this recipe), so I was able to make this all from what I already had on hand. It pretty much takes as long as it takes a pot of pasta to cook, so it definitely qualifies as one of the quickest weeknight meals. And who doesn't like ranch flavors? This is one that is sure to be a family pleaser!


Ranch Ham and Cheese Pasta
---
Prep Time: 10 minutes
Cook Time: 20 minutes
Total Time: 30 minutes
Yield: 4-6 servings 1x
Description
A creamy, cheesy pasta sauce is flavored with ranch spices. Cooked ham is added to make an easy and flavorful pasta dinner.
---
Scale
Ingredients
16 oz penne pasta
1 tablespoon butter
1 tablespoon flour
1 cup milk
2 teaspoons dried parsley
1 teaspoon garlic salt
1 teaspoon lemon pepper
1/2 teaspoon garlic powder
1/2 teaspoon dried onion
1/2 teaspoon dried dill
1/4 teaspoon onion powder
pepper to taste
1 cup sour cream
2 cups cubed cooked ham
1 1/2 cups shredded Monterey Jack cheese
1/4 cup Parmesan
---
Instructions
Bring a large pot of water to a boil. Salt generously and cook the pasta until al dente. Drain, return to pan and set aside.
Meanwhile, melt the butter in a large saute pan. Whisk in the flour and cook for a minute or two. Slowly whisk in the milk and continue to cook and whisk until the mixture thickens slightly.
Stir in the parsley, garlic salt, lemon pepper, garlic powder, dried onion, dill and onion powder. Season to taste with pepper.
Reduce the heat and stir in the sour cream. Stir in the ham and both cheeses. Stir until completely combined and the cheese is melted.
Pour the cheese sauce into the pan with the pasta and stir to combine.
Serve topped with additional cheese, if desired.

More ranch recipes:
Buffalo Ranch Popcorn from Serena Bakes Simply From Scratch
Parmesan Ranch Snack Mix from Averie Cooks
BLT Ranch Chicken Wraps from Taste and Tell
Parmesan Ranch Roasted Green Beans from Eclectic Recipes
Ranch Chicken Stuffed Potato Skins from Picture the Recipe