One thing I have loved this year is the amount of strawberries that have been coming off our strawberry plants. They were new last year, so we didn't get a ton of berries. But this year, the berries have been plentiful! Abbi loves them – in fact, whenever she is in the backyard, she makes a beeline for them and eats them straight off the plant. So I haven't had a ton of strawberries laying around, needing to be used, but I have had enough to try some new recipes.
This recipe isn't necessarily new, but an old recipe with a new twist. This is my favorite pancake recipe. I've tried so many different pancake recipes, but I always come back to this one. Maybe it's because this pancake recipe is the one I've been eating since I was a kid. But I stepped it up a little by adding in fresh, diced strawberries. I wasn't sure how well it would work, because strawberries are so wet, but they were delicious! And that's what I call breakfast!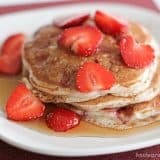 Strawberry Pancakes
---
Prep Time: 15 minutes
Cook Time: 15 minutes
Total Time: 30 minutes
Yield: 4-6 servings 1x
Description
Traditional pancakes are filled with fresh strawberries – a perfect summertime breakfast.
---
Scale
Ingredients
1 1/2 cups flour
1 tablespoon baking powder
3/4 teaspoon salt
3 tablespoons sugar
1 1/2 cups milk
2 eggs, separated
3 tablespoons vegetable oil
1 cup diced fresh strawberries
---
Instructions
Combine the flour, baking powder, salt and sugar in a large bowl. In a measuring cup combine the milk, egg yolks and oil. Stir into the dry ingredients lightly, stirring only until combined. There will be lumps.
In a separate bowl, whip the egg whites until they have soft peaks. Fold gently into the rest of the batter.
Cook pancakes on a preheated griddle or large saute pan. Serve with maple syrup and additional strawberries, if desired.