Perfect for serving and eating with friends, this Strawberry Cobbler with Cream Cheese is down-home deliciousness.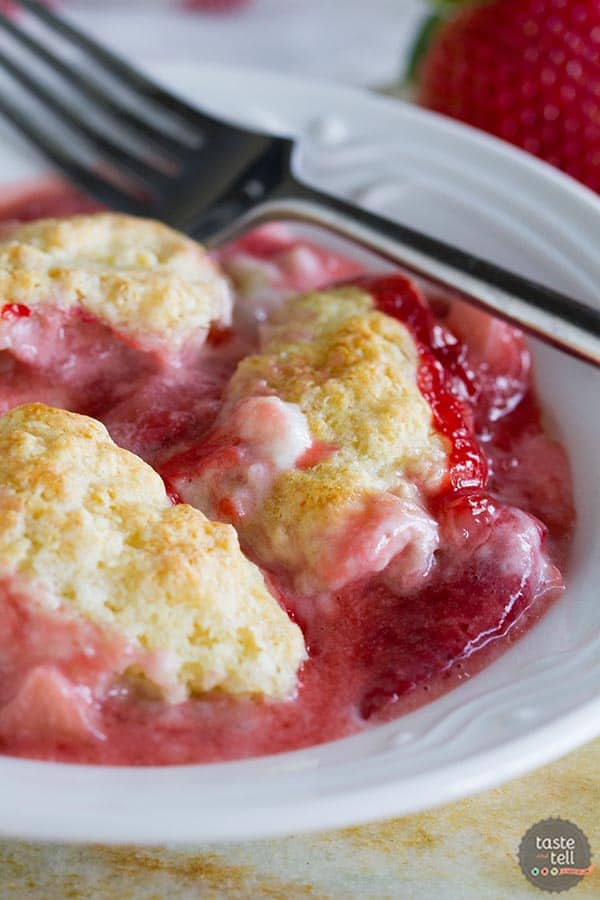 If you were to ask me what one of my favorite parts of blogging would be, I would tell you it's the community. Over the last 8 years of blogging, I have made some great, lifelong friends. I think that is why I am so passionate about food – it brings us together in a way that nothing else can.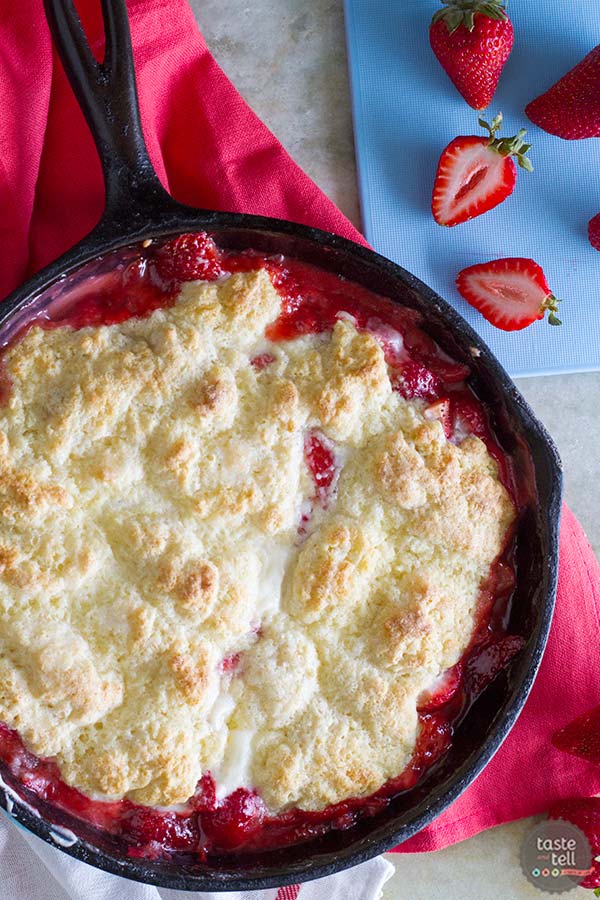 Community is the reason I am here today, sharing this recipe for this Strawberries and Cream Skillet Cobbler. Today, some blogging friends and I are gathering together to celebrate the upcoming arrival of a new food blogging baby from Ashton of Something Swanky.
Funny enough, it's actually been awhile since I've been to a baby shower in real life. But I do know that my favorite part of going to a baby shower is the time you get to sit around and just chat and catch up. And then there's the food.
Let me tell you – oh, how I wish that we all lived close enough to throw Ashton a real baby shower. Can you even imagine how good the food would be?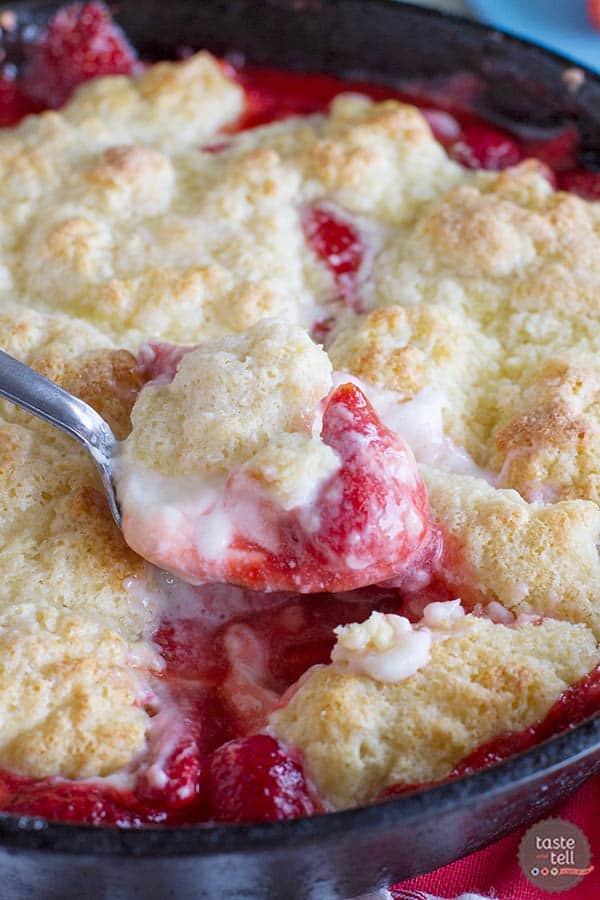 But alas, we have to stick to virtual for now.
When I sat down to think about what I wanted to "make" for the shower, one thought came to my head. As much as I love fancy cookies like these macarons, or a big dark chocolate layer cake, I knew I needed to do something simple, something down home. Something I could picture eating while sitting around with my girlfriends. This dessert is something that may, at first glance, come across as boring. But I assure you, this Strawberry Cobbler with Cream Cheese is anything but boring.
I am a huge cobbler fan, and I had this crazy idea to add a creamy element to a cobbler that would be perfect for spring or summer. The berries have been so good lately, so I knew that was a good starting point. Now, the cream part, on the other hand, had me stumped for awhile. But after testing and trying new ideas, I came up with the perfect summertime cobbler recipe. The cream layer helps to cut back on the sweetness of the berries, so this isn't a tooth-achingly sweet dessert. I thought it was perfect as is, but if you want to add an extra layer of yum, try putting a scoop of vanilla ice cream over the top.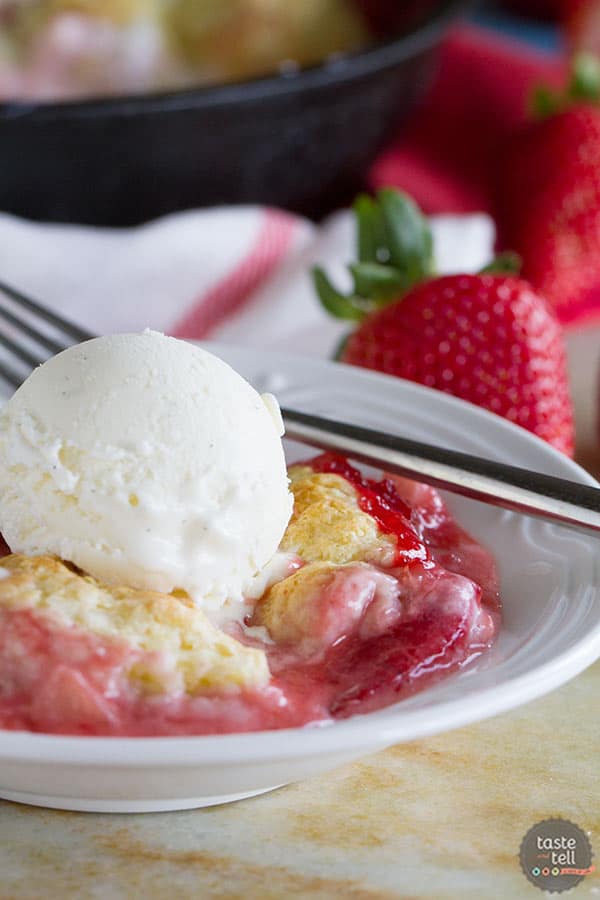 I'm so excited for Ashton, and for her new little baby boy that is on the way. She is going to have so much fun being the mom of a boy!!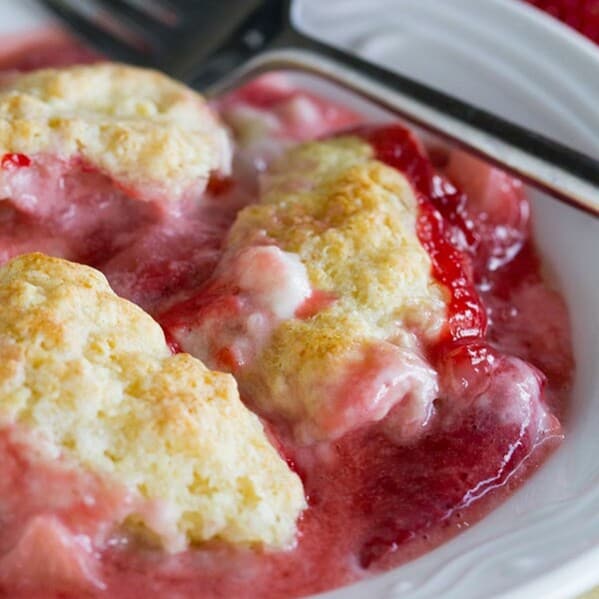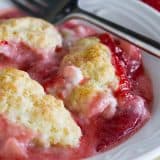 Strawberry Cobbler with Cream Cheese
---
Author:
Prep Time: 45 minutes
Cook Time: 25 minutes
Total Time: 1 hour 10 minutes
Yield: 6–8 servings 1x
Category: Dessert
Method: Baked
Cuisine: American
Description
Perfect for serving and eating with friends, this Strawberry Cobbler with Cream Cheese is down-home deliciousness.
---
Scale
Ingredients
Strawberries
6 cups strawberries, cut into halves or fourths
6 tablespoons sugar, divided
2 tablespoons flour
2 teaspoons fresh lemon juice
1 teaspoon vanilla extract
4 oz cream cheese, cut into small cubes
3 tablespoons heavy whipping cream
Biscuit Topping:
3/4 cup all purpose flour
3/4 teaspoon baking powder
1/4 teaspoon baking soda
1/4 teaspoon salt
5 teaspoons sugar, divided
2 tablespoons cold butter, cut into small pieces
1/2 cup buttermilk
---
Instructions
Combine the strawberries with 4 tablespoons of the sugar, flour, lemon juice, and vanilla in a 9- or 10-inch cast iron skillet. Stir to coat, then let sit until the strawberries have started to release their juices, about 30 minutes.
Preheat the oven to 400F.
In a bowl, beat together the cream cheese and the remaining 2 tablespoons of sugar until smooth. Beat in the cream, 1 tablespoon at a time. Drop the cream cheese mixture over the strawberry mixture by tablespoons. Use a spoon or spatula to try to spread the cream cheese mixture into a thin layer over the top of the strawberries.
In a bowl, mix together the flour, baking powder, baking soda, salt and 3 teaspoons of the sugar. Cut in the butter with a pastry cutter or a fork until it resembles coarse crumbs. Add in the buttermilk and stir just until moistened – do not overmix. Add more buttermilk if the mixture is too dry.
Drop rounded tablespoons of the topping over the strawberries and cream mixture. Sprinkle the remaining 2 teaspoons of sugar over the top.
Bake until the fruit is tender and bubbling, about 25 minutes. Serve warm or cold.
Keywords: strawberry cobbler, cobbler recipe, summer dessert