Ok, let's just cut right to the chase. If you are a fan of Mexican food, this is a cookbook you need on your shelf. Like yesterday.
Honestly, I feel so badly that it has taken me so long to introduce this cookbook to you. I first "met" the ladies behind Muy Bueno last year when they were featured as one of my Blogger Spotlights. They have a beautiful blog, but what I have always loved about them is the heart behind the recipes. You can feel that these recipes run through their veins. And that feeling is carried over into their cookbook. Make sure you read the introduction so you can hear the voice of each of the women.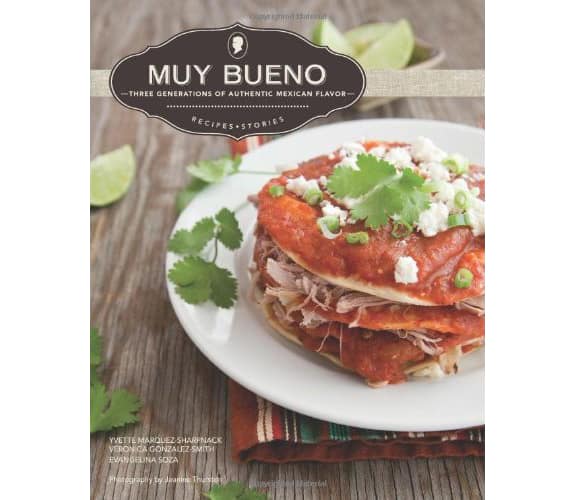 Let's break down the book:
Number of Photos: Many
Not a photo of every dish, but plenty of photos throughout. And the photography is gorgeous!
Difficulty Level of Recipes: Easy
I think this cookbook breaks down traditional Mexican cooking very well. I was actually surprised at how easy most of the recipes look!
Availability of Ingredients: Easy
I think that most ingredients could probably be found at a grocery store, but any that might be a little more difficult could easily be found in a local Mexican grocery store.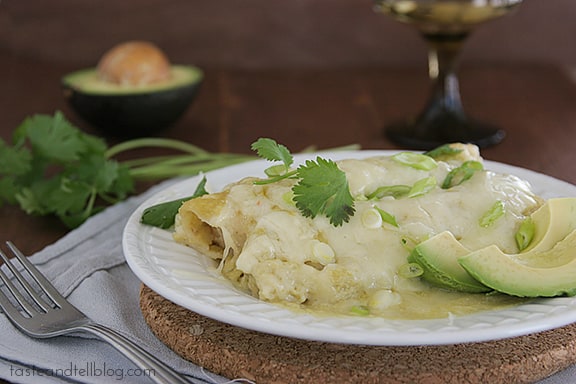 I honestly couldn't decide what to make from this cookbook. There were so many that I bookmarked! I ended up going pretty basic with these Green Enchiladas, but really, they were anything but basic. I decided to make the full recipe of the sauce, but only assembled half into enchiladas, and I froze the remaining sauce. I seriously cannot wait to use that frozen sauce, because the sauce is what totally makes these enchiladas. I don't have a favorite Mexican restaurant here, but with these enchiladas, I really don't need one!!
These enchiladas can be made as stacked enchiladas, or you can go the traditional route and bake them, which is what I decided to do. I think they would be great either way!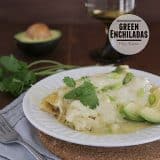 Green Enchiladas
---
Prep Time: 20 minutes
Cook Time: 15 minutes
Total Time: 35 minutes
Yield: 4-6 servings 1x
Description
Chicken enchiladas with an easy, homemade green sauce.
---
Scale
Ingredients
12 Anaheim Chiles, roasted and peeled
2 tablespoons flour
1 quart Suero de Sal or buttermilk, divided
salt
1/2 cup creme Mexicana or sour cream
1/2 cup canola oil for frying
12 to 18 corn tortillas (preferably white corn tortillas)
1 pound shredded chicken
1 1/2 cups white shredded cheese
1 medium white onion, diced
2 green onions, chopped (optional)
2 avocados, pitted, peeled and sliced
---
Instructions
Combine the roasted chiles, flour and half of the Suero de Sal or buttermilk in a blender. Process until creamy.
Transfer the mixture to a large skillet. Add the remaining 1 cup of Suero de Sal or buttermilk. Coo over medium-low heat. Add salt to taste.
If the sauce is too spicy, add some of the sour cream. If it is too thick, add water to thin out.
Preheat the oven to 350F. Heat the canola oil in a small skillet over medium heat. Drop one tortilla at a time into the hot oil, flip form one minute, then remove to a paper towel lined plate.
Pour 1 cup of the sauce over the bottom of a 9×13-inch baking dish.
Fill each tortilla with some chicken, some cheese, some of the diced onion, then roll the tortilla up. Place in the baking dish, seam side down. Pour 2 cups of the sauce over the top of the enchiladas. Sprinkle with more cheese and bake until the enchiladas are warmed thorough.
Serve the enchiladas with sour cream, green onions, and avocado.
—————————
recipe very slightly adapted from The Muy Bueno Cookbook