Fresh strawberries and cinnamon are the stars in this easy Strawberry Bread. A great way to take advantage of strawberry season!
Strawberry season is the best! While the fresh berries are at their peak, you also need to try this Strawberry Crumble Pie, Strawberry Syrup, and this Strawberry Cobbler with Cream Cheese.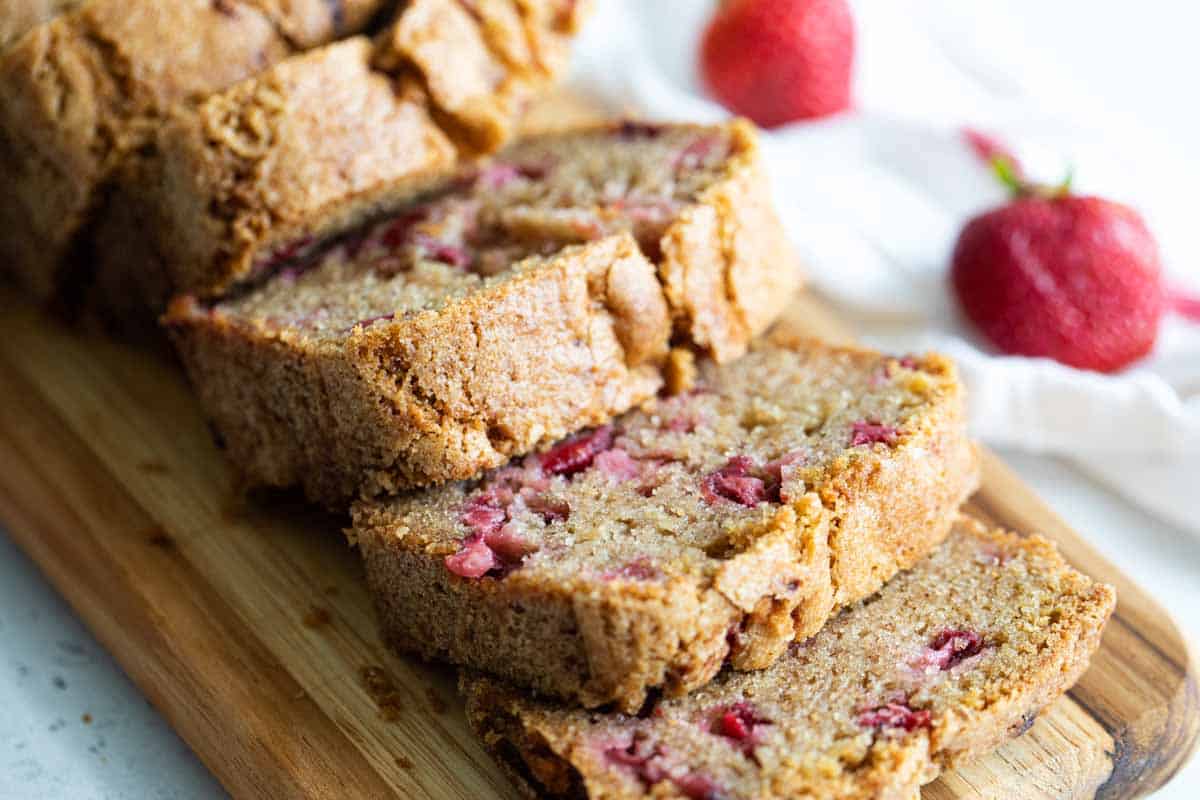 There is nothing like a fresh summer strawberry. Strawberries are one of the fruits that you can usually find in the grocery store year round, but they will never be as good as they are in the summer. Juicy and sweet – you just have to take advantage of them when they are good.
One recipe I've been making every summer for years now is this Strawberry Bread. It really highlights the sweetness of the berries and really tastes like summer. The addition of cinnamon brings in a little warmth, but this recipe truly screams summer!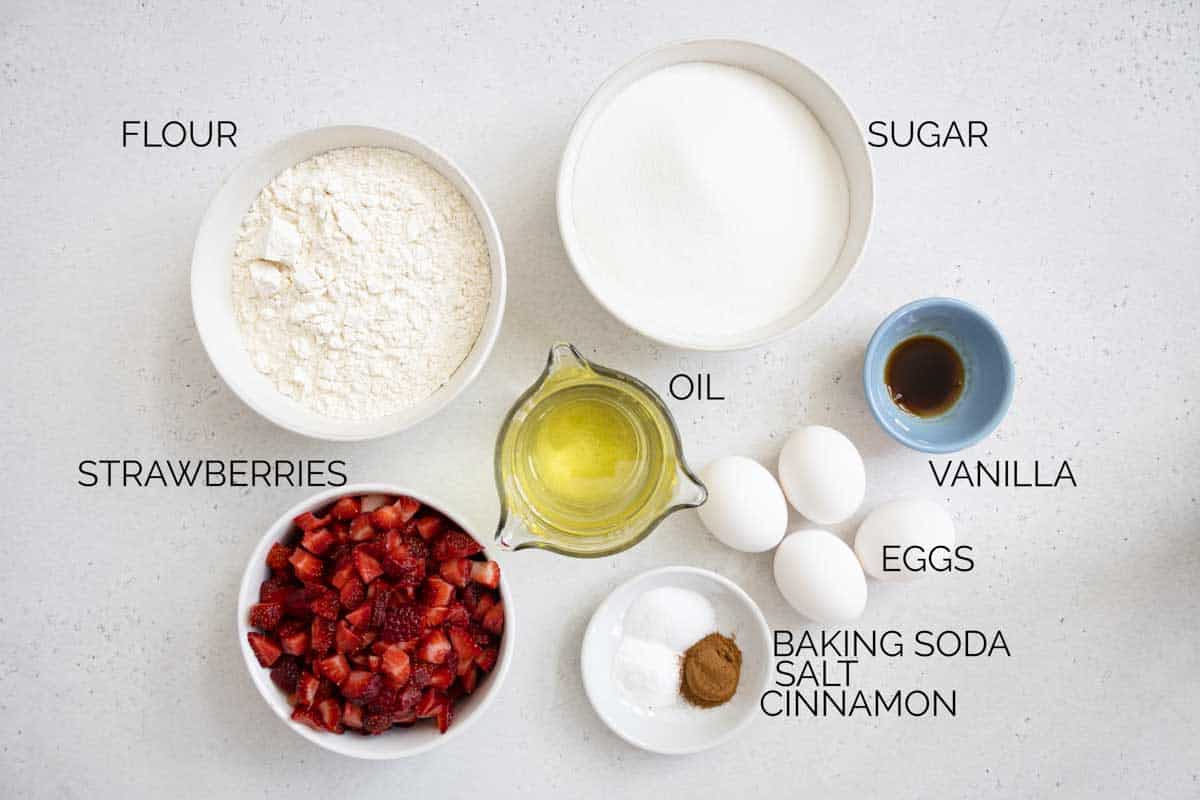 Ingredients
Flour: I've only ever used all-purpose, but you could probably sub in half whole wheat to bring in some extra nutrition.
Sugar: Just regular granulated sugar.
Baking Soda: This will help give it lift that you need in a good quick bread.
Salt: The salt balances the flavors and makes them pop.
Cinnamon: This brings in a bit of warmth and pairs perfectly with the strawberries.
Vegetable Oil: You could use butter, but I like how moist the oil makes the bread.
Eggs: I use large eggs.
Vanilla: I always like to use pure vanilla extract.
Diced Strawberries: You don't want to pulverize the strawberries, but you do want a smaller dice. If the chunks are too big, the bread tends to fall apart easily.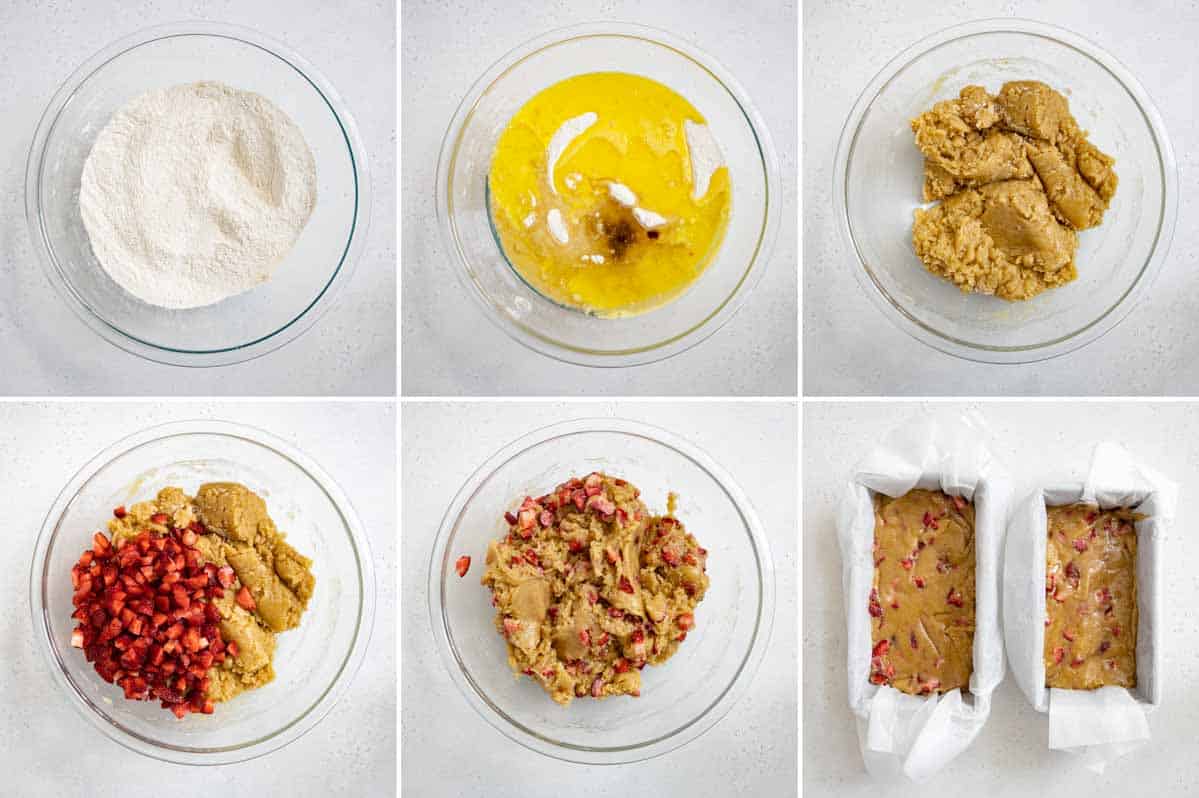 How to Make Strawberry Bread
This only takes a few minutes to mix together before it heads to the oven!
DRY INGREDIENTS: Combine the dry ingredients – the flour, sugar, baking soda, salt and cinnamon.
WET INGREDIENTS: Add the vegetable oil, eggs, and vanilla.
MIX: Mix it all together – the batter will be thick.
ADD STRAWBERRIES: Add your diced strawberries and mix just until the strawberries are incorporated.
ADD TO PANS: Divide the batter evenly. Guidelines for different sized pans are below.
BAKE: Bake the bread until a tester inserted in the center comes out clean.
Strawberry Bread Video
How to Store
Store any leftovers wrapped tightly in plastic wrap or in a container with a lid. You can keep it at room temperature for a day, but I suggest storing it in the refrigerator so that it doesn't get mushy.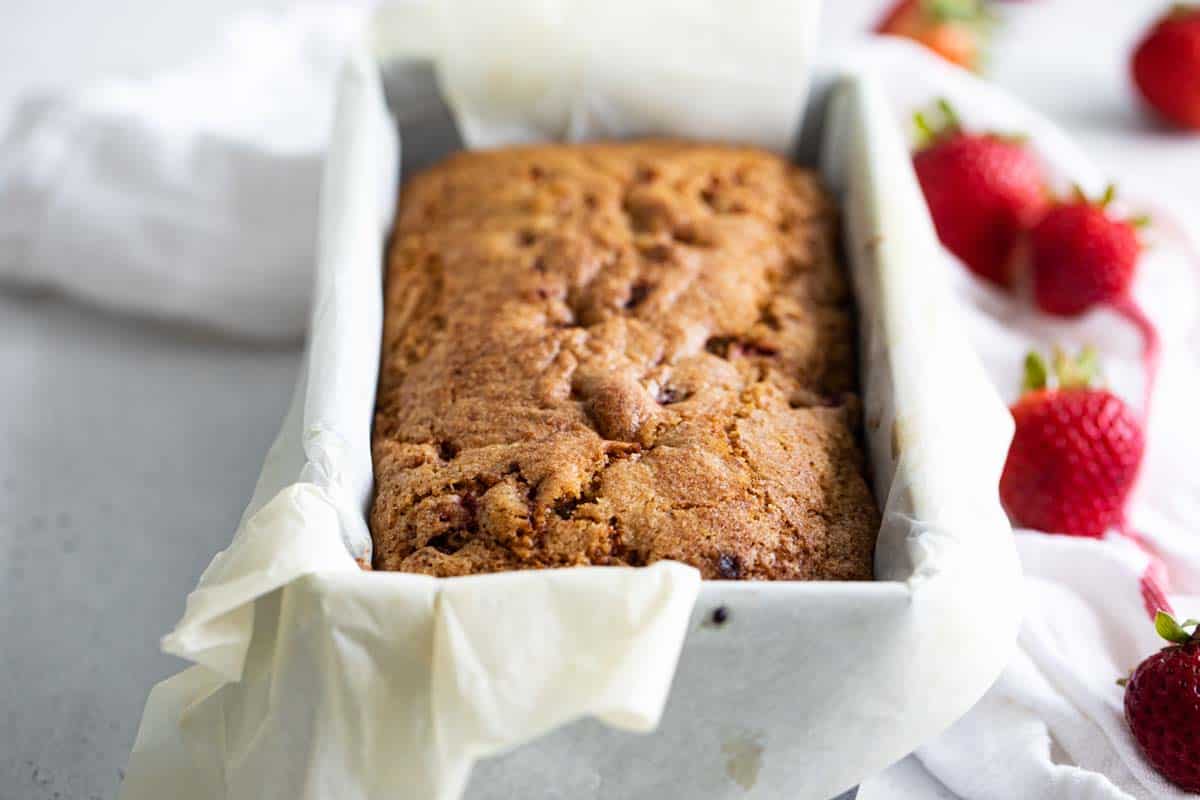 Different Loaf Sizes
I have tried this bread in mini loaf pans, small loaf pans, as well as traditional sized loaf pans. I really do love the mini loaves, but it works well with every size. Guidelines for each size of pan are below:
Mini Loaf Pans: My mini loaf pan has 8 cavities, and each loaf is 3.28″x2.5″. This recipe will make 12 mini loaves, and they will bake for approximately 25-30 minutes.
Small Loaf Pans: These pans are often called mini pans, but they are a smaller loaf pan around 6″x3″. This recipe will make 6 small loaves, and they will need to bake for approximately 35-45 minutes.
Large Loaf Pans: This is your traditional loaf pan size, approximately 9″x 5″. I make 2 large loaves, and they will bake for about 60 minutes.
Muffins: Want to make muffins? Try this Strawberry Muffin recipe.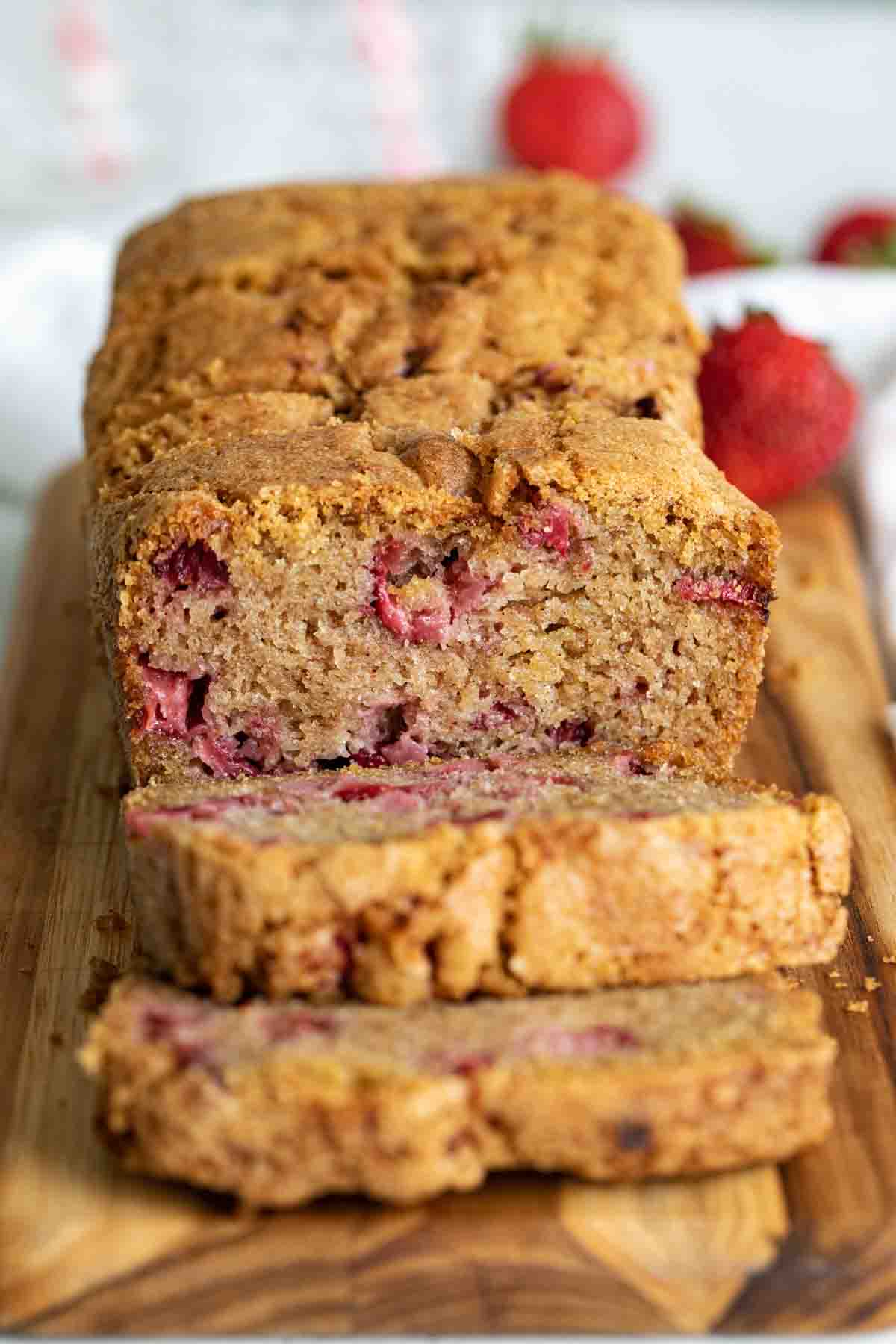 Tips and Tricks
The trickiest part of making a quick bread is the baking time. You want to make sure to bake it long enough so that the center is cooked through, but no one wants a dry bread, so you have to be careful to not overbake it. Make sure to check the center with a toothpick or knife. If it comes out with batter or lots of moist crumbs, it still needs to bake longer. If there are just a few crumbs, it is perfect.
Make sure and let the bread sit in the pan for about 15 minutes once it comes out of the oven so that it will set up properly. If you turn the pan over immediately, the bread will most likely become a big pile of bread instead of a loaf.
Make sure your strawberries aren't too big – otherwise your bread may be mushy.
This strawberry bread can be made ahead of time and frozen. After it cools completely, wrap it in plastic wrap and then foil or in airtight freezer safe bags, and freeze for up to 2 months.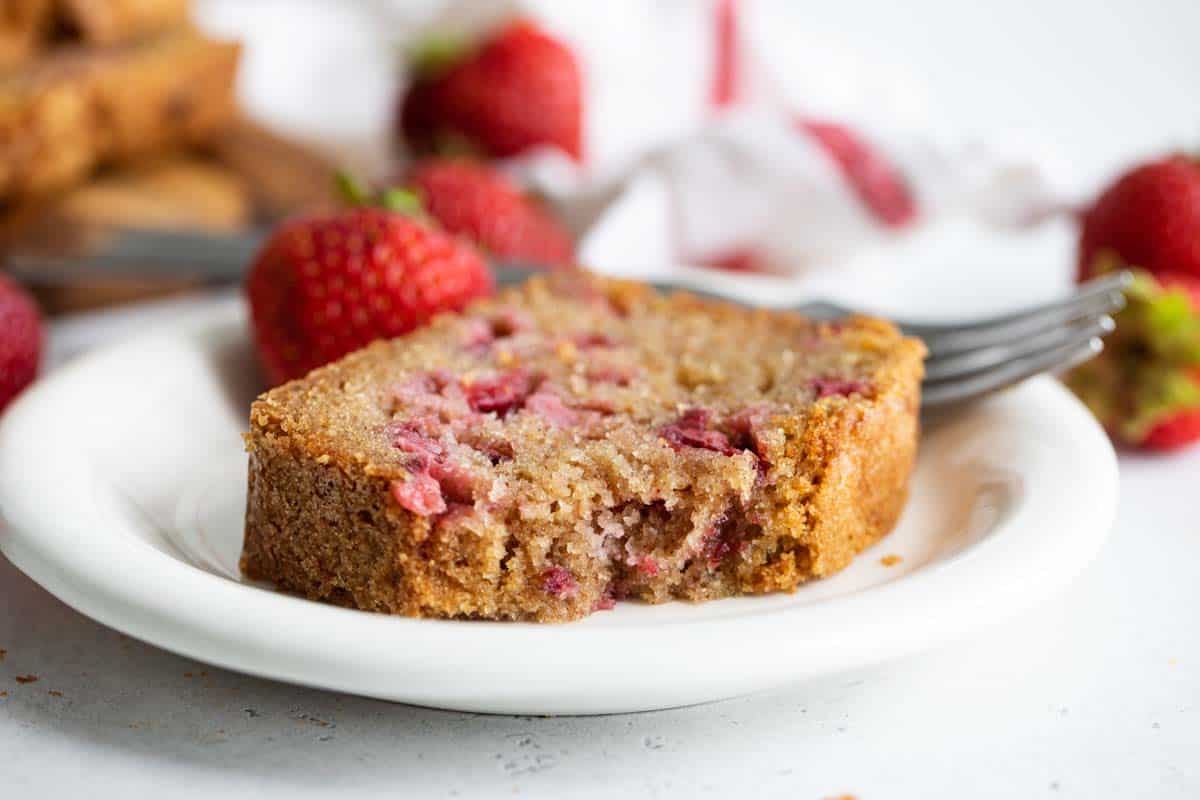 More Quick Bread Recipes
Zucchini Bread
Coconut Bread
Banana Oat Bread
Peanut Butter Banana Bread with Chocolate Chips
Chocolate Cinnamon Bread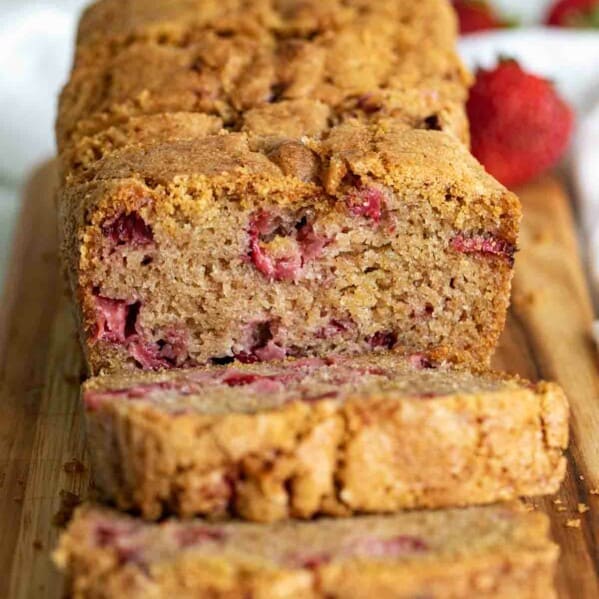 Strawberry Bread
---
Author:
Prep Time: 10 minutes
Cook Time: 60 minutes
Total Time: 1 hour 30 minutes
Yield: 24 servings 1x
Category: Bread
Method: Baked
Cuisine: American
Description
Fresh strawberries and cinnamon are the stars in this easy Strawberry Bread.  A great way to take advantage of strawberry season!
---
Scale
Ingredients
3 cups all-purpose flour
2 cups sugar
1 teaspoon baking soda
1 teaspoon salt
1 teaspoon ground cinnamon
1 cup vegetable oil
4 eggs, lightly beaten
1 teaspoon vanilla
2 1/2 cups diced strawberries
---
Instructions
Preheat the oven to 350ºF.  Spray loaf pan(s) with nonstick cooking spray.
In a large bowl, combine the flour, sugar, baking soda, salt and cinnamon. Stir in the vegetable oil, eggs and vanilla. The batter will be thick. Stir in the strawberries.
Place the batter in the prepared pan(s). Bake until a tester inserted in the center comes out clean.
Cool the loaves in the pans for 10-15 minutes before turning out onto a cooling rack to cool completely.
Recipe Notes:
*Mini loaves will take 25-30 minutes to bake, small loaves 35-45 minutes, and large (9×5-inch) loaves will take about 60 minutes.
**Makes about 12 mini loaves, 6 small loaves or 2 large loaves.
adapted from The Reluctant Entertainer
Nutrition information provided as an estimate only. Various brands and products can change the counts. Any nutritional information should be used as a general guide.
Nutrition
Serving Size: 1 slice
Calories: 217
Sugar: 17 g
Sodium: 146 mg
Fat: 10 g
Saturated Fat: 2 g
Unsaturated Fat: 8 g
Trans Fat: 0 g
Carbohydrates: 29 g
Fiber: 1 g
Protein: 3 g
Cholesterol: 31 mg
Keywords: strawberry bread, strawberry recipe, quick bread