Light lemon and nutmeg scented pancakes are topped with fresh strawberry syrup and fresh strawberries.
Strawberries. Lemon. Ricotta. All for breakfast.
I mentioned this on my newsletter this past weekend, but I have been pancake obsessed lately.
Seriously pancake obsessed.
My kids usually want cereal every morning. And I usually oblige because I'm just so tired in the mornings. But last week, my kids asked for pancakes.
Every. Single. Day.
I'm not totally complaining. Besides the fact that we probably shouldn't be eating pancakes every single morning, I'm happy to get out of that cereal rut. But instead of making my go-to recipe that I make most of the time (which I'm surprised I've never posted here before!), I decided to start switching things up a little bit.
And since I've been equally obsessed with strawberries lately, I decided the strawberries needed some action, too.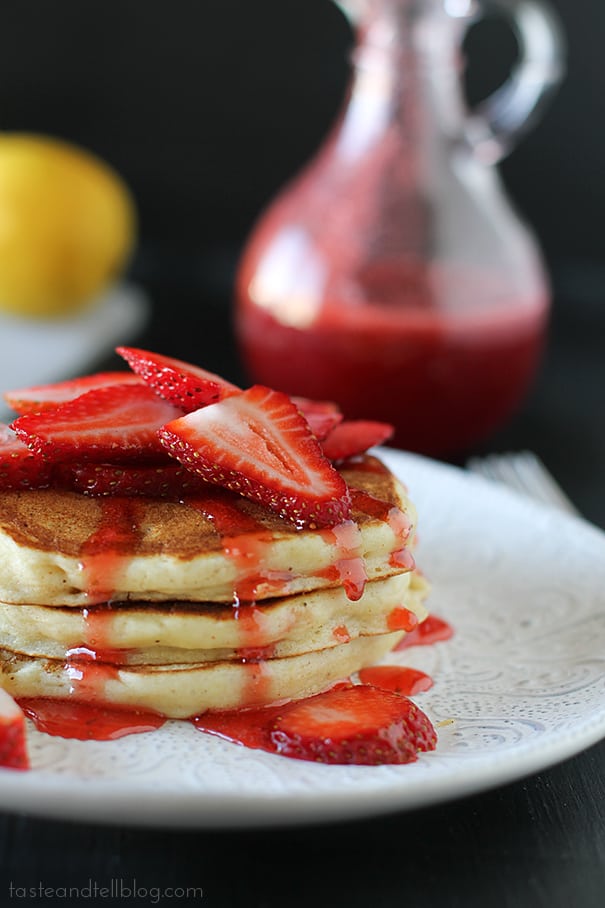 Every once in awhile, I'll grab a cookbook off of my shelves that I haven't used in awhile just to flip through and get inspired. And every once in awhile, one of those cookbooks will really speak to me, and before I know it, I'll have marked off 10 recipes that I want to make right away.
This pancake recipe comes from one of my most beloved cookbooks. And since I just had to throw strawberries in there – they do go perfectly with lemon – I decided to make up a batch of strawberry syrup. If you don't have any strawberries on hand, or if strawberry covered pancakes aren't your thing, these pancakes would be equally delicious served up with my mom's famous lemon sauce, or even just some good ol' maple syrup. What I'm trying to say is that these pancakes are delicious and you need to make them asap!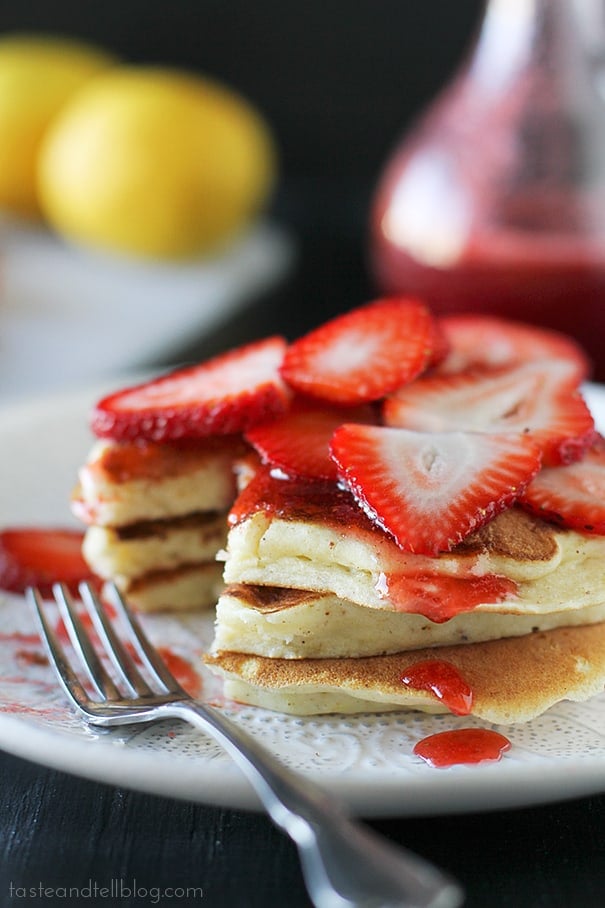 Like what you see here? Make sure you are following Taste and Tell for more great recipes and ideas!!

Facebook ** Pinterest ** Twitter ** Instagram ** Google+
or you can subscribe to my newsletter or Feedly or Bloglovin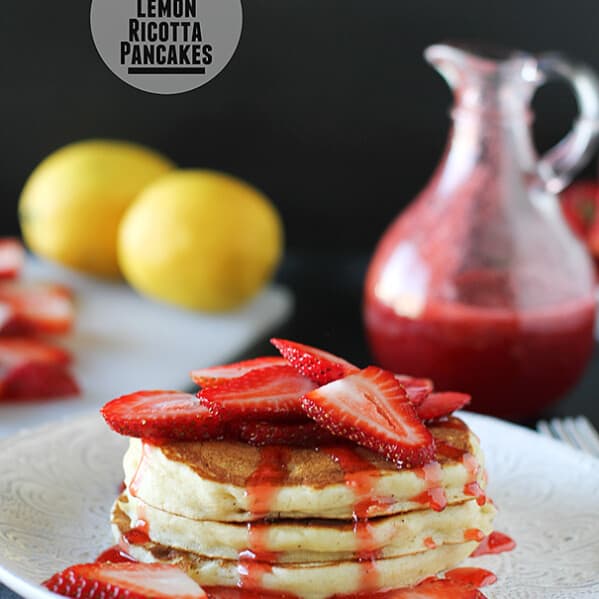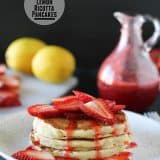 Strawberry Lemon Ricotta Pancakes
---
Prep Time: 20 minutes
Cook Time: 15 minutes
Total Time: 35 minutes
Yield: 4 servings 1x
Description
Light lemon and nutmeg scented pancakes are topped with fresh strawberry syrup and fresh strawberries.
---
Scale
Ingredients
For the pancakes:
3/4 cup all purpose flour
1 teaspoon baking powder
1/2 teaspoon salt
1/2 teaspoon ground nutmeg
2 beaten eggs
1 cup ricotta cheese
1/2 cup milk
1 tablespoon sugar
zest from 1 lemon
1 teaspoon lemon juice
For the syrup:
4 cups fresh strawberries, diced
2 cups sugar
1/4 teaspoon lemon juice
For serving:
fresh sliced strawberries
---
Instructions
For the pancakes:
In a large bowl, combine the flour, baking powder, salt and nutmeg. In another bowl, combine the eggs, ricotta cheese, milk, sugar, lemon zest and lemon juice. Dump the wet ingredients into the dry ingredients and stir just until combined.
Heat a griddle over medium heat and lightly grease. Pour about 1/3 cup of the batter onto the griddle and cook until bubbly. Flip and cook until the pancake is golden.
For the syrup:
Process the strawberries in a food processor or blender until smooth. Pour through a wire mesh to remove all the seeds.
Combine the strawberry puree, sugar and lemon juice in a pan over low heat until the sugar dissolves. Bring to a boil, then reduce the heat and cook for 5 minutes. If foam forms on the top, use a spoon to skim it off. Remove from the heat and cool.
Recipe Notes:
*The syrup recipe makes more than needed. The recipe can be easily halved, or refrigerate the remaining syrup and use to pour over ice cream.
————
pancake source: Better Homes and Gardens New Baking Book
More pancake favs: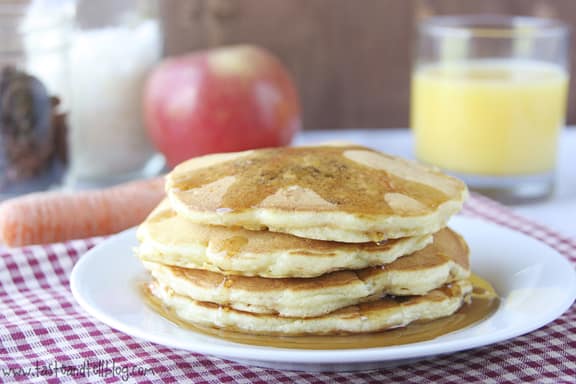 Morning Glory Pancakes
Strawberry Pancakes
Pancakes with Lemon Sauce
Around the Web:
Gluten Free Buckwheat Pancakes from Mountain Mama Cooks
Lemon Ricotta Thyme Pancakes with Blueberry Sauce from Baked Bree
Whole Wheat Banana Cinnamon Pancakes from Sweet Treats and More