Ricotta cheese is the secret ingredient in these Lemon Ricotta Pancakes that makes them extra tender and creamy. The lemon adds a beautiful brightness and makes these the perfect stack of pancakes!
Love lemon? For more breakfast favorites, also check out these Lemon Pancakes or these Lemon Muffins.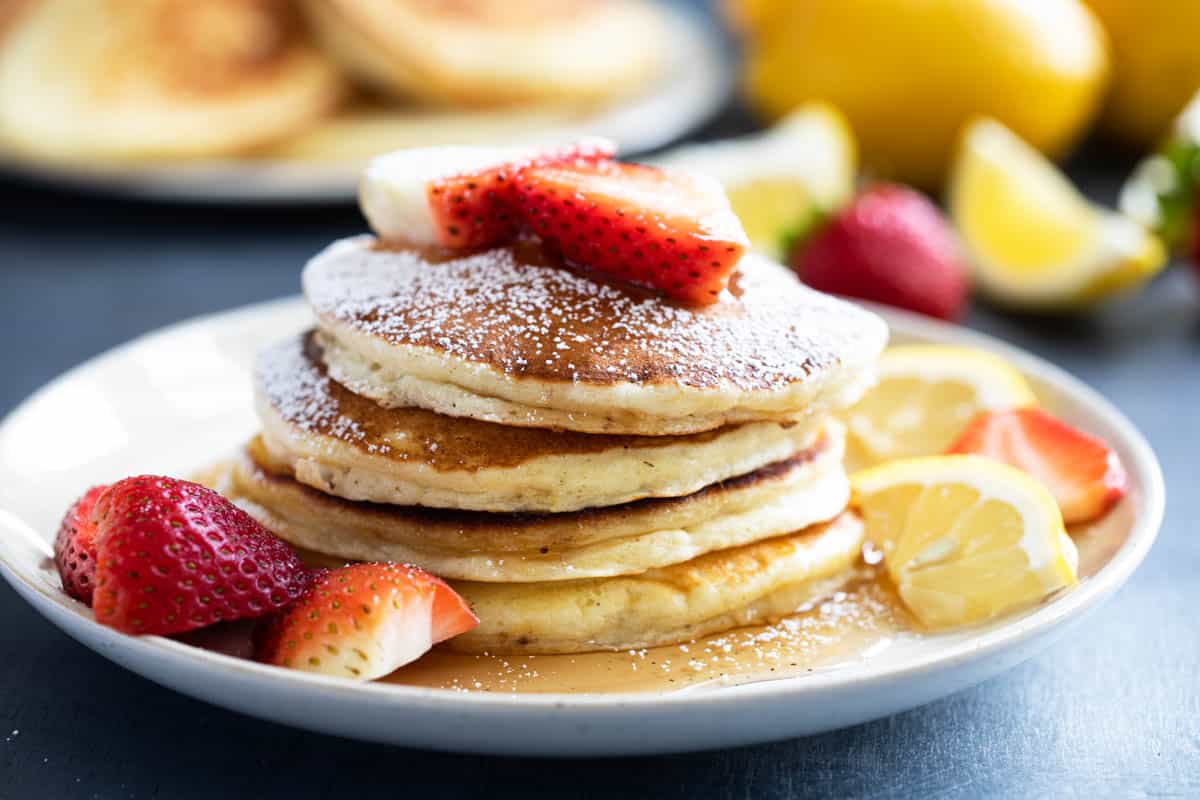 I have been pancake obsessed lately.
Seriously pancake obsessed.
My kids are not usually very picky about breakfast in the morning. But last week, my kids asked for pancakes.
Every. Single. Day.
I'm not totally complaining. Besides the fact that we probably shouldn't be eating pancakes every single morning, I'm happy to make and eat pancakes. But instead of making my go-to pancake recipe, I decided to start switching things up a little bit.
And since I'm always lemon obsessed, I decided that lemons needed to be involved.
Enter – these Lemon Ricotta Pancakes.
What are Ricotta Pancakes?
I know – it sounds weird. Isn't ricotta for lasagna?
Actually, ricotta does something magical to pancakes. It gives them an almost creamy texture.
They definitely still look like pancakes. And taste like pancakes. But the texture is smooth and creamy, yet still fluffy and full of flavor.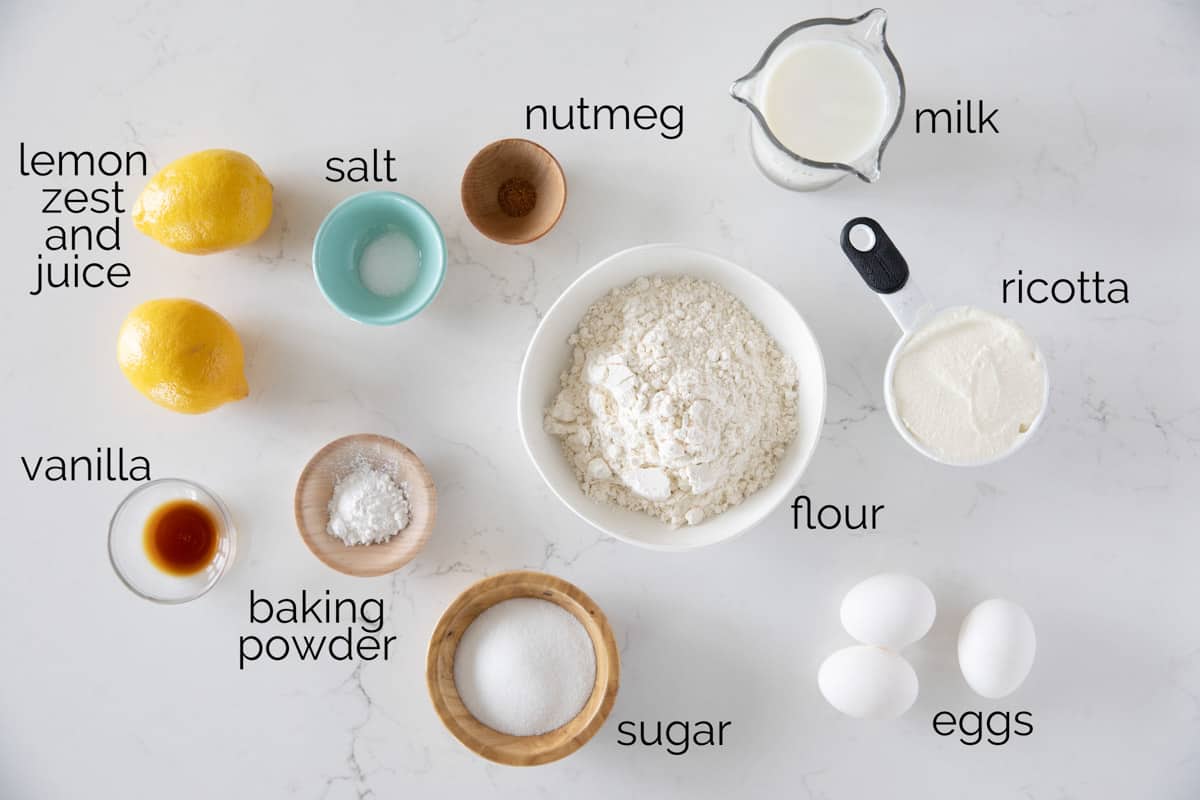 Ingredients
Flour: I use all-purpose flour.
Baking Powder: The baking powder will give the pancakes their lift and help with the fluffy texture.
Salt: The salt balances the flavors.
Nutmeg: I like to add a little bit of nutmeg. It's not a dominant flavor, but just something in the background.
Ricotta Cheese: You'll want either full fat or low fat ricotta. I would say to stay away from nonfat ricotta.
Milk: I use 2%, but whole or 1 % should work, as well.
Eggs: This recipe uses one of my favorite pancake tricks – you separate the whites from the yolks and whip the egg whites before folding them it. It really helps to make the pancakes fluffy. You could skip this step, but your pancakes will be a little bit more flat.
Sugar: The sugar adds sweetness and flavor.
Lemons: You'll use both the lemon zest and lemon juice. Depending on how much lemon flavor you want, you'll need 1-2 lemons.
Vanilla: The vanilla adds flavor, but if you really want to up the lemon flavor, you can sub in lemon extract.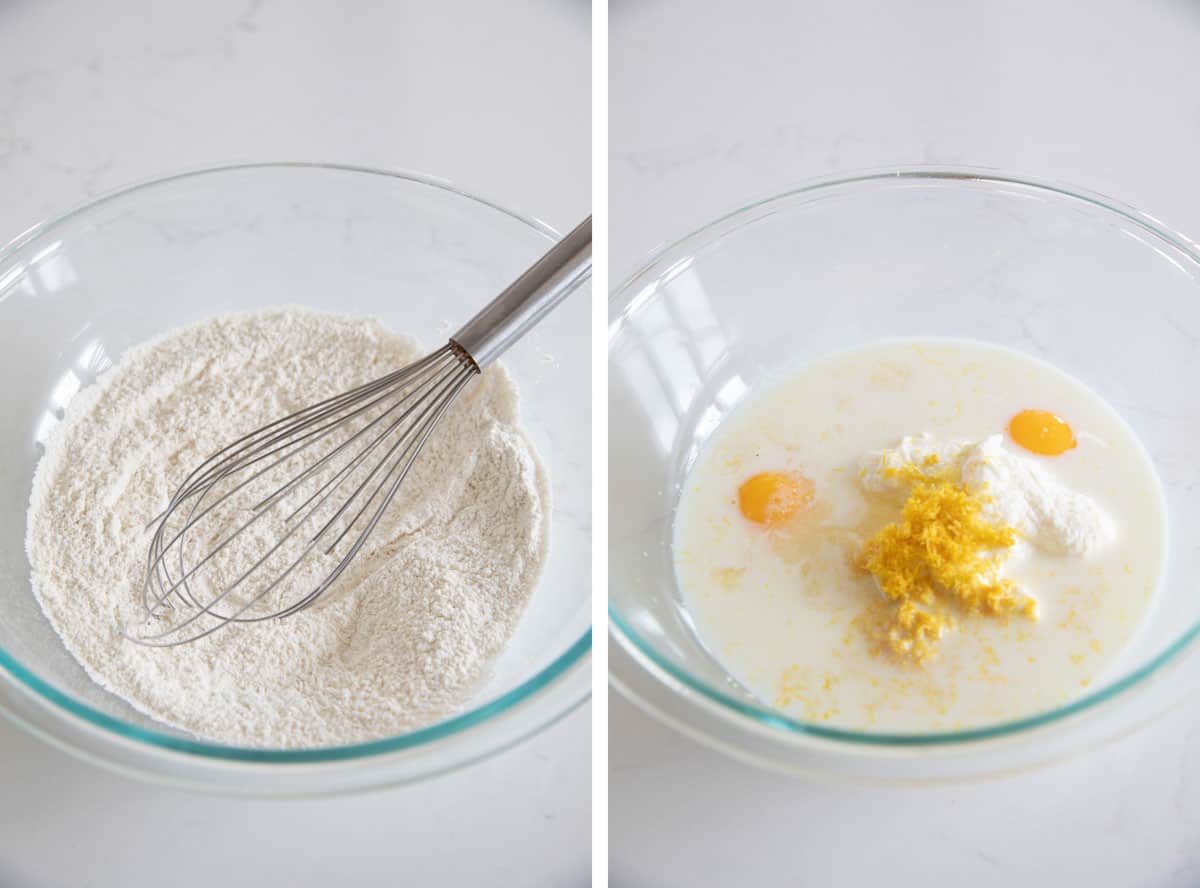 How to Make Lemon Ricotta Pancakes
Mix your dry ingredients together in one bowl, then mix your wet ingredients, minus the egg whites, in another bowl.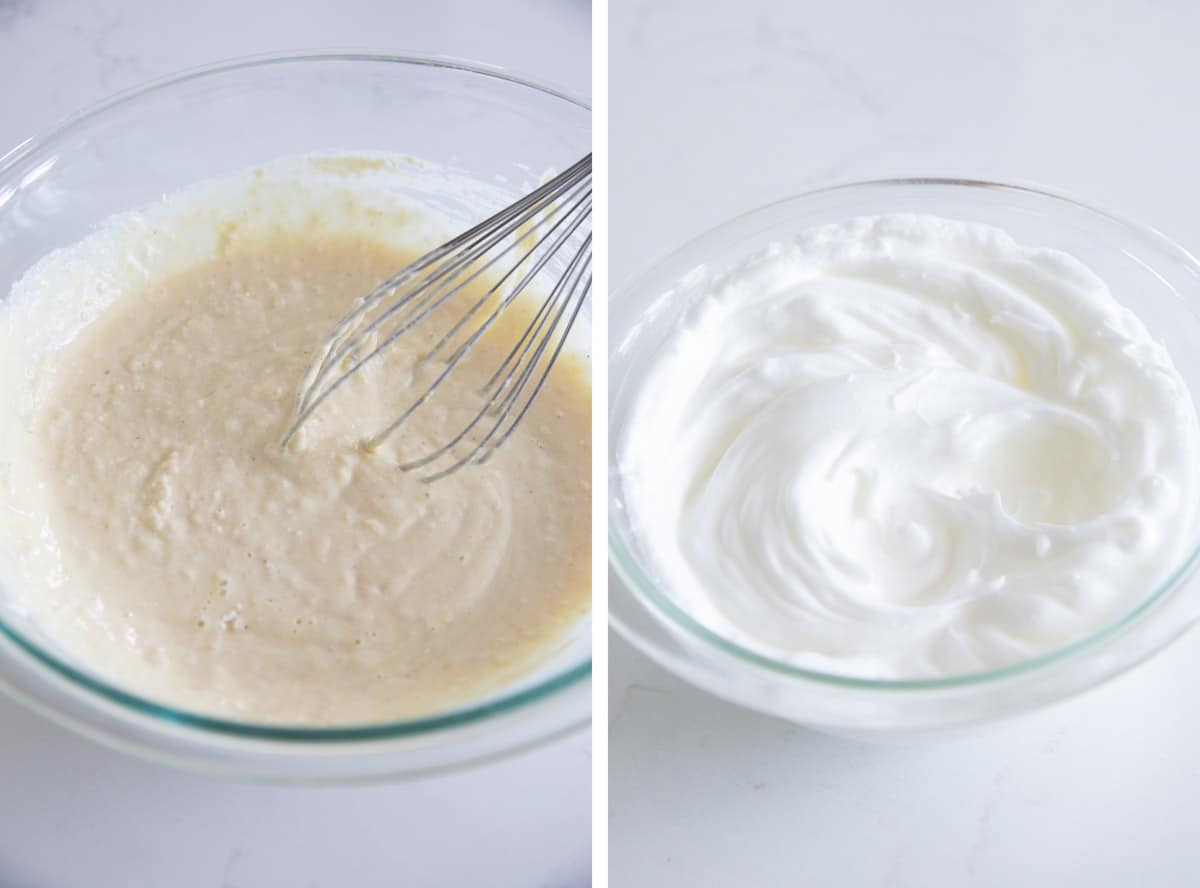 Combine the wet and the dry ingredients and mix just until combined.
In another bowl, whip the egg whites until you have stiff peaks.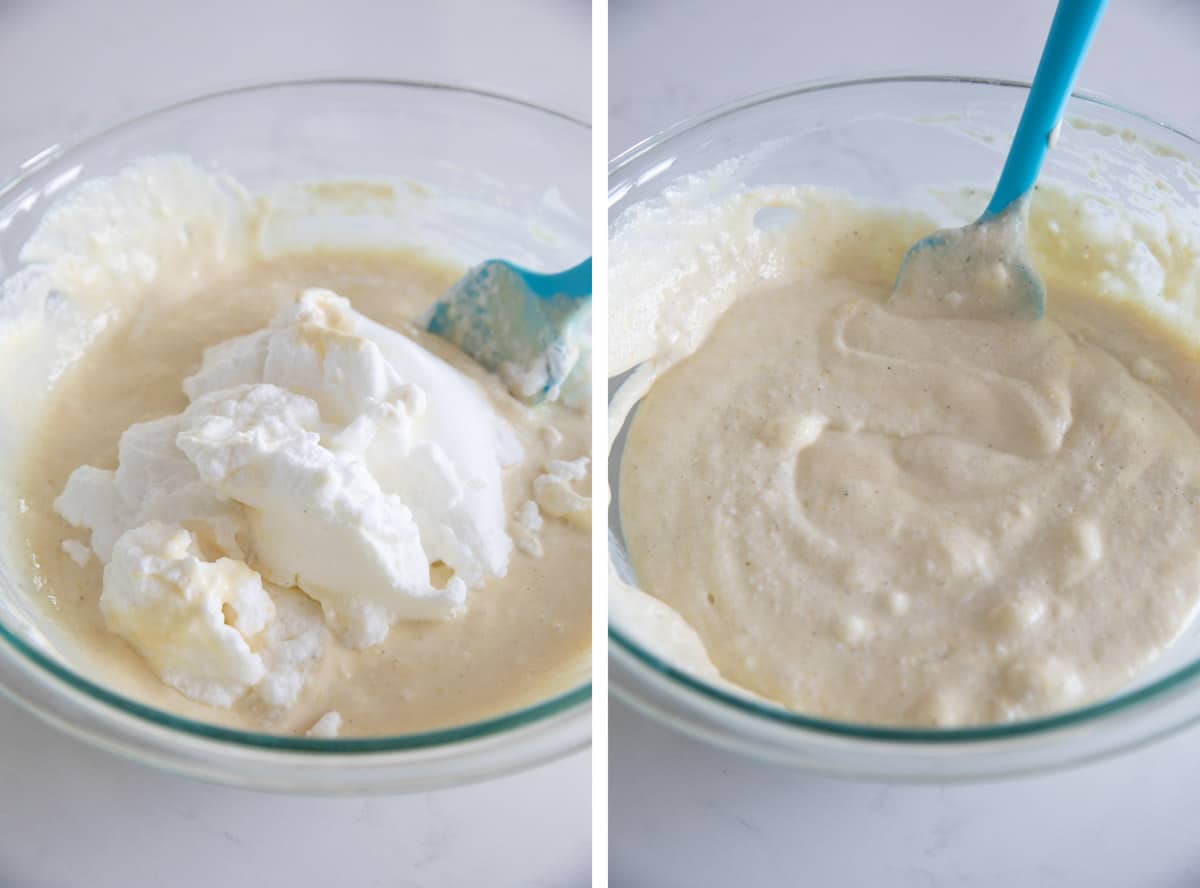 Add about 1/4 of the egg whites and mix to combine. Then fold in the remaining egg whites.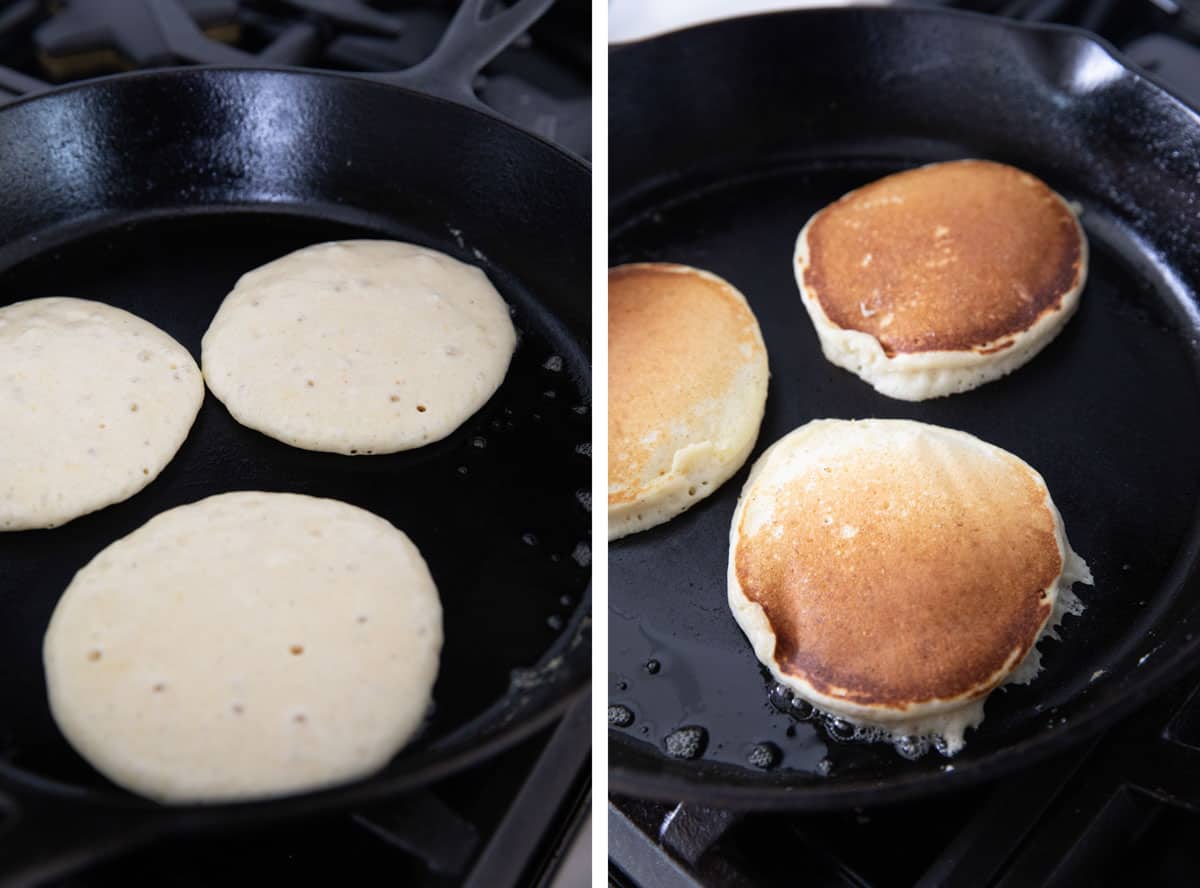 Cook the pancakes on a hot griddle or a skillet until there are bubbles popping, then flip and cook the second side.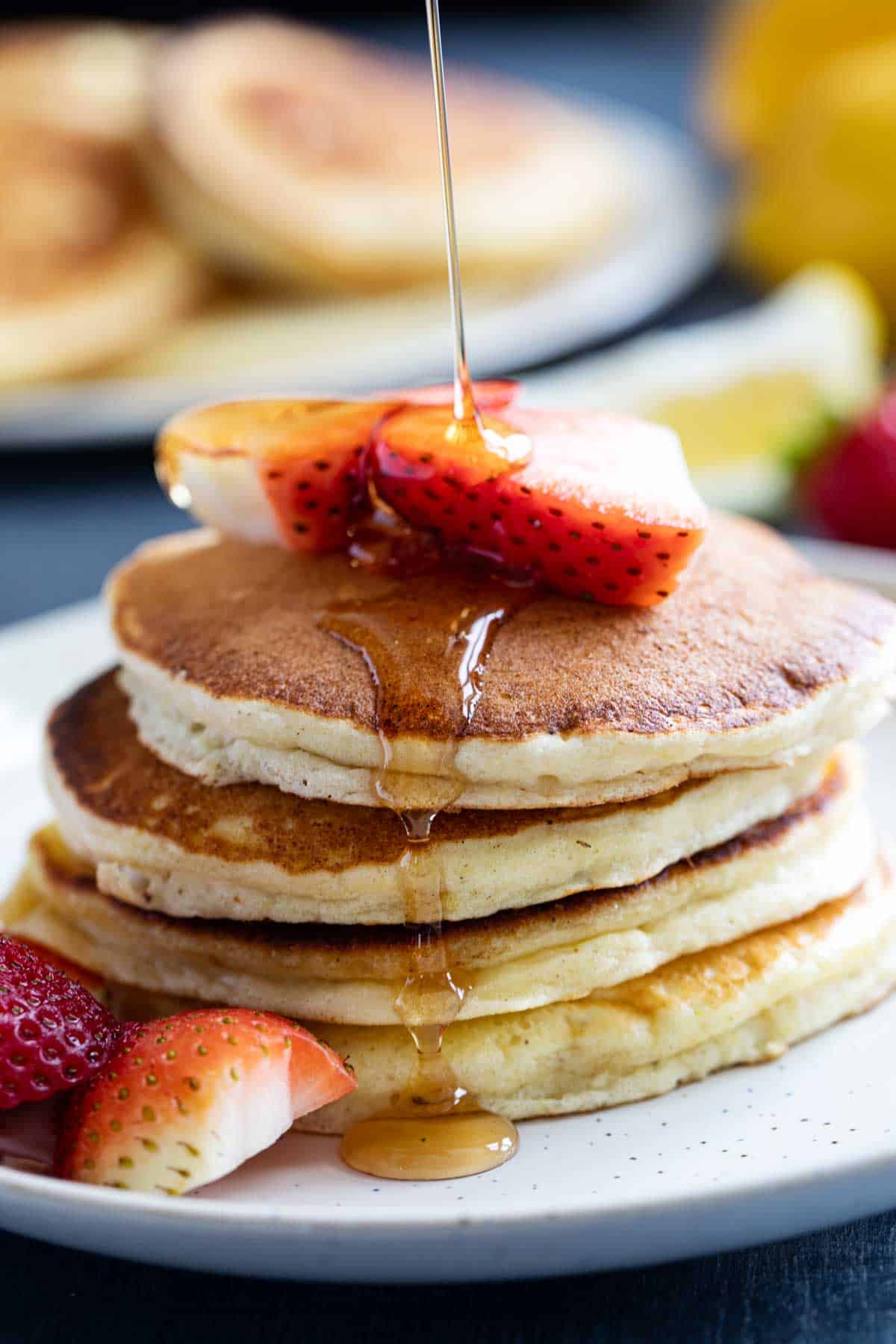 Tips and Tricks
Depending on how much lemon flavor you want, you can add anywhere between 1-2 tablespoons of lemon zest. We love lemon, so I usually use a full 2 tablespoons.
The first time I made these, I served them up with fresh strawberries and homemade strawberry syrup. Strawberries and lemon go so well together! You can also serve them with other fruit, like blueberries or raspberries.
We also love these with maple syrup, buttermilk syrup, or lemon sauce.
These pancakes are best served fresh, but if you do have leftovers, store them in the refrigerator. You can reheat them in the microwave or the oven.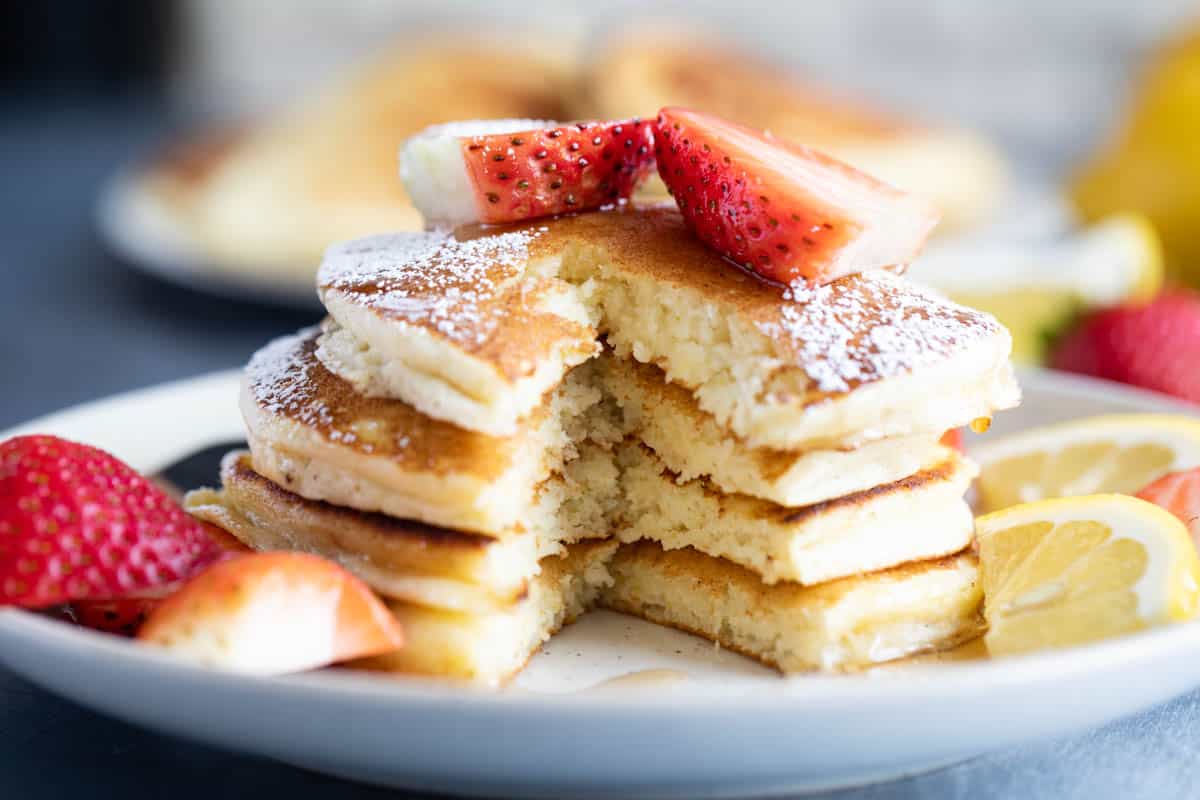 More Favorite Pancake Recipes
Funfetti Pancakes
Cheesecake Pancakes
Cottage Cheese Pancakes
Cornmeal Pancakes
Carrot Cake Pancakes
S'mores Pancakes
Strawberry Pancakes
Oatmeal Pancakes with Chocolate Chips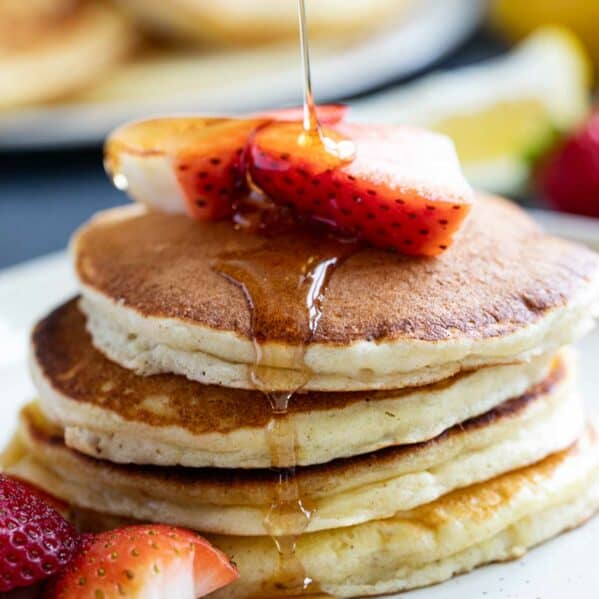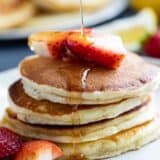 Lemon Ricotta Pancakes
---
Author:
Prep Time: 15 minutes
Cook Time: 15 minutes
Total Time: 30 minutes
Yield: 16 pancakes 1x
Category: Breakfast
Method: Stove Top
Cuisine: American
Description
Ricotta cheese is the secret ingredient in these Lemon Ricotta Pancakes that makes them extra tender and creamy. The lemon adds a beautiful brightness and makes these the perfect stack of pancakes!
---
Scale
Ingredients
1 1/2 cups all-purpose flour
2 teaspoons baking powder
1/2 teaspoon salt
1/4 teaspoon ground nutmeg
1 cup ricotta cheese
1 cup milk
3 eggs, separated
1/4 cup sugar
Zest from 1–2 lemons
1 tablespoon fresh lemon juice
1 teaspoon vanilla extract
---
Instructions
In a large bowl, whisk together the flour, baking powder, salt, and nutmeg.
In another bowl, whisk together the ricotta, milk, egg yolks, sugar, lemon zest, lemon juice, and vanilla extract.
Add the wet mixture to the dry mixture. Stir together just until combined.
In another bowl, whisk the egg whites with a hand mixer until stiff peaks form.
Take about 1/4 of the egg whites and stir them into the batter. Once it is mixed in, add the remaining egg whites and fold them gently into the batter, just until no more white streaks remain.
Heat a griddle or skillet over medium heat. Once hot, add a bit of butter to grease the surface. Pour about 1/3 cup of the batter onto the griddle and cook until bubbly. Flip, and cook until the pancake is cooked through. Repeat with the remaining pancake batter.
Recipe Notes:
The original recipe printed here was served with my Strawberry Syrup and fresh strawberries.
The original recipe has also been slightly adapted to make more pancakes. The ingredients have also been slightly altered.
Nutrition information provided as an estimate only. Various brands and products can change the counts. Any nutritional information should be used as a general guide. Nutrition information does not include butter for the skillet.
Nutrition
Serving Size: 4 pancakes
Calories: 428
Sugar: 17 g
Sodium: 667 mg
Fat: 14 g
Saturated Fat: 8 g
Unsaturated Fat: 5 g
Trans Fat: 0 g
Carbohydrates: 55 g
Fiber: 1 g
Protein: 19 g
Cholesterol: 177 mg
Keywords: lemon ricotta pancakes, ricotta pancakes