Sweet, fresh strawberries are topped with a spiced crumble topping in this Strawberry Crumble Pie that makes the perfect summertime dessert.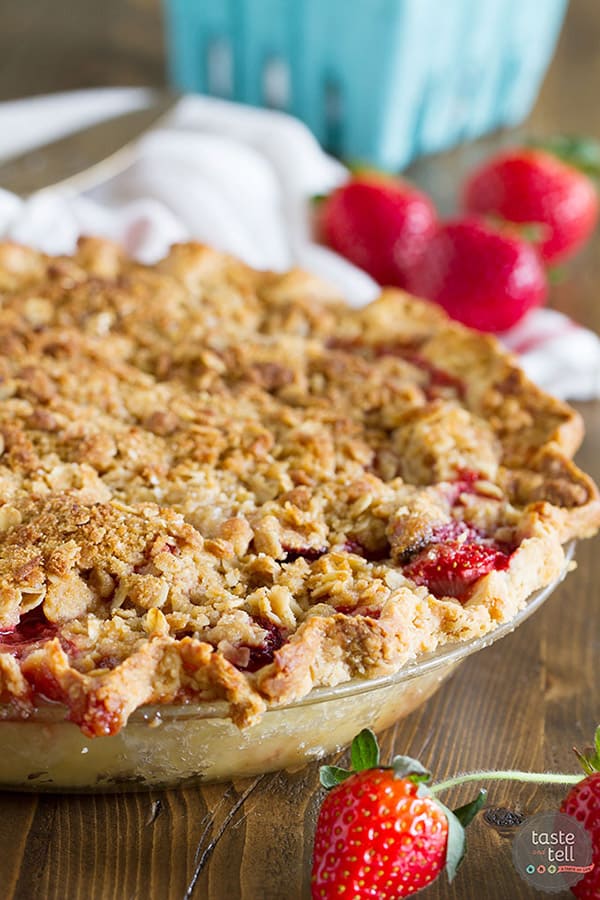 Yum


(Please excuse the dust around here – I'm in the middle of a little facelift and things will be 100% soon. Ignore the ugly non-logo at the top!)
When I started the Year of Pie this year, one of my objectives was to better my pie making skills. Well, I have always struggled with double crust pies, and also fruit pies. I still have to get busy on the double crust pie, but I am one step closer to mastering the fruit pie.
I actually did not even intend to make this pie this month. I had a different strawberry pie picked out. It was in a cookbook that I had baked from before with disastrous results. But I decided to give the book a second try. I loved the concept of that pie, but it had a couple of major problems with it. The funny thing is that as I was making it, I knew there were issues, and I really should have listened to my instincts. But I forged ahead, and ended up with a flawed, although delicious, pie.
I could have re-worked that pie (and someday I will!), but a couple of days after decided on that first pie, I received a new copy of Food Network Magazine in the mail. And as I flipped through the pages, I saw this Strawberry Crumble Pie. And I knew I wanted it. Maybe fate was on my side, because when the first pie flopped, I turned immediately to this pie.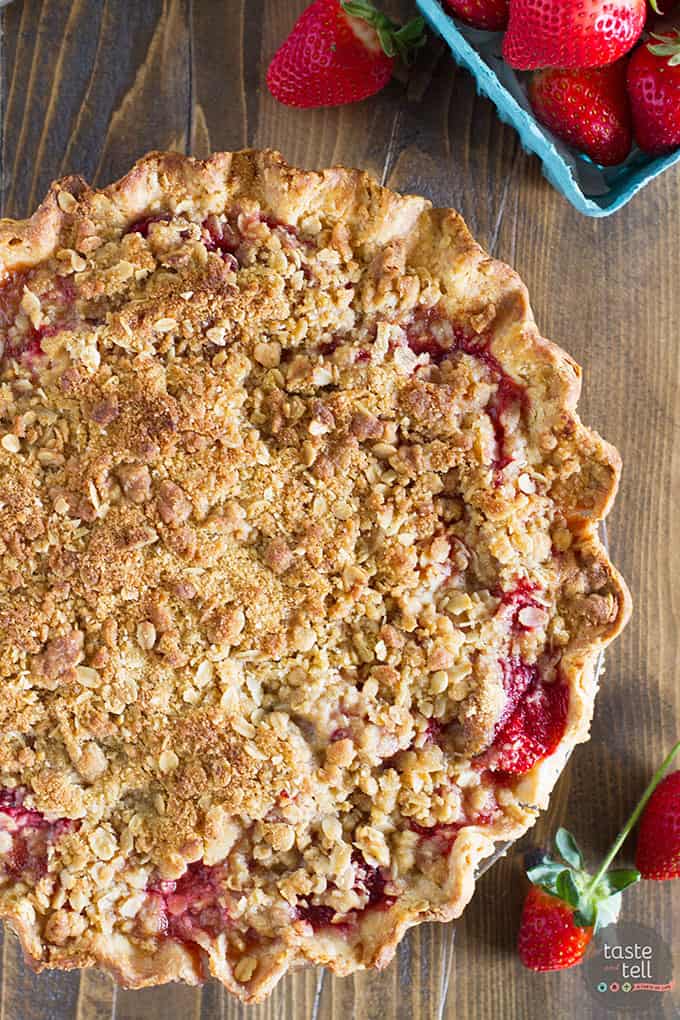 Now, things didn't go completely smoothly, but almost. As I was making the streusel topping, I added 1 teaspoon of salt instead of the 1/2 teaspoon. I was going to try to scoop it out, but it was totally mixed into the flour and oats. And I really didn't want to start over. The end result was definitely a salty pie, but a delicious one!!
I think the hardest thing with fruit pies is keeping the filling together, so that it doesn't just go everywhere. This pie uses instant tapioca, which I thought was a great idea. The filling was still really juicy, and there was definitely juice in the pan, but it stayed together quite well.
Despite the salt issue, we still devoured this Strawberry Crumble Pie. Add a dollop of freshly whipped cream, and it was amazing. You definitely want to make this pie while the strawberries are so good!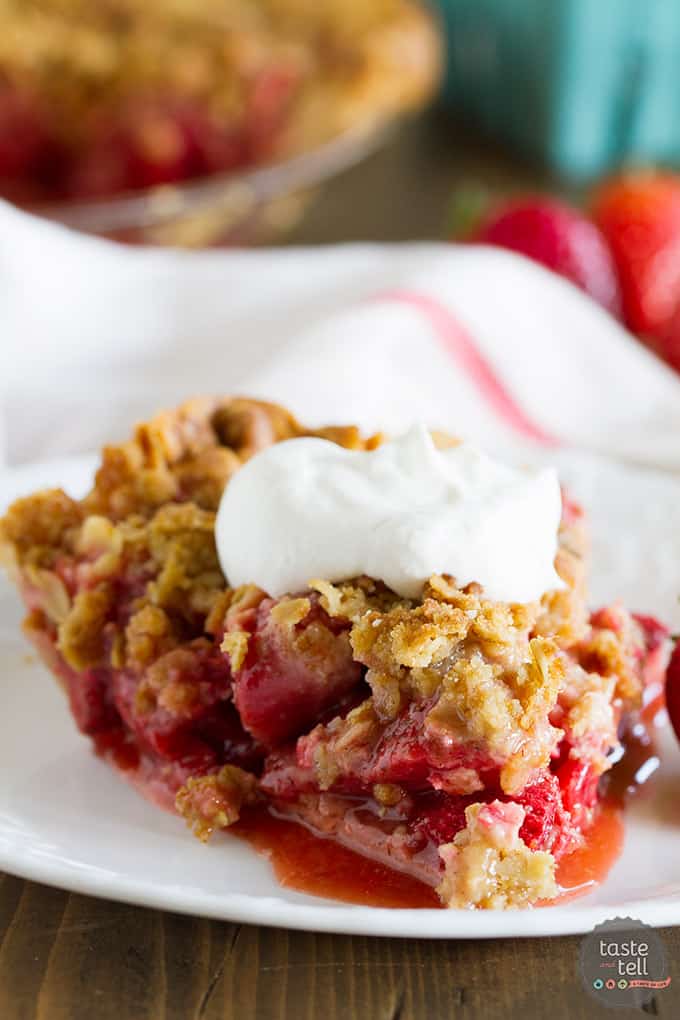 Like what you see here? Make sure you are following Taste and Tell for more recipes and ideas!
Facebook | Pinterest | Instagram | Twitter | Google+ | Weekly Newsletter | Feedly | Bloglovin
Strawberry Crumble Pie
---
Author:
Prep Time: 20 mins
Cook Time: 55 mins
Total Time: 1 hour 15 mins
Yield: 8-10 servings 1x
Description
Sweet, fresh strawberries are topped with a spiced crumble topping in this Strawberry Crumble Pie that makes the perfect summertime dessert.
---
Scale
Ingredients
Crumble Topping:
3/4 cup old fashioned oats
1/2 cup all-purpose flour
1/2 cup packed light brown sugar
1/2 teaspoon salt
1/4 teaspoon ground allspice
1/4 teaspoon ground ginger
6 tablespoons cold unsalted butter, cut into small pieces
Strawberry Filling
2 pounds strawberries, hulled and halved or quartered (depending on the size)
1/2 cup packed light brown sugar
1/4 cup granulated sugar
2 teaspoons instant tapioca
1 tablespoon fresh lime juice
1/2 teaspoon ground cardamom
---
Instructions
Roll the pie dough into a 12-inch round. Fit into a 9-inch pie dish and crimp the edges. Place in the refrigerator until needed.
In a bowl, combine the oats, flour, brown sugar, salt, allspice and ginger. Using a fork or your hands, work the butter into the mixture until it is crumbly. Refrigerate until needed.
Place the rack in the oven to the lower third. Place a baking sheet in the oven and preheat the oven to 400ºF.
Combine the strawberries with the brown sugar, granulated sugar, tapioca, lime juice and cardamom in a large bowl. Stir until the strawberries and coated and the tapioca dissolves.
Spread the strawberries in the prepared crust. Top evenly with the crumble topping. Place the pie on the hot baking dish in the oven. Bake until the crust is golden brown and the pie is bubbling around the edges, 45-55 minutes. Remove from the oven and allow to cool for at least 4 hours. Store in the refrigerator.
Lovin' the Strawberries!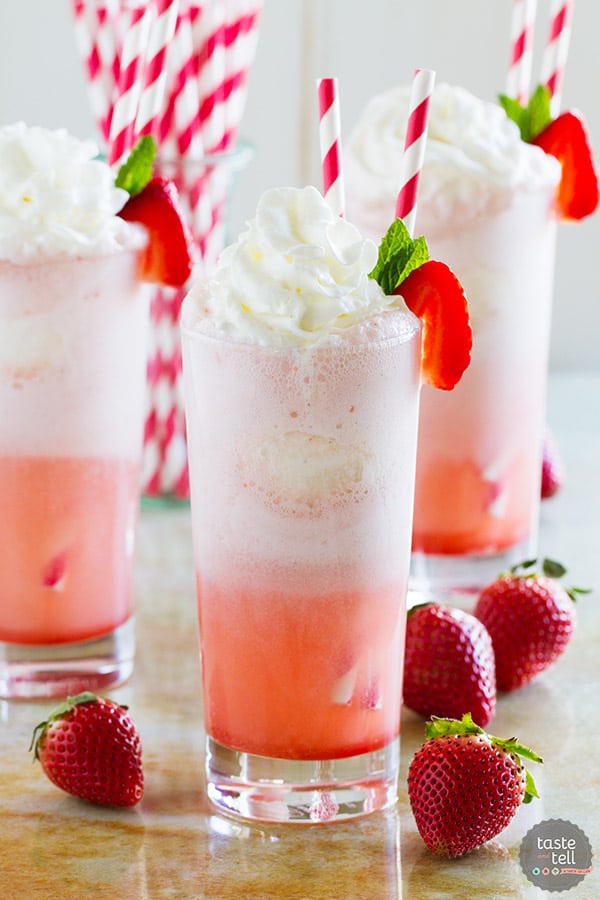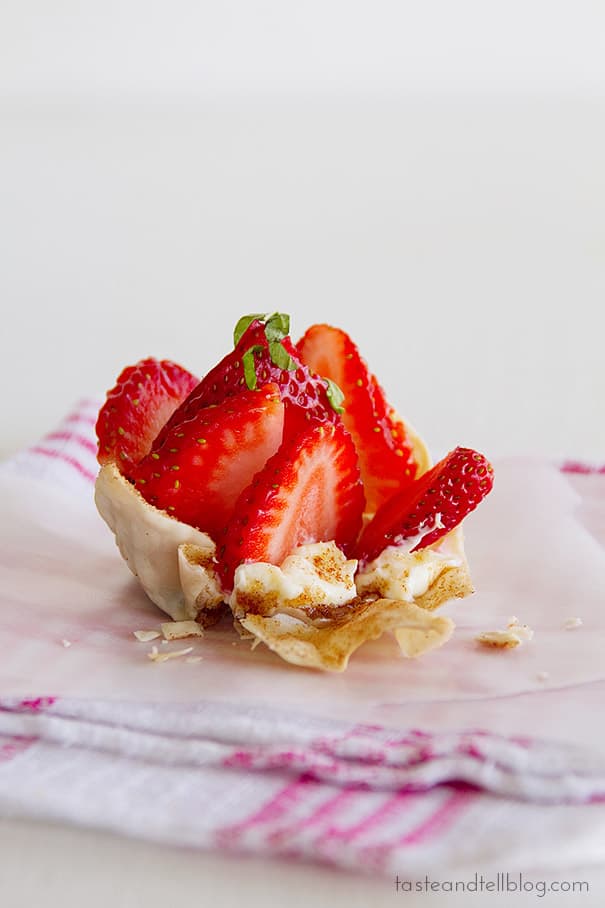 Around the Web:
Fresh Strawberry Cupcakes from Life, Love and Sugar
Strawberry Cream Eclair Cake from Boys Ahoy
Fresh Strawberry Bread from My Baking Addiction
Don't miss a thing! Follow me on Pinterest to see what I'm pinning!
Visit Taste and Tell's profile on Pinterest.