Strawberry lovers will want a second slice of this Strawberry Tart with pastry crust and a simple cream filling. Top it off with strawberries for a fresh, delicious dessert.
If you love a good strawberry dessert, also try this Strawberry Mousse or Strawberry Crumble Pie.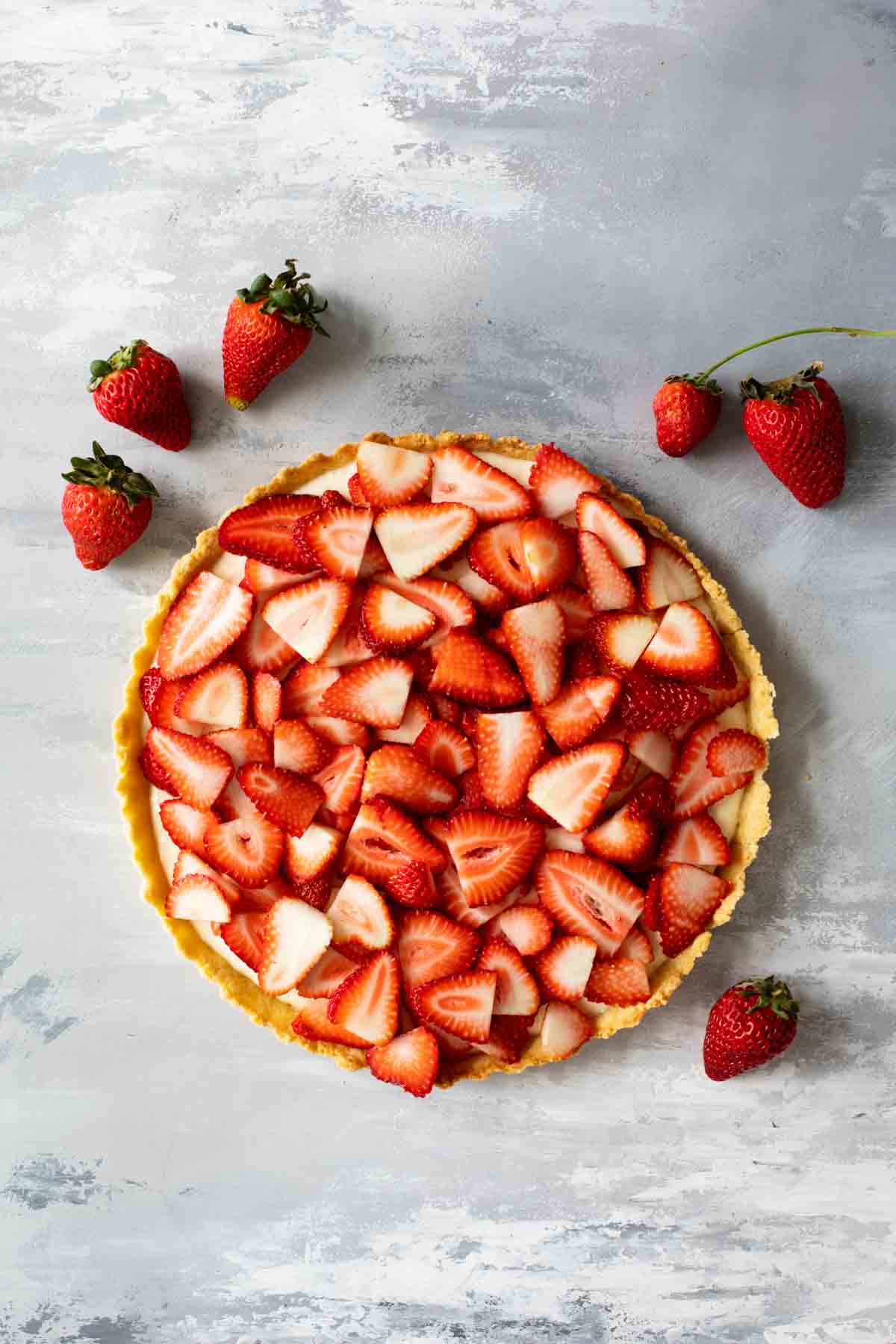 Anything strawberry is always a hit for my family. In fact, in our first home, we had a bunch of strawberry bushes. My daughter, who was only about 18 months at the time, couldn't get enough of those strawberries. I would catch her sneaking out into the backyard all of the time, heading straight to the strawberries and grabbing as many as she could get her hands on.
To this day, she still loves strawberries.
So when I can make a dessert with strawberries, I know I'm winning.
This Strawberry Tart is simple in flavors, but I think its simplicity is one of the things I love the most about it. It's not necessarily the fastest recipe, but it's one of those recipes that is worth it to me.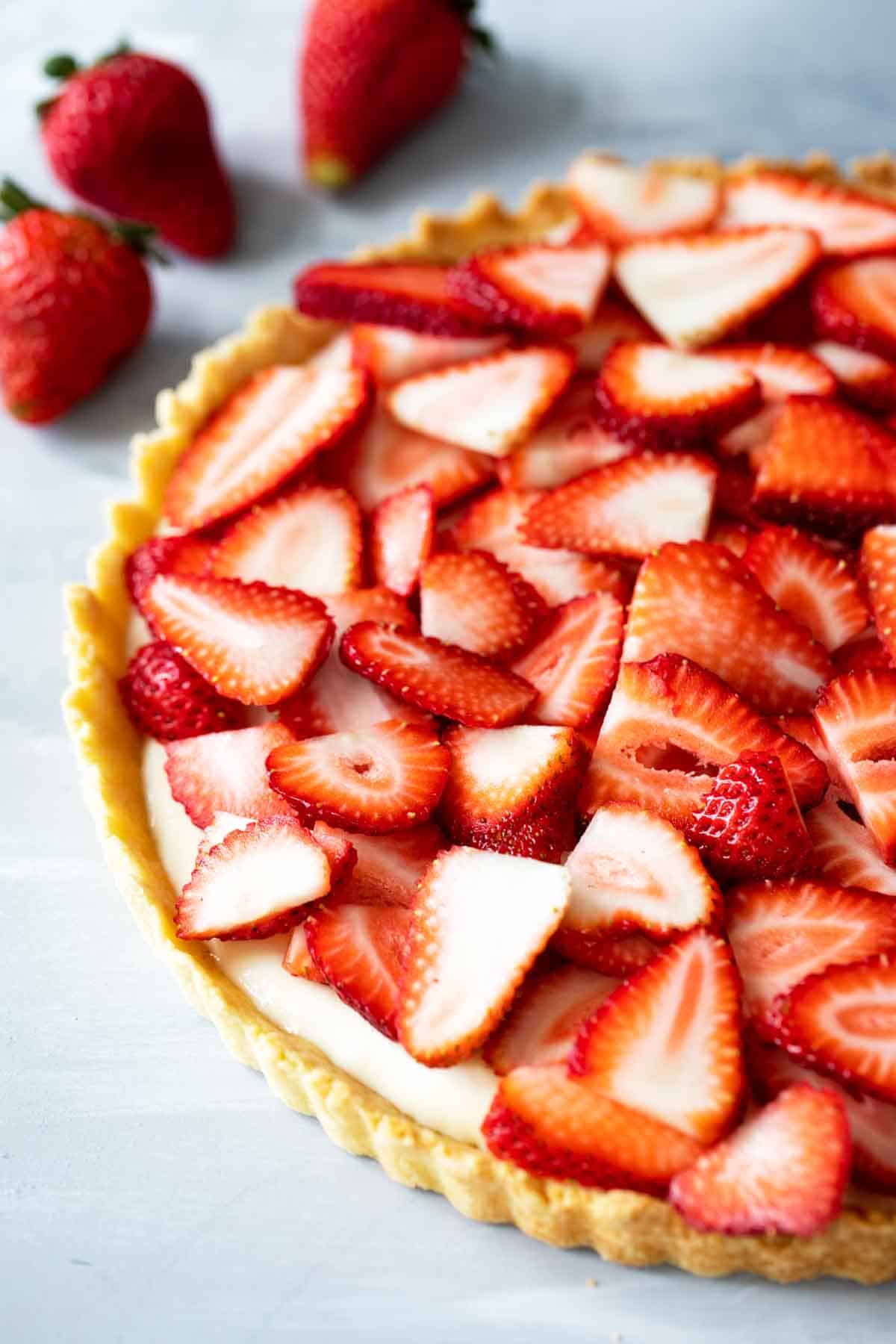 To blind bake a crust:
You start by making the crust, which needs to be blind baked. Blind baking is baking the crust without a filling in it. But you can't just throw it in the oven, because the crust could fall or slump, shrink or puff up. So here is how you avoid that.
Start by fitting your crust into your pan. For this recipe, you pat the crust evenly into the tart pan.
Take a piece of aluminum foil and place it over the crust. You can also use parchment paper.
Use pie weights or dry beans to fill the crust on top of the foil or parchment. I have been using the same jar of beans for over 15 years, so they are definitely a cheap way to do this. I do think I am ready to buy some pie weights, though, because while they don't flavor or alter the crust, I can smell them after they have baked.
Place the crust in the oven to bake according to your recipe instructions. If you are only par-baking the crust, this might be your last step. But if you are making a completely baked crust, you'll need another step.
After the first bake, remove the crust from the oven and carefully remove the weights and foil. I usually just pick up the edges of the foil, making a bowl with my beans, then pour them into the jar.
To completely bake the crust, return the crust to the oven to continue to bake until the crust is golden brown.
In some cases, you'll brush a beaten egg on the crust, as well.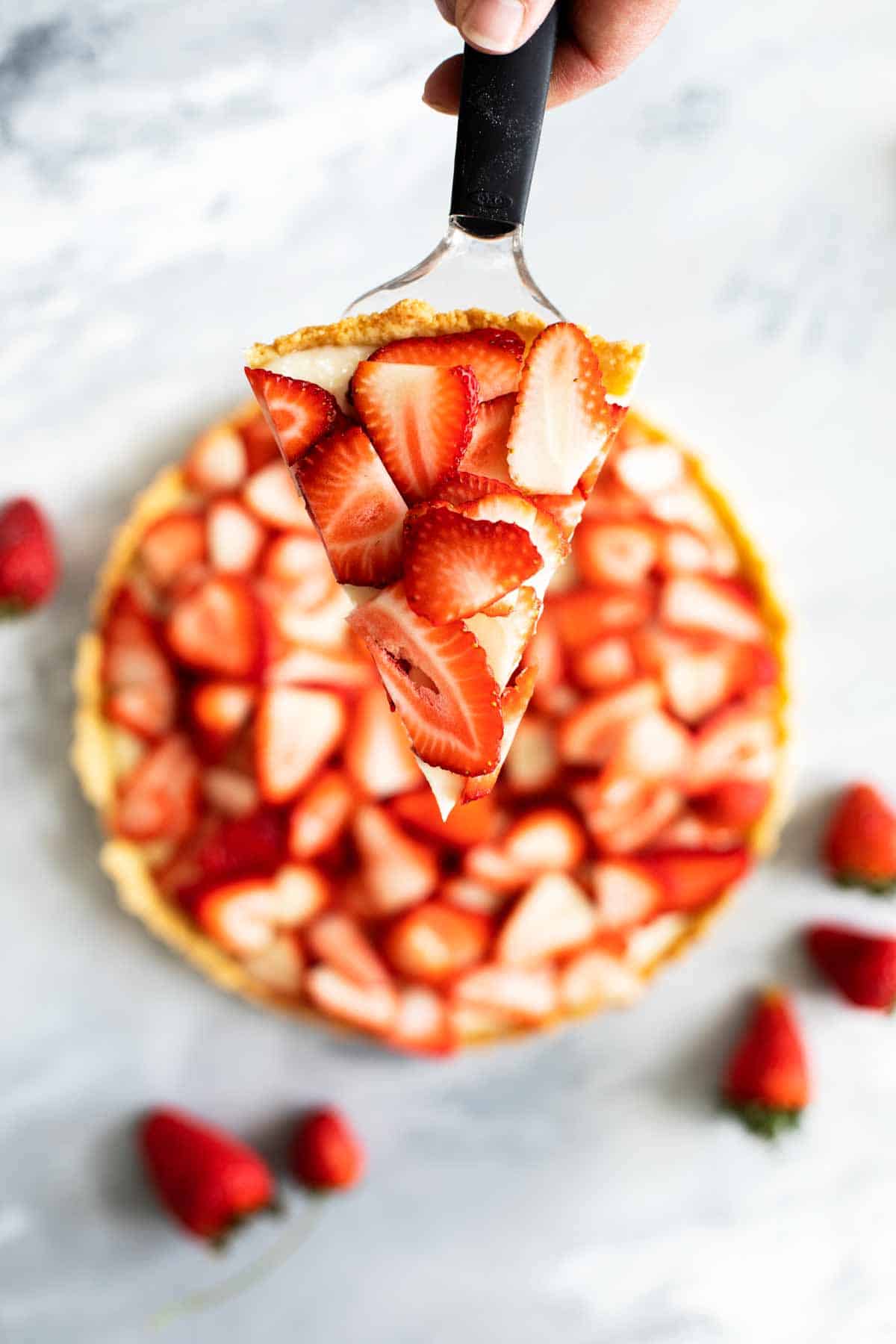 How to Make this Strawberry Tart
Start by preparing the crust as above.
To make the filling:
Combine gelatin with water and let it sit for 5 minutes.
Take a large bowl and fill it with ice and water. Have another bowl, about 1 quart sized, and place it by the ice water.
In a saucepan, combine the sugar and 1 cup of the cream and whisk it to combine. Place over medium heat and continue to mix until it starts to boil. Remove it from the heat and stir in the gelatin.
Transfer the mixture to the smaller bowl and set that bowl on the ice water. This will gently cool down the mixture.
Stir with a spatula until it starts to thicken, then add in remaining 1/4 cup cream and stir until the mixture is thick.
Pour the filling over the cooled crust, then cover and refrigerate until it is set up, at least 1 hour, but preferably more.
When ready to serve, top with all of the sliced strawberries.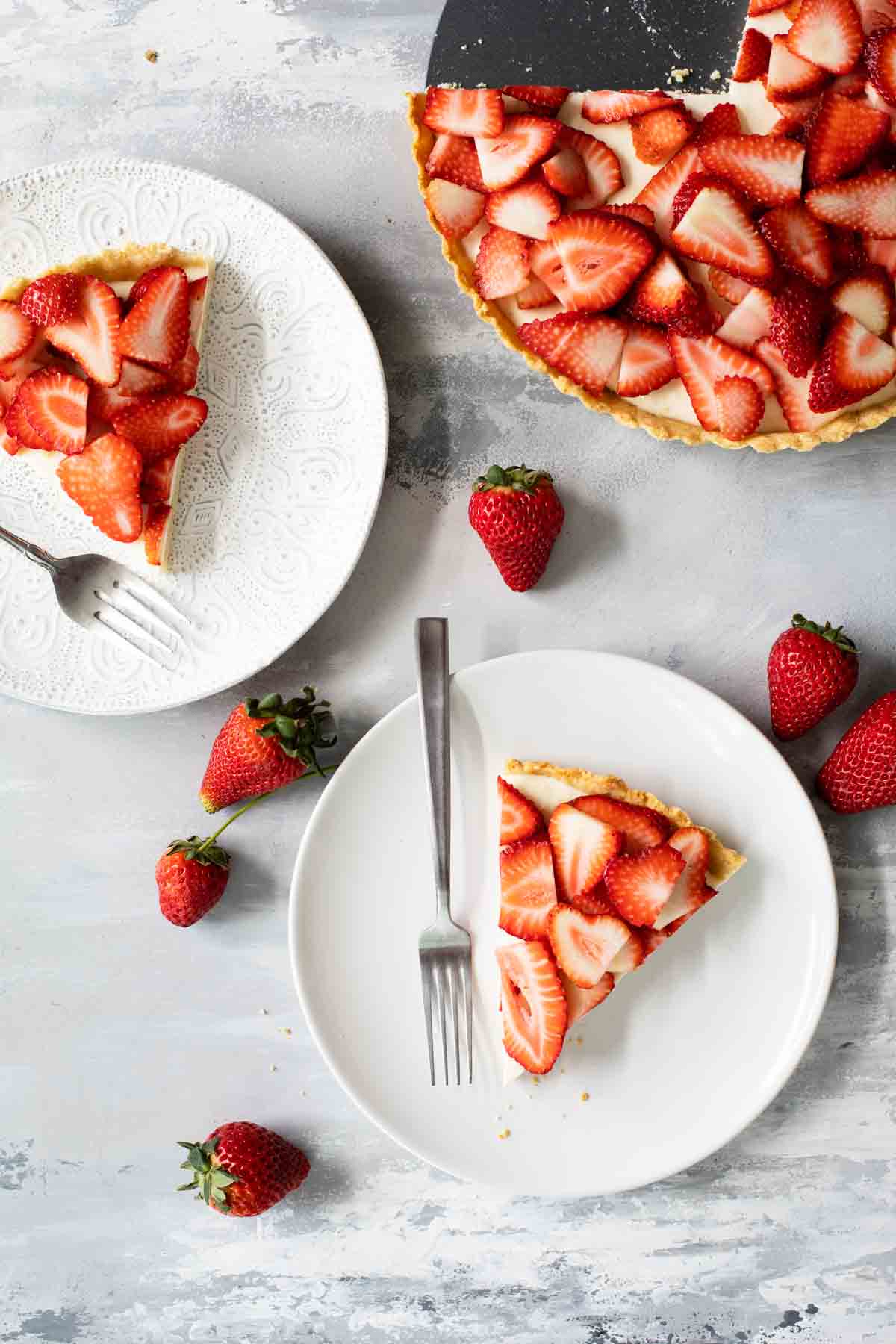 More Strawberry Recipes
Strawberry Crumble Pie
Strawberry Cream Angel Pie
Strawberry Syrup Recipe
Strawberry Pancakes
Strawberry Wonton Cups
Strawberry Bread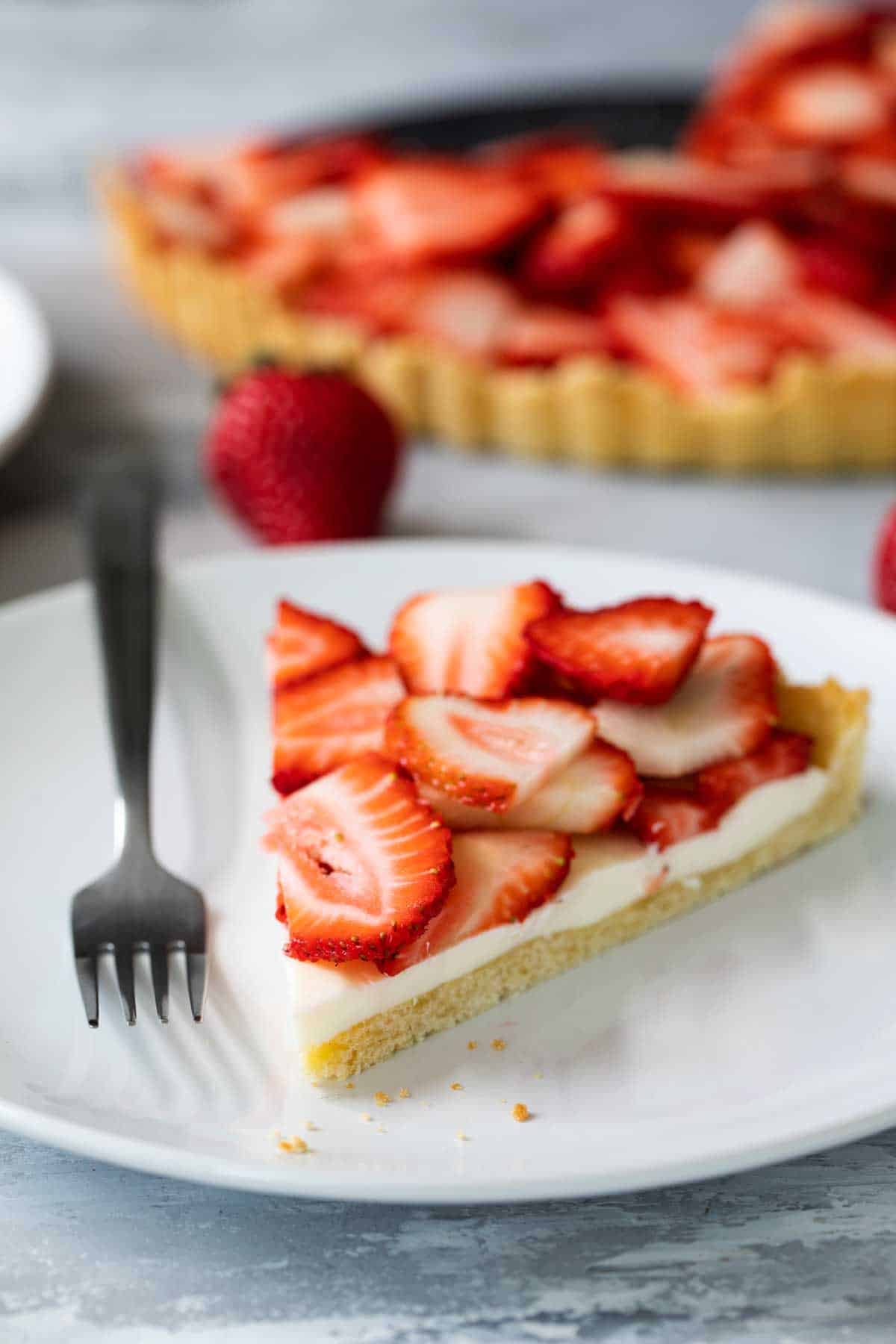 Tools Used to Make this Strawberry Tart
You will need an 11-inch tart pan.
If you want pie weights, these are pretty inexpesive.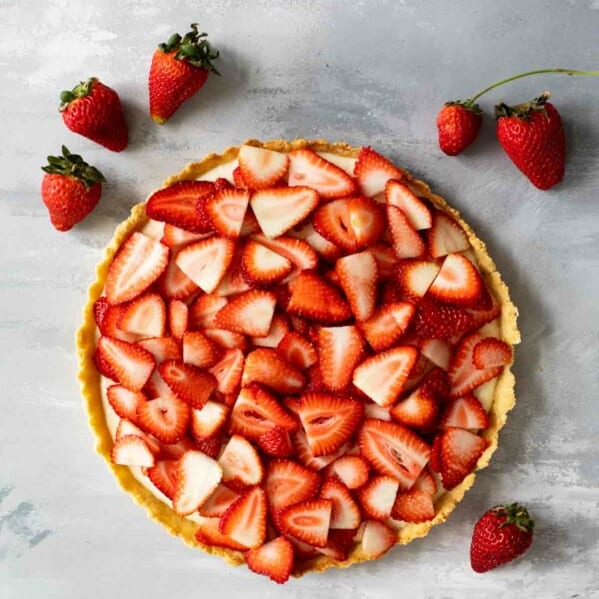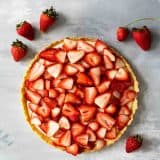 Strawberry Tart
---
Author:
Prep Time: 20 mins
Cook Time: 40 mins
Total Time: 3 hours
Yield: 8 servings 1x
Category: Dessert
Method: Bake
Cuisine: American
Description
Strawberry lovers will want a second slice of this Strawberry Tart with pastry crust and a simple cream filling. Top it off with strawberries for a fresh, delicious dessert.
---
Scale
Ingredients
Crust:
2 tablespoons vegetable oil
1 large egg yolk plus 1 large egg, divided
2 tablespoons cold milk
1 teaspoon apple cider vinegar
1 1/2 cups all-purpose flour
3 tablespoons sugar
1/2 teaspoon salt
1/8 teaspoon baking powder
6 tablespoons cold, unsalted butter, cut into cubes
Filling:
1 1/2 teaspoons unflavored gelatin
6 tablespoons sugar
1 3/4 cups cold heavy whipping cream
1 quart fresh strawberries, hulled and sliced
---
Instructions
In a small bowl, combine the vegetable oil, egg yolk, milk and vinegar. Whisk to combine.
In a food processor, combine the flour, sugar, salt and baking powder. Pulse a couple of times to combine. Add the butter and pulse just until it is cut in and resembles coarse crumbs. Do not over-process. Add the wet mixture and pulse just until the flour mixture is moistened.
Transfer the dough to an 11-inch tart pan with a removable bottom. Pat the dough evenly over the bottom of the pan and up the sides. Cover with plastic wrap and refrigerate for at least 30 minutes.
Preheat the oven to 350ºF. Use a fork to pierce the dough all over. Line the tart dough with foil and fill with pie weights or dry beans. Bake for 15 minutes, then remove the weights and foil. Return to the oven and continue to bake until golden, about 10 more minutes. Beat the whole egg with 1 teaspoon of water and very gently brush over the crust. Bake for an additional 3-5 minutes.  Cool completely.
In a small bowl, sprinkle the gelatin over 1 tablespoon of cold water and let it soften for 5 minutes.
Fill a large bowl with ice and water. Have a smaller bowl that will fit in that larger bowl ready.
Place the sugar in a saucepan. Add 1 cup of the cream and whisk over medium heat to dissolve the sugar. When the mixture comes to a boil, remove it from the heat and whisk in the gelatin mixture. Transfer this mixture to the smaller bowl that you have ready. Place the bowl in the bowl with the ice water.
Stir the mixture with a rubber spatula until it begins to thicken, being careful to not let any of the ice water into the bowl. Once it starts to thicken, add the remaining 1/4 cup of cream and stir until thick.
Pour the filling into the tart shell and refrigerate until set, at least 1 hour.
Before serving, top the tart with the sliced strawberries.
Recipe Notes:
I always like to put my tart pan on a baking sheet. Since the bottom is removable, this ensures that the tart pan stays together and is easier to move.
Adapted from FOOD NETWORK MAGAZINE JUNE 2010
Nutrition information provided as an estimate only. Various brands and products can change the counts. Any nutritional information should only be used as a general guideline.
Nutrition
Calories: 465
Sugar: 17 g
Sodium: 164 mg
Fat: 35 g
Saturated Fat: 19 g
Unsaturated Fat: 6 g
Trans Fat: 0 g
Carbohydrates: 35 g
Fiber: 2 g
Protein: 5 g
Cholesterol: 139 mg
Keywords: strawberry tart