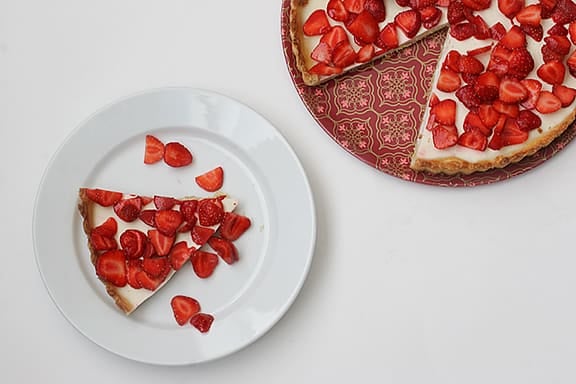 I feel like I've been a broken record this summer. Everything has been strawberries or corn, strawberries or corn. I guess when something sounds good, and the price is right, I'm going to take advantage of it!!
I actually saw this recipe and really wanted to make it, and then my mother-in-law brought over a big bowl of strawberries from her garden. It was like it was destiny! But I did have one problem. Have you ever noticed that most dessert tarts call for a 9-inch tart pan? Well, I only have an 11-inch. And every time I go out looking for a new tart pan, all I find are 11-inch tart pans. It drives me absolutely crazy. I usually just stick with the 11-inch pan and make it work. But this one could have used a little bit extra tweaking with the larger pan. The crust worked ok. It was a little thin in spots, but not too bad. But I wish I would have doubled the cream filling, because it was definitely too thin. Don't get me wrong – this was still delicious, (in fact, I took it to a family dinner but I think my husband ended up eating half of it himself!), but it would have been just that much better with either the smaller pan or more filling.
Strawberries-and-Cream Tart
from Food Network Magazine June 2010
FOR THE CRUST
2 tablespoons vegetable oil
1 large egg plus 1 egg yolk
2 tablespoons cold whole milk
1 teaspoon apple cider vinegar
1 1/4 cups all purpose flour
1/8 teaspoon baking powder
3 tablespoons sugar
1/2 teaspoon salt
6 tablespoons cold, unsalted butter, cut into 1/4-inch cubes
FOR THE FILLING
1 teaspoon unflavored gelatin
1/4 cup sugar
1 vanilla bean, split lengthwise and seeds scraped out
1 1/4 cups cold cream
1 quart strawberries, hulled and cut into 1/2-inch pieces
Make the crust: Whisk the vegetable oil, egg yolk, milk and vinegar in a bowl. Pulse the flour, baking powder, sugar and salt in a food processor to combine; add the butter and pulse until the mixture looks like coarse meal. Add the milk mixture and pulse once or twice, just to moisten the flour.
Transfer the dough to a 9-inch-round tart pan with a removable bottom and pat onto the bottom and up the sides. Cover with plastic wrap and refrigerate until firm, at least 30 minutes. Trim the edges, if necessary.
Preheat the oven to 350 degrees F. Pierce the dough all over with a fork. Line with foil and fill with pie weights or dried beans. Place the pan on a baking sheet and bake 15 minutes. Remove the foil and weights; continue to bake until golden, 10 to 15 more minutes. Beat the whole egg with 1 teaspoon water, then lightly brush over the crust and bake 5 more minutes. Cool completely on a rack.
Meanwhile, make the filling: Sprinkle the gelatin over 1 tablespoon cold water in a bowl and let soften 5 minutes. Put the granulated sugar and vanilla seeds in a saucepan and rub the seeds into the sugar with your fingers. Add 1 cup cream and whisk over medium heat to dissolve the sugar. When the mixture comes to a boil, remove from the heat and whisk in the gelatin mixture. Transfer to a bowl, then set in a larger bowl of ice water and stir with a rubber spatula until the mixture begins to thicken. Add the remaining 1/4 cup cream and stir until thick, about 2 minutes. Pour into the tart shell and refrigerate until set, about 1 hour.
Before serving, top the tart with the strawberries.