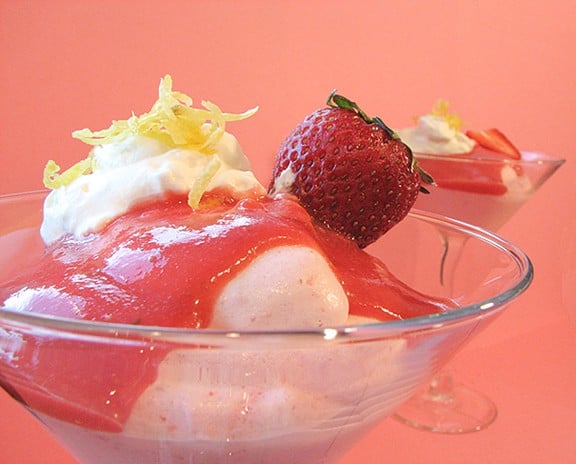 I have to admit – I am officially obsessed with food blogs. This creates quite a problem, though. Since discovering the popularity of food blogging, I am now following at least 80 different food blogs. This would be fine, but since they all make such wonderful looking and sounding food, I have all of these recipes bookmarked, along with the hundreds of recipes that I have printed off over the years and never tried, and also all of my cookbooks that are sitting, begging to be used. I am going to have to be in the kitchen 24/7 to try out everything I want to make!!
One of the events I have come across is called "Hay Hay Its Donna Day." I have to admit, I didn't know who Donna Hay was before, but have done a little research and am not so ignorant anymore. Every month, one blogger will host the HHDD contest, and this month, Tartlette is hosting, and this month it will feature mousse! I have to admit, the only memory I have of mousse is when I was about 8 years old at my great-grandpas birthday party. We were at a local buffet where they had chocolate mousse, and my sister and I went crazy with the mousse. I don't think that I have even had it since then, and I surely hadn't ever made mousse. So I was quite excited for this new challenge. The first thing that came to my mind when I read "mousse" was strawberries. I thought a nice strawberry mousse would be perfect for the season. I search through recipes, and came up with my own twist on many of the recipes I read.

1 pkg unflavored gelatin
1/4 c cold water
1 pint strawberries, hulled and sliced
1/4 c granulated sugar
lemon zest
1 c cream
3 T powdered sugar
Strawberry Daiquiri Sauce
1/2 pint strawberries, hulled and sliced
2 T granulated sugar
2 t cornstarch
1 1/2 T light rum
lemon zest
1. Sprinkle gelatin over cold water in a saucepan, let sit for 1 minute to soften. Stir over low heat until gelatin is dissolved. Remove
2. Put berries, sugar, lemon zest and gelatin in a food processor or blender and puree. Pour into a bowl, and place in the refrigerator for about an hour.
3. Beat the cream and powdered sugar until soft peaks form. Put 1/4 cream into berry mixture and stir. Fold in remaining cream. Chill for 2 hours.
For the sauce
1. Combine berries, lemon zest and sugar in a food processor or blender and puree. Put in a saucepan, adding cornstarch and rum. Whisk cornstarch to remove any lumps.
2. Cook on medium heat, stirring often, until mixture thickens.
3. Remove from heat and place in refrigerator until ready to serve.
I LOVED this. It felt really light and refreshing (even though I know how much cream was in it!!) I loved the addition of the lemon zest to give it just a touch of that lemony flavor. I have been cooking with alcohol quite a bit lately, and although I don't drink it, I loved the daiquiri spin on the sauce. I had some extra cream left, so I made some extra whipped cream to serve on top, and it was wonderful. I also served it with a bit of fresh lemon zest on top, and aside from looking really yummy, it tasted very yummy!!