A light and delicate meringue cake is topped with whipped cream, silky creme anglaise and lots of berries in this Pavlova Recipe with Fresh Berries.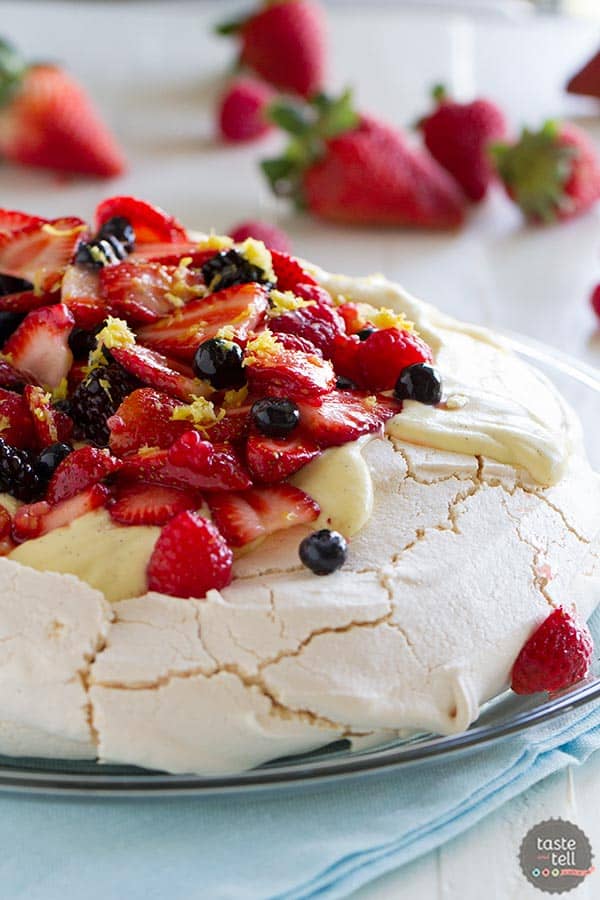 I always get excited over cookbooks, but every once in awhile, a cookbook comes out that I know is going to be going right to the top of my favorites list. Today's review – The Perfect Egg by Teri Lyn Fisher and Jenny Park of Spoon Fork Bacon – is one of those books.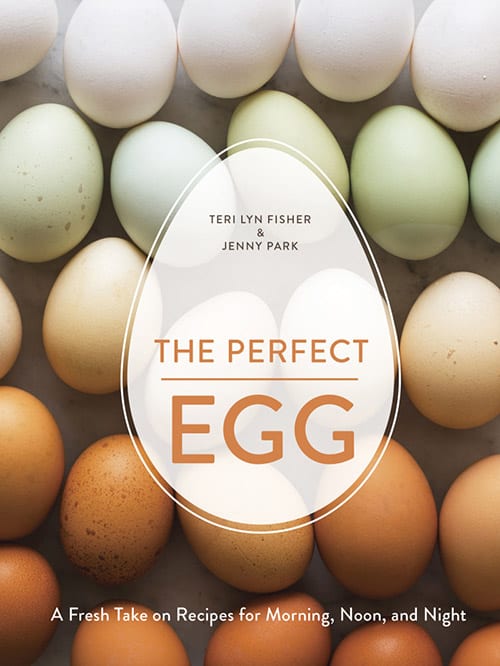 What can I say? I am egg obsessed. Anything egg – I'm automatically drawn to it. So a cookbook dedicated to eggs? Count me in!! In the book, there are 70 recipes – and it goes way beyond breakfast!! You will find recipes for morning, noon and night, as well as snacks, dessert, sauces and condiments. There is also a great introduction with all you want to know about eggs.
It's ridiculous how excited I am about this book.
I have been obsessed with the simplicity and beauty of the photography on Spoon Fork Bacon forever, and that beauty carries over in this book. So not only is the book filled with useful recipes, but it's pretty enough to be a coffee table book, as well.
Here are the details:
Number of Photos: Lots!! A photo of every recipe, plus a few more thrown in for good measure. They are big, they are beautiful, and they make you want to dive right into every recipe.
Difficulty Level of Recipes: Easy to Hard I kind of love that there recipes for every level in this book. You can keep things simple, or you can challenge yourself a little.
Availability of Ingredients: easy The only recipe that I noticed in the book that had ingredients that might not be as easy to find at a regular grocery store is the Shrimp Okonomiyaki recipe which calls for okonomiyak sauce, furikake seasoning, and dried bonito flakes. But I'm guessing you'd be able to find these with a visit to your local Asian market. But besides that recipe, all of the other ingredients were pretty basic ingredients that should be easy to find.
Other recipes I want to try:
Blackberry-Stuffed Croissant French Toast
Havarti-Dill Popovers
Parmesan Popcorn Puffs
Avgolemono Soup
Poached Yolk Stuffed Ravioli
Savory Strata
Brick Toast
Peaches 'n' Cream Cake
Frozen Custard
Buy The Perfect Egg on Amazon.
More info here.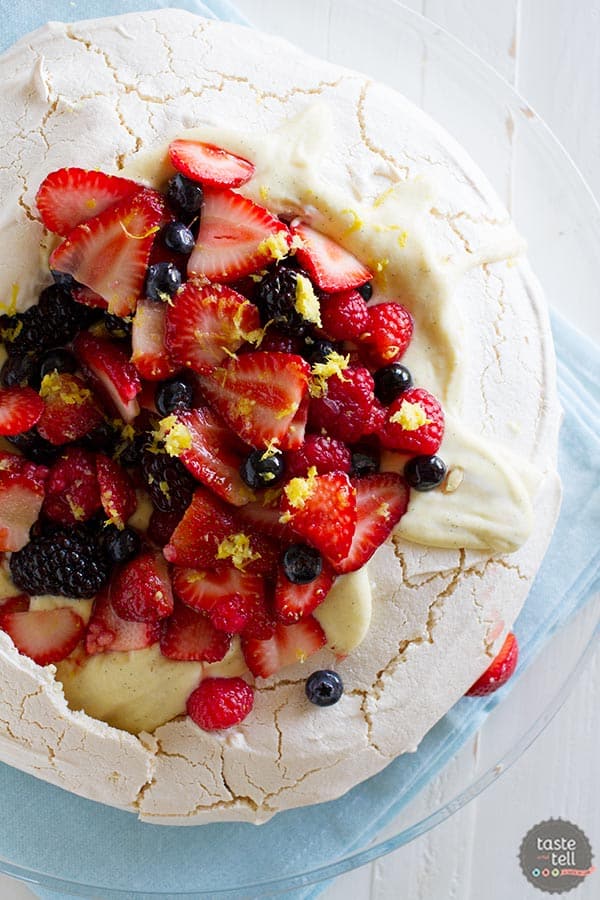 I have been wanting to try a proper pavlova for almost a year now, so when I came across one in this book, I just had to make it. And for the first time in years, we were going to be doing Easter dinner just as our little family, so I thought that this pavlova would make the perfect Easter dessert.
And it was. So. Good. I knew that it would be too much dessert for our little family, and that it wouldn't make for the best leftovers, but I wanted to make it anyway. And we ended up almost eating the whole thing, it was that good.
But since it was Easter, and I had a hungry family, I only took like 2 minutes to snap a few pictures, and when I uploaded them later, they were terrible. And this dessert deserved more than a couple of terrible photos. So I remade it again this week!!
I did run into a problem with the pavlova cracking, which after reading up after the fact, it seems like this is a pretty common problem with pavlovas. I do think my oven cooks a little hot (I need to get a thermometer asap!), and I thought that maybe I had over-beaten the meringue. But I lowered the oven temp and beat the meringue less the second time, and it actually cracked worse the second time!! I'm not sure why, but my guess at this point is that it has something to do with altitude (which is also why I have issues with macarons…) But regardless, this is still a stunner of a dessert, and delicious to boot.
If you've never had a pavlova, it is a light, meringue cake that is crispy on the outside and kind of chewy and marshmallow-y on the inside. Top that with whipped cream, a decadent creme anglaise, and plenty of fresh berries and you have a dessert that will knock the socks off of anyone. This one is sure to impress!!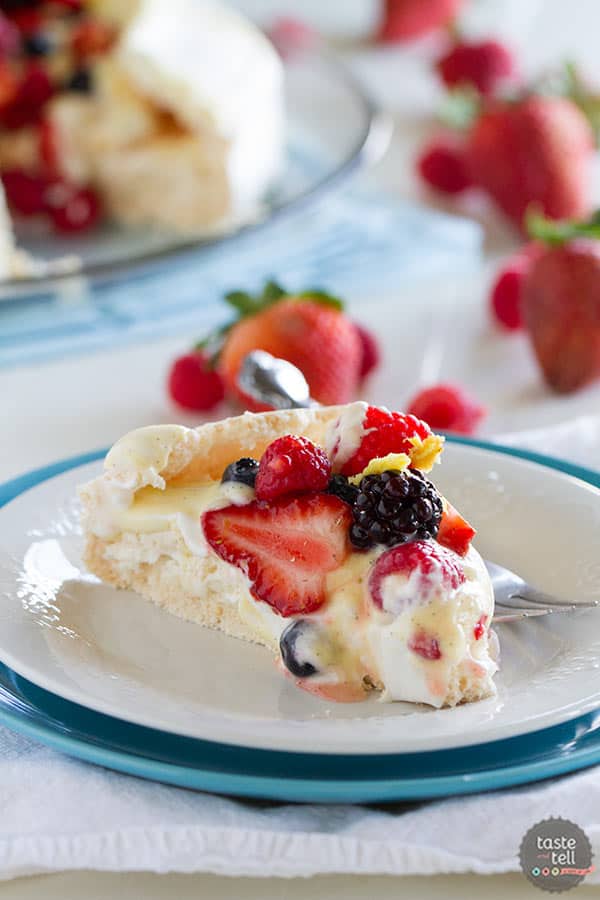 Like what you see here? Make sure you are following Taste and Tell for more great recipes and ideas!!

Facebook ** Pinterest ** Twitter ** Instagram ** Google+
or you can subscribe to my newsletter or Feedly or Bloglovin


Print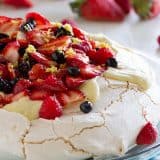 Pavlova Recipe with Fresh Berries
Prep Time:

20 mins

Cook Time:

1 hour 20 mins

Total Time:

1 hour 40 mins

Yield:

6

servings

1

x
---
Description
A light and delicate meringue cake is topped with whipped cream, silky creme anglaise and lots of berries in this Pavlova Recipe with Fresh Berries.
---
Scale
Ingredients
Creme Anglaise*
1 1/3 cup

s heavy cream

2/3 cup

whole milk

1/2 cup

plus 2 tablespoons superfine sugar**

1

vanilla bean, split lengthwise, or

1 1/2 teaspoon

s vanilla extract

6

egg yolks
Pavlova
4

egg whites

1 teaspoon

vanilla extract

1 1/4 cup

s superfine sugar

1 tablespoon

cornstarch
Topping
3 cup

s fresh berries

1/4 cup

superfine sugar

2 tablespoon

s freshly squeezed lemon juice

1/2 cup

heavy cream, whipped to stiff peaks

2/3 cup

creme anglaise
---
Instructions
Prepare the Creme Anglaise:
In a small pan, whisk together the cream, milk, and 2 tablespoons of sugar. If you are using a vanilla bean, use a sharp knife to scrape the seeds from the center of the seed. Add the seeds to the cream mixture. Put the vanilla pod in the pan as well. Place the pan over medium-low heat and heat until small bubbles start to form along the edges of the pot. Remove from the heat.
Meanwhile, in a bowl, whisk together the egg yolks and the remaining 1/2 cup sugar for 2 to 3 minutes, until fluffy and pale yellow. Whisking constantly, slowly pour about 1/2 cup of the cream mixture into the egg mixture. Once combined, pour the mixture back into the pan, whisking the whole time. Turn the heat back onto medium-low. Cook the sauce, stirring frequently, until the mixture coats the back of a spoon and does not run together, 10-12 minutes.
While the sauce is cooking, prepare an ice bath.
One the sauce is thickened, remove the pan from the heat and remove the vanilla pod. If using vanilla extract, stir it in now. Pour the sauce into a bowl, then place the bowl in the water bath. Let the sauce cool completely, stirring frequently.
Once cool, remove the sauce from the water bath. Cover the sauce with plastic wrap, pressing the wrap down on the surface of the sauce. Refrigerate the sauce for at least 2 hours before serving.
Make the Pavlova:
Preheat the oven to 325ºF. Line a baking sheet with parchment paper.
Place the egg whites in the bowl of a stand mixer fitted with the whisk attachment. Beat on medium until light and frothy. Add in the vanilla and beat. Turn the mixer on and add the sugar, a few tablespoons at a time, until fully incorporated. Continue to beat until the whites are thick and glossy and they hold medium-firm peaks. Fold the cornstarch into the meringue with a rubber spatula.
Pour the meringue out onto the prepared baking sheet. Form the meringue into a 6 to 7-inch circle, making a bowl shaped indention about 4-inches across in the center.
Place the baking sheet in the oven, then immediately reduce the heat to 300ºF. Bake for one hour, then turn off the heat, leaving the pavlova in the oven to cool completely, 1 to 2 hours.
Make the Filling:
Combine the berries, sugar and lemon juice in a bowl and stir to combine. Let the berries sit at least 1 hour, up to 2 hours.
Assemble the Pavlova:
Place the meringue on a serving plate. Fill the bowl in the center with the whipped cream, then drizzle with the creme anglaise. Top with the berries. Serve immediately.
---
---
Notes
Total time does not include chilling and cooling time.
*You will not need all of the creme anglaise for this recipe. Reserve the remaining sauce for pouring over cakes, ice cream, fresh berries, or just eating with a spoon!
**If you don't have superfine sugar, you can make your own by placing sugar in a food processor and pulsing to break it down.
Recipe Source: The Perfect Egg

I received this book from Blogging for Books for this review, but all opinions are my own. This post contains affiliate links. If you purchase an item from Amazon from the link Taste and Tell receives a small commission. Thank you for supporting Taste and Tell through your purchases!