These Buttermilk Biscuits bake up with the perfect tender layers. You won't believe how easy these are to make at home – you'll feel like an expert in the kitchen!
These Buttermilk Biscuits would be the perfect side dish for any breakfast or dinner, or try them out as the base for this Chicken a la King recipe!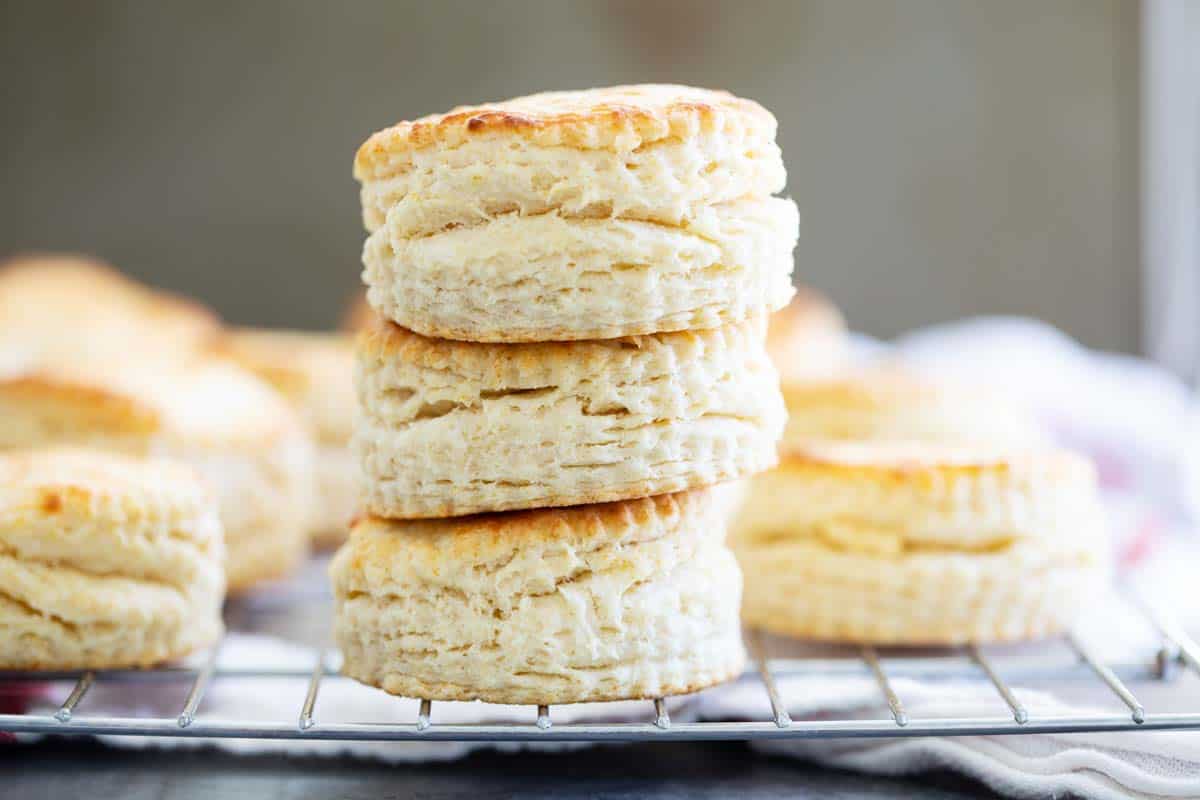 I am a carb lover, and I'm raising carb lovers. It's always a good day when dinner is accompanied by rolls or bread of some sort.
And now, after making these buttermilk biscuits over and over again, my kids are excited when these show up on the breakfast table.
There is really something about making biscuits from scratch that I just love. Maybe it's because I'm channeling a long gone generation that served biscuits often, and always with love. Or maybe it's just the process of taking ingredients and turning them into something so delicious. But really – make these biscuits once, and you'll never go back to the kind in a can.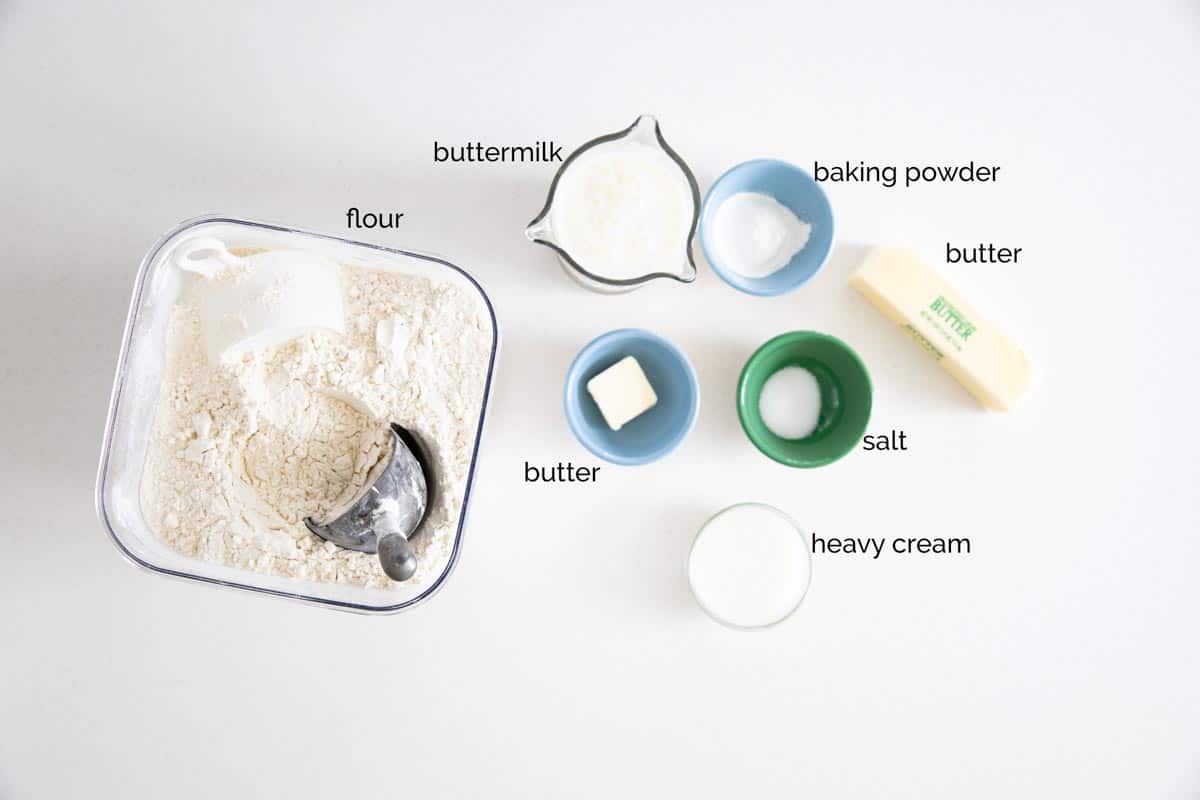 What You'll Need
You only need a few ingredients for these biscuits. I'll list them below, as well as a guide for substitutions.
Unsalted butter – You can use salted butter, but you'll want to cut back on the amount of salt if you do.
All-purpose flour – For this recipe, you'll want to use sifted flour. I sift my flour first, before measuring it.
Baking Powder
Salt
Buttermilk – This is one of those recipes that I think needs the real deal – not a substitute made with lemon juice and milk. You can definitely make them with a substitute if that's all you have, but real buttermilk will make a difference.
Heavy Cream – I like to brush this on the dough before baking to help them brown up. If you don't have heavy cream on hand, though, just use some more buttermilk.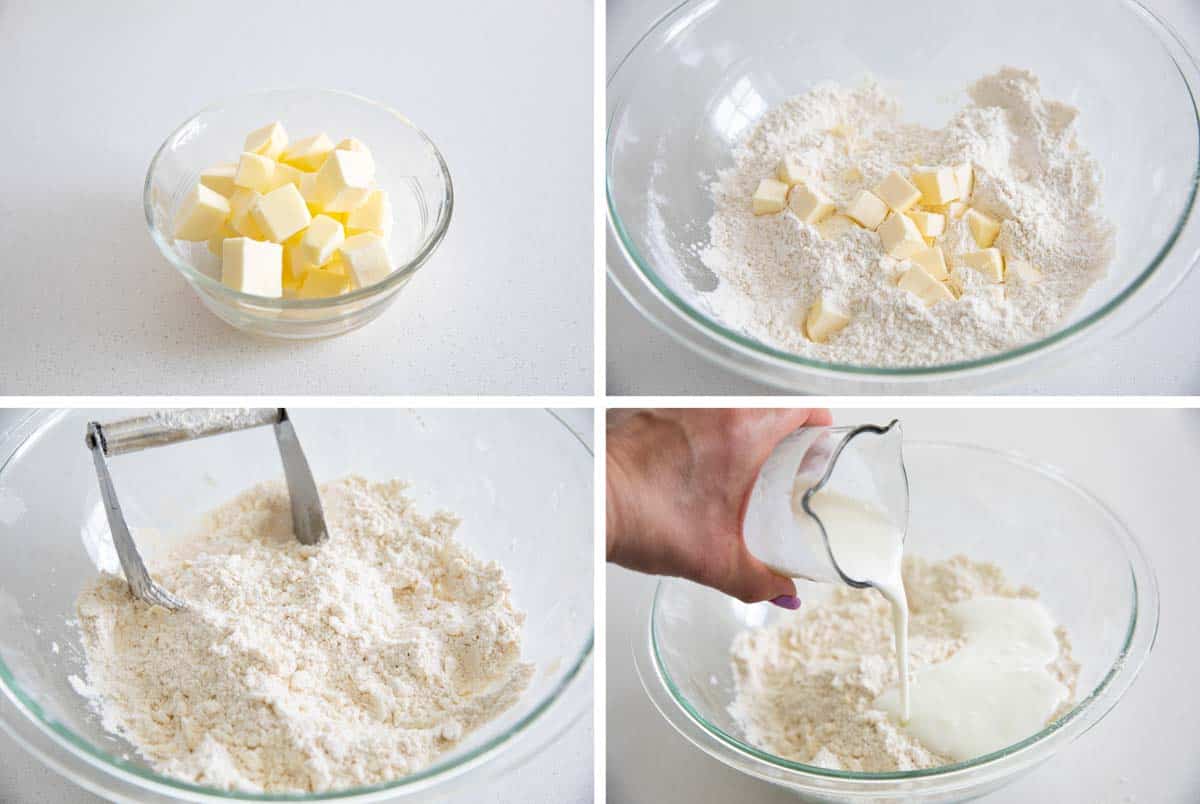 How to Make Buttermilk Biscuits
MAKE THE DOUGH
1 – You'll want to make sure your butter is very cold. I cut mine into cubes and freeze it for 15 minutes. You can also grate the butter.
2 – Combine your dry ingredients, then add the very cold butter.
3 – You can use a pastry cutter or your hands to cut the butter into the flour mixture. I'll usually start with the pastry cutter, then go in with my hands so that I can feel if there are any big chunks left. If using your hands, just feel for the bigger chunks of butter and smash them between your finger and thumb, working it into the flour.
4 – Add the buttermilk and stir everything together, just enough for it to mostly stick together. DO NOT overwork the dough.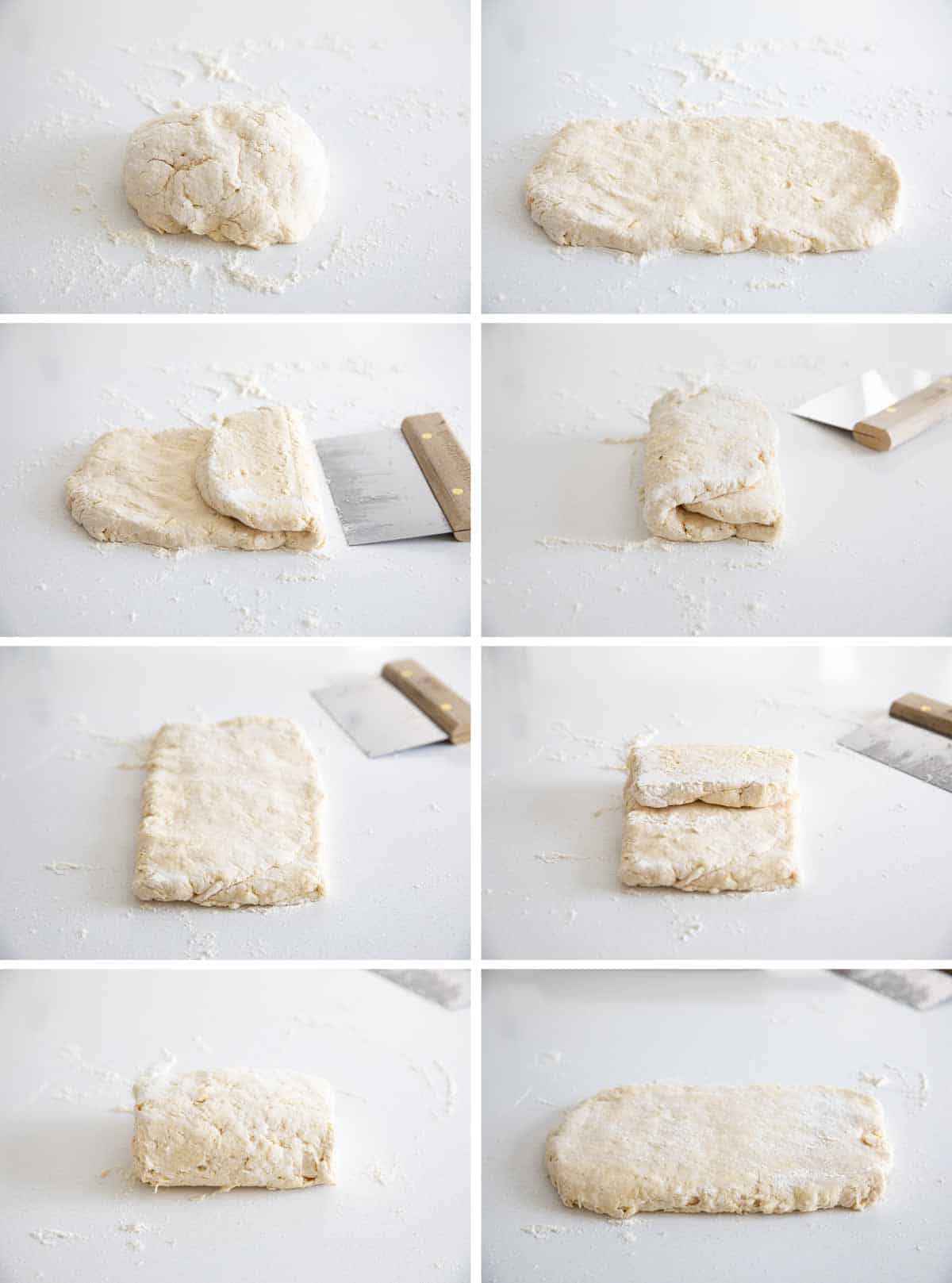 FOLD THE DOUGH
1 – Dump the dough out onto a floured counter, and press it all together, if needed. Then you'll start to roll and fold. You can use your hands or you can use a rolling pin.
2 – Press or roll the dough into a rectangle that is about 10 inches wide and 5 inches tall.
3 – Fold the right side of the dough over to the center. I like to use a bench scraper (affiliate link) but you can use your hands as well.
4 – Fold the left side over so that it folds over the top of the right side that you already folded. You now have a new, smaller rectangle.
5 – Roll or pat the dough out again, but this time the rectangle will be 5 inches wide and 10 inches tall.
6 – This time fold the top side down, then the bottom side up over the top side.
7 – Roll or pat the dough out again until you have another 10×5-inch rectangle.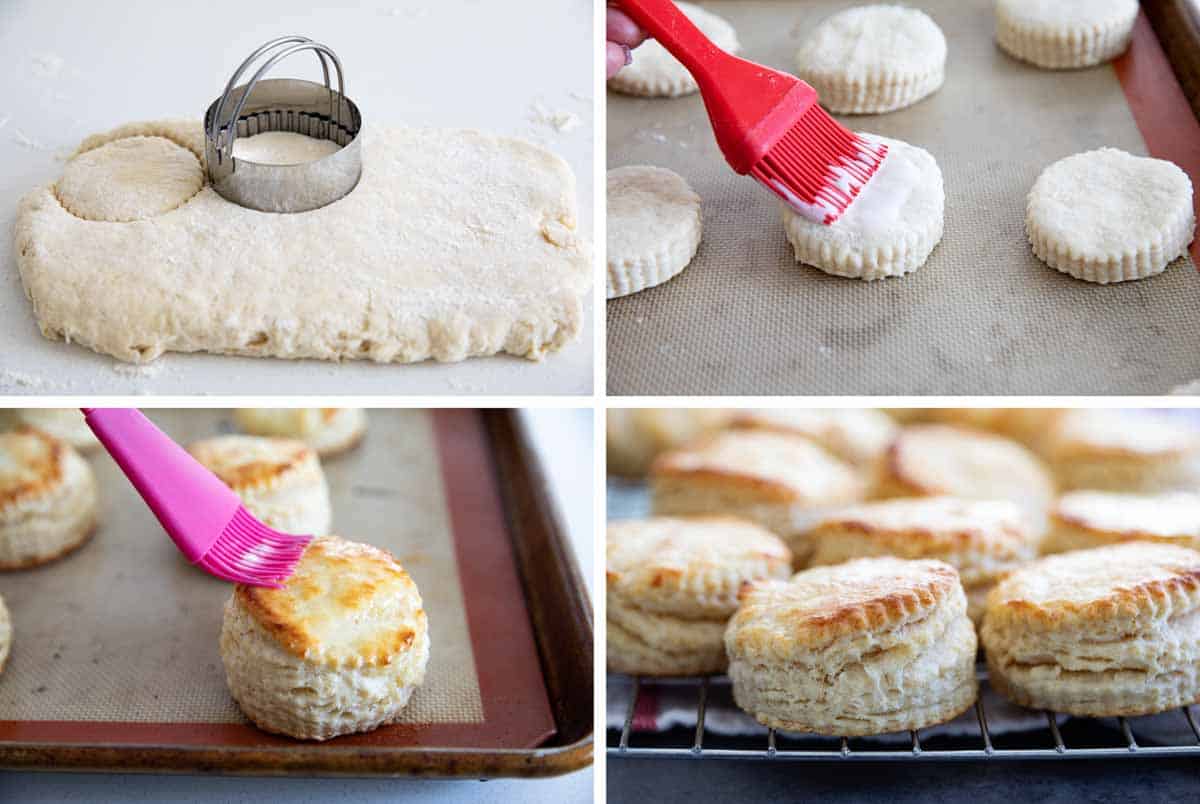 CUT THE BISCUITS
1 – Use a biscuit or cookie cutter to cut the biscuits. You can re-roll the extra dough, but I only do this once, and I only fold once instead of twice.
2 – Transfer the biscuits to a baking sheet and brush with cream.
3 – Bake the biscuits until golden brown.
4 -Brush the hot biscuits with melted butter.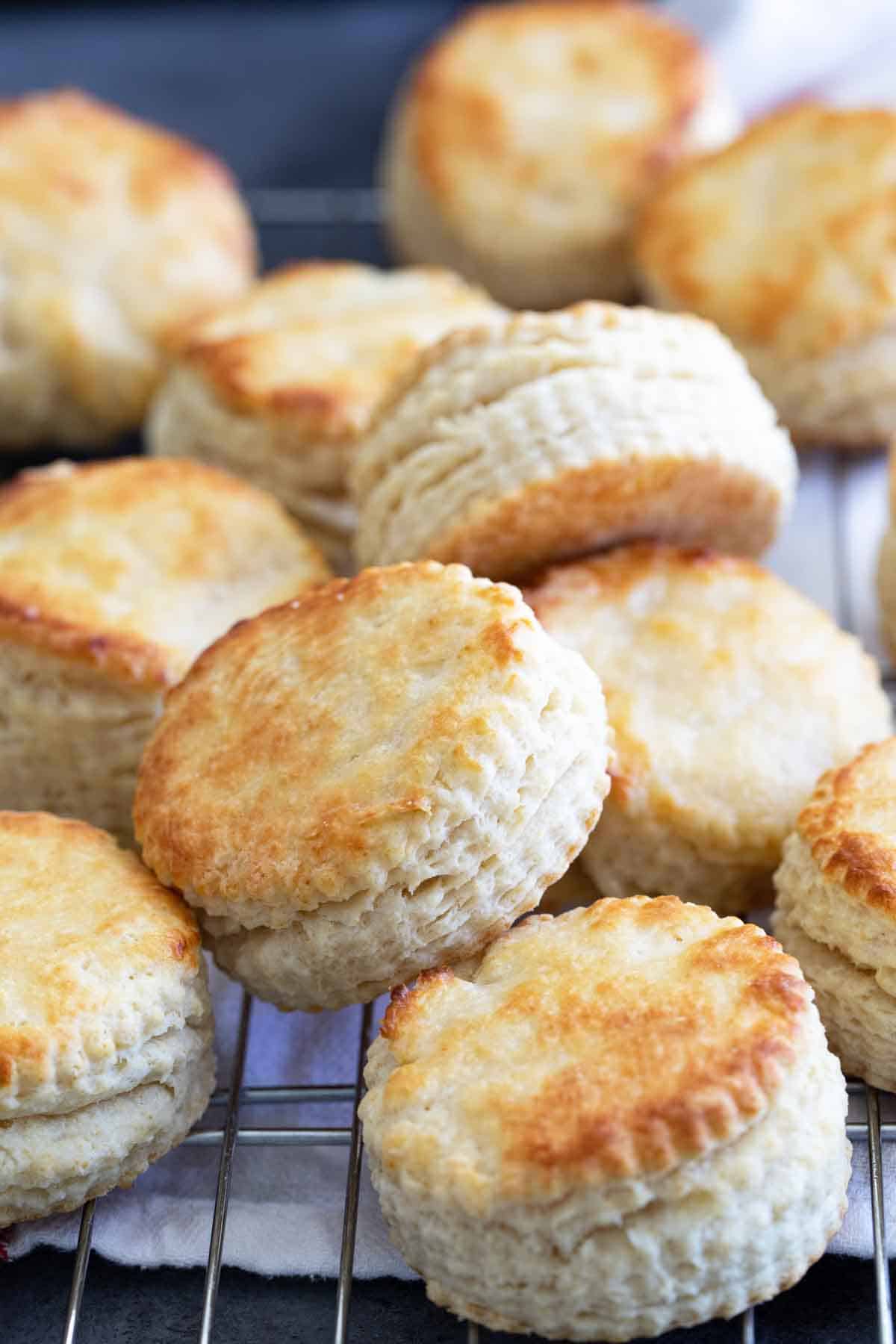 The Secret to Light and Fluffy Biscuits
There are a few things you need to do to make sure you end up with light and fluffy biscuits.
Make sure the butter is cold.
I've said it already, but DO NOT overwork the dough. That is the thing that will make heavy biscuits more than anything else.
Don't twist your cutters as you are cutting the dough. Just press straight down. If you twist, you will seal off the layers from rising.
I'm all about a short cut or not having as many kitchen gadgets, but a cookie cutter or biscuit cutter will work a lot better than using a glass or cup, simply because the edges are sharp. The dull edges of the cup or glass will press the layers together so that they don't rise as well.
I've tried folding the dough 4 or 6 times, but I always go back to just folding it twice. You still get a lot of layers without overworking the dough. And more layers doesn't necessarily mean tender biscuits.
I do love using my biscuit cutters (affiliate link) for pretty biscuits, but most of the time, I'll just cut the dough into squares with a sharp knife. This eliminates the need to re-roll any dough, and you don't have any wasted scraps.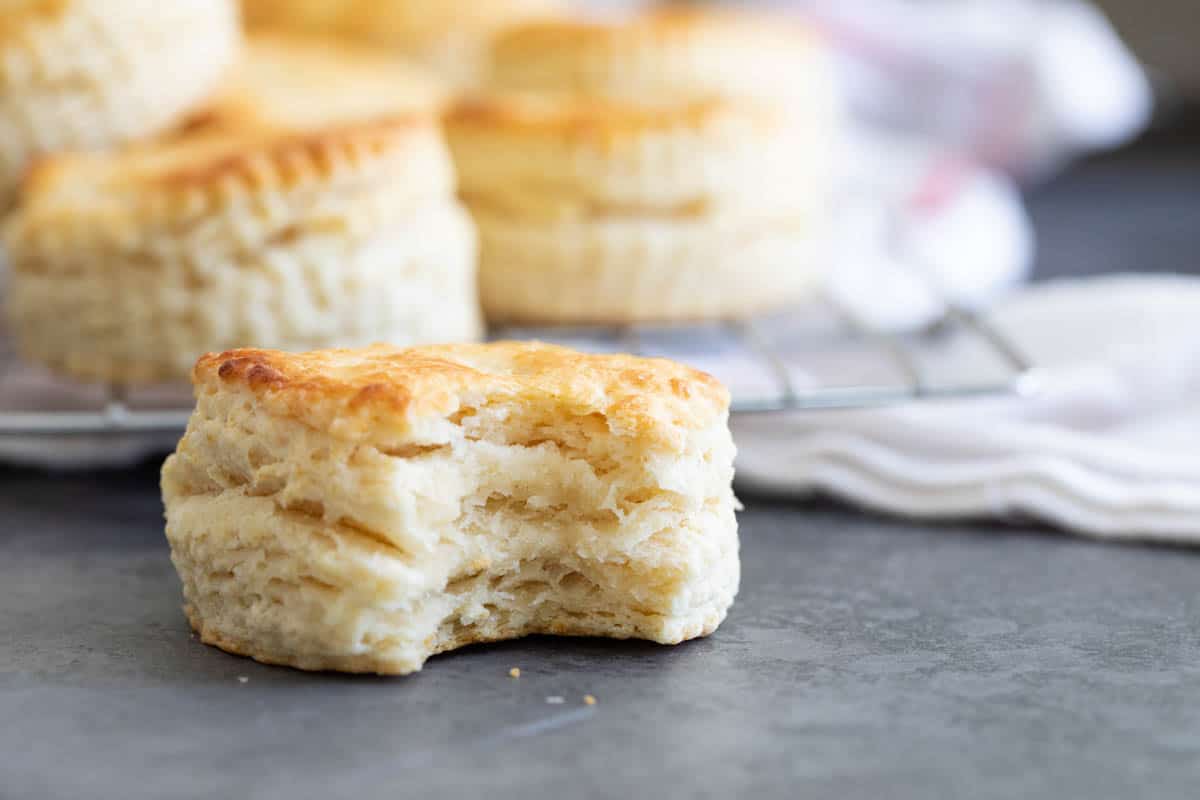 More Biscuit Recipes
These Raspberry and Lemon Breakfast Biscuits are perfect for a breakfast buffet or a holiday.
If you want more of a dinner biscuit, try these Sweet Potato Biscuits.
Love a good copycat recipe? These Red Lobster Cheddar Biscuits are just as good as in the restaurant and are super easy to make.
These Garlic and Cheddar Sour Cream Biscuits are another delicious drop biscuit recipe.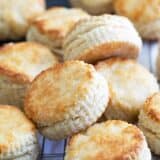 Buttermilk Biscuits
---
Author:
Prep Time: 20 minutes
Cook Time: 16 minutes
Total Time: 36 minutes
Yield: about 12 biscuits 1x
Category: Breakfast
Method: Baked
Cuisine: American
Description
These Buttermilk Biscuits bake up with the perfect tender layers. You won't believe how easy these are to make at home – you'll feel like an expert in the kitchen!
---
Scale
Ingredients
1/2 cup unsalted butter
2 1/2 cups sifted all-purpose flour
1 tablespoon baking powder
1 teaspoon salt
1 cup cold buttermilk
2 tablespoons heavy cream (can substitute for more buttermilk)
1 tablespoon butter, melted
---
Instructions
Cut the butter into cubes and place in the freezer for 15 minutes.
Meanwhile, preheat the oven to 475ºF.
In a large bowl, mix together the flour, baking powder and salt. Add the cold butter, and working with a pastry cutter or your hands, work the butter into the flour until it resembles a coarse meal. There will still be some chunks of butter, but they shouldn't be more than about the size of a pea.
Add the buttermilk and stir just until the dough starts to come together.
Flour a counter or work surface and turn the dough out onto it. Knead the dough just enough to bring it all together.
Using your hands or a rolling pin, roll the dough into a rectangle about 10 inches wide and 5 inches tall. Fold 1/3 of the dough on one side over into the middle, then fold the opposite side over. (See photos above for reference.)
Pat the dough into another rectangle, this time 5 inches wide and 10 inches tall. Fold each side of the dough to the middle again.
Pat the dough into another rectangle 10 inches wide by 5 inches tall. Use a round cookie cutter or a biscuit cutter to cut out the biscuits.
Take any scraps and form into a new rectangle. The more you work with the dough, the tougher the biscuits will become, so I only fold the scraps once instead of twice. Cut out the remaining biscuits.
Place the biscuits on a baking sheet that is lined with parchment paper or a silpat liner.
Brush the biscuits with the heavy cream.
Place the baking sheet into the oven and bake just until the biscuits have risen tall and browned, about 16 minutes.
Remove from the oven and brush with the melted butter.
Recipe Notes:
To reduce waste and eliminate re-rolling dough, you can use a sharp knife and cut the dough into squares instead of using biscuit cutters.
Nutrition information provided as an estimate only. Various brands and products can change the counts. Any nutritional information should be used as a general guide.
Nutrition
Serving Size: 1 biscuit
Calories: 184
Sugar: 1 g
Sodium: 338 mg
Fat: 9 g
Saturated Fat: 6 g
Unsaturated Fat: 2 g
Trans Fat: 0 g
Carbohydrates: 20 g
Fiber: 0 g
Protein: 3 g
Cholesterol: 27 mg
Keywords: Buttermilk biscuits, biscuits, baking, breakfast