Zucchini boats are hollowed out and filled with ground beef, onions, and pine nuts before they are baked and then topped with yogurt, tomatoes and cucumber in this healthy dinner recipe.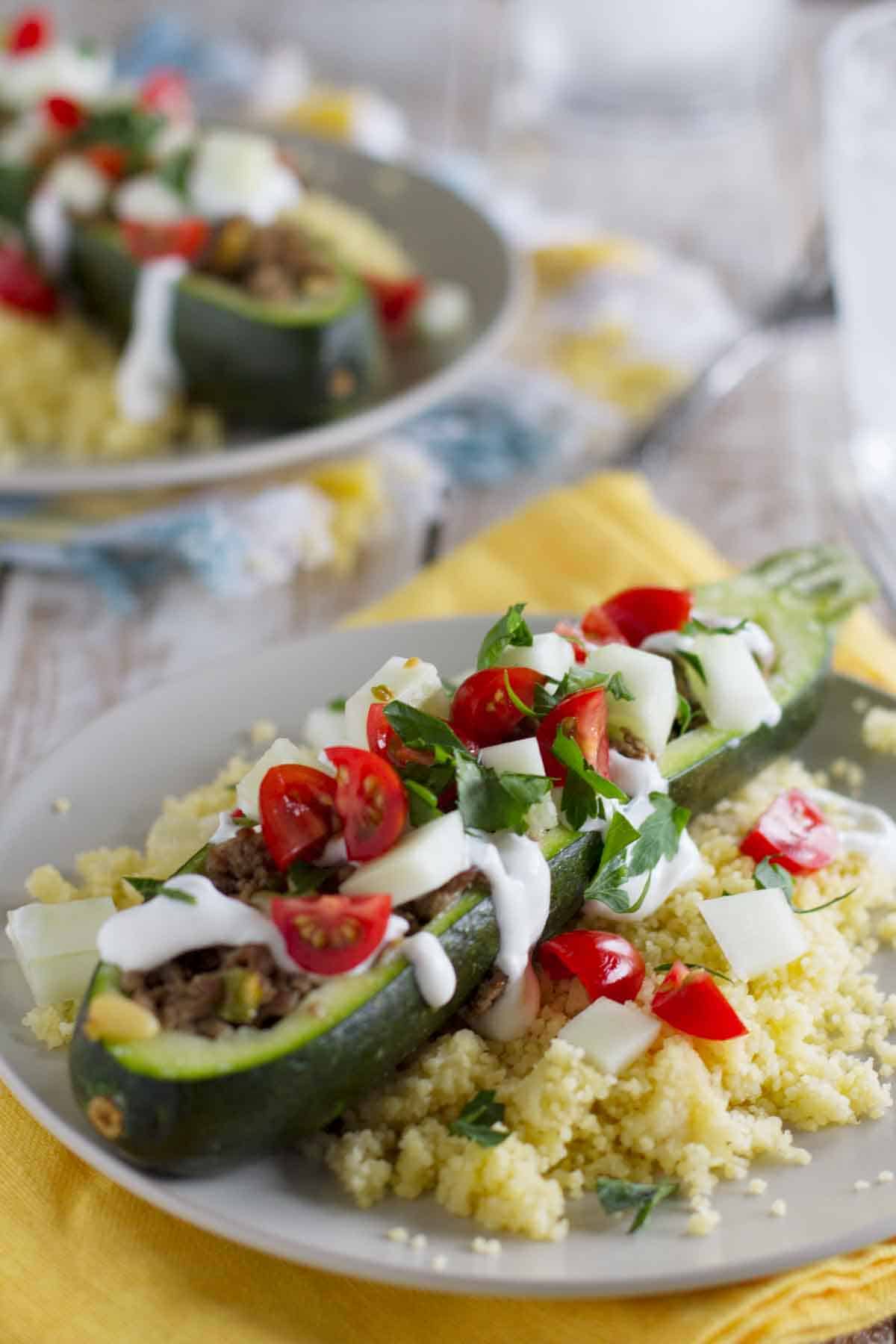 I think it's pretty evident that I'm not ready to let go of summer yet. Just this week, I've talked about peaches with this Coconut Peach Cobbler Recipe, tomatoes with these Open Face Caprese Steak Sandwiches, and even these ice cream inspired Drumstick Cupcakes. And now – zucchini.
Really – there is still so much of summer left to love. And here in Utah, we'll be enjoying lots of fresh produce for another month to come. Thank goodness, because come January, we are going to be thinking longingly for things like garden fresh tomatoes and zucchini.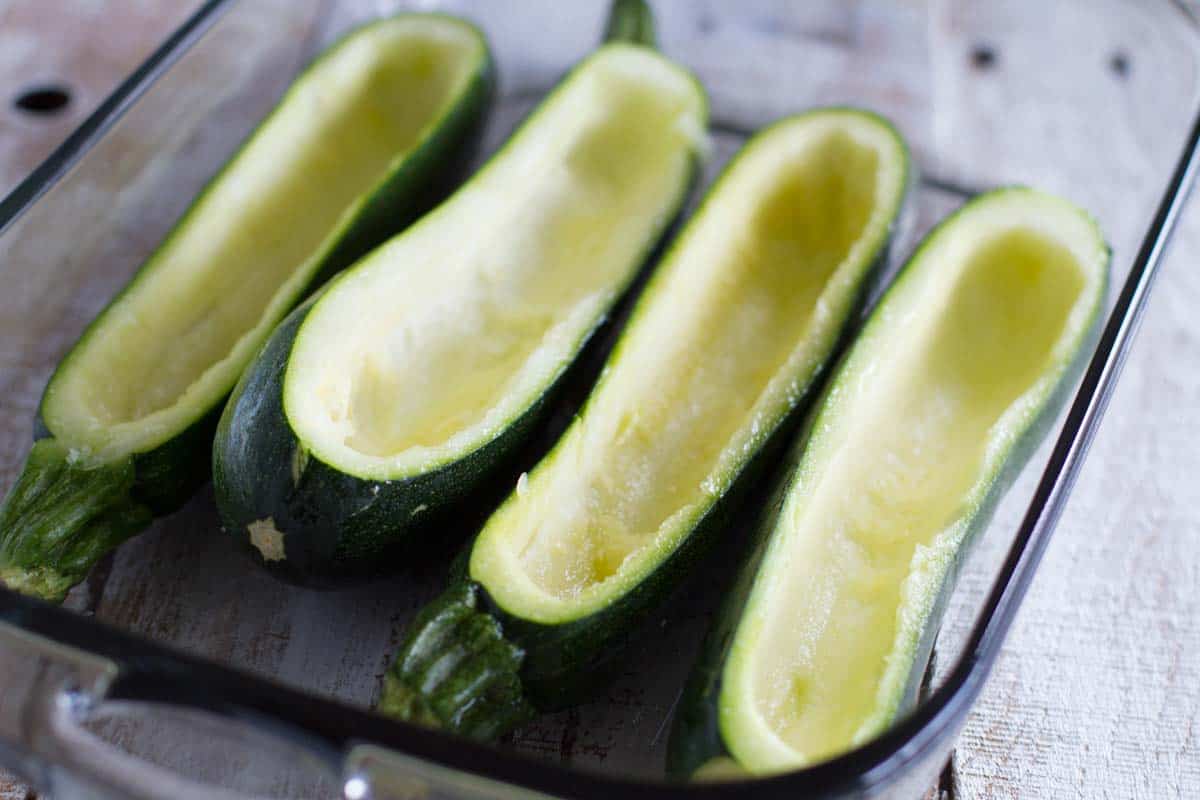 And…. I've gone healthy again. I know – 2 days in a row. I guess it's to make up for those cupcakes and that cobbler. My motto is moderation in all things, after all!
I actually saw this recipe in an older Every Day with Rachael Ray magazine and thought it looked good, so I added to to the menu plan without really reading through it. (This is becoming a bad habit with me!)
I went to make the zucchini boats, and as I started cooking, I realized there was no sauce in the boats. Or outside the boats.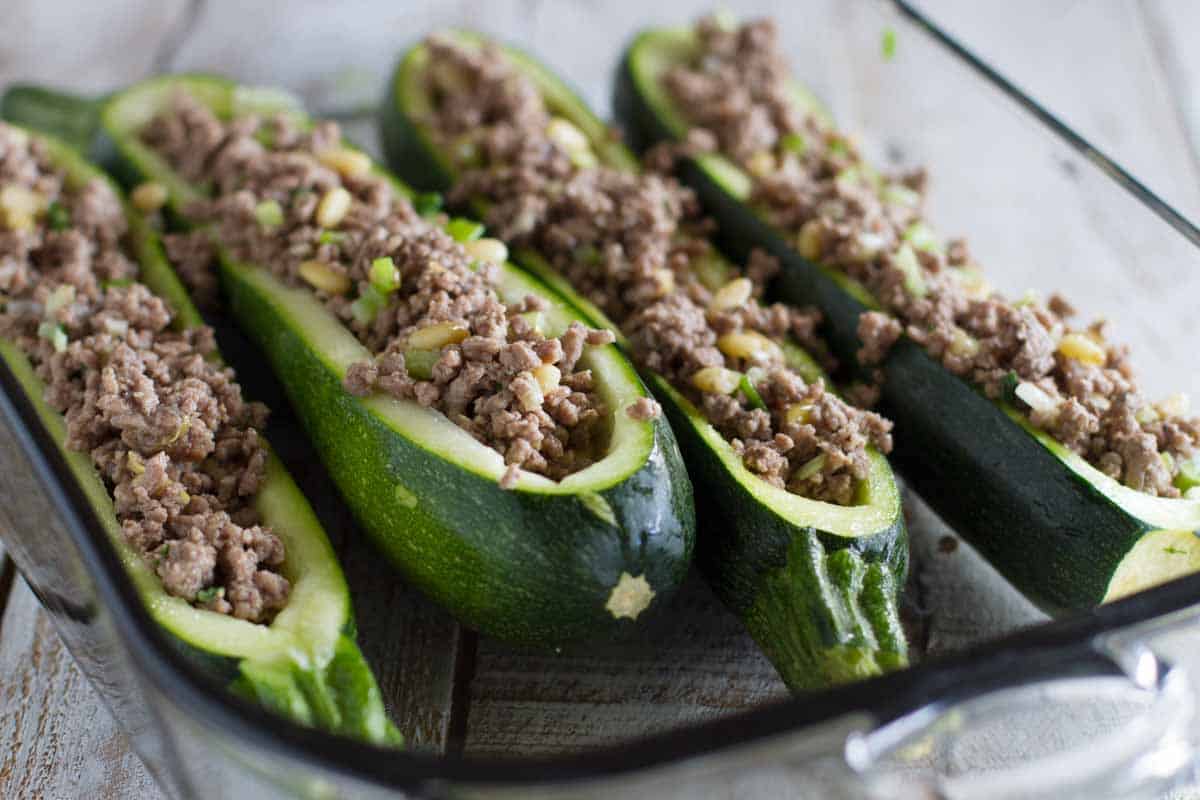 I will fully admit that I didn't have high hopes for these. I thought they'd be dull and dry.
But I was completely wrong.
The yogurt and the fresh chopped veggies over the boats added so much to this recipe. I almost called these Mediterranean zucchini boats with the pine nuts and lemon zest and couscous – they felt like they had a real Mediterranean flair to me.
This was a dinner success. I couldn't even finish my whole serving – it was that filling. This is definitely a reason to keep celebrating summer!
More Favorite Zucchini Recipes:
Zucchini Parmesan
Zucchini Spaghetti with Saffron Sauce
Chicken, Black Bean, and Zucchini Enchiladas
Zucchini Tart with Ricotta and Bacon
Zucchini, Tomato, and Egg Tart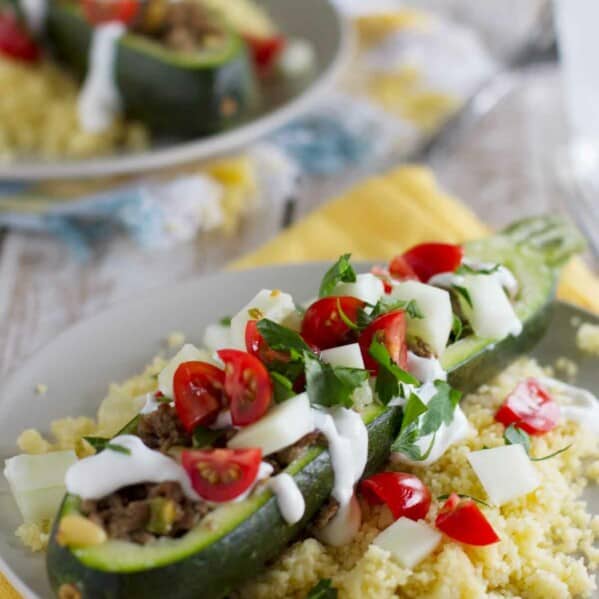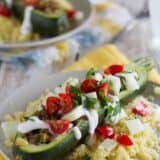 Zucchini Boats
---
Author:
Prep Time: 20 minutes
Cook Time: 40 minutes
Total Time: 1 hour
Yield: 4 servings 1x
Category: Main Dish
Method: Baked
Cuisine: Mediterranean
Description
Zucchini boats are filled with ground beef, onions, and pine nuts before they are baked and then topped with yogurt, tomatoes and cucumber in this healthy dinner recipe.
---
Scale
Ingredients
8 oz ground beef
2–3 green onions, thinly sliced
1/8 cup pine nuts
1 clove garlic, minced
1/2 teaspoon lemon zest
salt and pepper
4 zucchini (about 8 oz each)
1 3/4 cups chicken broth
1 tablespoon extra virgin olive oil
1 (10 oz) box couscous
2/3 cup plain Greek yogurt
1 cup grape or cherry tomatoes, chopped
1 small cucumber, peeled and chopped
1/4 cup chopped parsley
---
Instructions
Preheat the oven to 400F.
While the oven is preheating, heat a large skillet over medium-high heat and add the ground beef. Cook until browned and cooked through, breaking it up as it cooks. Transfer the beef to a bowl, leaving the drippings in the skillet.
To the skillet, add the green onions, pine nuts and garlic. Saute for 3 minutes. Stir into the bowl with the beef and add in the lemon zest. Season with salt and pepper.
Cut a 1/4-inch strip off the top of each zucchini. Use a melon baller or a spoon to scoop out the seeds, leaving a 1/4-inch border.
Place the zucchini, cut side up, in a baking dish with sides. Divide the beef mixture between the zucchini, filling each of the boats. Pour 1/2 cup of the chicken broth in the bottom of the baking dish, cover with foil, and transfer to the oven. Bake until the zucchini is tender, about 30 minutes.
Meanwhile, bring the remaining 1 1/4 cups of chicken broth to a boil in a small pan. Add the olive oil and the couscous and stir to combine. Cover the pan with a lid and remove from the heat. Let stand for 5 minutes, then fluff with a fork.
When ready to serve, divide the couscous between 4 plates. Top each with a zucchini boat. Top with the yogurt, tomatoes, cucumber and parsley.