Looking for an easy summer dinner? Try these Chili Honey Garlic Shrimp Kabobs – the perfect recipe for a night at the grill.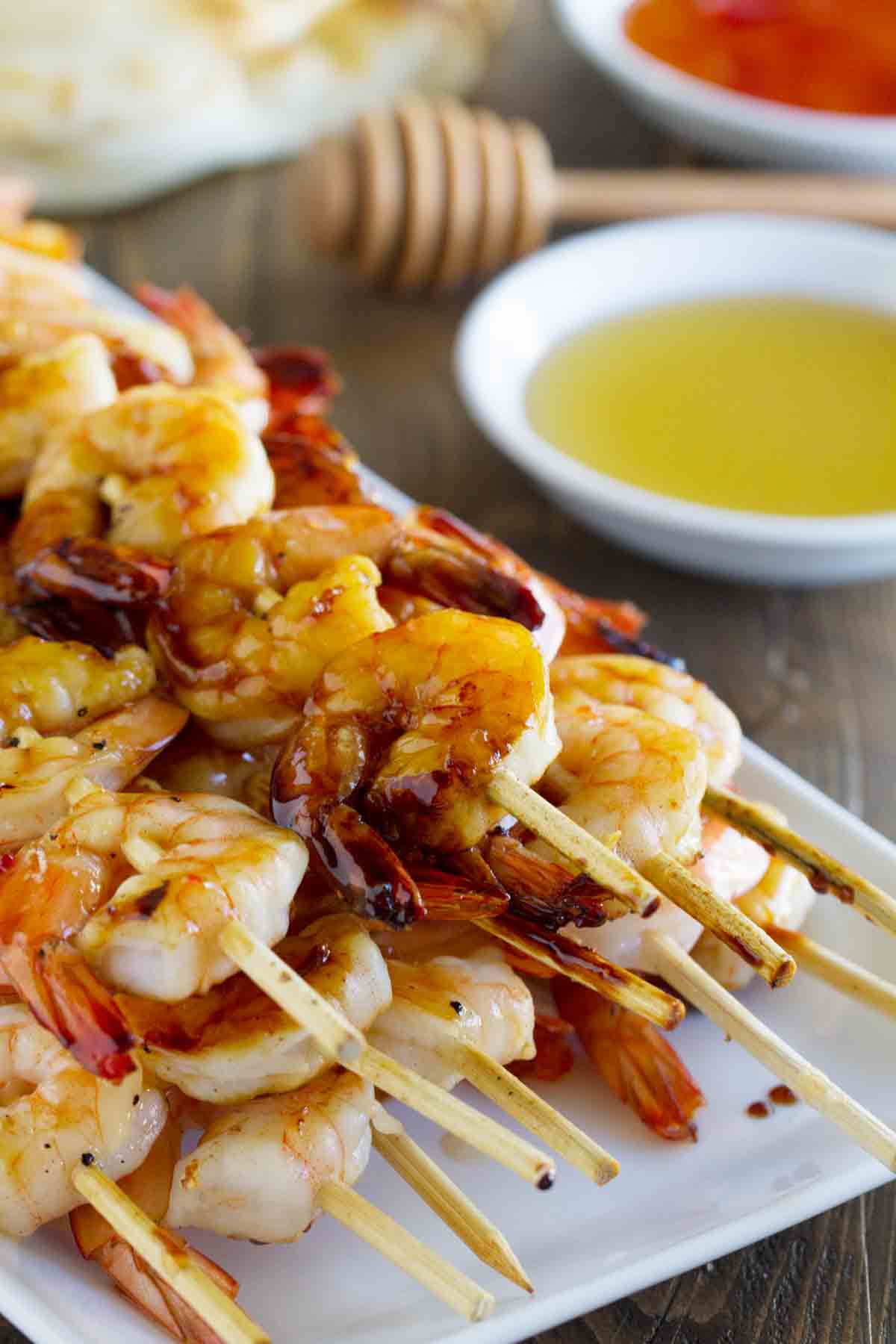 I know that sometimes "celebrity chefs" get a bad rap. Which I don't really get, because really, what's wrong with taking what you love and turning that into a career, whether it's on tv or behind closed doors? There are actually a few celebrity chefs that I can't get enough of. You all know of my love for Rachael Ray. And I'm adding a new one to the list – Katie Lee. I don't know what it is about her, but she just seems so real and relatable to me. Call me crazy. Maybe it's because she's totally down with making chili dogs on tv. Because let's face it – anyone who will make and eat a messy hot dog on tv is someone special in my book. 😉
So when I saw that she had a new cookbook coming out, I immediately added it to my wish list. And *somehow*, the Endless Summer Cookbook ended up in my Amazon cart. And I could not wait to dive in.
This cookbook is exactly what I was hoping it would be. Real food that is not too complicated. But interesting. And while "summer" is in the title, and while this is a great summer cookbook, there are still lots of recipes in the book that will carry through the whole year. I had a feeling this was going to be a good cookbook, and I'm cemented on that thought now.
Here are the details:
Number of Photos: Many. There is not a photo of every recipe, but probably every 2-3 recipes. The photos are gorgeous, and include some ingredient and lifestyle photos as well as photos of some of the finished dishes. The photos in this book definitely scream summer!
Difficulty Level of Recipes: Easy. I wouldn't say these are super easy, basic recipes (although some are) but I think just about anyone could cook from this book, no matter your comfort level in the kitchen.
Availability of Ingredients: Easy to Medium. The majority of the ingredients should be easy to find at any grocery store. Most of the ingredients are fresh, which I love. The only reason I mention medium is that there are some proteins that I know aren't as easy to find at my grocery store, such as lamb chops, swordfish or lobster.
Overall thoughts: I'm loving this book! I already have several other recipes bookmarked to make this summer. I may even have to pick up her other books, now, as well!
Other recipes I want to try:
Triple Coconut Waffles
Vietnamese Beef and Noodle Salad Bowls
BLT Ranch Burgers
Adobo Chicken Tacos with Pico de Gallo and Grilled Corn
Best Barbecue Ribs Ever
West Virginia-Style Hot Dogs
Corn Pudding
Strawberry Brownie Cake
Kiwi Blueberry Pavlova
Light Lemony Berry Cheesecake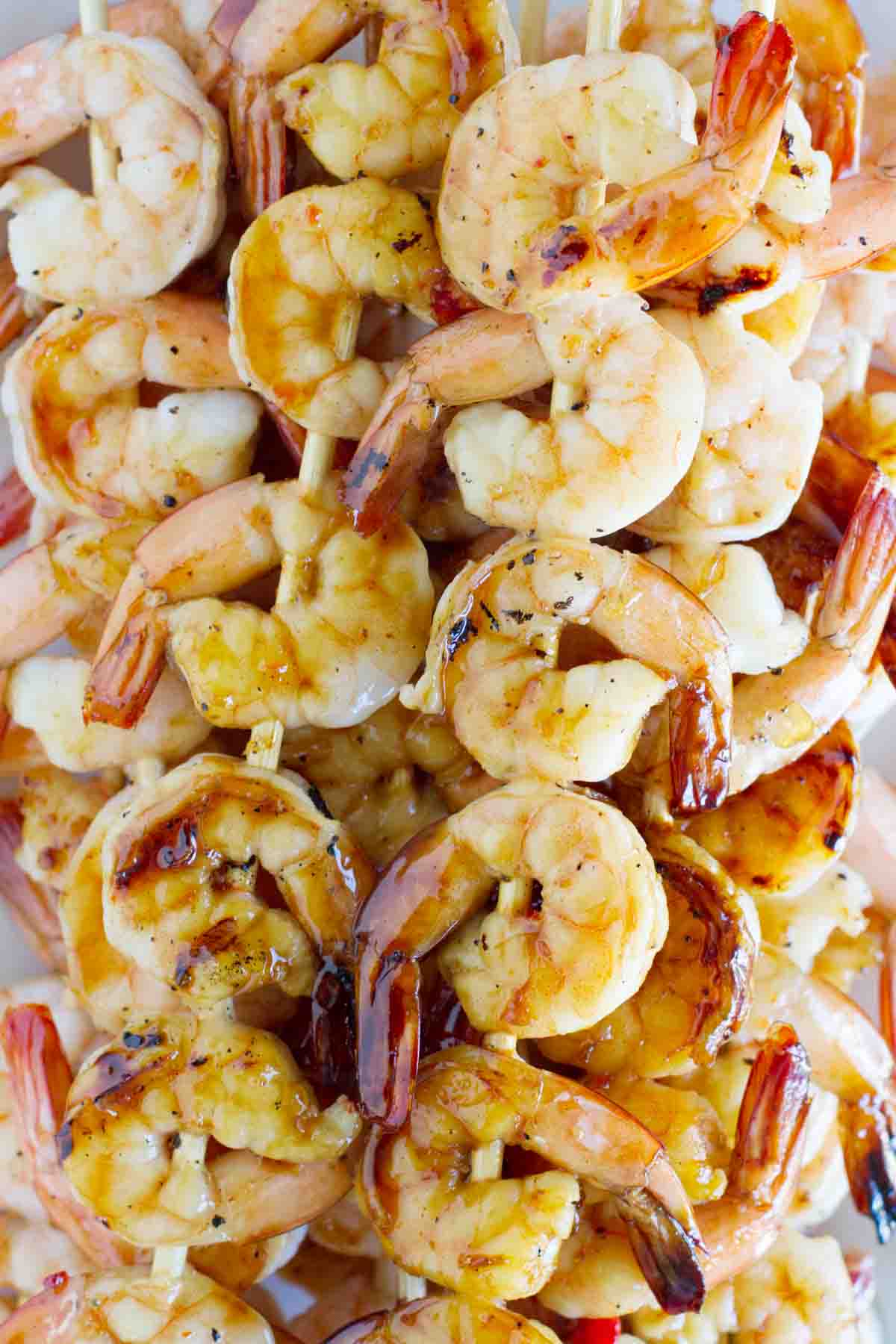 Aaaannndddddd… I'm at the grill again. Or actually, to be more specific, at the grill pan. You see, I've been grilling so much lately that I went out to fire up the grill and we were out of propane. I guess I really should keep an extra tank on hand. 🙁 But I was determined to try these Chili Honey Garlic Shrimp Kabobs, so I wasn't letting something as simple as no propane stop me.
First of all, let me just say – 6 ingredients. And that's if you count salt, pepper and olive oil as 3 of those ingredients. So if we call those freebies – this is really a 3 ingredient recipe. It doesn't get more simple than this. Grilled shrimp, basted with a simple honey and garlic chili sauce mixture. About 5 minutes on the grill is all it takes. The only part that really takes any time is threading the shrimp onto the skewers. This was such a super simple summer dinner. I simply served the shrimp with some naan bread and a side salad and dinner was done.
I would definitely recommend using an outdoor grill over a grill pan, simply because the honey starts to burn on the grill pan and it can get messy pretty quickly. I was smoking up the house as I made these!! #totallyworthit And the original recipe calls for chili garlic sauce, but I subbed in a sweet chili sauce instead, simply because it's what I had on hand and I though the chili garlic sauce would be too spicy for my little ones. Either should work well, though.
There were actually 4 kabob recipes and I'm hoping to try each of them this summer, since they all sound amazing. But we were totally won over by these Chili Honey Garlic Shrimp Kabobs!!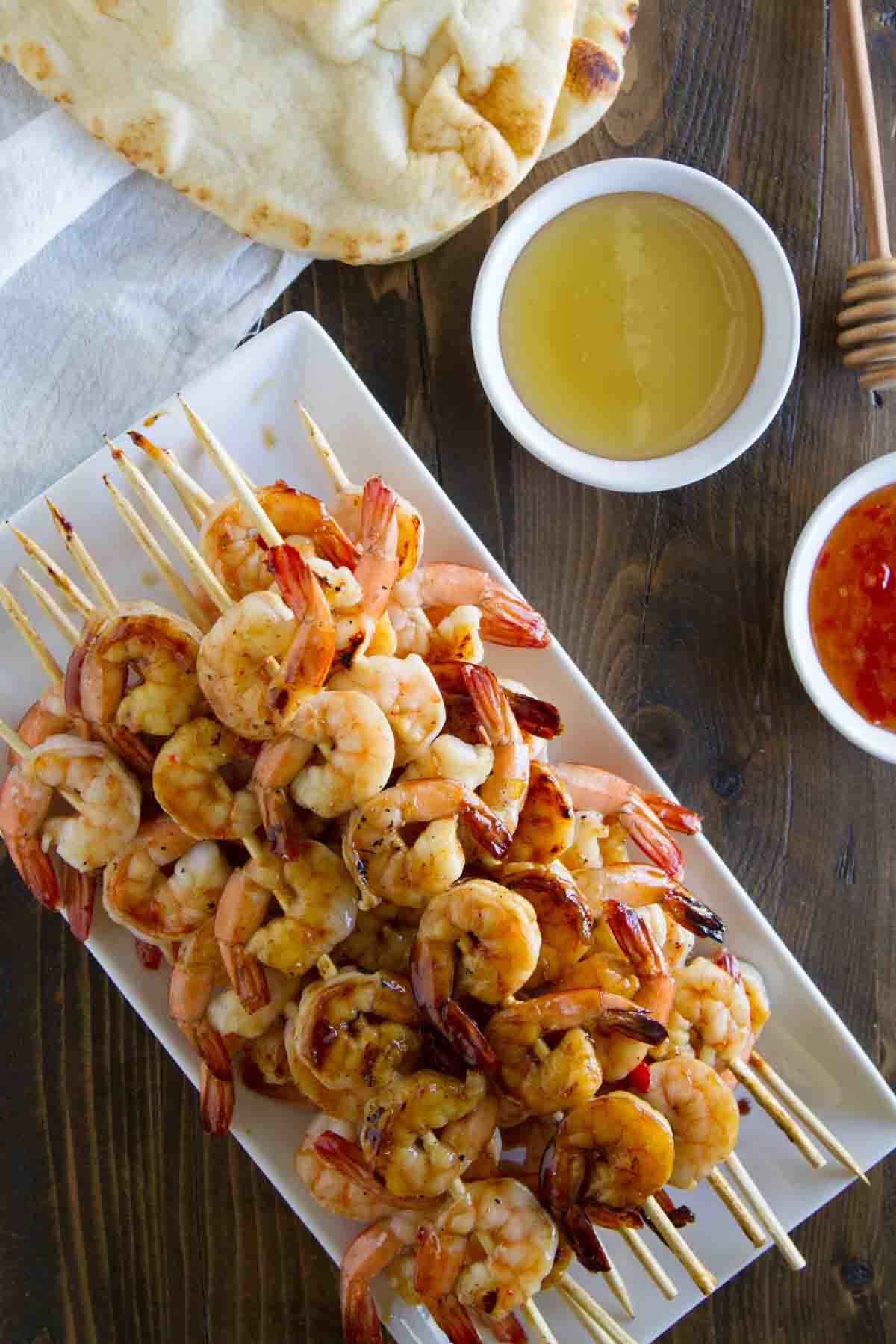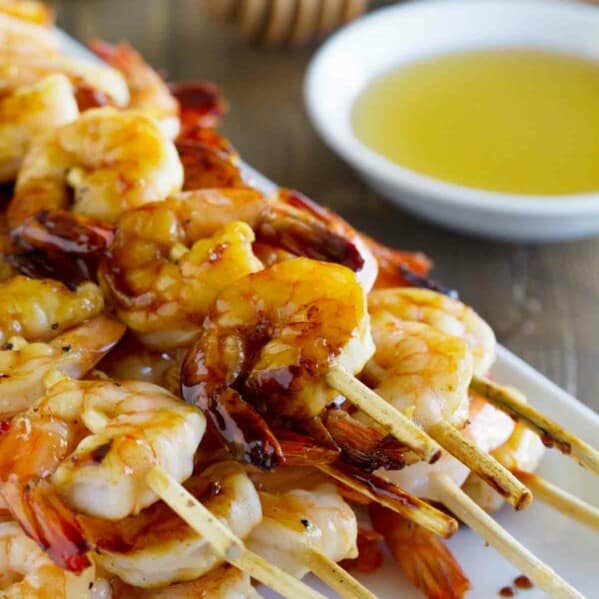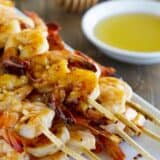 Chili Honey Garlic Shrimp Kabobs
---
Author:
Prep Time: 10 minutes
Cook Time: 5 minutes
Total Time: 15 minutes
Yield: 6 servings 1x
Category: Main Dish
Method: Grilled
Cuisine: American
Description
Looking for an easy summer dinner? Try these Chili Honey Garlic Shrimp Kabobs – the perfect recipe for a night at the grill.
---
Scale
Ingredients
2 lbs shrimp, peeled and deveined
salt and pepper
1 tablespoon olive oil
1/3 cup honey
2 tablespoons sweet Asian chili sauce*
---
Instructions
Soak wooden skewers in water for at least 30 minutes.
Preheat an outdoor grill to medium-high heat.
Thread the shrimp onto the skewers. Season both sides of the shrimp with salt and pepper, and then use a pastry brush to brush the shrimp with the oil.
In a small microwave-safe bowl, combine the honey and the chili sauce. Microwave for 20-30 seconds, until liquified, then whisk to combine.
Place the shrimp kebobs on the hot grill. Cover and cook for 2 minutes, then flip and brush with the honey mixture. Cook for one minute then flip again and brush the other side with the honey mixture. Cook for another minute, then flip one more time and brush the remaining honey mixture on the shrimp. Serve hot.
Recipe Notes:
*the original recipe calls for chili garlic sauce, but I used sweet chili sauce because it's what I had on hand, and I was serving this to my family and I was afraid the chili garlic sauce would be too spicy. Feel free to use either in this recipe.
slightly adapted from Endless Summer Cookbook