The perfect way to enjoy the end of summer fruit bounty, this Peach Melba Pie brings together peaches and raspberries in a must make summer pie.
Pie is a favorite in our house, especially a good fruit pie! If you are a pie lover, try this Cherry and Blueberry Cream Pie, Key Lime Pie, or Strawberry Crumble Pie.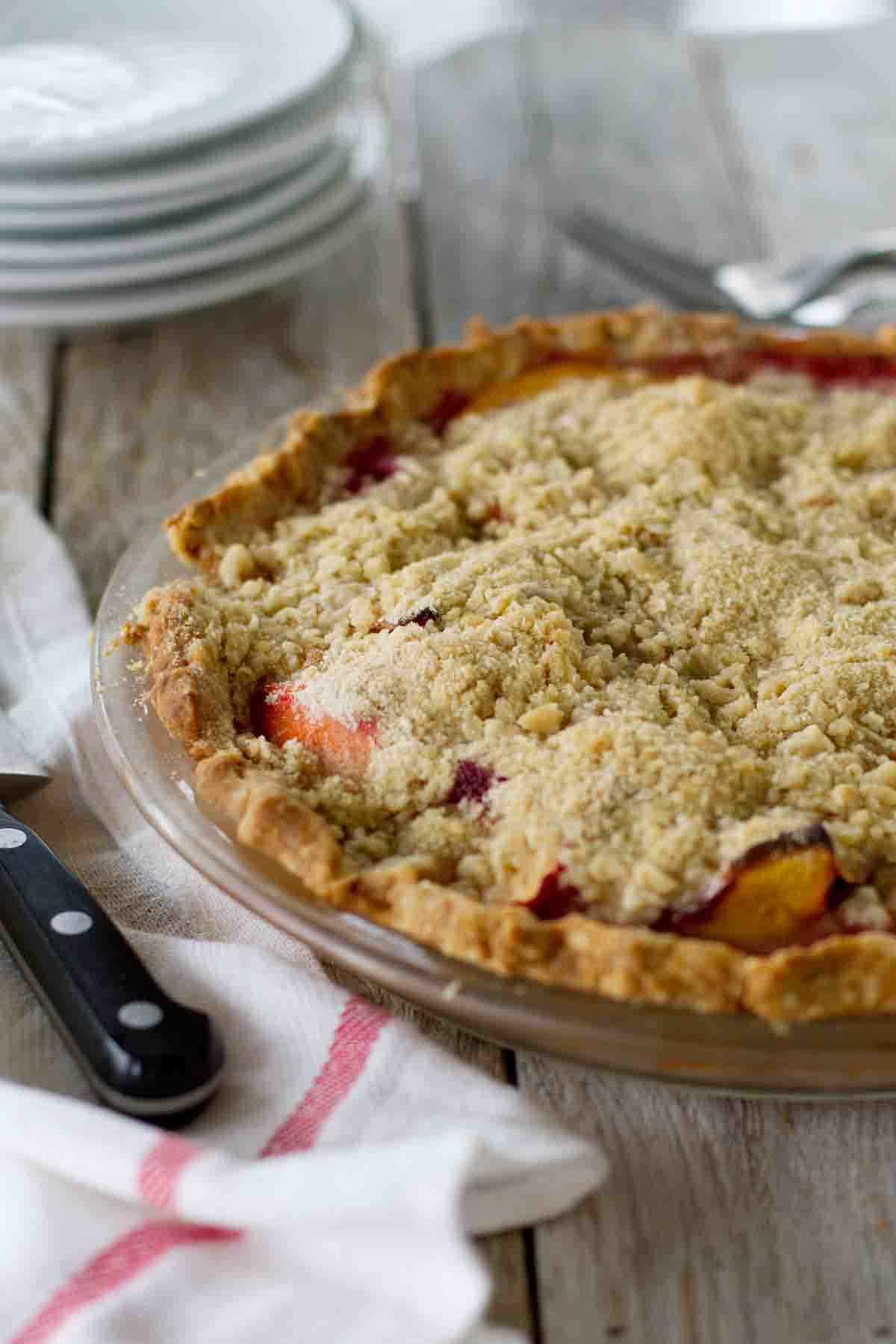 If you are one of the unfortunate people who live somewhere that peaches are no longer in season, please forgive me. Because I made a pie that you pretty much need to make right now.
Every year, I anxiously look forward to Utah's peach season. I've said it before, but seriously – Utah has some pretty amazing peaches. I find myself going to the farmer's market every Saturday morning with the sole intention to pick up some more peaches.
I've gone crazy with recipe development with peaches in years past. But this year, we've mostly stuck to just eating them.
Until this pie.
I actually ended up making this pie a couple of times this summer. The first time, my husband had requested a pie, so I bought my ingredients and then went to make this. Except I wasn't smart enough to check the peaches beforehand to see how ripe they were. And, well, they weren't completely ripe. I went to remove the skins, and no matter what I did, those things wouldn't come off. So I gave up. And I used the peaches anyway – skin and all.
The whole time this pie was baking, I kept saying that I had no idea if it was even going to work out. I had pretty much given up on it since I had such a hard time with the peaches. But luckily, I stuck with it. And we devoured this pie.
My husband actually said he liked it with the skins on the peaches. He liked that it gave them some texture. My mom and dad also shared the pie with us, and my dad kept telling me that I needed to make him another one of these pies – that's how much he liked it. And my dad is a pie connoisseur, so if he says it's good, I know it's good.
Even though there were no complaints with slightly under-ripe, unpeeled peaches, I knew I wanted to try it again with ripe, peeled peaches. So I did. And we devoured the second pie.
So yeah – either way, this Peach Melba Pie rocked. So get yourself to the farmer's market and buy some peaches before it's too late!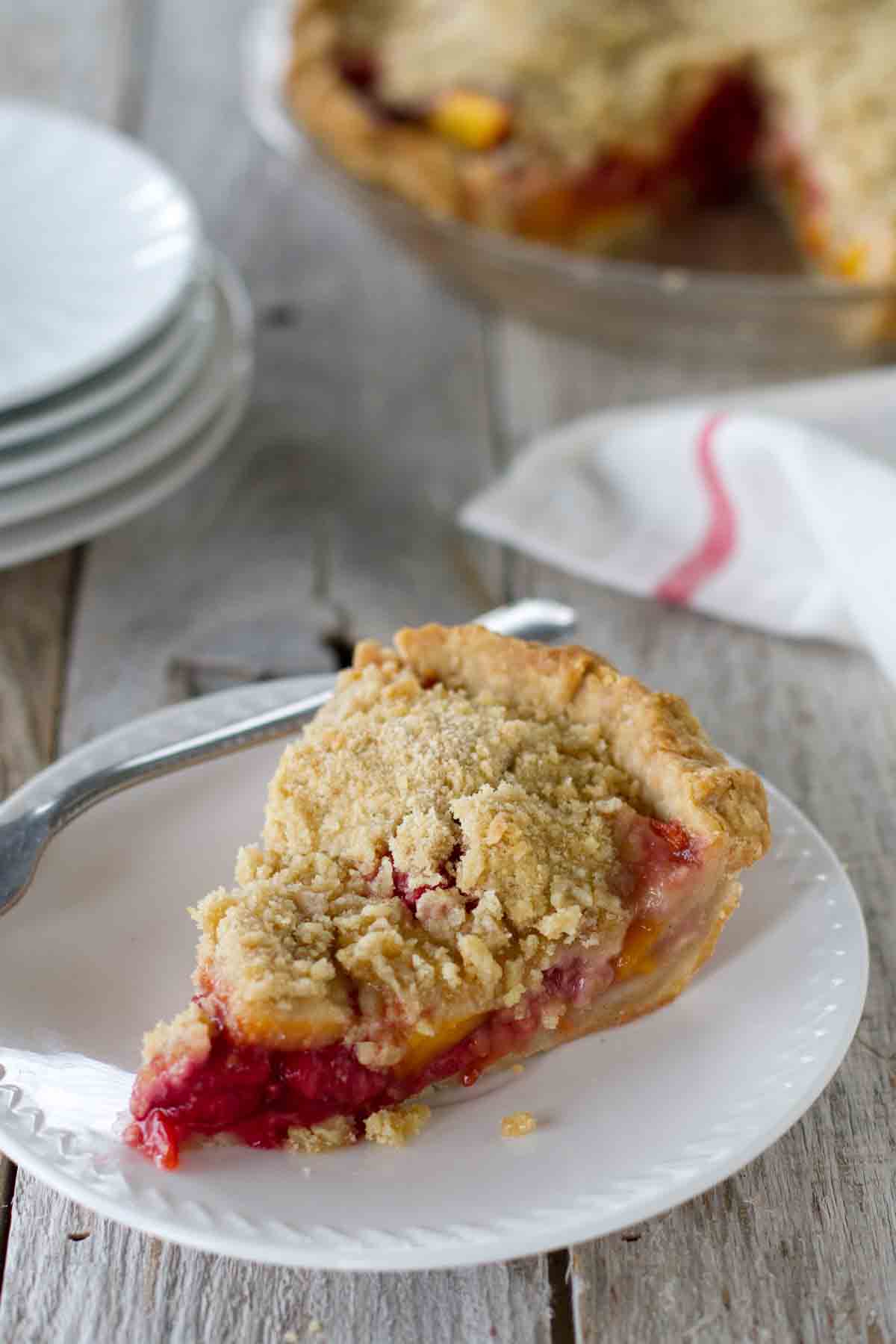 More Peach Favorites
Cast Iron Peach Crostata
Peaches and Cream Bars
Peach Napoleon with Sugared Wonton Wrappers
Peach Cupcakes
Sour Cream Peach Pie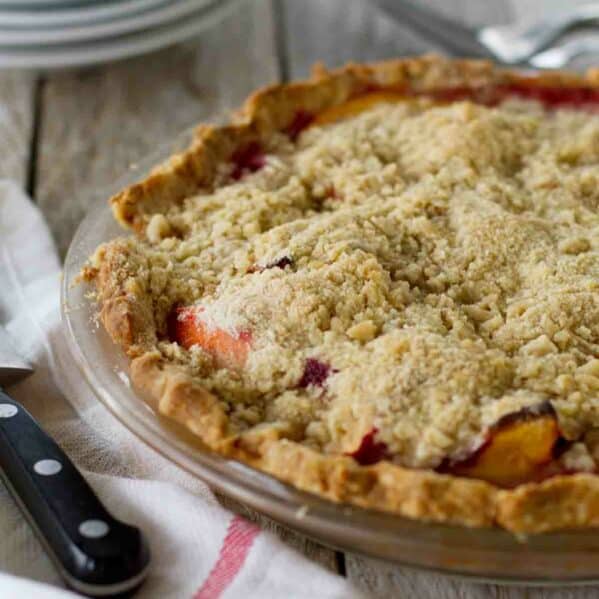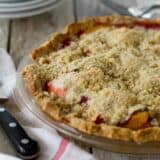 Peach Melba Pie
---
Author:
Prep Time: 20 minutes
Cook Time: 1 hour 5 minutes
Total Time: 2 hours 30 minutes
Yield: 8 servings 1x
Category: Dessert
Method: Baked
Cuisine: American
Description
The perfect way to enjoy the end of summer fruit bounty, this Peach Melba Pie brings together peaches and raspberries in a must-make summer pie.
---
Scale
Ingredients
For the pie:
1 single crust pie crust
1 1/2 pound fresh peaches, skins removed and sliced
6 oz fresh raspberries
1/2 cup sugar
2 tablespoons cornstarch
1 tablespoon lemon juice
1/4 teaspoon cinnamon
For the topping:
3/4 cup all-purpose flour
1/2 cup brown sugar
1/4 cup butter
---
Instructions
Preheat the oven to 350F. Roll out the pie crust and transfer to a 9-inch pie dish. Prick with a fork. Line the crust with foil, then weight down with pie weights or dried beans. Bake for 10 minutes. Remove the beans and the foil and cook the crust an additional 5 minutes. Remove from the oven and allow to cool.
Change the oven temperature to 375F.
In a bowl, combine the peaches, raspberries, sugar, cornstardh, lemon juice and cinnamon; mix gently. Pour into the pie crust. Bake for 35 minutes.
While the pie is baking, make the crumb topping. In another bowl, combine the flour, sugar and butter. Using a pastry cutter or a for, cut in the butter until it resembles coarse to fine crumbs. Sprinkle the pie with the crumb topping, then return to the oven to bake for an additional 12-15 minutes, or until golden brown. Cover the pie edges if needed to avoid over browning.
Let the pie cool completely before serving.
Keywords: peach melba pie