I know, I know – Cinco de Mayo was 2 days ago. But let's face it – my family just uses it as an excuse to get together and stuff ourselves with Mexican (and New Mexican!) food. And really, Mexican food can be enjoyed no matter what the date!!
Let me just explain that when my family gets together, there is always food involved. A lot of food. Way too much food. That's just the way it is. I'm very lucky to have a family that loves food and loves to cook. You should have seen how much food there was – the photo collage above doesn't even show all of it!! But that's what we do, and we sure do have a good time doing it. In fact, I'm still feeling the effects of over-eating today – 2 days later!!

There were enchiladas, taquitos, empanadas, lots of dips and salsas, and virgin margaritas. (Just to name some!) I wish I had all of the recipes for you, but all of this wonderful food was made by my sisters, SIL, and mom. My contribution to the party? Tres Leches Cake.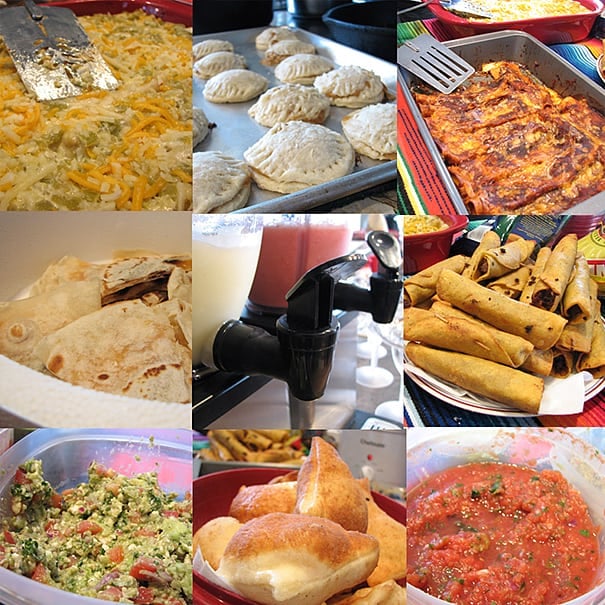 I had a tres leches cake a few weeks ago from a local restaurant. Ever since, I have been craving it. So when my sister said that we were getting together, I volunteered to make dessert, knowing that this would be the chance I needed to satisfy my craving. I looked through all of my cookbooks, only to come up with one recipe. I almost made it, but it was a little more complex and involved than I was feeling. So I went to the internet. I found a recipe on the Food Network website by Emeril. It was the kind of recipe I was looking for, so I decided to use it.
Sunday night I went to make the cake. All was going well, until I looked into the oven when the cake was almost finished baking. The cake had risen very high – I was afraid it was going to jump right out of the pan. It didn't, and when the cake was done, I took it out of the oven. After a few minutes, the cake had fallen in the middle. The middle was probably only about half an inch deep. So when I poured on the milk mixture, it completely turned to mush. I'm guessing I either over or under beat the eggs – I'm not quite sure.
I knew I couldn't bring that cake, and knowing that I was the only one bringing dessert, I decided to give it another try. This time, I went with a recipe from allrecipes. I hadn't make anything from allrecipes in awhile – I'm not sure why, because I usually have really good luck with the highly rated recipes. Well, with some small alterations, this cake was the one!! The cake baked up perfectly, and the milks were the perfect amount of moisture. After I made the whipped cream for the topping, I was afraid that it was going to be too sweet, but it actually worked very well with the cake.
I'm surprised we even got to the cake because we all had eaten so much already, but it received praises from my family. And it also received praises from me!
Tres Leches Cake
adapted from allrecipes
5 eggs
1 teaspoon baking powder
2 cups white sugar, divided
1/2 teaspoon vanilla extract
1 1/2 cups all-purpose flour
1/2 cup unsalted butter
1 (14 ounce) can sweetened condensed milk
1 (12 fluid ounce) can evaporated milk
2 1/2 cups heavy whipping cream, divided 1 teaspoon vanilla extract
Preheat oven to 350 degrees F (175 degrees C). Grease and flour one 9×13 inch baking pan.
Sift flour and baking powder together and set aside.
Cream butter and 1 cup of the sugar together until fluffy. Add eggs and 1/2 teaspoon of the vanilla extract, beat well.
Add the flour mixture to the butter mixture 2 tablespoons at a time, mix until well blended. Pour batter into prepared pan.
Bake at 350 degrees F (175 degrees C) for 30 minutes. Pierce cake several times with a fork.
Combine 1 cup of the cream, evaporated milk, and condensed milk together. Pour over the top of the cooled cake.
Refrigerate cake for at least 4 hours, but preferably overnight.
Whip whipping cream, 1 teaspoon vanilla, and 1 cup of the sugar together until thick. Spread over the top of cake. Keep cake refrigerated until serving.