Tres Leches Cake – a light and fluffy cake that is soaked with three milks and refrigerated until it is perfectly moist. Top the cake off with whipped cream for a delicious and irresistible cake.
This Tres Leches Cake is the perfect way to end off your Cinco de Mayo celebration! For your main meal, you should try these Smothered Chicken Burritos, these White Chicken Enchiladas, this Mexican Corn Salad, and wash it all down with Virgin Frozen Margaritas!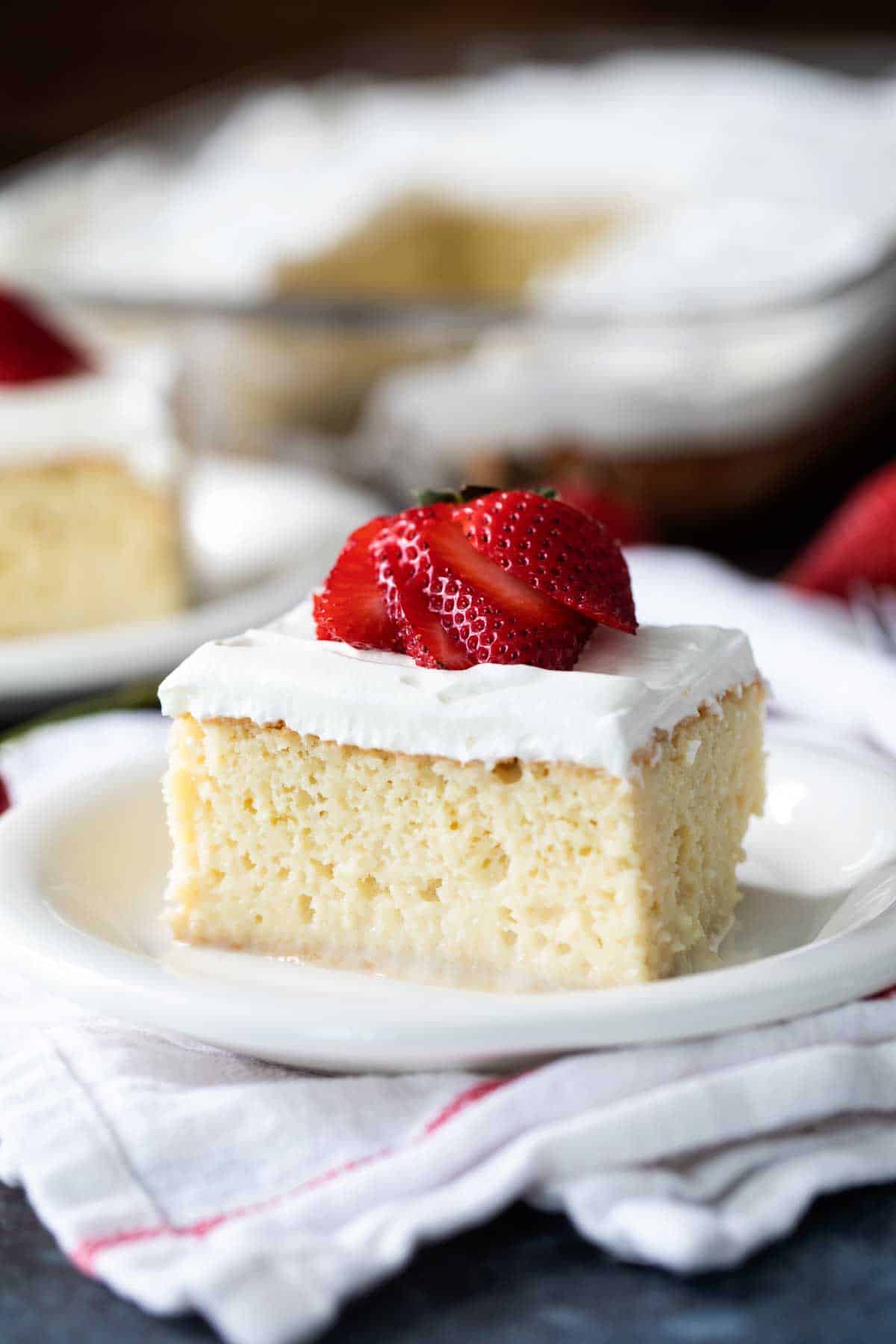 I will take any excuse at all to celebrate with Mexican food. Which is why I just really love Cinco de Mayo. Tacos, enchiladas, burritos – my stomach is in heaven. And let's not forget the desserts – Cherry Empanadas, Fried Ice Cream, Dulce de Leche Cheesecake – can you tell that this is one of my favorite foodie holidays?
And of course – Tres Leches Cake. This cake has been a favorite of mine for a long time now – not just on Cinco de Mayo. It starts with a homemade cake that gets soaked in three milks, making it the most delicious slice of cake ever. I'm totally a fan.
What is Tres Leches Cake?
From what I understand, the origin of Tres Leches Cake is not quite known. But it is a cake that has been popular all over Latin America.
Tres Leches Cake is a simple cake that is soaked in a mixture of 3 milks – aka tres leches. The milks soak into the cake, creating an ultra moist cake that is unique from any other cake out there. The majority of tres leches recipes use evaporated milk, sweetened condensed milk and cream, although it is not uncommon to see milk instead of cream. I have also seen recipes using coconut milk or even almond milk.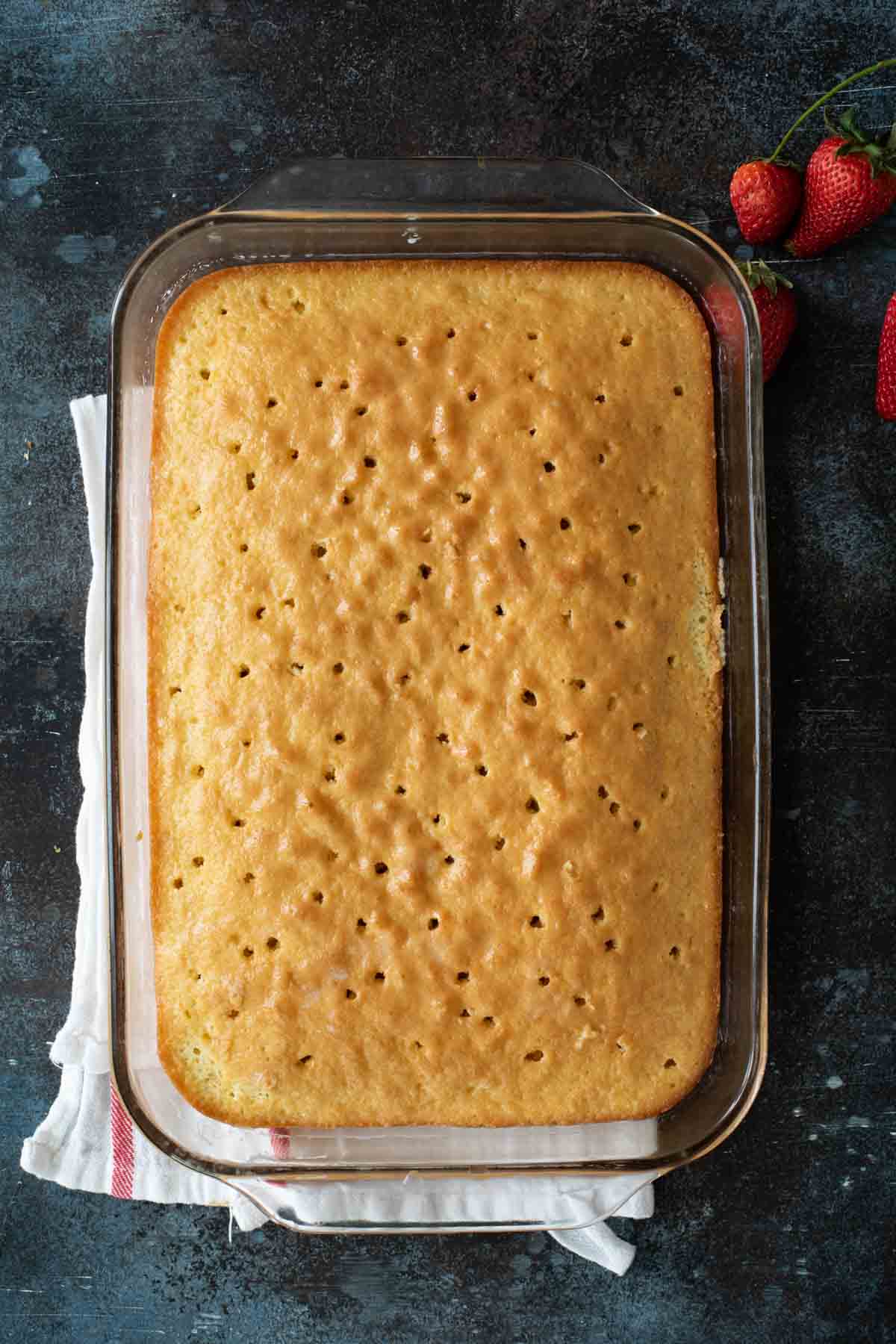 Ingredients
Flour: I use all-purpose flour.
Baking Powder: This will give the cake some of its lift. Make sure it is not expired.
Salt:
Butter: I use unsalted butter.
Sugar: You need regular granulated sugar. Part of this goes in the cake and some goes into the whipped cream topping.
Eggs: Yes, this calls for a lot of eggs. Your eggs are separated. The yolks go into the cake first, and the whites are whipped to make the cake nice and light – perfect for soaking in all the milk!
Vanilla: I always recommend real vanilla extract.
Sweetened Condensed Milk: This is milk #1. It is one regular sized 14 oz can.
Evaporated Milk: This is milk #2. It is usually located at the grocery store in the baking aisle next to the sweetened condensed milk.
Heavy Whipping Cream: And milk #3. You will need heavy whipping cream for both the cake and then some more to make the whipped cream topping.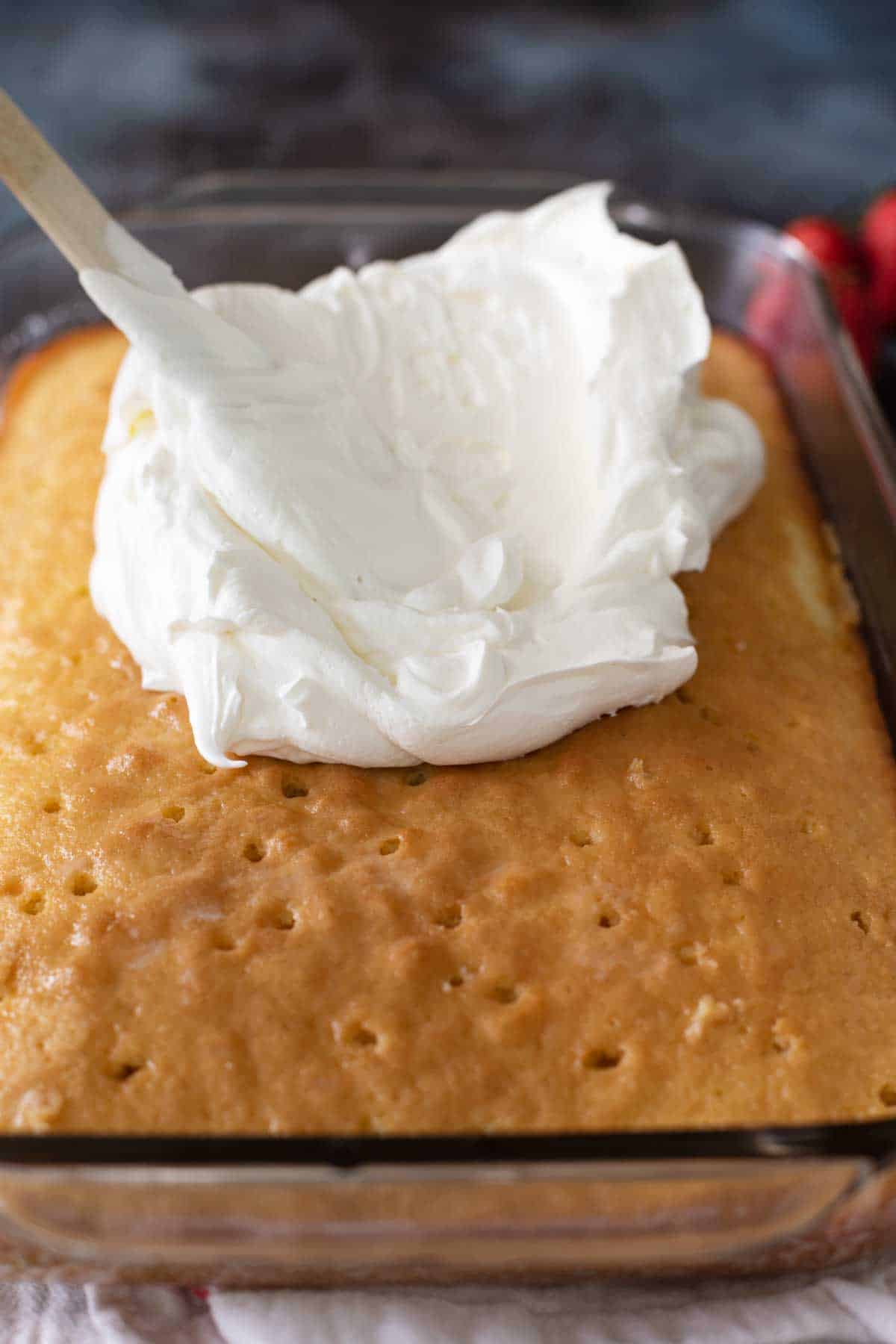 How to Make Tres Leches Cake
This cake may seem complicated, but it is really pretty simple. Here is how you make it.
Start by making the cake batter. Mix the dry ingredients together.
In a mixer, cream the butter and sugar. (I like to use my stand mixer, but a hand mixer will work, as well!) Add in vanilla, then your egg yolks. You want to have your eggs separated, as you are going to add the whites and the yolks at different points.
Mix the dry ingredients into the cake.
Beat the egg whites until they have stiff points.
Now, this next step might seem a little wrong when you are making it, just because the batter starts off very thick and stiff. You want to incorporate the egg whites, but you don't want to totally deflate them. So you'll start by adding about 1/4 of the egg whites. You don't have to be very light handed with this first addition – you just want to get the whites mixed in. This will lighten the batter just a bit. Repeat that step again, adding another 1/4 of the egg whites. Be a little more gentle this time. Continue gradually adding the egg whites, getting more gentle and trying not to lose all of the air from the whites.
Once everything is combined, pour the batter into a prepared baking dish and bake until a tester inserted in the center is clean.
Mix the milks together while the cake bakes.
When the cake is done, remove it from the oven and poke holes all over in it. Pour the milk mixture over the top of the hot cake.
Allow the cake to cool slightly, then refrigerate for at least 4 hours, but preferably overnight.
When you are ready to serve the cake, top it with homemade sweetened whipped cream.
Frequently Asked Questions
Does Tres Leches Cake Need to be Refrigerated?
This is one cake that you'll want to keep in the refrigerator. First of all, it just tastes really good when it's cold. But because of the milks and because of the whipped cream topping, you'll need to keep this cake in the refrigerator until you are ready to serve it. Keep any leftovers in the refrigerator as well. This cake will actually keep for a few days – I'd say 3-5 days – but just keep it covered and chilled.
Can you make cupcakes with this recipe?
I haven't tried making cupcakes with this specific recipe, but you can make them with this Tres Leches Cupcakes recipe.
Is Tres Leches Cake soggy?
If you've never had tres leches before, you might not know what to expect. This is definitely not like a regular cake. The cake acts like a sponge and soaks up all of the milks creating a very moist cake. It's not soggy, but it's not a cake you could pick up and eat with your hands. It's a very recognizable texture that you won't forget!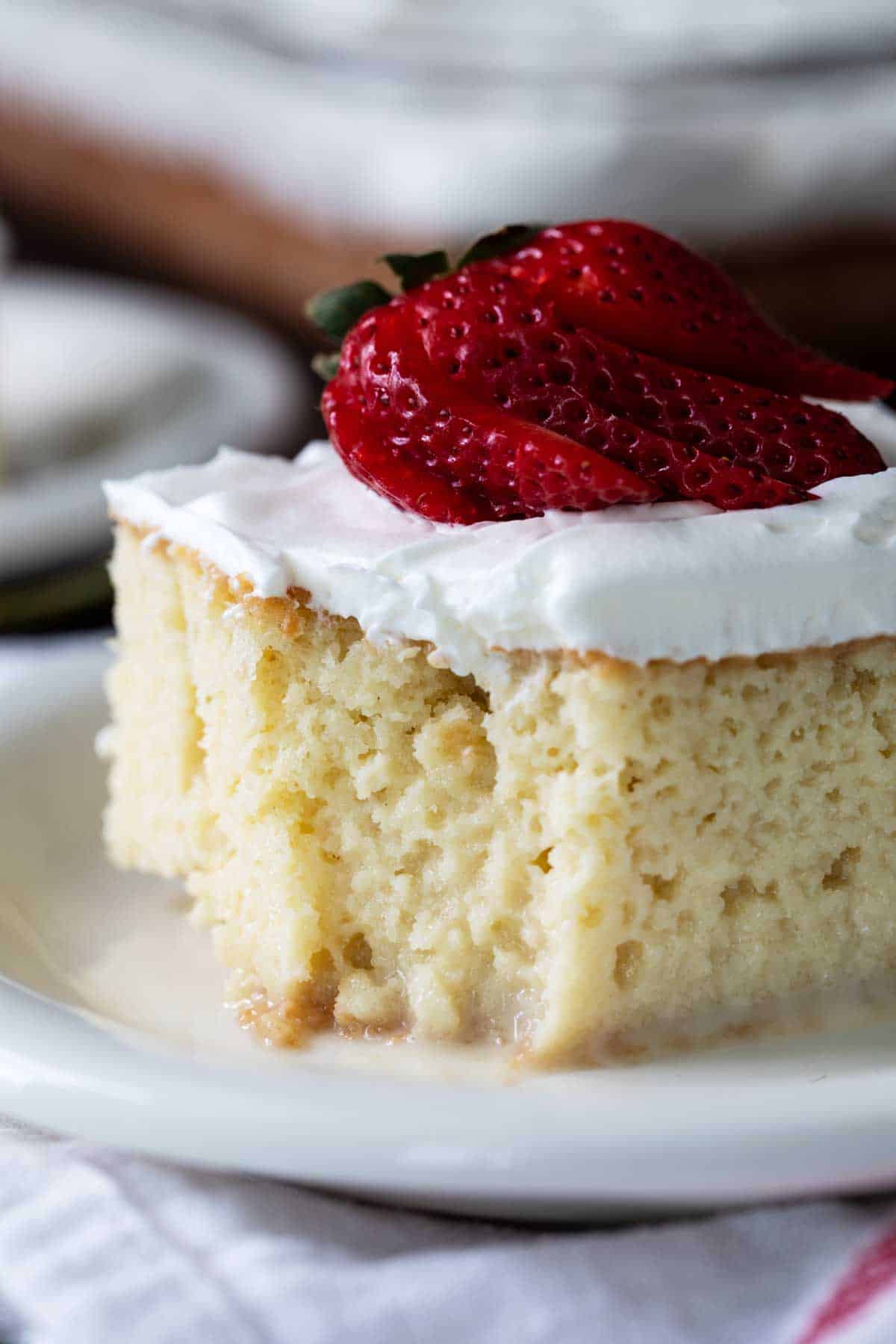 More Mexican Food Favorites
Queso Blanco Recipe
Grilled Mexican Corn on the Cob
Flour Tortilla Recipe
Cilantro Lime Rice
Chicken Chimichanga Recipe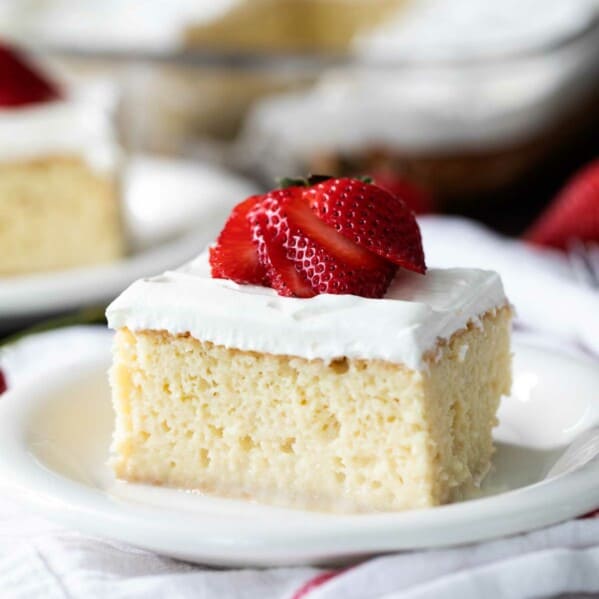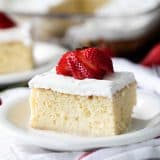 Tres Leches Cake
---
Author:
Prep Time: 20 minutes
Cook Time: 30 minutes
Total Time: 5 hours
Yield: 16 servings 1x
Category: Dessert
Method: Bake
Cuisine: Mexican
Description
Tres Leches Cake – a light and fluffy cake that is soaked with three milks and refrigerated until it is perfectly moist. Top the cake off with whipped cream for a delicious and irresistible cake.
---
Scale
Ingredients
Cake:
1 1/2 cups all-purpose flour
1 teaspoon baking powder
1/2 teaspoon salt
1/2 cup unsalted butter, at room temperature
1 cup granulated sugar
5 eggs, separated
1/2 teaspoon vanilla extract
1 (14 oz) can sweetened condensed milk
1 (12 oz) can evaporated milk
1 cup heavy whipping cream
Whipped Cream Topping:
1 1/2 cups heavy whipping cream
1 cup granulated sugar
---
Instructions
Preheat the oven to 350ºF. Spray a 9×13-inch baking dish with nonstick cooking spray.
In a bowl, whisk together the flour, baking powder and salt. Set aside.
Cream the butter and sugar together until light and fluffy. Add the egg yolks and vanilla and beat until combined.
Add the flour and mix just until combined.
Place the egg whites in a medium bowl and beat until stiff peaks form.
Using a spatula, stir about 1/4 of the egg whites into the batter. The batter is really thick, so it will be a little bit harder to stir the egg whites in. Take another 1/4 of the egg whites and start to gently fold them in. Once they are mostly combined, add another 1/4 of the egg whites, folding the in as gently as possible. Then fold in the remaining egg whites.
Pour the batter into the prepared pan. Use a spatula to spread the batter evenly.
Bake the cake in the preheated oven until a tester inserted in the middle comes out clean, about 30 minutes.
While the cake is baking, combine the sweetened condensed milk, evaporated milk and whipping cream.
As soon as you remove the cake from the oven, take a skewer or fork and pierce the cake generously. Slowly pour the milk mixture evenly over the top of the cake.
Refrigerate the cake at least 4 hours, but overnight is best.
Place the heavy whipping cream in a large bowl and beat until soft peaks start to form. Slowly start adding the sugar, beating until stiff peaks form. Spread the whipped cream over the top of the cake.
Keep the cake refrigerated until ready to serve.
Recipe Notes:
Nutrition information provided as an estimate only. Various brands and products can change the counts. Any nutritional information should only be used as a general guideline.
Nutrition
Serving Size: 1 slice
Calories: 463
Sugar: 46 g
Sodium: 168 mg
Fat: 25 g
Saturated Fat: 15 g
Unsaturated Fat: 8 g
Trans Fat: 0 g
Carbohydrates: 54 g
Fiber: 0 g
Protein: 7 g
Cholesterol: 140 mg
Keywords: tres leches cake