An easy, no-cook peanut sauce that is served over cold noodles for the perfect side dish or lunch!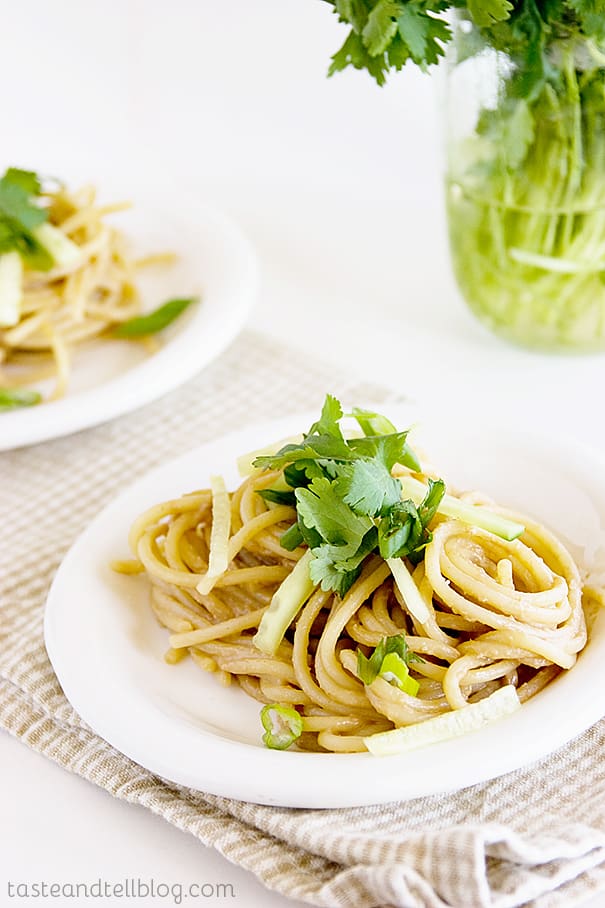 When I married my husband, I thought that I was so lucky because I thought he would eat pretty much anything. Being someone that likes to cook new things, I thought this was pretty cool that I didn't get complaints from my husband when dinnertime came around. But little by little, I have discovered that he is a little bit pickier than I originally thought. Thai food? Nope. Indian food? Nope. Any spicy food? Nope. All of a sudden, I've found that if I make any of these foods, I'll be eating alone and my husband will go hungry.
There is not a whole lot that is good about living apart from your spouse. I miss my husband tons, and can't wait until we live under the same roof again. But I have found one little silver lining – I get to cook whatever I want. I've seriously been going crazy. Peppermint desserts, Thai spiced soups, and yes – these noodles, covered in a peanut sauce. (Anything with a peanut sauce is also on his no-likey list.)
The minute I saw this recipe, I knew I wanted to make it. I thought – this would be the perfect dish to make up a big batch, and then have it on hand to eat for lunches or for a quick dinner. This was seriously easy to throw together. The sauce is best if it's made the night before, so make sure you plan ahead. But then cook up some noodles, throw it all together, and top with some fresh garnishes. And then eat until your little peanut-sauce-loving-heart is content. I even liked this one so much that, even once I'm back with my husband again, I'm sure I'll be making this dish and hording it all for myself!
**Changes I made – not many. The original recipe called for fresh noodles, and that kind of thing is hard to find where I live. I also totally forgot to add the sesame seeds, and I added in the cilantro – it wasn't in the original recipe. But I totally wouldn't skip it. Deliciousness. Throw in some cooked chicken for a little extra protien, or just eat it as is – preferrably straight from the bowl with a fork. Oh, and I would probably up the Sriracha next time – since I'm the only one eating it, I'd like it a bit spicier!  Mmmm… I'm already dreaming about eating this again!**
Recipe Rating: 9.5 out of 10
Like what you see here? Make sure you are following Taste and Tell for more great recipes and ideas!!

Facebook ** Pinterest ** Twitter ** Instagram ** Google+
or you can subscribe to my newsletter or Feedly or Bloglovin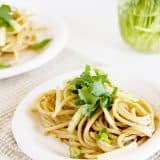 Noodles with BGSK Peanut Sauce
---
Prep Time: 10 minutes
Cook Time: 10 minutes
Total Time: 1 hour 30 minutes
Yield: 4 servings 1x
Description
An easy, no-cook peanut sauce that is served over cold noodles for the perfect side dish or lunch!
---
Scale
Ingredients
1 tablespoon diced peeled fresh ginger
1 clove garlic, coarsely chopped
1/4 cup sugar
1 teaspoon Sriracha
1/2 cup smooth peanut butter, preferably natural
1/4 cup soy sauce
2 tablespoons Worcestershire sauce
1 tablespoon rice vinegar
2 tablespooons toasted sesame oil
1/4 teaspoon salt (optional)
3/4 pound spaghetti noodles
1 tablespoon vegetable oil
1 bunch scallions, green parts only, chopped
1 cucumber, peeled, seeded and julienned
1 tablespoon sesame seeds, toasted
cilantro, for garnish
---
Instructions
In the bowl of a food processor or blender, combine the ginger, garlic, and sugar. Pulse until it forms a paste. Add in the Sriracha, peanut butter, soy sauce, Worcestershire sauce, rice vinegar and sesame oil; pulse to combine. Add 1/3 cup water and process until it is smooth. Taste and add salt, if needed. Refrigerate the sauce for at least 1 hour, or overnight. If the sauce becomes too thick, add a few tablespoons of boiling water to thin it out.
When you are ready to prepare the dish, bring a large pot of salted water to a boil and cook the noodles until al dente. Drain and rinse with cold water. In a large bowl, toss the noodles with the vegetable oil. Add the peanut sauce to the noodles and toss to coat.
Serve topped with the scallions, cucumber, and toasted sesame seeds.
————————
slightly adapted from In the Small Kitchen
—————–
Here is some more peanut sauce love:
Butternut Squash Noodles with Peanut Curry Sauce from Cara's Cravings
Chicken with Coconut-Lime Peanut Sauce from Family Fresh Cooking
Whole Wheat Noodles with Peanut Sauce and Vegetables from Two Peas and Their Pod
Chicken Satay and Coconut Peanut Sauce from Savory Sweet Life
Turkey Burgers with Peanut Sauce from Aggie's Kitchen