Red velvet cake meets tres leches cake in this festive dessert.
I will totally admit that sometimes I start to get a too comfortable in the kitchen. Thinking that I can do no wrong. That I really know what I'm doing. After all, it is what I do for a living. But almost always, when I feel like I have it all together, I have a recipe (or two) that just don't work out like I want it to. This year, red velvet week has done that to me.
This cake was actually a total failure the first time I made it. Well, I shouldn't say total failure, because it was still totally edible, but it wasn't what I was going for the first time around. I thought I'd get all creative and try to make a cheesecake-ish filling that would soak into the cake. Only it didn't soak. It just went around the edges of the cake, and the cake itself was completely dry. So I ended up going with what I knew would work, and guess what? It was just perfect!!
I'm a huge fan of tres leches cake, so I knew I'd love a red velvet version. And while a traditional tres leches cake has a whipped cream topping, I wanted to add in the cheesecake element somewhere, so the topping on this is a little heavier, but still extremely delicious. And since this starts off with a boxed cake mix, it's super easy to make.
I think this cake would be the perfect Valentine's Day dessert!!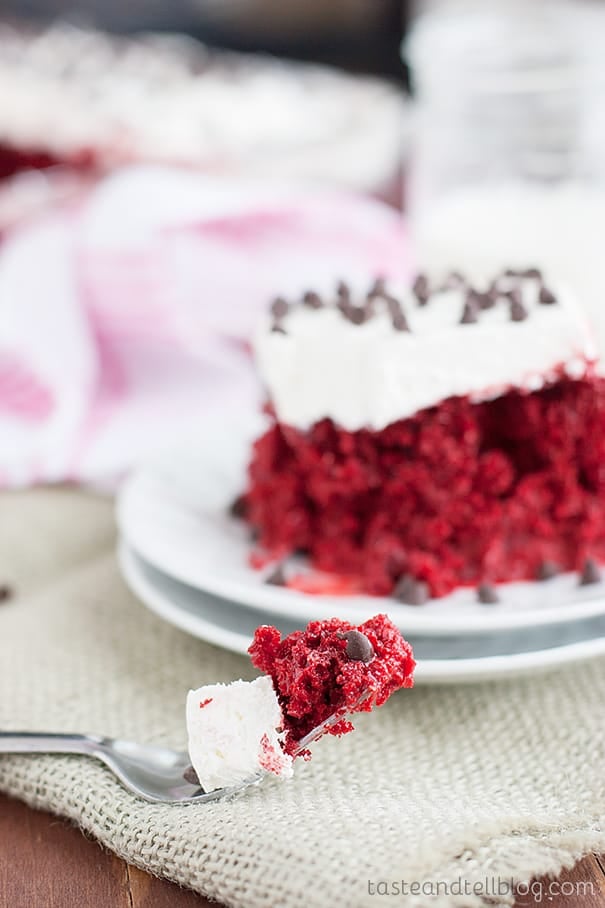 Like what you see here? Make sure you are following Taste and Tell for more great recipes and ideas!!

Facebook ** Pinterest ** Twitter ** Instagram ** Google+
or you can subscribe to my newsletter or Feedly or Bloglovin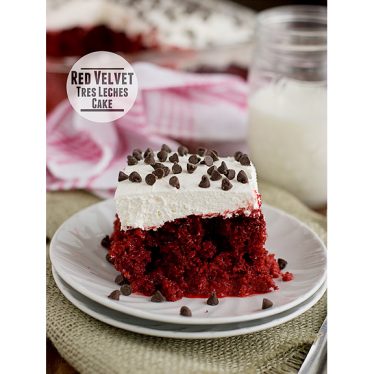 Red Velvet Tres Leches Cake
---
Prep Time: 15 minutes
Cook Time: 40 minutes
Total Time: 1 hour 30 minutes
Yield: 12 servings 1x
Description
Red velvet cake meets tres leches cake in this festive dessert.
---
Scale
Ingredients
1 (18.25 oz) Red Velvet Cake mix, plus ingredients called for on the box
1 (12 oz) can evaporated milk
1 (14 oz) can sweetened condensed milk
1/2 cup cream
1 (16 oz) container nondairy topping (such as Cool Whip)
1 (8 oz) package cream cheese, softened
1/2 cup powdered sugar
mini chocolate chips, optional
---
Instructions
Prepare cake mix according to the box directions.
In a bowl, combine the evaporated milk, sweetened condensed milk and cream. While the cake is still warm, poke holes through the cake. Pour the milk mixture over the cake and allow the liquid to soak into the cake. Cool completely.
To prepare the frosting, beat together the topping, cream cheese and powdered sugar. Spread over the top of the cooled cake. Sprinkle with mini chocolate chips, if desired.
More versions of the red velvet cake: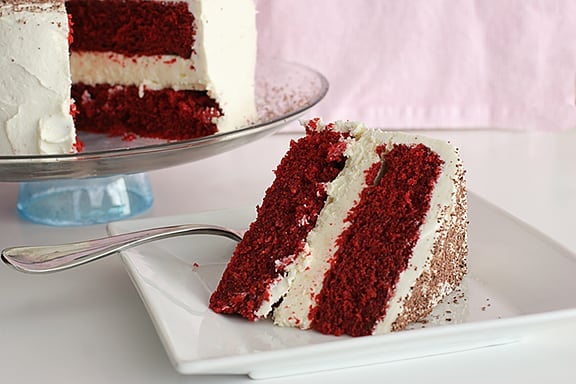 Red Velvet Cheesecake Cake
Red Velvet and Strawberry Trifles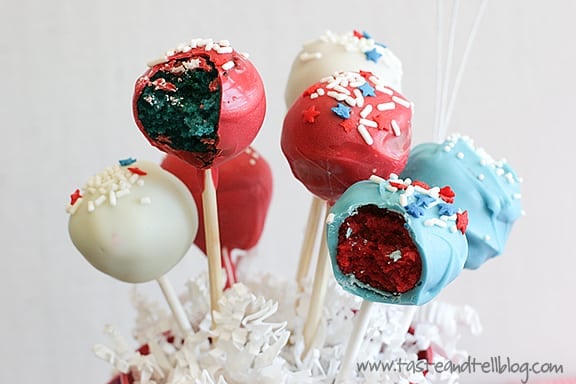 Red and Blue Velvet Cake Pops
Around the web:
Heritage Red Velvet Cake from Sprinkle Bakes
Mini Red Velvet Cheesecakes from Baked by Rachel
Red Velvet Icebox Cakes from SugarHero