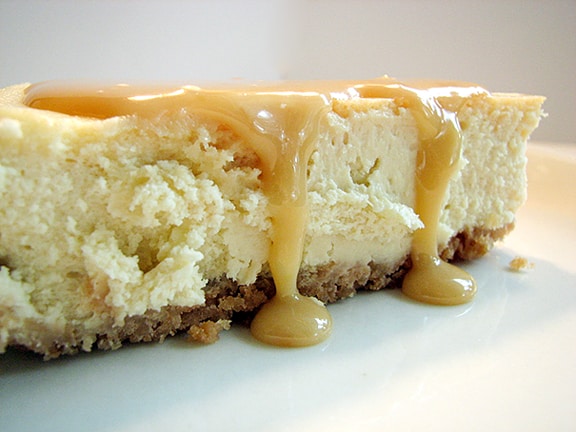 It's time for dessert!! When I decided to go for a Cinco de Mayo theme for dinner, I couldn't resist doing a Mexican-themed dessert. I was tempted to make Margarita Cupcakes, but opted for a Dulce de Leche Cheesecake instead. I joined the food-blogging world just as people were posting their cheesecake recipes for HHDD#12 – Cheesecakes. Since then, I have been craving cheesecake. I have not made a cheesecake in years, but both Josh and I love them. We make sure to visit the Cheesecake Factory whenever we are in a town that has one. So I did some research and came up with a recipe to try.
When I was in Jr. High, my Spanish teacher made us Dulce de Leche by boiling a can of sweetened condensed milk. While searching for a recipe, I came across this method quite often. Many times it was criticized – saying that this is not the actual way to make Dulce de Leche, but my Spanish teacher had lived in South America for a number of years, so I believe that even though it may not be the authentic way to make it, it still works. Plus, I'm not even sure I really like authentic Dulce de Leche. A few years back, a co-worker bought me a birthday cake from a local Argentinian bakery that was flavored Dulce de Leche. While I was curtious and ate a piece, I really did not like it all. In fact, I think I dumped the rest of the piece once he left my office. Anyhow, I really liked how this cheesecake turned out. It is not light, fluffy and big like most cheesecakes I have made, but my husband had 2 slices when we first tried it, and I wanted 2 (or maybe 3) slices. In fact, we still have some in the fridge that is calling my name right now….
Dulce de Leche Cheesecake
Crust:
1 1/2 c crushed vanilla wafers
4 T melted butter
Filling:
24 oz cream cheese
1 c sugar
2 T all purpose flour
2 t vanilla
3 eggs
1/3 c milk
1/2 c Dulce de Leche (see recipe below)
For Serving:
Extra Dulce de Leche
Instructions:
1. Preheat oven to 400°F.
2. Mix crust ingredients together, and press into the bottom of a lightly buttered 9-inch springform pan. Place pan on a baking sheet and bake for 4 to 6 minutes, until it is lightly browned. Remove from oven and cool to room temperature.
3. Reset oven temperature to 325°F.
4. With an electric mixer beat cream cheese, sugar and flour together until well mixed and smooth. Add vanilla and beat until smooth. Add eggs one at a time, beating well after each addition. Beat until smooth. Add milk and mix until well blended.
5. Measure 1/2 cup of the cheesecake batter and pour into a small bowl. Add Dulce de Leche sauce and stir until well combined.
6. Pour plain batter over crust. Top with Dulce de leche batter by placing rounded spoonfuls over the cheesecake batter and gently swirl into plain batter with the tip of knife or spatula.
7. Bake in preheated 325°F (160°C) oven for 45-55 minutes or until center is almost set. Remove from oven and gently run metal spatula around rim of pan to loosen cheesecake (this helps prevent cracking). Let cool 20-25 minutes before covering and placing in the refrigerator. Refrigerate 4 to 6 hours or overnight before serving. If desired, serve each slice drizzled with a little bit of dulce de leche sauce, or pass around a bowl of dulce de leche sauce for guest's to help themselves. Makes 16 servings.
Dulce de Leche
1 can sweetened condensed milk
There are several ways you can do this. I removed the label, poked a couple of holes in the top of the can and put the can in boiling water for 1 1/2 to 2 hours. Next time, I would open the can and cook in a double boiler. Mine cooked more at the bottom and not enough at the top, so I ended up microwaving it to get it to the right consistency. With the double boiler, you would be able to stir it, and I think the consistency would be much better. You could also just microwave it from the beginning, cooking on 50% power and stirring every minute or so. You can tell it is ready when it thickens and becomes a tan or light brown color.