The classic Mexican dessert – Tres Leches Cake – goes single sized in these Tres Leches Cupcakes that would be perfect for any Cinco de Mayo celebration.
I love a good Tres Leches Cake, but having it in cupcake form is just so cute! And to change things up, you can also try this Red Velvet Tres Leches Cake.
A Great Cinco de Mayo Dessert
I'm making sure that you have dessert covered this Cinco de Mayo. First there was the Fried Ice Cream Recipe. And now, today, we have tres leches. But not just any tres leches – Tres Leches Cupcakes.
If you are a fan of tres leches cake, you are going to love these Tres Leches Cupcakes. A light, airy cupcake is poked and then soaked with a three milk mixture. Top it off with fresh whipped cream, a bit of cinnamon, and a sliced strawberry.
I want to pretend that every day is Cinco de Mayo so we will have the excuse to make these! (But ps – they are good any day – not just for Cinco de Mayo!)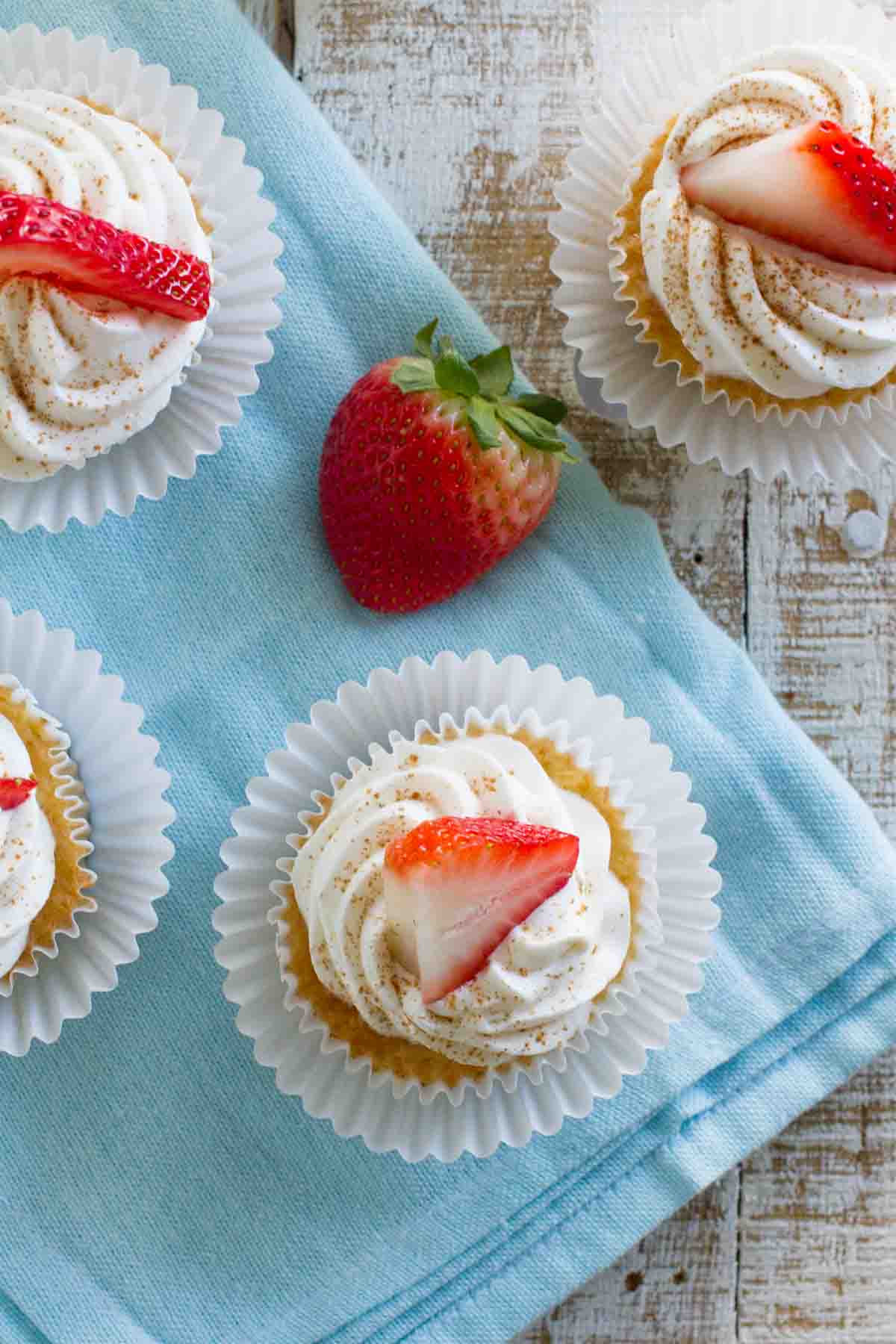 Tips and Tricks
The original recipe does call for the cupcakes to be made in the foil lined cupcake liners, but when I went to make them this time, I didn't have any. So I walked on the wild side and just used regular paper liners. There were some that got a little messy when I got a little messy adding the milk mixture, but the paper liners held up well. I did add an additional liner before serving them, though, just in case the wrappers were a little fragile from the milk mixture.
You can make these cupcakes a day in advance and store them in the refrigerator. I would wait until you are ready to serve to add the whipped cream to the top, though.
I love the addition of the cinnamon and the strawberry slice, but feel free to leave those off.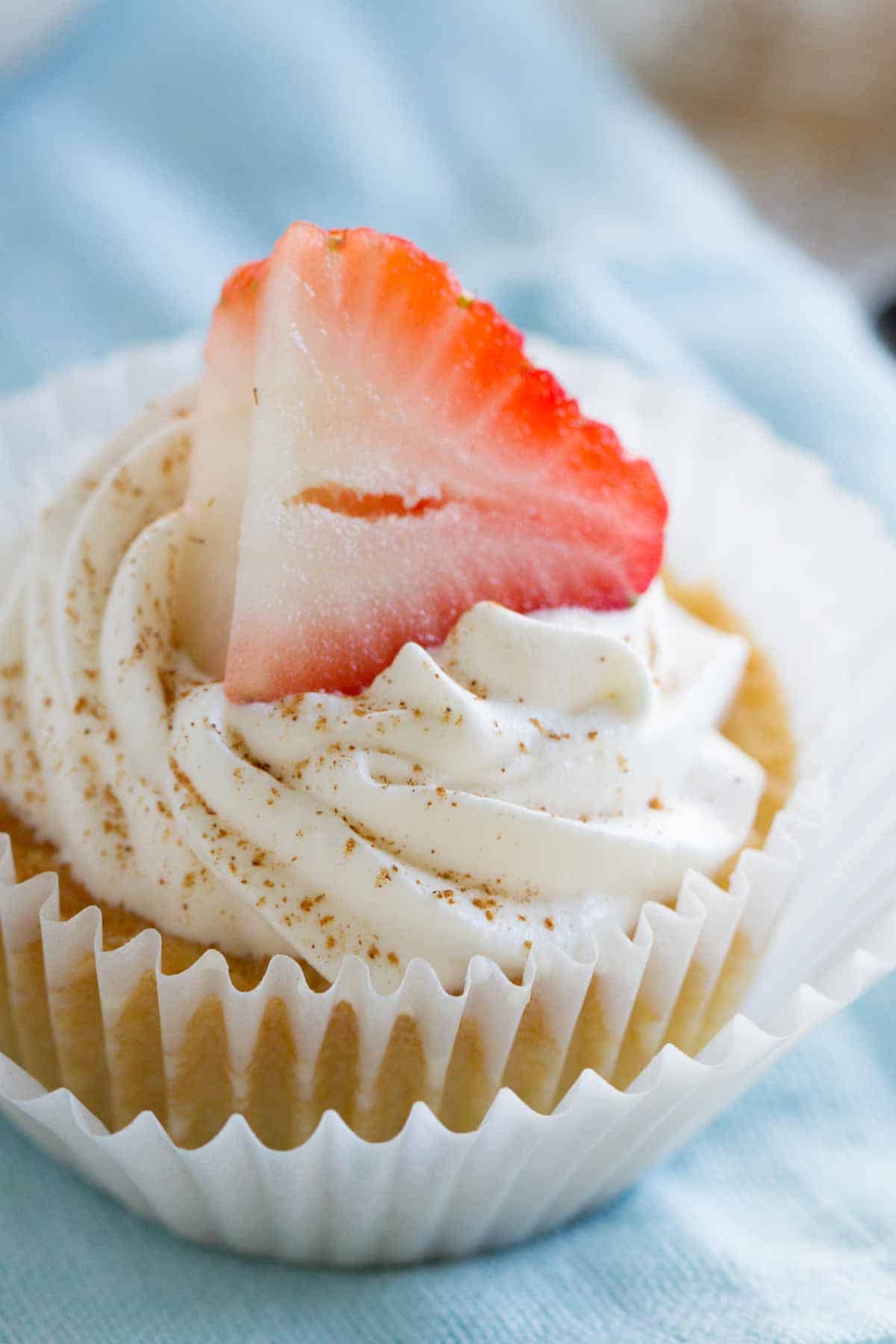 More Favorite Cupcakes
Chai Spiced Cupcakes
Cupcakes with Lemon Buttercream
Chocolate Cupcakes with Raspberry Filling
Almond Cupcakes with Fresh Cherry Frosting
Coconut Cupcakes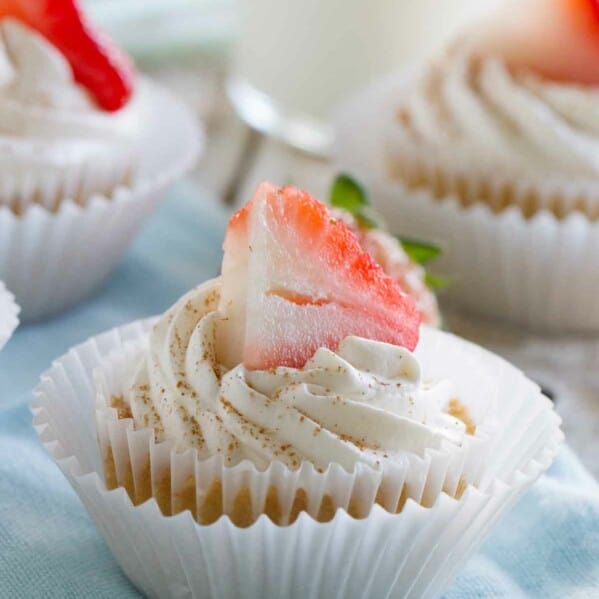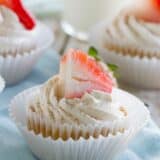 Tres Leches Cupcakes
---
Author:
Prep Time: 20 minutes
Cook Time: 25 minutes
Total Time: 1 hour 30 minutes
Yield: 24 cupcakes 1x
Category: Dessert
Method: Baked
Cuisine: Mexican
Description
The classic Mexican dessert- Tres Leches Cake – goes single sized in these Tres Leches Cupcakes that would be perfect for any Cinco de Mayo celebration.
---
Scale
Ingredients
6 large eggs, separated
1/4 teaspoon baking soda
1/4 teaspoon salt
1 cup white sugar
1/2 cup butter, melted and cooled
1 cup all-purpose flour
1 can (14 ounces) sweetened condensed milk
1 can (12 ounces) evaporated milk
2 3/4 cup heavy whipping cream, divided
6 tablespoons powdered sugar
cinnamon
strawberries
---
Instructions
Preheat the oven to 325ºF. Line 24 muffin tins with foil lined cupcake liners.
Combine the egg whites, baking soda and salt and whip until soft peaks form. Add in the yolks and the sugar, and mix until combined. Gently fold in the melted butter. Add the flour in 4 batches, folding in after each addition. Divide the batter between the prepared muffin tins.
Bake the cupcakes in the oven until lightly browned, and a tester inserted in the middle comes out clean, about 25 minutes. Remove the cupcakes from the oven, and using a skewer or fork, poke holes all over the top of the cupcakes.
While the cupcakes are baking, combine the sweetened condensed milk, evaporated milk and 3/4 cup cream.
While the cupcakes are still a little warm, spoon the milk mixture over the tops of the cupcakes. (I like to go through and ladle over one spoonful of milk to each cupcake. When you are done, go back to the first cupcake and start again until all of the milk mixture has been absorbed.)
Allow the cupcakes to full absorb the mixture, at least 30 minutes, but preferably overnight. If letting the cupcakes sit for longer than 30 minutes, place them in the refrigerator.
To frost the cupcakes, beat the remaining 2 cups of heavy cream, slowly adding the powdered sugar. Beat until the whipped cream holds stiff peaks.
Pipe the frosting onto the cupcakes, then sprinkle lightly with cinnamon and serve with a slice of strawberry on top.
Keywords: tres leches cupcakes