Finish off your Cinco de Mayo meal with this Fried Ice Cream Recipe that is served in cinnamon and sugar coated tortilla bowls. Crunchy on the outside, creamy on the inside – this is a dessert you won't be able to stop talking about.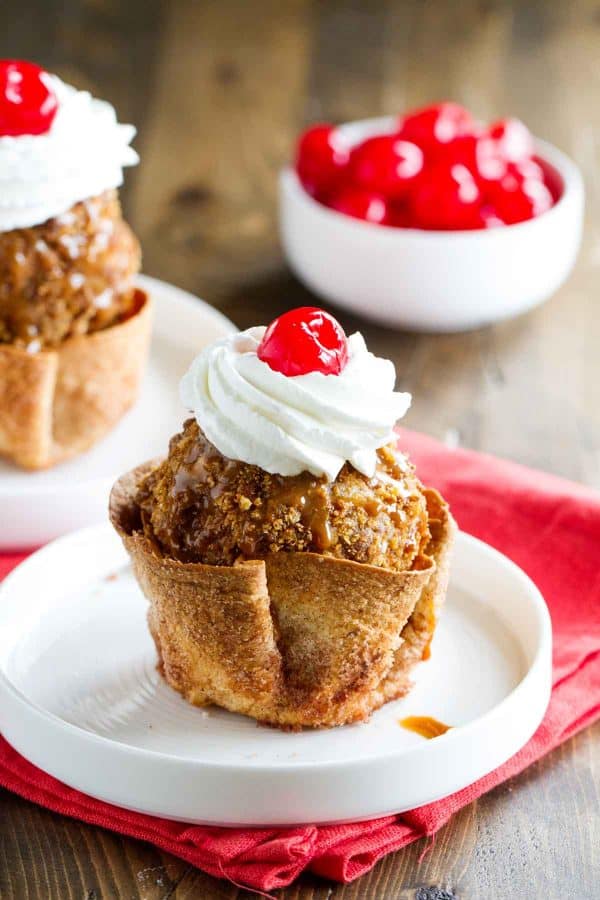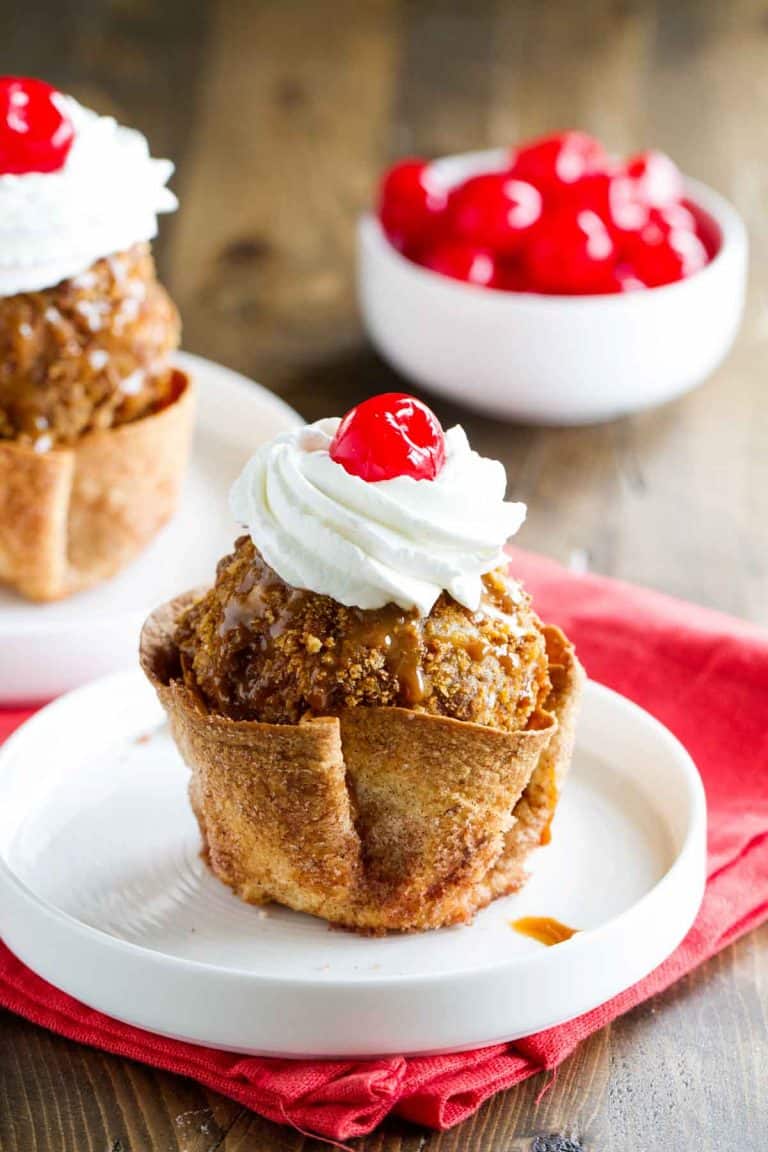 I will be the first to admit that I will celebrate a holiday purely for the food. Like Cinco de Mayo. My brother in law spent some time in Mexico, and always laughs at my family when we throw a big fiesta for Cinco de Mayo, saying that there really is only one small part of Mexico that even celebrates the holiday.
But let's face it – we all know that Cinco de Mayo is just our American way of justifying eating tacos and enchiladas and tres leches cake all day long, right? Like we really need an excuse to stuff our faces with chips and salsa, but hey – I'll take any excuse I can.
Like I said – I'm totally ok with celebrating just for the food. 🙂
And it's no secret that I'm obsessed with Mexican food. So I'm teaming up with Old El Paso again to bring you the perfect dessert to finish off your Mexican meal – this fried ice cream recipe!!
I actually remember the first time I had fried ice cream – at a Mexican restaurant when I was probably 19 or 20. We had ordered one to share for dessert, but after my first bite, I was secretly wishing that I would have ordered my own. Who would have ever thought to coat a ball of ice cream and deep fry it?
Ever since then, I have been obsessed with it. A few years ago, I made a Faux Fried Ice Cream, but let's face it – there are occasions when you just need to go all out. And Cinco de Mayo is one of them.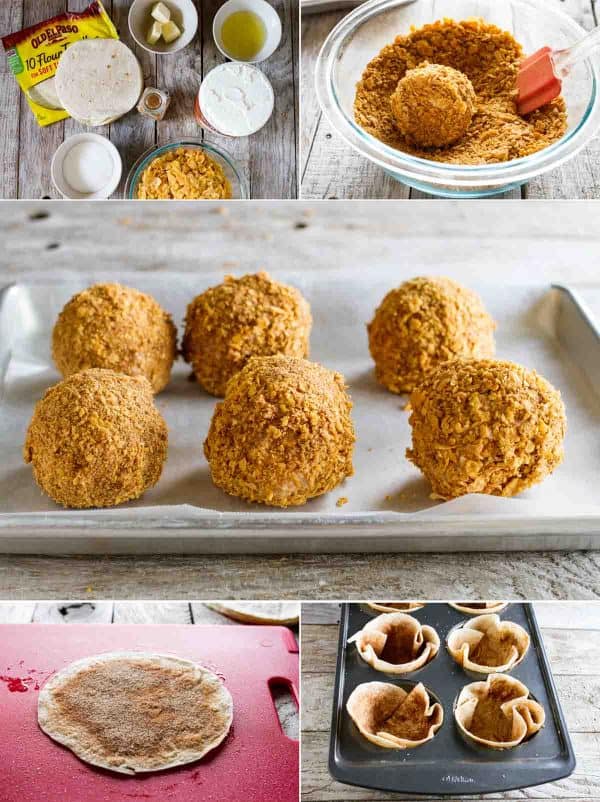 How to make Fried Ice Cream
Even if you don't normally fry things at home, this is a fun one to try!
I have 2 hints to make this recipe the best way:
1 – make sure the ice cream is completely coated. You'll want to make the ice cream scoops ahead of time, then freeze them until they are solid. Then combine your crushed cornflakes with some cinnamon. Lightly whisk some egg whites in another bowl. Take one of the ice cream scoops and dip it into the egg whites, then coat with the cornflakes. But to make sure you completely coat them, you want to dip into the egg whites again and then a second layer of the cornflakes. Place this on a baking sheet, and once you have repeated with all the ice cream, return these to the freezer to completely set up.
2 – make sure the ice cream is completely solid before frying. If your freezer keeps things kind of soft, this might be an occasion worth turning the temperature down a few degrees. I like to freeze the ice cream overnight at this point to make sure it is completely frozen.
When the ice cream is frozen, it only takes about 10-15 seconds in the hot oil to fry the outside of the ice cream. I know frying sometimes seems intimidating, but this is actually quite easy!
How to Make Cinnamon Sugar Tortilla Bowls
With Old El Paso flour tortillas, you make these incredibly delicious tortilla bowls coated in cinnamon sugar. I'm not gonna lie – as much as I loved the ice cream, I think I actually liked the bowl even more. These are baked – not fried – but they taste just as decadent. I'm sure it's all the butter 😉 , but they are crisp and sweet and buttery and you won't want to stop eating yours.
They are actually quite easy to make, as well. Here is how you make them:
To prep, you'll need either a jumbo muffin tin or some 1 cup ramekins placed on a baking sheet. You'll also need to melt your butter and combine your cinnamon and sugar in a bowl.
You want the tortillas to be easy to work with, and you don't want them to tear at all, so stick them in the microwave for about 30 seconds to soften them up.
Working with one tortilla at a time, brush one entire side of the tortilla with melted butter, then sprinkle with the cinnamon-sugar mixture. Turn the tortilla over, then repeat on the other side with the butter and cinnamon-sugar.
If you are using a jumbo muffin tin, put the coated tortilla into one of the cups. You'll want to fold the sides around the cup, forming a bowl. Make sure the bottom is flat on the bottom of the muffin cup so that the bowl will sit up without falling over once it is baked.
Repeat with the remaining tortillas, making 8 bowls total.
Place the muffin tin (or baking sheet with ramekins) in the oven to bake until the tortillas are browned and crisping. Remove from the oven and allow them to sit for a few minutes and then transfer them to a wire rack to cool completely.
Making Fried Ice Cream Ahead of Time
So – can you make this Fried Ice Cream ahead of time? I actually think this Fried Ice Cream Recipe with Cinnamon Sugar Tortilla Bowls makes the perfect dessert for dinner party. All of the components can be made ahead of time, then just pop the ice cream in some hot oil before serving, and you have a total restaurant worthy dessert to feed to your guests. You'll totally look like a rock star. Of course, you don't want to fry the ice cream ahead of time, as it is best when it is hot and crunchy on the outside and nice and creamy on the inside.
The cinnamon sugar tortilla bowls can be made ahead of time, as well. I actually kept mine out for a few days and they will stay nice and crispy as long as you don't put them in a container.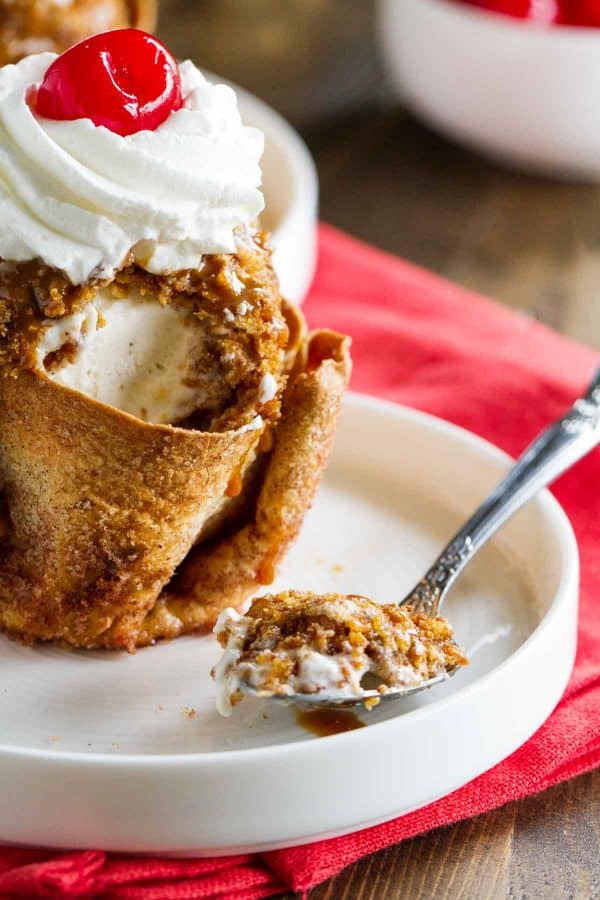 More Cinco de Mayo recipes
Virgin Frozen Margaritas
Dulce de Leche Cheesecake
Tres Leches Cupcakes
Fried Fish Tacos
White Chicken Enchiladas
Easy Breakfast Tostadas
Tools for Making this Fried Ice Cream
You'll need an ice cream scoop to make the scoops. I have been eyeing this one!
I like to use a jumbo muffin tin for the tortilla bowls, but you can also use a baking sheet with ramekins.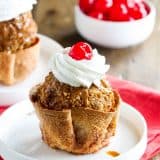 Fried Ice Cream Recipe with Cinnamon Sugar Tortilla Bowls
---
Author:
Prep Time: 20 mins
Cook Time: 20 mins
Total Time: 9 hours 40 mins
Yield: 8 servings 1x
Category: Dessert
Method: Fry
Cuisine: Mexican
Description
Finish off your Cinco de Mayo meal with this Fried Ice Cream Recipe that is served in cinnamon and sugar coated tortilla bowls.  Crunchy on the outside, creamy on the inside – this is a dessert you won't be able to stop talking about.
---
Scale
Ingredients
Fried Ice Cream:
1 quart vanilla ice cream
7 cups cornflakes
1 tablespoon cinnamon
4 egg whites
vegetable or canola oil, for frying
Cinnamon Sugar Tortilla Bowls:
6 Old El Paso 6-inch flour tortillas
3 tablespoons butter, melted
3 tablespoons sugar
1 teaspoon cinnamon
For Topping:
dulce de leche or caramel
whipped cream
maraschino cherries
---
Instructions
Make the ice cream:
Scoop the ice cream into 6 scoops.  Place on a baking sheet lined with parchment paper or waxed paper.  Freeze until solid, about 1 hour.
In a large bowl, crush the cornflakes finely.  Stir in the cinnamon.
Place the egg whites in a smaller bowl and whisk until frothy.
Remove the ice cream balls from the freezer. Working with one at a time, dip the balls into the egg whites, then roll in the cornflake crumbs.  Return to the egg whites for a second coat, then back into the cornflakes.  Use your hands to press the cornflakes into the ice cream.  This is also when you can form the ice cream into a perfect ball.
Place the ice cream back on the baking sheet and return the balls to the freezer.  Freeze until completely solid, at least 4 hours, preferably overnight.
Make the tortilla bowls:
Preheat the oven to 350ºF. 
Place the tortillas in the microwave for 30 seconds to soften.  Lay one tortilla on a work surface, and brush the entire surface with melted butter.  Mix the sugar and the cinnamon together in a small bowl, then sprinkle the surface of the tortilla with some of the cinnamon sugar.  Turn the tortilla over, and repeat on the second side.  Gently place the tortilla in a jumbo muffin tin (or an oven proof bowl or ramekin of similar size), making sure it is flat in the bottom, and folding the sides as needed to form a bowl shape.  Repeat with the remaining tortillas.
Bake the bowls for 15 minutes, or until browned.  Let the bowls sit in the tin for a few minutes, then remove to a wire rack to cool completely.
To assemble:
Fill a pot with oil 3-4 inches deep.  Heat to 350ºF.
Working with one ball of ice cream at a time, add the ice cream to the hot oil and cook, turning the ball constantly to make sure all sides get cooked, for 10-15 seconds, or until the coating is crisp.  Remove with a slotted spoon and drain quickly on a paper towel.  Transfer the balls to the tortilla cups.
Drizzle each ice cream cup with dulce de leche, then top with whipped cream and a cherry.  Serve immediately.
Recipe Notes:
The nutritional value for the frying oil is based on a retention of 1/4 cup oil. Cooking time and temperature can cause this number to change.
Nutrition information provided as an estimate only. Various brands and products can change the counts. Any nutritional information should only be used as a general guideline. Nutritional counts do not include toppings.
Nutrition
Calories: 438
Sugar: 23 g
Sodium: 370 mg
Fat: 21 g
Saturated Fat: 9 g
Unsaturated Fat: 8 g
Trans Fat: 0 g
Carbohydrates: 52 g
Fiber: 1 g
Protein: 8 g
Cholesterol: 17 mg
Keywords: fried ice cream, deep fried ice cream
This post was sponsored by Old El Paso. I'm so glad to be able to work with companies and organizations that I truly believe in. Thank you for supporting them, too.