Grilled corn – south of the border style! This Grilled Mexican Corn on the Cob takes grilled corn to the next level with spices, crumbled Cotija cheese, cilantro and fresh squeezed lime.
Want your corn off the cob? Try this Mexican Corn Salad!
When you think of corn, are you like me and corn on the cob is the first thing to pop into your head? Corn on the cob is definitely one of my favorite ways to enjoy corn. I love a great ear of fresh, local corn, slathered with butter and sprinkled generously with salt and pepper. But every once in awhile, it's great to switch things up. With cheese. And lots of spices. And some fresh herbs. Yeah. Definitely stepping it up a bit here!!
Since Cinco de Mayo is right around the corner, I've been looking through all of my Mexican recipes here on Taste and Tell and this is the one I wanted the most – this Grilled Mexican Corn on the Cob. It's one of those recipes that is always just so good. Plus corn on the cob is already hitting the shelves at the grocery store. Now, it's not as good as the sweet local corn that we'll get late summer, but it totally works for this grilled Mexican corn.
This is a recipe that definitely needs to make a showing for your Cinco de Mayo meal!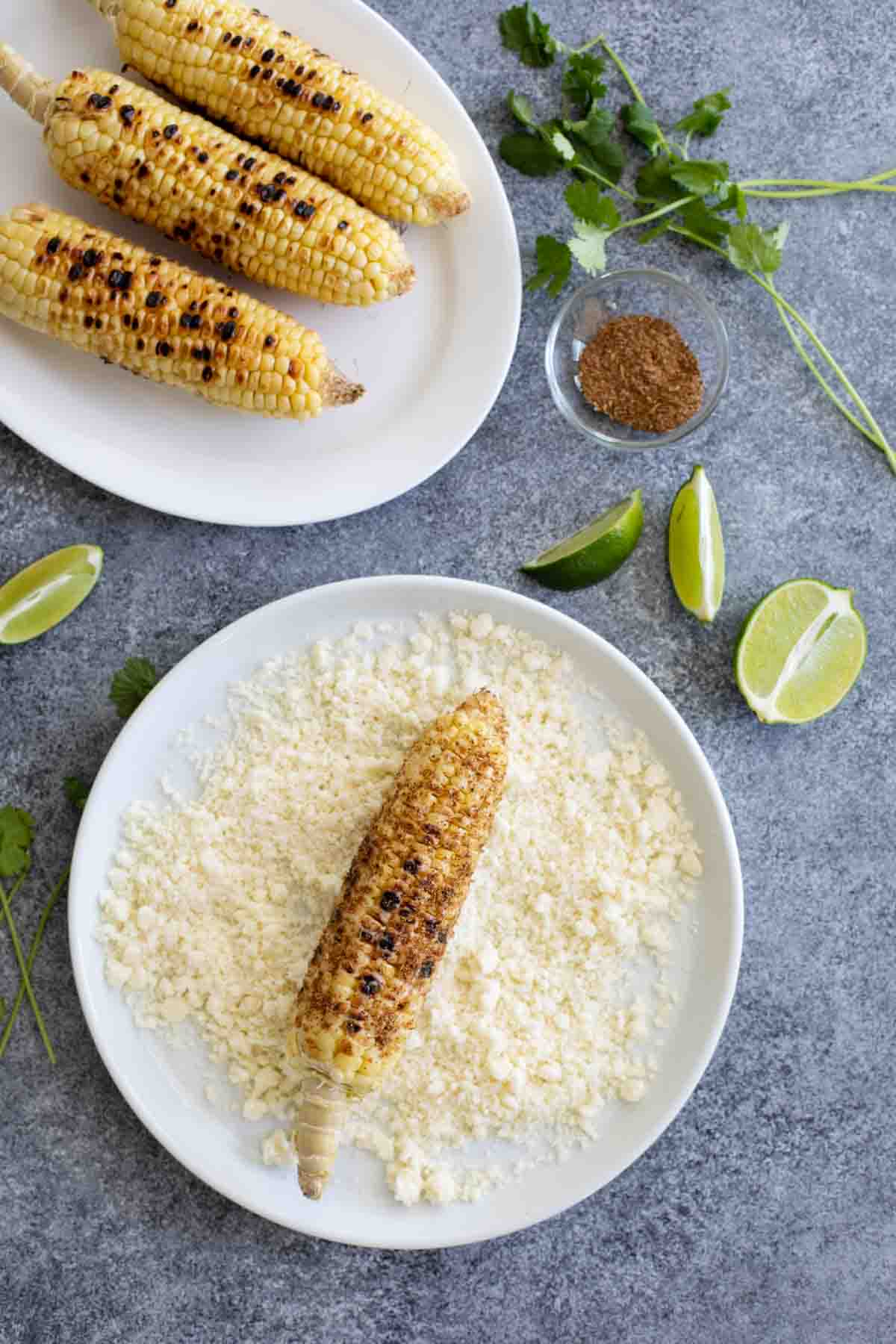 What are Elotes?
I call it Grilled Mexican Corn, but it is also known as elotes. Elotes are a very popular street food in Mexico. Find a vendor, and he will take your grilled corn, brush it with mayonnaise, butter or Mexican crema, and then sprinkle it with spices and cotija cheese. Then you are on your way, the ultimate cob of corn in hand. You can also see it when the vendor will cut the corn from the cob and serve everything in a cup. Traditionally, when it's removed from the cob it's called esquites, but I think most people – especially us Americans – call them both elotes. I just call them irresistible.
How to Grill Corn on the Cob
There are many tips and tricks you have probably seen for grilling corn on the cob. Everything from grilling with the husks on to soaking the corn first to putting different ingredients in between the corn and the husks. But I have to say – for this recipe especially – easiest is best.
I really like the charred bits on the corn, so I completely remove the husks and the silk. Then I grill the corn directly on the grill, watching it and turning it as needed. That's it! And guess what – sometimes I even just use the stove top grill, because that's easier for me than heading outside some days.
My one trick, though, is to always start with really fresh corn. The fresher the corn, the less you have to worry about it drying out as it grills.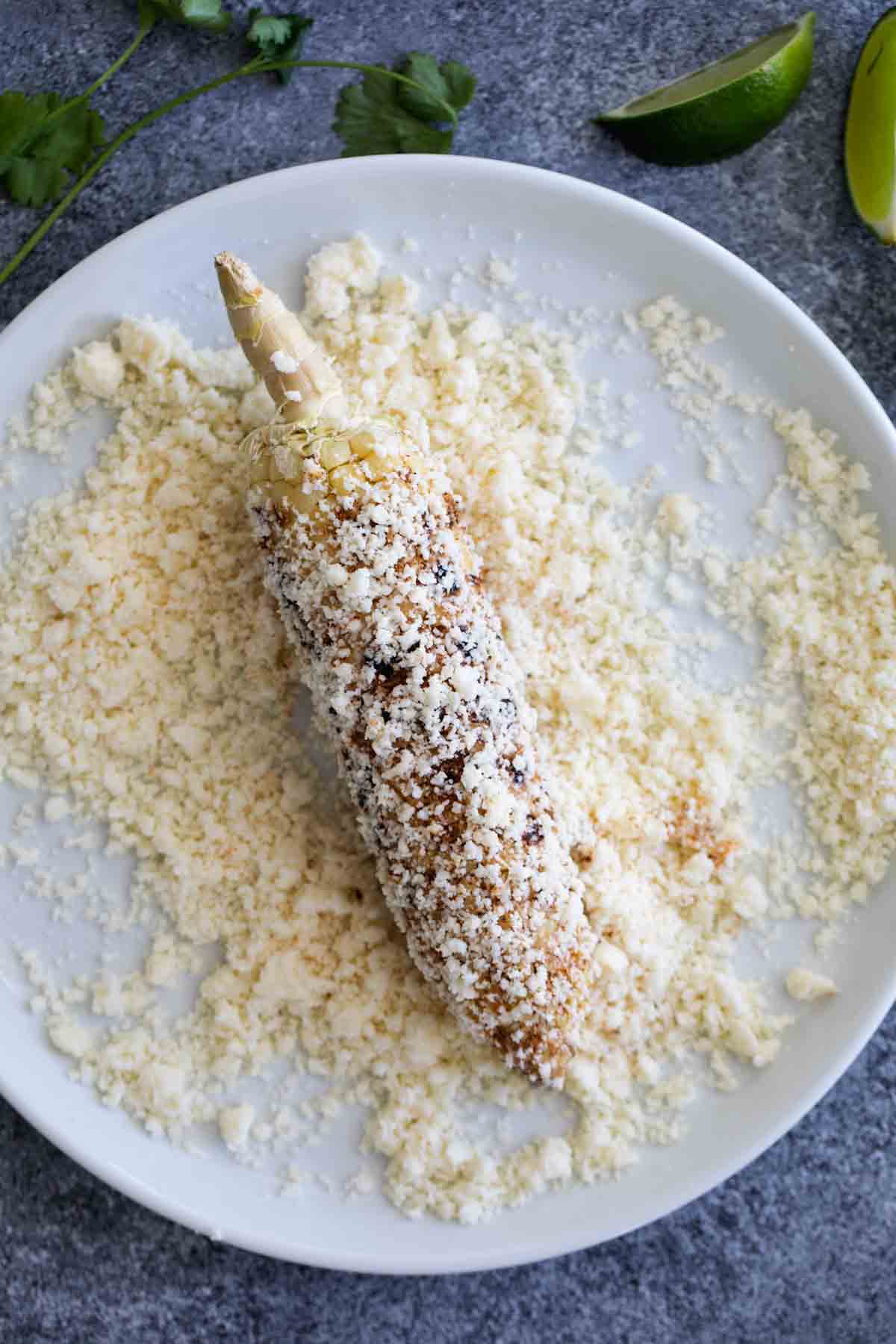 Ingredients in this Grilled Mexican Corn on the Cob
Here is what I use in my version of Grilled Mexican Corn:
corn – of course. You'll want fresh corn on the cob. I haven't tried this recipe with the frozen cobs of corn, so I can't say if they would work.
chili powder – I think this is the most traditional of the spices. In fact, as I was reading up about Mexican corn, it sounded like most street vendors don't even add any other spices but chili powder. So don't skip it.
cumin – this is a spice I use in all of my Mexican meals.
oregano – another herb that goes in a lot of Mexican recipes.
garlic powder – you could probably use some fresh garlic here, but the powder is so much easier to get to stick on the corn.
mayonnaise – I think that mayonnaise is actually a pretty traditional ingredient here. But many people will also use butter, sour cream, or Mexican crema. The mayonnaise does bring in a nice tang and I always have it on hand, so that is what I always use.
cotija cheese – if you've never heard of cotija, you are missing out. It is a Mexican cheese (look for it in the section of your grocery store where they sell other ethnic ingredients), and it is so good. It's a cheese that crumbles really easily, is nice and salty, and is a great finishing cheese. It doesn't melt, though, so it's perfect for this recipe.
cilantro – you can really use as much or as little as you want here – I always like a lot.
lime wedges – these aren't just to look pretty but your corn will be so much better if you squeeze that lime juice over your corn.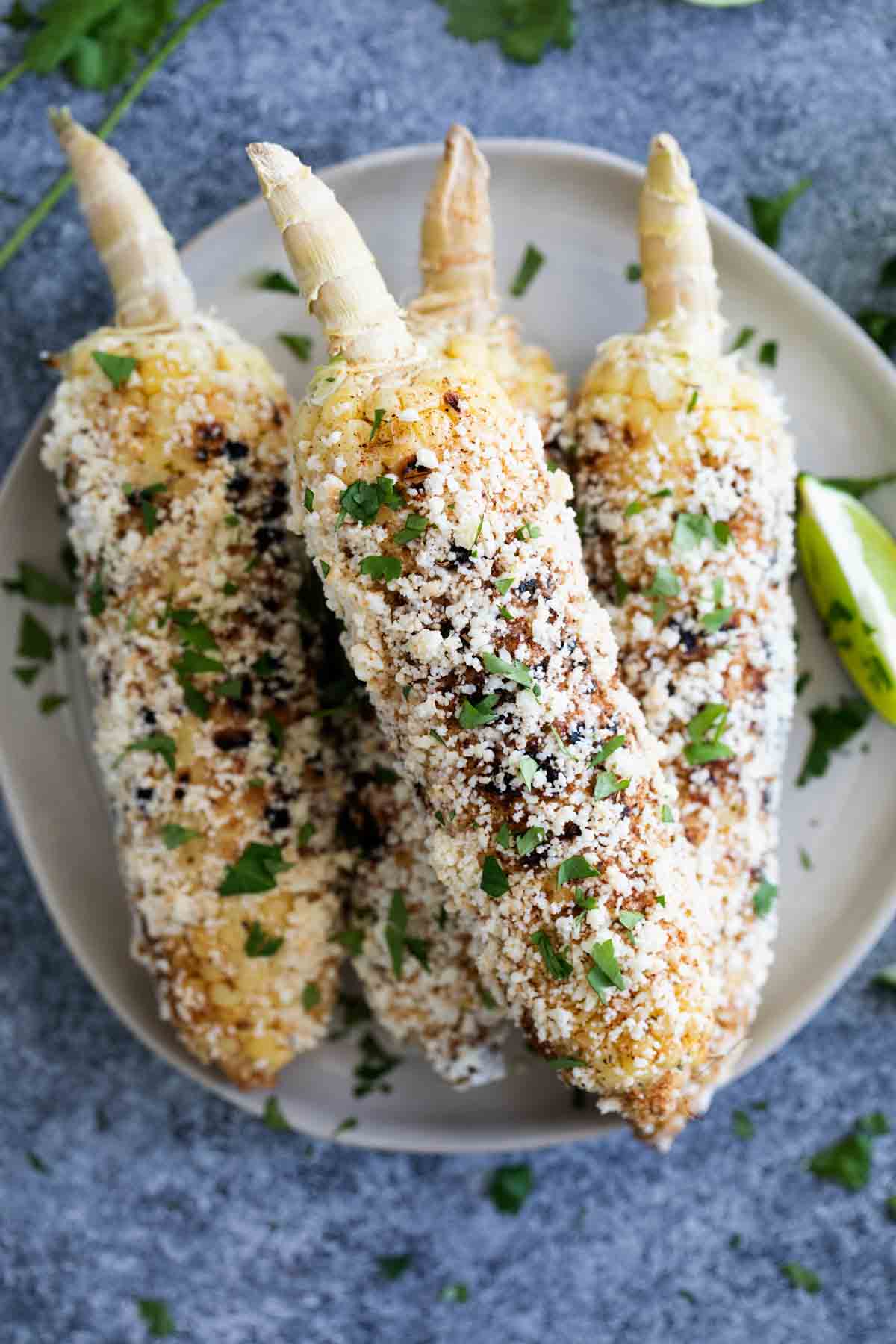 Tips for Making this Grilled Mexican Corn on the Cob
Work on having everything ready when the corn comes off the grill. It all comes together really fast so you'll want to be prepared.
Eat it hot! Or at least warm. I think it's so much better that way.
Cut it off for easier eating or if it's too hard for your kids to eat on the cob.
More Cinco de Mayo Recipes
Mexican Style Eggs in a Nest
Tres Leches Cake
Chicken Chilaquiles
Virgin Frozen Margaritas
Smothered Chicken Burritos
22 Tacos to Change Up Taco Night
Easy Enchiladas
Bean Dip
Tools Used to Make this Grilled Mexican Corn on the Cob
Don't have a grill? I love to use my grill pan as well!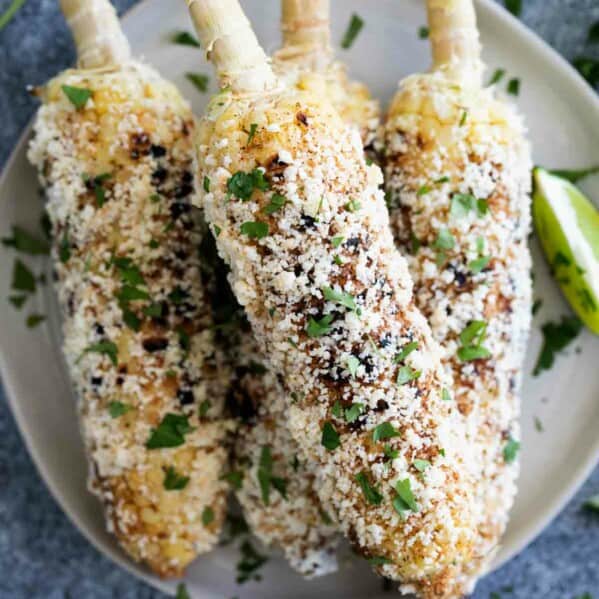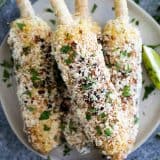 Grilled Mexican Corn on the Cob
---
Author:
Prep Time: 10 minutes
Cook Time: 20 minutes
Total Time: 30 minutes
Yield: 4 servings 1x
Category: Side Dish
Method: Grill
Cuisine: Mexican
Description
Grilled corn – south of the border style! This Grilled Mexican Corn on the Cob takes grilled corn to the next level with spices, crumbled Cotija cheese, cilantro and fresh squeezed lime.
---
Scale
Ingredients
4 large ears of corn on the cob
1 teaspoon chili powder
1 teaspoon ground cumin
1 teaspoon dried oregano
1 teaspoon garlic powder
1/4 cup mayonnaise
1 cup crumbled Cotija cheese
Minced cilantro
Lime wedges
---
Instructions
Heat a grill to medium-high.
Remove the husks and the silk from the corn.
Grill the corn until charred and heated through, turning as needed, about 20 minutes. Remove from the grill.
In a small bowl, combine the chili powder, cumin, oregano and garlic powder.
Brush each corn cob with 1/4 of the mayonnaise, then sprinkle with 1/4 of the spices.
Place the crumbled cheese on a plate or in a shallow dish and roll the corn in the cheese to coat.
Sprinkle with cilantro and serve with a lime wedge.
Recipe Notes:
Nutrition information provided as an estimate only. Various brands and products can change the counts. Any nutritional information should only be used as a general guideline.
Nutrition
Serving Size: 1 corn cob
Calories: 397
Sugar: 3 g
Sodium: 1161 mg
Fat: 27 g
Saturated Fat: 12 g
Unsaturated Fat: 10 g
Trans Fat: 0 g
Carbohydrates: 21 g
Fiber: 3 g
Protein: 17 g
Cholesterol: 65 mg