Topped with eggs and pancetta, this easy Pizza Carbonara is inspired by the Italian carbonara with eggs, cheese and bacon.



It's fun looking at the progression of cookbooks over the past few years. I have lots of older cookbooks, or at least 10-15 years old, that are truly just cookbooks. No fancy photos, no stories – just books filled with recipes. The newer the cookbook is, it seems, the more photos there seem to be. I think most older cookbooks would get passed over these days, as it seems like people look for the photos first.

You all know that I'm a huge RR fan (hello – I've been posting about her recipes for years now!) but for some reason, I didn't own any of her cookbooks for the longest time. Maybe because I've got a list a mile long of recipes that I've bookmarked from her tv shows and magazine. But several years ago, while at a local thrift shop, I came across copies of a couple of her books. I snatched them right up!
One of those cookbooks that I picked up was 30-Minute Meals – Rachael Ray's first cookbook. I was excited to have found it. What I found most interesting, though, is that on the cover of the book, it says that over 800,000 copies have been sold. I cannot even imagine how many copies of this book have sold in the 10+ years since this book has been released! And all without a single glossy photo. Not a one. I think that goes to show that there are lots of other RR fans out there besides me!!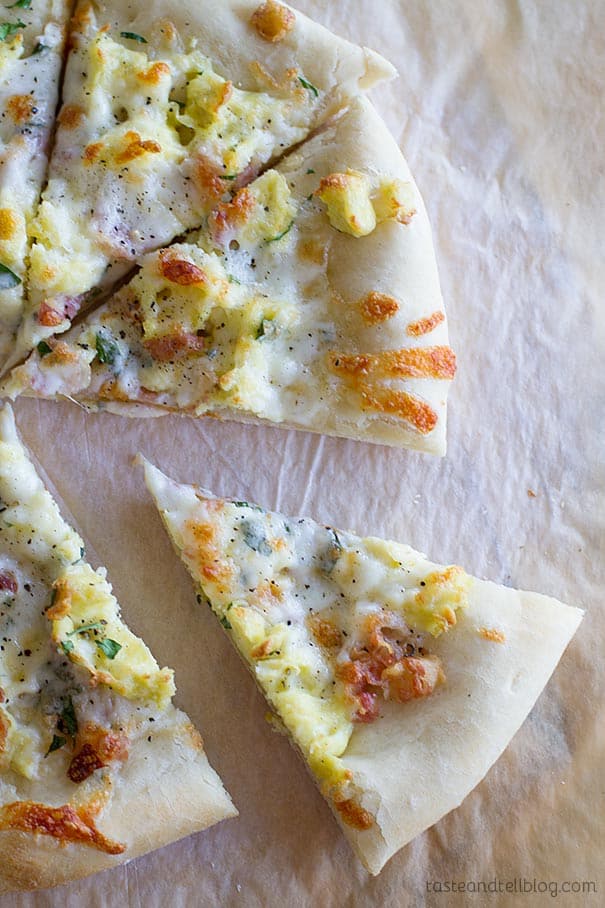 I found this recipe while flipping through the pages of that cookbook. I know that she makes a lot of carbonara inspired recipes, but I never thought to turn that into a Pizza Carbonara.
If you don't know what carbonara is, it is a pasta dish that has bacon in it, and then an egg is added which makes a silky sauce. Rachael calls it bacon and eggs pasta. This pizza takes that bacon and eggs and turns it into dinner. Or breakfast. Because it is eggs and bacon, after all!! But instead of using bacon, this recipe uses pancetta, which I love. If you don't want to use pancetta, feel free to swap in bacon!
We have pizza quite often in our house, but I think I need to change up our pepperoni pizza for this Pizza Carbonara more often. I loved it! It wasn't too crazy – not too many ingredients or flavors going on at once, and I really appreciated that. I did decide to make these pizzas smaller than I normally do. Each pizza only makes 1 serving, which is great so that you don't have to share your pizza! 🙂
Now to decide if I want to make this Pizza Carbonara again for breakfast or for dinner!
Like what you see here? Make sure you are following Taste and Tell for more great recipes and ideas!!

Facebook ** Pinterest ** Twitter ** Instagram ** Google+
or you can subscribe to my newsletter or Feedly or Bloglovin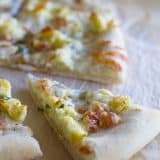 Pizza Carbonara
---
Prep Time: 8 mins
Cook Time: 22 mins
Total Time: 30 mins
Yield: 2 servings 1x
Description
Topped with eggs and pancetta, this easy Pizza Carbonara is inspired by the Italian carbonara with eggs, cheese and bacon.
---
Scale
Ingredients
extra virgin olive oil
2 cloves garlic, minced
2 eggs, lightly whisked with a fork
4 slices pancetta, chopped
1/2 lb pizza dough
1 tablespoon roughly chopped parsley
2 oz shredded mozzarella
freshly cracked pepper and coarse salt
---
Instructions
Place a pizza stone in the oven and preheat the oven to 450ºF for 30 minutes.*
Heat enough olive oil to just cover the bottom of a medium skillet over medium heat. Add the garlic and cook until fragrant, 30-60 seconds. Add the eggs and cook, stirring frequently, until the scrambled eggs are set but not dry. Transfer the eggs to a bowl or plate and wipe the skillet clean.
To the same skillet, add the pancetta. Cook until it starts to crisp (but don't go overboard as it will cook a little bit more as the pizza bakes). Transfer to a paper towel lined plate.
Roll out the pizza dough into a 10-inch circle. Top with the eggs, then the pancetta. Sprinkle the parsley over, then cover with the cheese. Transfer to the oven with a pizza peel and bake until the crust is browned and the cheese is melted and bubbly, 10-12 minutes.
Remove from the oven and serve.
More Carbonara Favs: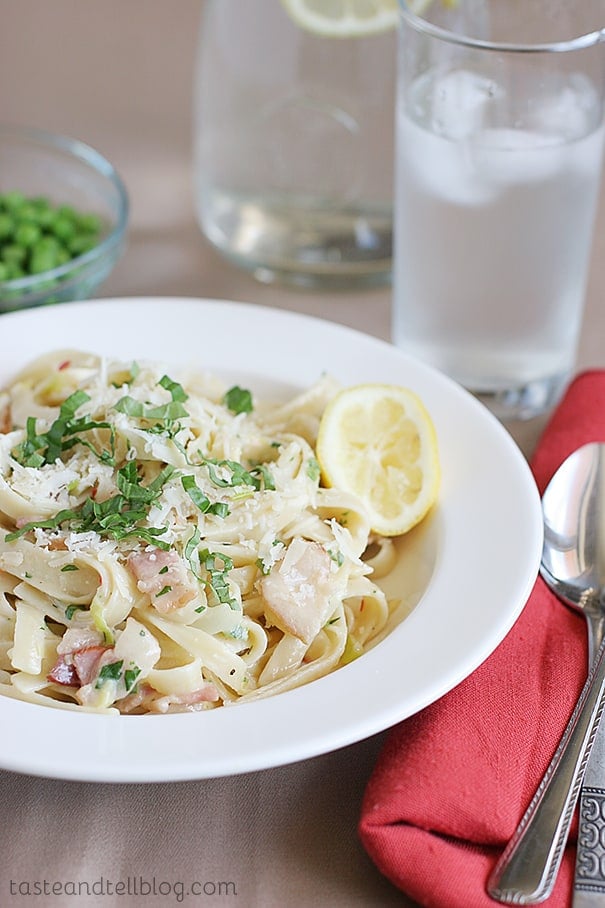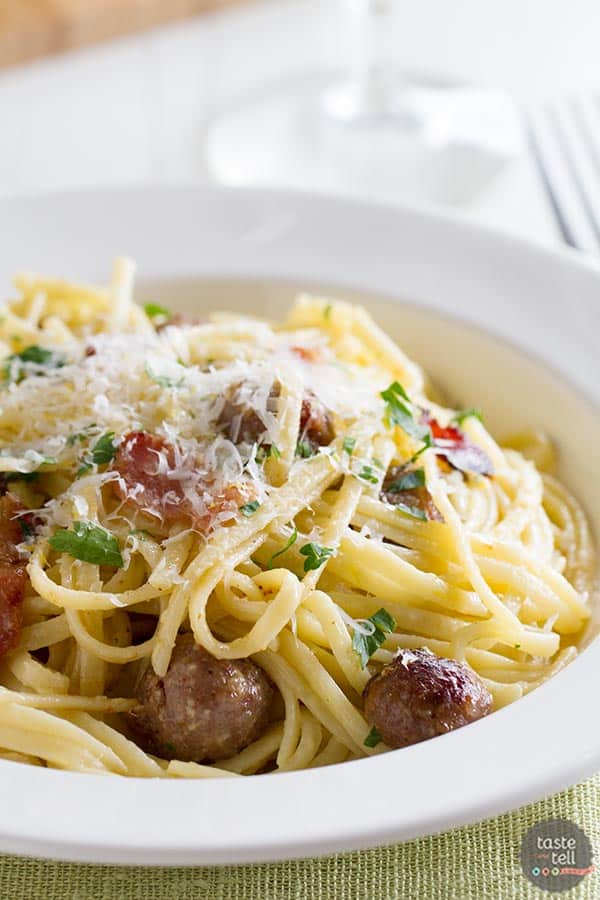 Around the Web:
Spaghetti Carbonara from Gimme Some Oven
Beet Pasta Carbonara with Peas and Bacon from A Farmgirls Dabbles.
Roasted Asparagus and Mushroom Carbonara from Closet Cooking