Perfect for breakfast or dinner, this Breakfast Pizza is topped with sausage, bacon, eggs, and an easy cheese sauce. This is a great way to do something different for pizza night!
Breakfast is my favorite! And while I love a good pancake or waffle, a good savory breakfast always gets me. If you're looking for more savory breakfast ideas, try this Sausage Breakfast Casserole, this Migas Recipe, or Biscuits and Sausage Gravy.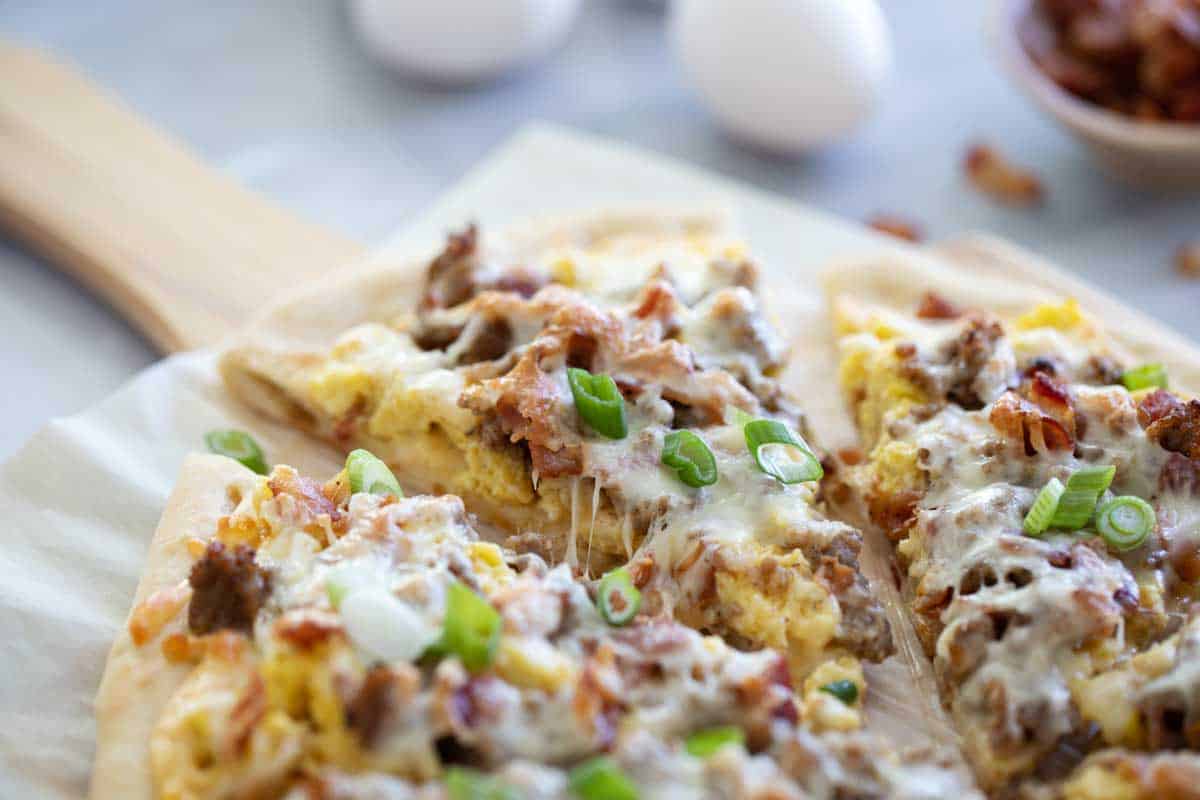 It's no secret that we love pizza in our house. It's on the menu pretty much every week.
So what do you get when you combine a family favorite – pizza – with mom's favorite – breakfast?
Breakfast Pizza!!
And this is the ultimate breakfast pizza. My favorite crust topped with an easy cheese sauce, sausage, bacon, eggs, adm more cheese. Breakfast or dinner, this one is going to be a winner!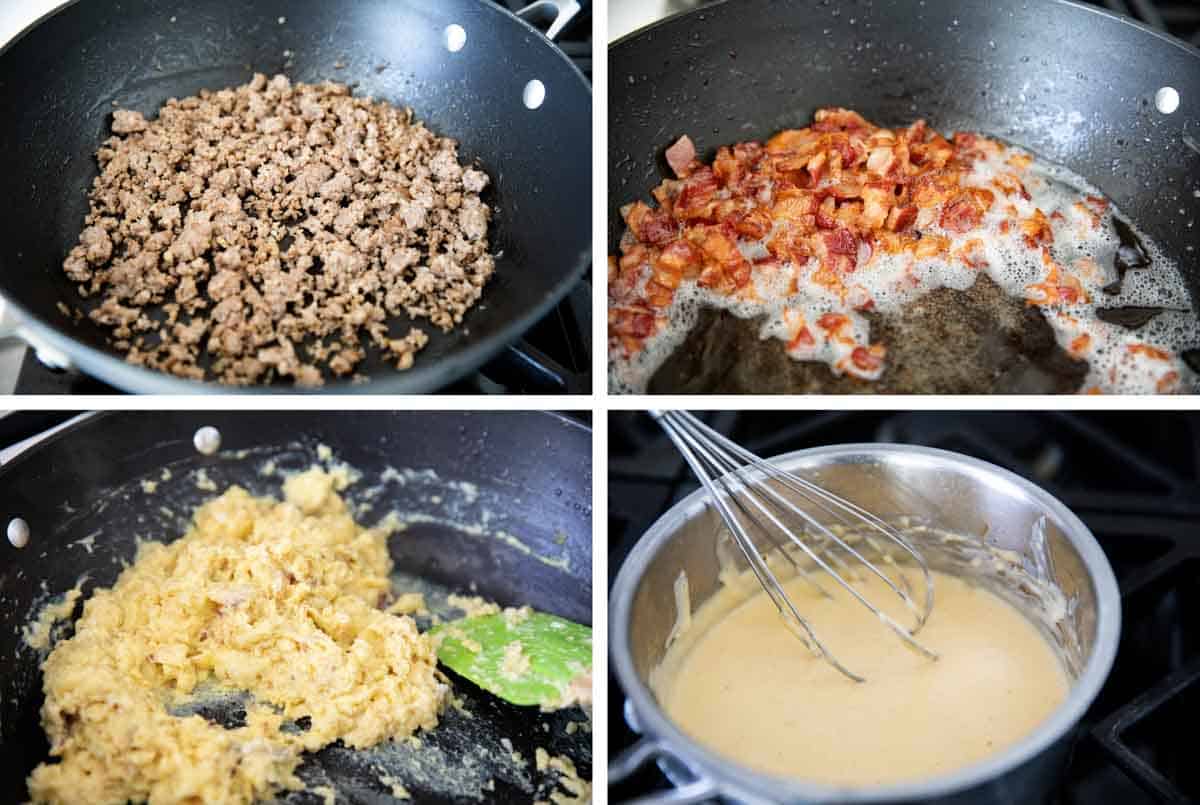 How to Make It
Start by making all your toppings:
Sausage: I use the bulk sausage, although you could use links and just chop them up after you cook them.
Bacon: You can cook this in the oven and then crumble it, but I like to chop it and cook it in a pan so that I can cook my eggs in some bacon grease.
Eggs: Don't cook your eggs until they are dry – maybe even leave them a little more wet than you normally would because they will cook a bit more in the oven.
Cheese Sauce: This is actually really easy to make – just butter, flour, milk and cheese. It really only takes a few minutes to whip together.
Crust: I use my favorite pizza dough recipe, but you could use store bought.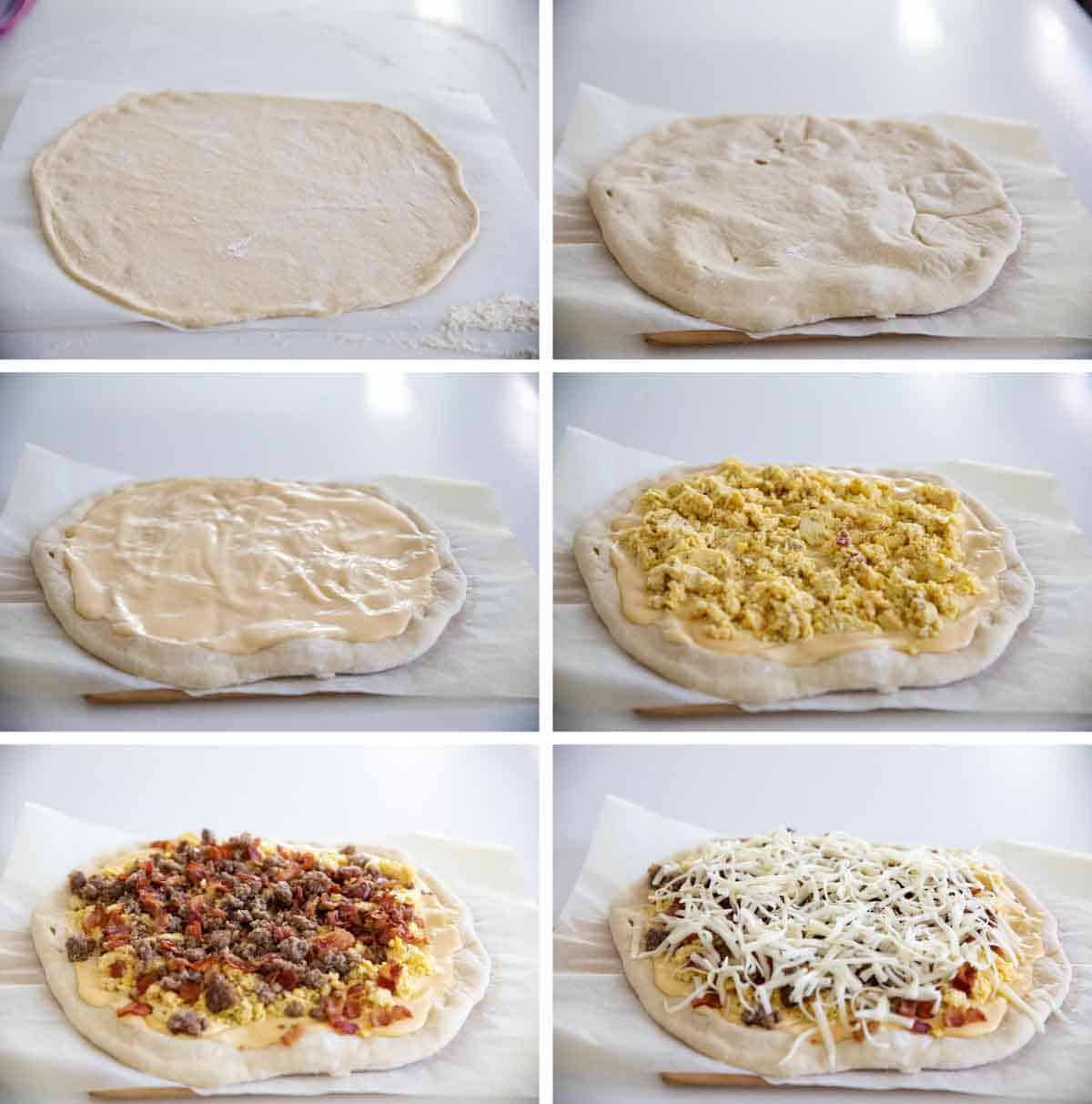 Topping and Baking Your Pizza
This pizza recipe is a little bit different than my others because I par-bake the crust before topping. I don't usually do this because the pizza bakes up so quickly and the crust really is sturdy enough to hold a lot of toppings. But – I don't want to overcook the eggs in this pizza. So I do bake the pizza crust for a few minutes before topping to avoid rubbery, dried out eggs on top of my pizza.
Roll or stretch your dough.
Bake the crust for 4 minutes. (I use a knife to pop any bubbles that form.)
Spread the cheese sauce over the partially baked crust.
Top with the eggs.
Sprinkle the bacon and sausage over the top.
Top with freshly shredded cheese.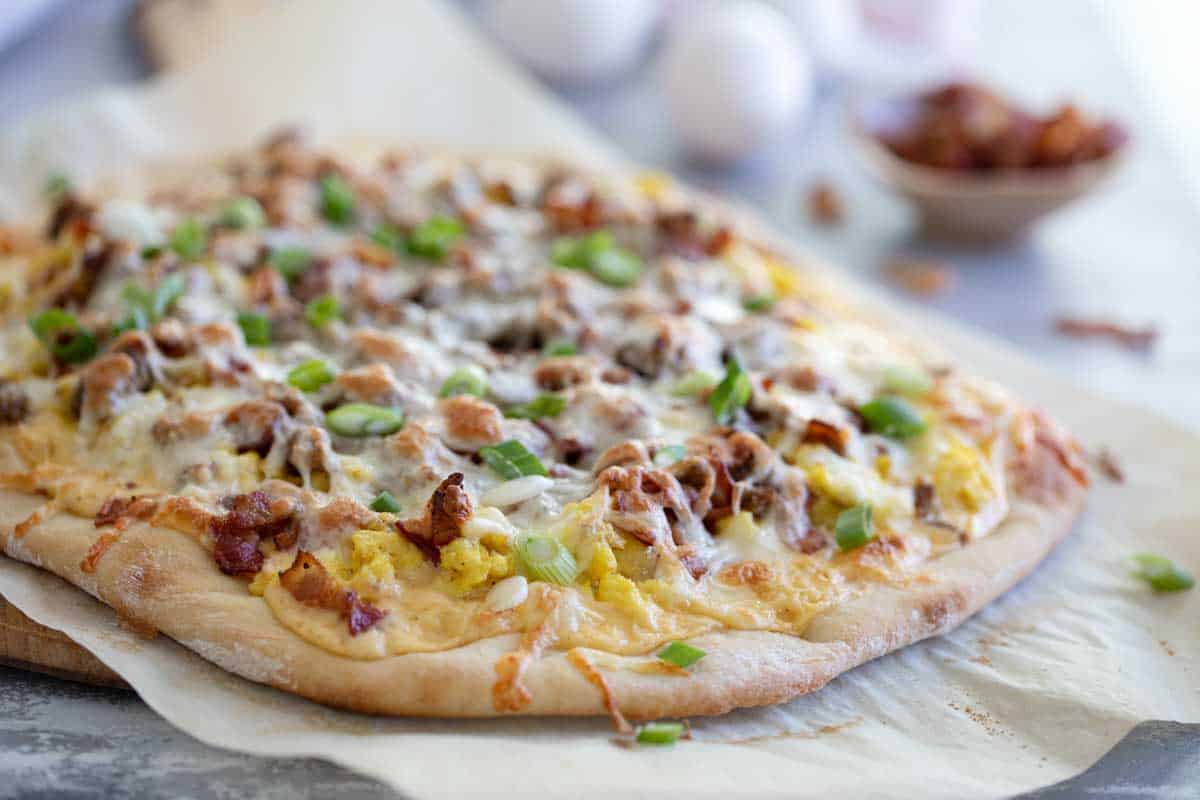 Bake your pizza until the cheese is melted and the crust in browned, and that's it!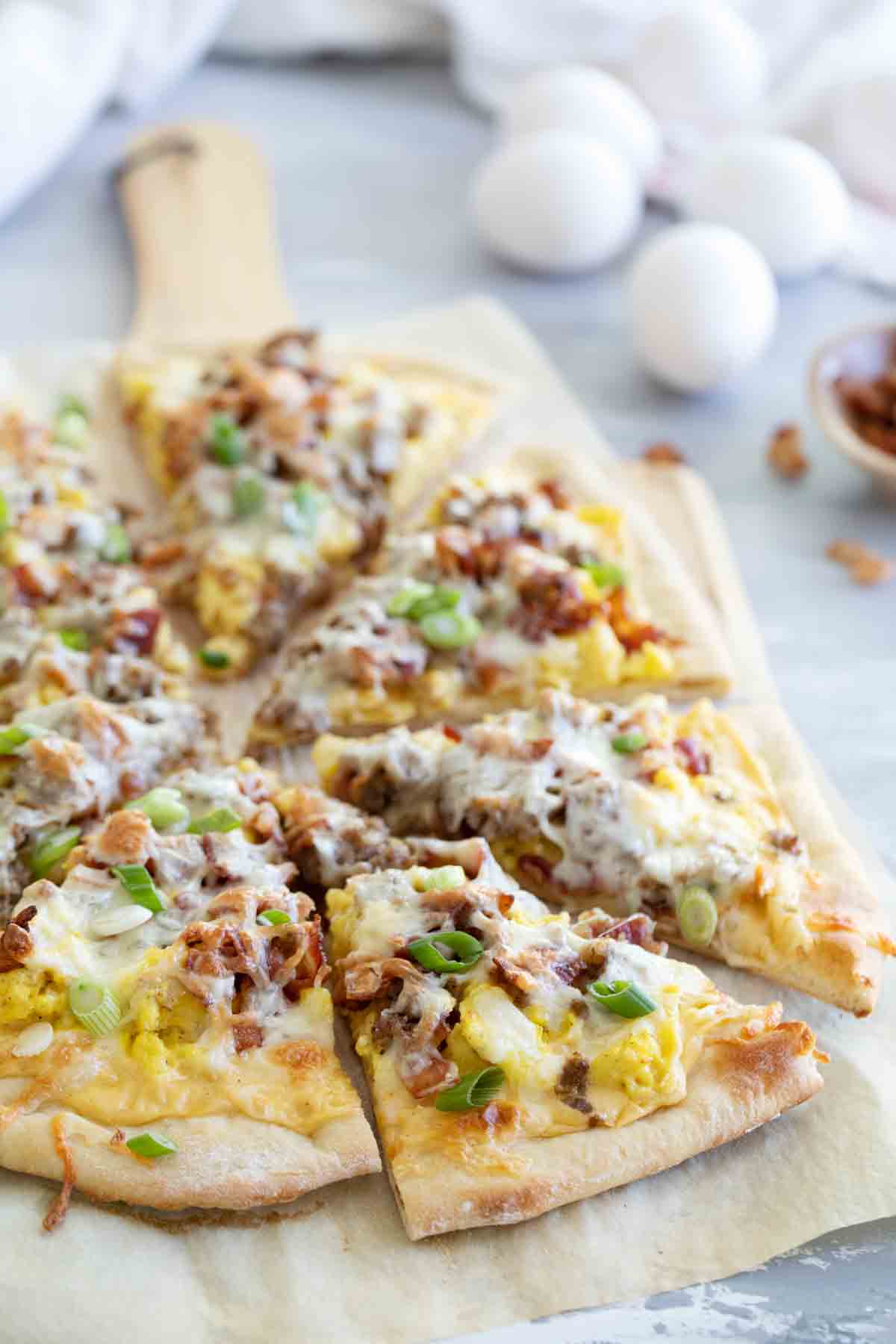 Ways to Change Up Your Breakfast Pizza
Scrambled eggs are the easiest, but I love whole eggs cooked over easy on top, as well. If you are doing this, skip the scrambled eggs portion of the recipe. Top the pizza with the sausage and bacon, then make little "nests" for the eggs to go in. This is so that the egg doesn't run everywhere. Crack your eggs into these nests. Bake the pizza for 10-12 minutes, or until the eggs are cooked to your liking. Note that you won't need to par-bake your crust if you choose to do this.
Don't love sausage and/or bacon? It's easy to change up the meats! Use diced ham or pancetta, or leave the meat off completely.
This would be a great pizza to add veggies to, as well. Some diced red pepper or sliced red onions would be amazing!
If you want to skip the cheese sauce, you can add a country gravy. Or keep things simple and just spread a thin layer of olive oil and garlic over the crust.
I use mozzarella because that's what I like on my pizza, but you can use your favorite cheese, as well. I think pepperjack would be really good.
More of my Favorite Pizza Recipes
This White Pizza Recipe is so simple, but so much better than a regular cheese pizza.
Chicken, Bacon and Ranch are a match made in heaven – especially in this Chicken Bacon Ranch Pizza!
Bring a bit of an Asian flair to pizza night with this Teriyaki Chicken Pizza.
This BBQ Chicken Pizza is one of my favorite copycat recipes.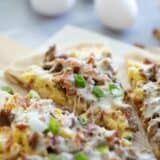 Breakfast Pizza
---
Author:
Prep Time: 15 minutes
Cook Time: 20 minutes
Total Time: 30 mins
Yield: 8 slices 1x
Category: Breakfast
Method: Baked
Cuisine: American
Description
Perfect for breakfast or dinner, this Breakfast Pizza is topped with sausage, bacon, eggs, and an easy cheese sauce. This is a great way to do something different for pizza night!
---
Scale
Ingredients
1 tablespoon unsalted butter
1 tablespoon all-purpose flour
1 cup plus 3 tablespoons milk, divided
1/2 cup shredded cheddar cheese
4 oz bulk breakfast sausage
8 oz bacon, chopped
6 eggs
1 (1-lb) ball pizza dough
4 oz shredded mozzarella cheese
---
Instructions
Preheat the oven to 425ºF for at least 30 minutes. (If using a pizza stone, make sure to place it in the oven before heating up the oven.)
Make the cheese sauce: in a medium saucepan, melt the butter. Add the flour and whisk for 1 minute. Slowly add 1 cup of the milk, whisking the whole time to avoid lumps. Bring to a boil, whisking the whole time, then reduce the heat slightly and cook for 3-4 minutes, or until slightly thickened. Add the cheddar cheese and whisk until smooth. Season to taste with salt and pepper, then reduce the heat to low and keep warm while you prepare the other toppings.
In a skillet, cook the sausage, breaking it up as it cooks. Transfer the sausage with a slotted spoon to a bowl and discard any grease.
Add the bacon to the same skillet and cook until crisp. Transfer with a slotted spoon to the same bowl with the sausage. Discard all but about 1 tablespoon of the grease.
In a small bowl, whisk the eggs gently with the remaining 3 tablespoons of milk and salt and pepper to taste. Add the eggs to the skillet with the bacon grease and scramble until they are almost cooked through, but still moist. Remove from the heat and keep warm.
Roll or stretch the pizza dough on a pizza peel sprinkled with cornmeal or on parchment paper. (See my Homemade Pizza Dough post for all my tips and tricks.)
Transfer the pizza dough to the hot oven and cook for 4 minutes. (Poke holes in any parts that bubble up, as needed.) Remove from the oven.
Spread the cheese sauce over the partially cooked crust. Top with the sausage and bacon mixture, then the scrambled eggs. Top it all off with the shredded mozzarella cheese.
Return the pizza to the oven and cook for an additional 8 minutes, or until the cheese is melted and the crust is golden brown.
Let the pizza cool for a few minutes before slicing and serving.
Recipe Notes:
I like a thinner pizza, so I don't usually use a whole pound of dough for one pizza. I use about 3/4 of a pound.
Nutrition information provided as an estimate only. Various brands and products can change the counts. Any nutritional information should be used as a general guide.
Nutrition
Serving Size: 1 slice
Calories: 427
Sugar: 4 g
Sodium: 656 mg
Fat: 26 g
Saturated Fat: 10 g
Unsaturated Fat: 11 g
Trans Fat: 0 g
Carbohydrates: 27 g
Fiber: 2 g
Protein: 19 g
Cholesterol: 183 mg
Keywords: breakfast pizza, pizza recipe, sausage, eggs