A copycat of the California Pizza Kitchen pizza, this BBQ Chicken Pizza is sure to be a crowd pleaser made at home!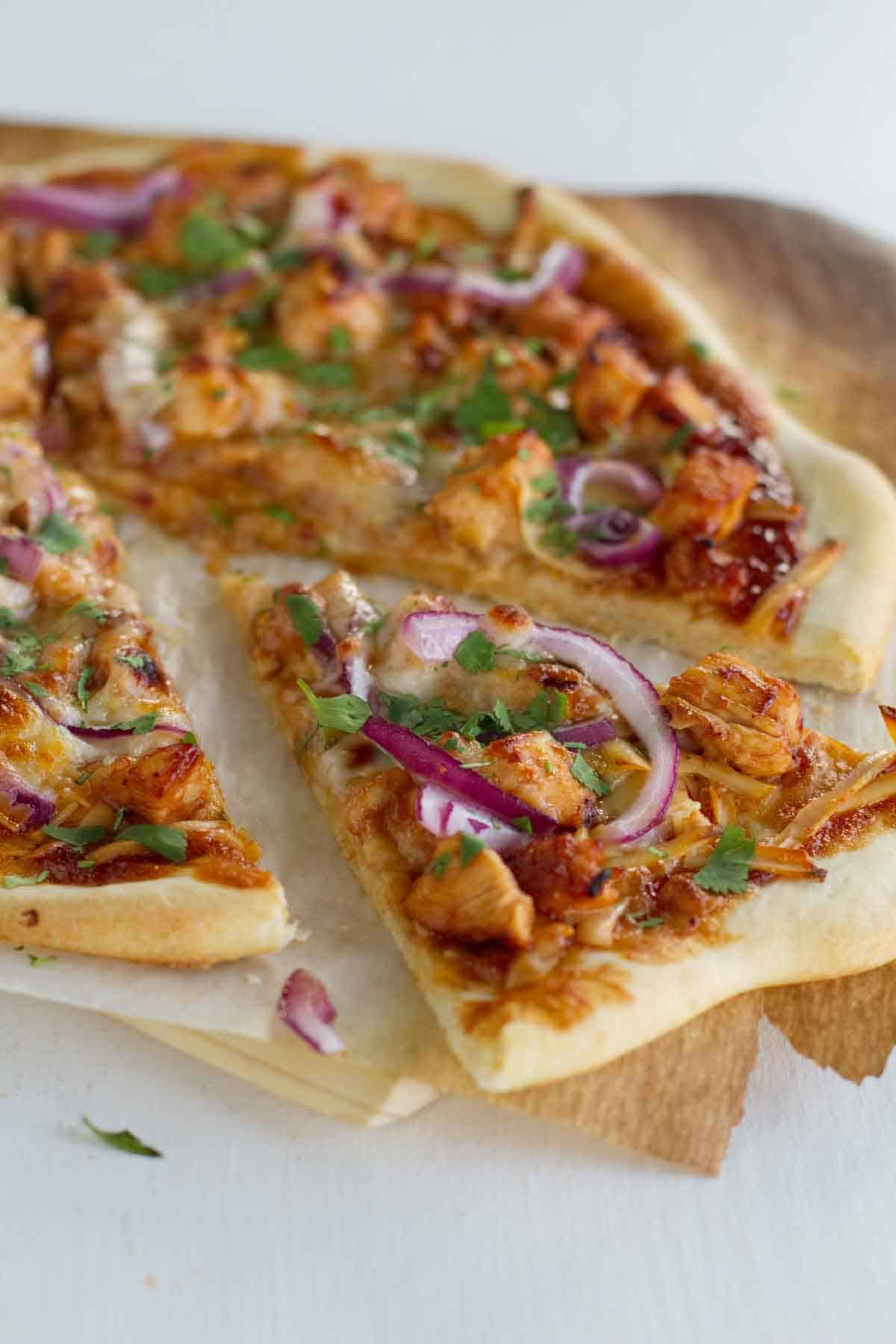 Originally published October 2, 2007 – I have been craving pizza, and this is one of my favorite pizza recipes, so I thought I'd bring it back up to the front today. This is a great copy-cat recipe that needs to be added to your menu!
I have realized lately that my stack of cookbooks is way too underused. Don't get me wrong – it's not that they don't get taken off of the counter often to be read, and to have the pictures salivated over, but I don't make a lot of recipes from them. I think it's mostly because I end up planning on what I'm going to make for dinner while I am at work, and there is the internet filled with millions of recipes, and my cookbooks are sitting at home lonely. I went to Barnes and Noble on my birthday a few weeks back and bought a few new cookbooks, and it got me thinking. I have about 10 cookbooks on my "I want to buy right now" list, but I can't justify it because I have not even been utilizing what I already have. So I have come up with a personal challenge – or my own personal "blogging event" if you will. I am allowing myself one cookbook purchase a month, but I have to make at least 3 recipes from that book in the month. At the end of the month, I will write my own personal review of the book. After all, you can't adequately judge a book by making only one of the recipes and basing the whole book on that recipe. Now, I am not a cookbook critic by any means, but this will just be a personal opinion on the book. And to be honest, most of the books I want have already been raved about on other food blogs, so most likely, the cookbooks will get good reviews! I will hopefully make it to the store today to buy my first choice for the month of October – which (if I do make it to the store) I will announce tomorrow.
That being said, the recipe I am posting about today does not come from October's cookbook, but it does come from a cookbook! I believe I received this book – Top Secret Restaurant Recipes – as a Christmas gift many years ago. It is full of popular chain copy cat recipes – everywhere from Olive Garden to Red Robin. I have looked through the recipes many times, but have never made anything from the book. It's not full of pretty pictures (like most of the cookbooks I love to look through!) but he does draw diagrams of how the food is put together. Not really necessary, in my opinion, but something to look at nonetheless!
I was craving pizza one night, and have not made homemade pizza before. I know, I know – who has not made homemade pizza before? Well, my excuse is that I never had a baking stone, and I didn't want soggy crust, so it was always Papa Johns. Well, I found a partly used gift card to Bed, Bath and Beyond that we received for our wedding, so a baking stone was one of the items purchased with that gift card.
I decided to make the California Pizza Kitchen Original BBQ Chicken Pizza. This pizza dough is supposed to rest in the fridge overnight, but really, when I want pizza, I want it now! I ended up making the dough before work (it went together really quickly) and setting it out to rise for a few hours. My husband was not working that day, so he was assigned to put it in the fridge after a couple of hours. That night when I got home, I took it out of and let it rise again for about 30-45 minutes. Throwing the rest of the pizza together was a cinch, and before we knew it, there was homemade BBQ chicken pizza on the table.
This recipe is extremely good. The pizza dough was good, but because I have seen recipes that come together a lot faster, I probably will keep looking for the perfect, quick pizza dough. I would say that overall, this pizza was just as good – or better – than going to California Pizza Kitchen. And the baking stone? I think it makes all the difference. Pizza crust just doesn't taste like pizza crust when it is cooked on anything else!!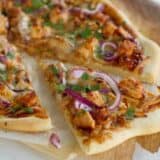 BBQ Chicken Pizza
---
Author:
Prep Time: 20 minutes
Cook Time: 20 minutes
Total Time: 40 minutes
Yield: 4-6 servings 1x
Category: Main Dish
Method: Baked
Cuisine: American
Description
A copycat of the California Pizza Kitchen pizza, this BBQ Chicken Pizza is sure to be a crowd pleaser made at home!
---
Scale
Ingredients
Crust:
1/3 cup plus 1 tablespoon warm water (105 – 115 degrees F)
3/4 teaspoon yeast
1 teaspoon sugar
1 cup bread flour
1/2 teaspoon salt
1/2 tablespoon olive oil
Topping:
1 boneless, skinless chicken breast half, cut into bite sized pieces.
1/2 cup Bullseye Original bbq sauce
1 1/2 teaspoons olive oil
1 cup shredded mozzarella
1/2 cup grated Gouda cheese (smoked, if you can find it)
1/2 cup sliced red onion
2 teaspoon finely chopped fresh cilantro
---
Instructions
To make the crust:
Start one day before you plan on making the pizza. In a large bowl or the bowl of a stand mixer, combine the water, yeast and sugar. Let sit for 5 minutes, until the yeast starts to foam. Add in the flour, salt and olive oil and mix until the dough comes together. Knead for 10 minutes. Place the dough in a greased bowl and turn to coat with oil. Cover and let rise for 2 hours. Place in the refrigerator overnight.
Remove the dough from the refrigerator one to two hours before you make the pizza to let it come to room temperature.
To make the pizza:
Place the chicken in a bowl with 1/4 cup of the bbq sauce. Cover and let marinate for 2 hours.
Place a pizza stone in the oven and preheat the oven to 450-500F for 30 minutes.
Heat a saute pan over medium heat and cook the chicken until it is cooked through and no longer pink, 7-8 minutes. Set aside.
Sprinkle a surface with cornmeal and roll the pizza dough out into a circle 10-inches in diameter. Spread the remaining 1/4 cup bbq sauce on the dough. Sprinkle half of the mozzarella cheese and all of the gouda over the bbq sauce. Top with the chicken, then the red onion and the remaining mozzarella. Transfer the pizza to the oven and bake for 10-12 minutes, or until the crust is golden brown. Top with the cilantro.