I think that I've decided that we will be eating only slow cooker meals and pizza until this baby comes. Slow cooker meals – because I seem to feel the best and have the most energy in the morning, so it's easy to throw together a slow cooker meal that is ready when dinner time rolls around. And pizza because – well, it's just easy. (And because my whole family will eat it, but that's a whole 'nother subject…) I have seriously had made more dinners in the slow cooker and pizza dinners than I have in quite some time. And really, it's making my life so much easier!
While the kids are more than happy with just cheese or pepperoni on their pizza, my husband and I like to get a little more creative. I'm always up for a good slice of pepperoni pizza, but most times I'll pick something like Antipasto Pizza,Wingless Buffalo Chicken Pizza, or Artichoke, Tomato and Spinach Pizza.  What can I say?  I like a little variety!!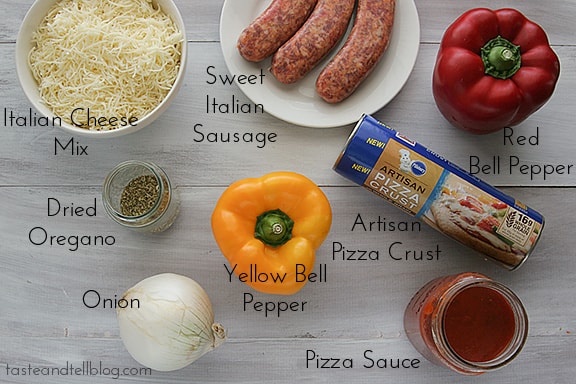 This time, my pizza took the flavors from a very popular sandwich – and one that I love – the sausage and pepper sandwich.  Sausage is combined with bell peppers and onion in this pizza that I couldn't get enough of.  And right now is the perfect time of year to try out this pizza, because peppers are plentiful and cheap.
I wanted my peppers and onions cooked down a bit, just like in the sandwich, so I pre-cooked them before adding them to the pizza.  But if you want to save even more time and effort, feel free to put them on the uncooked pizza raw.  They will still cook a little bit, but will have a little more crunch to them.  Next time you are looking to change up pizza night – give this combination a try!
And if you want more inspiration for pizza with peppers, check out the Artisan Pizza Showdown over at Pillsbury!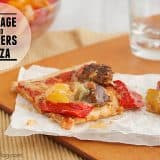 Sausage and Peppers Pizza
---
Prep Time: 20 minutes
Cook Time: 18 minutes
Total Time: 40 minutes
Yield: 6 servings 1x
Description
The popular sausage and pepper sandwich turns into pizza with this dinner idea that is topped with sausage and cooked peppers and onions.
---
Scale
Ingredients
1/2 lb sweet Italian or spicy Italian sausage
2 tablespoons olive oil
1 medium red bell pepper, sliced
1 medium yellow bell pepper, sliced
1 small onion, sliced
1 can (13.8 oz) Pillsbury® refrigerated artisan pizza crust with whole grain
1/2 cup pizza sauce
2 cups shredded Italian cheese mix
1 teaspoon dried oregano
---
Instructions
Heat the oven to 400°F.
In a medium pan, bring about 1/2 inch of water to a boil. Add the sausages, cover and cook until the sausages are cooked through, about 10 minutes. Drain the water and add 1 tablespoon of the olive oil to the pan. Cook the sausages, turning, allowing the casings to crisp up. Remove the sausages from the pan and cut into 1/2 inch pieces and return to the pan. Allow the sausages to brown on both sides.
Meanwhile, heat the remaining tablespoon of oil in a large sauté pan. Add both peppers and the onion and cook until crisp-tender, about 8-10 minutes.
Grease a baking sheet with nonstick cooking spray. Roll the crust out and press out slightly. Bake in the oven for 8 minutes.
Remove the pizza from the oven. Top with the pizza sauce. Add half of the cheese, followed by the peppers and onions. Add the sausage, then sprinkle on the remaining cheese. Return the pizza to the oven and bake an additional 6-10 minutes, until the crust is golden brown and the cheese is melted. Sprinkle on the dried oregano.
If you like sausage and peppers, you'll like these other sausage and pepper recipes:
Sausage, Peppers and Onions with Saffron Rice from Bunky Cooks
Toasted Angel Hair with Sausage and Peppers from Taste and Tell
Sausage, Onion and Pepper Calzone from Cooking Stuff
Sausage and Peppers Salad from Eclectic Recipes
Grilled Chicken Sausage and Pepper Pita Sandwiches from Aggie's Kitchen
**This is a sponsored post, but all opinions are my own.**