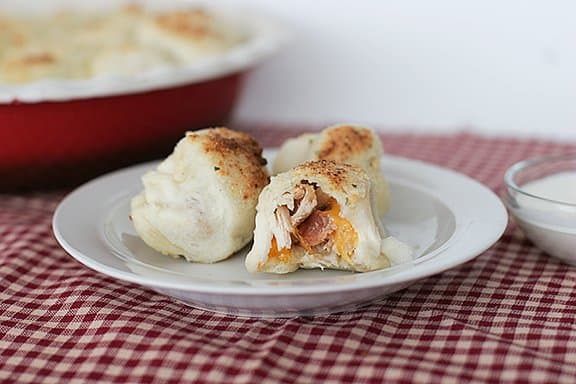 Happy April Fool's Day!  I wish I would have prepared some fun joke food for you today, but I wasn't that prepared this year.  Instead, I bring you the first dish from this month's Cookbook of the Month.  And believe me – this recipe is no joke – it's just delicious!!  I had such a hard time deciding where to start in this cookbook, but I started with a real winner.  In fact, this was the first thing I cooked post-baby, and it was a great way to get started back in the kitchen!
This recipe is super versatile.  In fact, I did the "variation" listed in the cookbook, just because I had a ton of chicken in the fridge that I needed to use up.  (That's what happens when you are brought meals after you have a baby – and 2 of those meals were rotisserie chickens!!)  But you can really fill these with whatever pizza toppings you want – just about anything would be good in these!!  I did have to alter the dipping sauce a bit, though – the original recipe called for equal parts mayonnaise and milk, and it was just way to runny for my liking.  But that was the only complaint I had from this recipe!
Recipe Rating: 9 out of 10
Stuffed Pizza Rolls and Dipping Sauce
adapted from Our Best Bites Cookbook
serves 6-8
total time:  40 minutes
1 roll refrigerated pizza dough
1 1/2 cups shredded, cooked chicken
1/2 pound bacon, cooked and crumbled
1/4 pound cheddar cheese, cut into small cubes
1 package powdered ranch dressing mix
1 1/2 tablespoons powdered Parmesan cheese
1/2 cup milk
1 cup mayonnaise
Preheat the oven to the heat specified on the pizza dough package.
Unroll the pizza dough onto a lightly floured surface.  Pat or roll the dough so it's about 12×8 inches.  Use a pizza wheel to cut the dough into 24 squares.
In a bowl, combine the chicken, bacon and cheese.  Place some of the filling in the middle of each square of dough.
When all the dough squares have the filling on them, carefully lift up each square and wrap the dough around the toppings.  Pinch to make sure each ball is sealed shut and then place them seam-side douwn in a lightly sprayed pie pan.
Brush the tops of the dough balls with olive oil or melted butter.  In a small bowl, combine 1 teaspoon of the packaged ranch dressing mix iwth the 1 1/2 tablespoons of powdered Parmesan.  Sprinkle the mix over the dough balls.
Place the pan in the oven and bake for 15-20 minutes or until golden brown on top, checking them every few minutes after 10 minutes.
While the pizza rolls are cooking, prepare the dipping sauce.  Mix the remaining powdered ranch dressing mix with the milk and mayonnaise.  Serve with the pizza rolls.