The perfect game day food or family friendly dinner – these Stuffed Pizza Rolls are always a crowd pleaser! Filled with chicken, bacon, cheese and ranch, you won't be able to eat just one!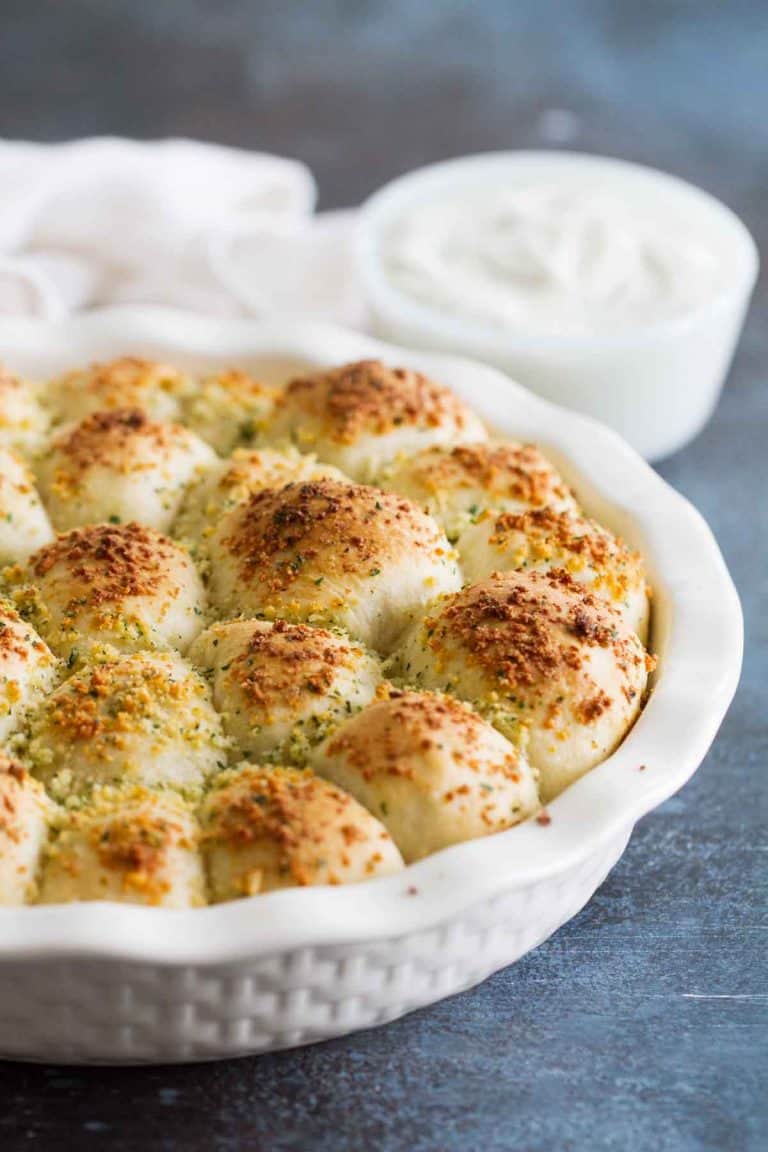 My kids would say that being the child of a food blogger is sometimes not as glamorous as it seems.  While I know they appreciate having homemade dinner, I think sometimes they just want pizza and hamburgers every night.
And while I try to keep things interesting, (and while I'm testing recipes for this blog all the time), I still try to go back to those "regulars" that they want as well. And pizza is one of our biggest go-tos.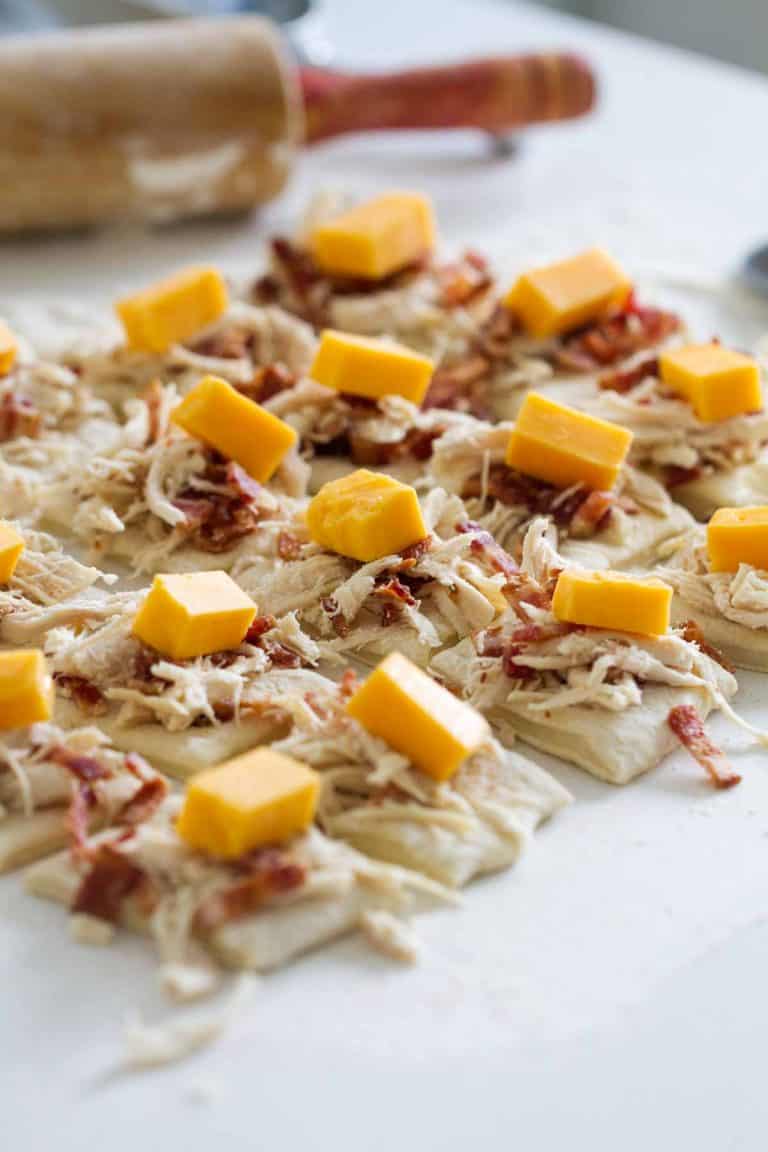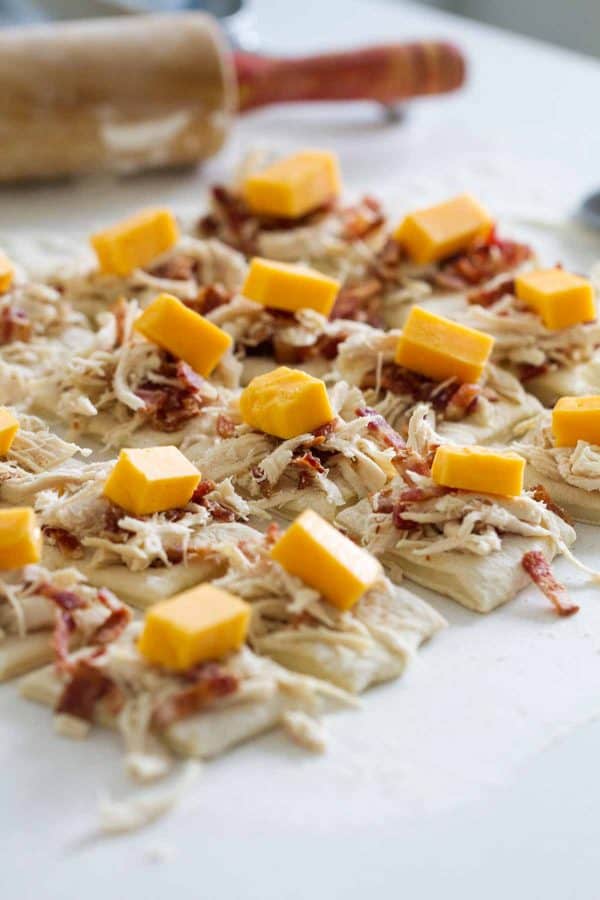 While I love pizza, and honestly don't get tired of having it often, sometimes I still want to switch things up. And that is where these Stuffed Pizza Rolls come in! They taste like pizza, but the presentation and preparation changes it up. Plus, you get the dipping sauce, and whenever there is a dipping sauce, you know it's going to be good!
These little pizza bites are a great way to make sure mom and dad and the kids are all happy!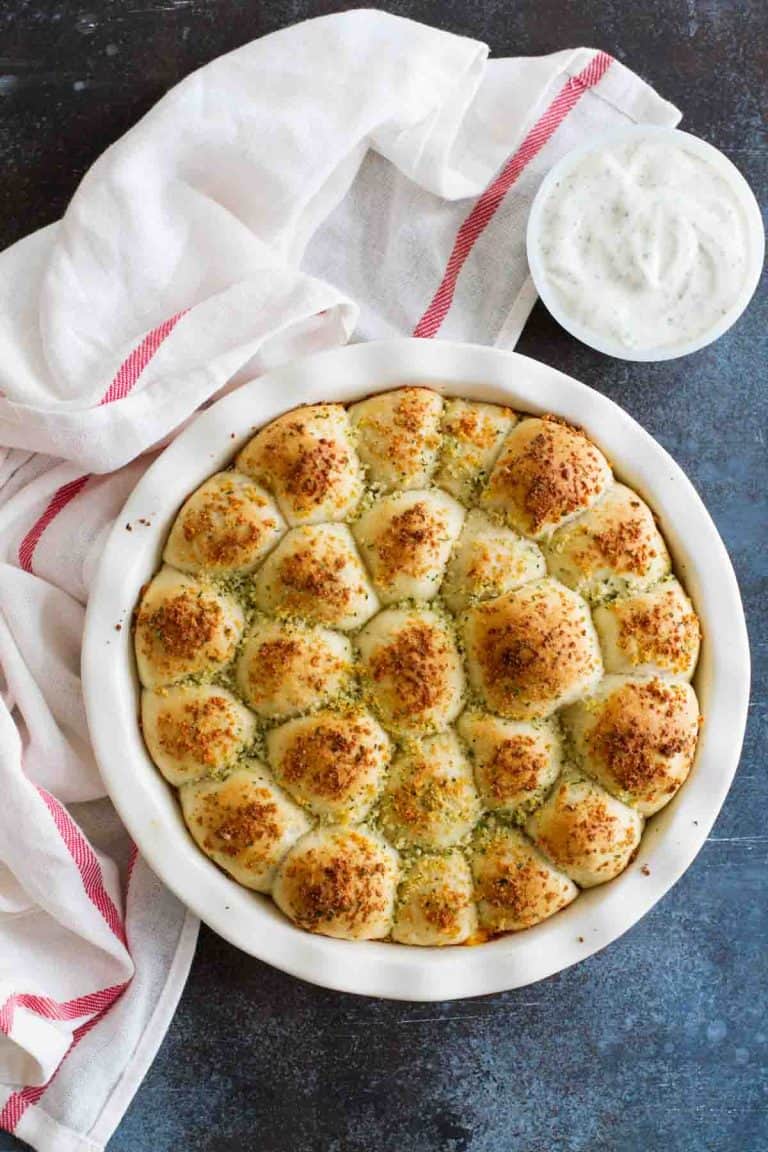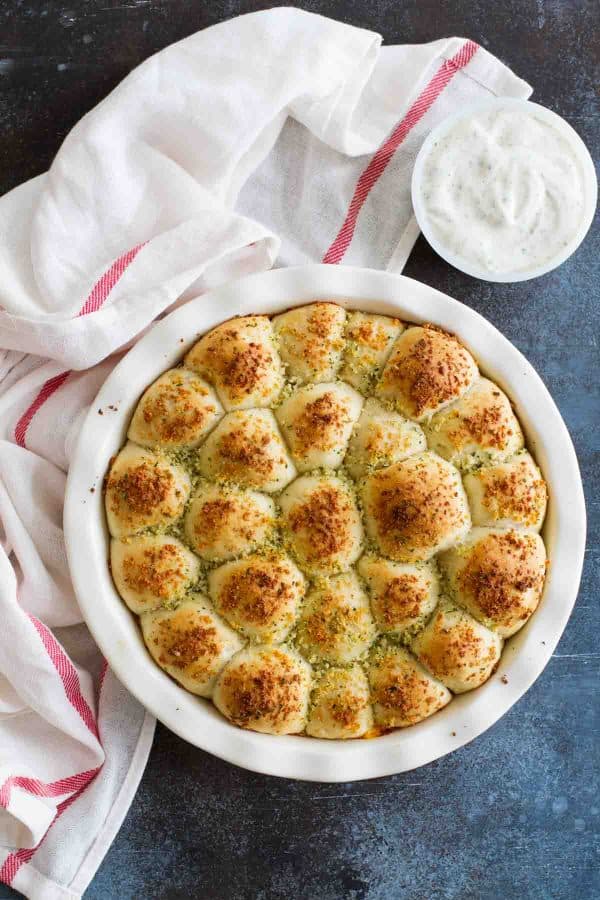 How to make Stuffed Pizza Rolls:
I like to start off with my very favorite pizza dough recipe. You'll need about a pound. That recipe makes 3 pounds of dough, but you can freeze the rest, make extra pizza, or make enough stuffed pizza rolls for a crowd!
You'll roll the dough out on a clean, floured surface into a 12×8-inch rectangle. Then you'll use a pizza cutter (I think this is the easiest way to do it) to cut the dough into 24 squares. That is 6 rows across the long side and 4 rows along the short side.
The next step can get a little messy, but it's pretty easy once you get the hang of it. On top of each square, put an equal amount of cooked, shredded chicken and cooked and crumbled bacon. Then place a cube of the cheese on top of that.
Working with one square at a time, pull the sides up over the filling and pinch the edges to seal the filling inside the roll. Put the roll seam side down in a pie dish, then repeat with the remaining squares of dough.
Once all the rolls are stuffed, brush melted butter on top, then sprinkle on a mixture of powdered ranch dressing mix and parmesan cheese. I don't usually like the parmesan cheese in a can, but it totally works in this recipe. If you are opposed to the can, you can finely grate fresh Parmesan.
Bake the rolls until golden!
The dipping sauce is a must (in my opinion) and is as easy as mixing mayonnaise, milk and the rest of your powdered ranch dressing mix.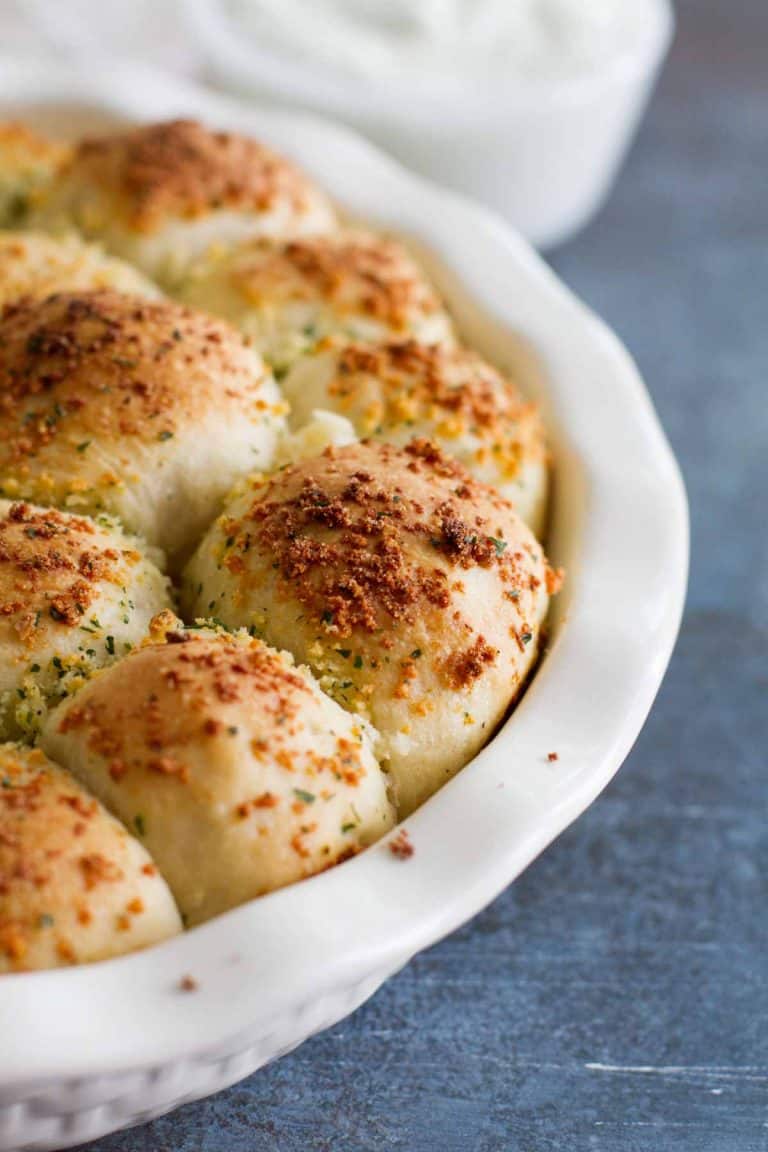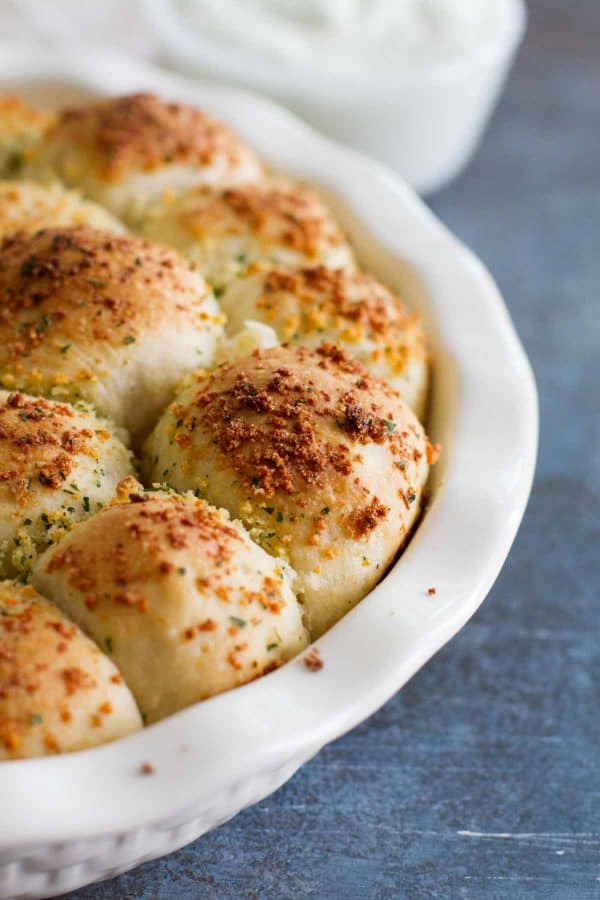 Stuffed Pizza Roll Stuffing Ideas:
This chicken, bacon and ranch filling is my very favorite for these stuffed pizza rolls, but my kids really love cheese and pepperoni the most. If you do pepperoni, just fill the center with pepperoni and cheese, and have marinara sauce for dipping. Or you could do ham and pineapple and dip in marinara. Or chopped up veggies, or sausage and pepperoni. Really, the possibilities are endless!
Just remember that you don't want to overfill the pizza rolls. And that the sauce is best used as a dipping sauce for the pizza bites.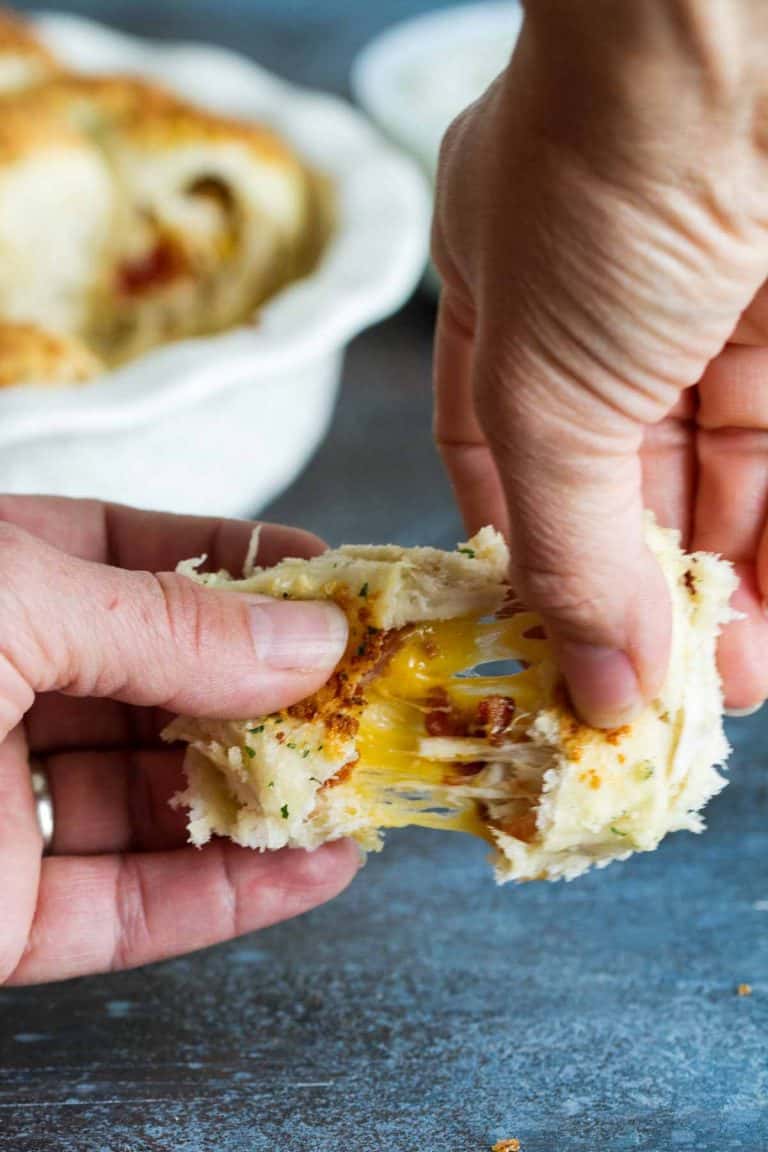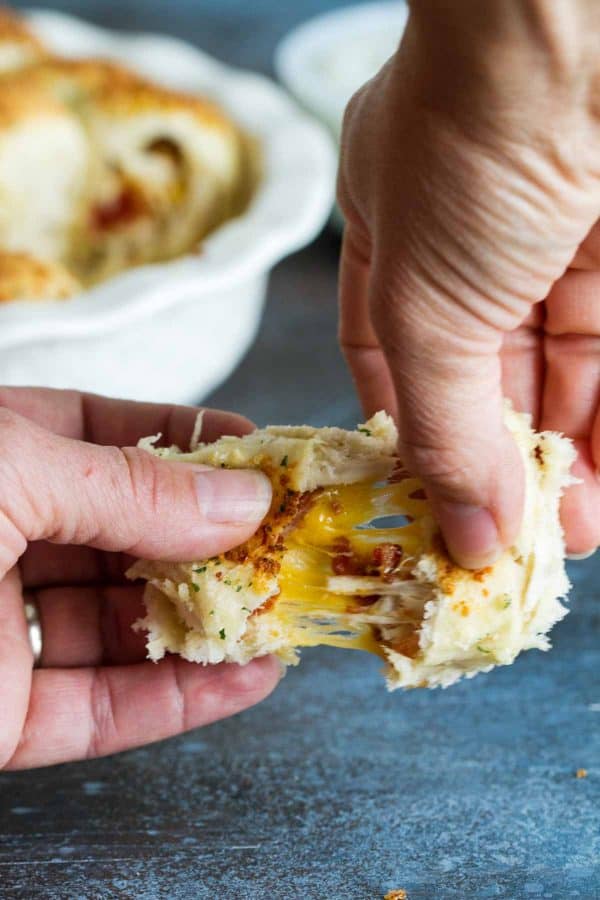 Game Day Food and Family Friendly Dinner:
If you are ever looking for a great appetizer to serve up as game day food, these pizza bites are the best! These pizza rolls are easy to feed to a crowd, and you could even do a few different flavors to keep things interesting. They are perfect as a finger food – you don't even have to have a fork to eat them!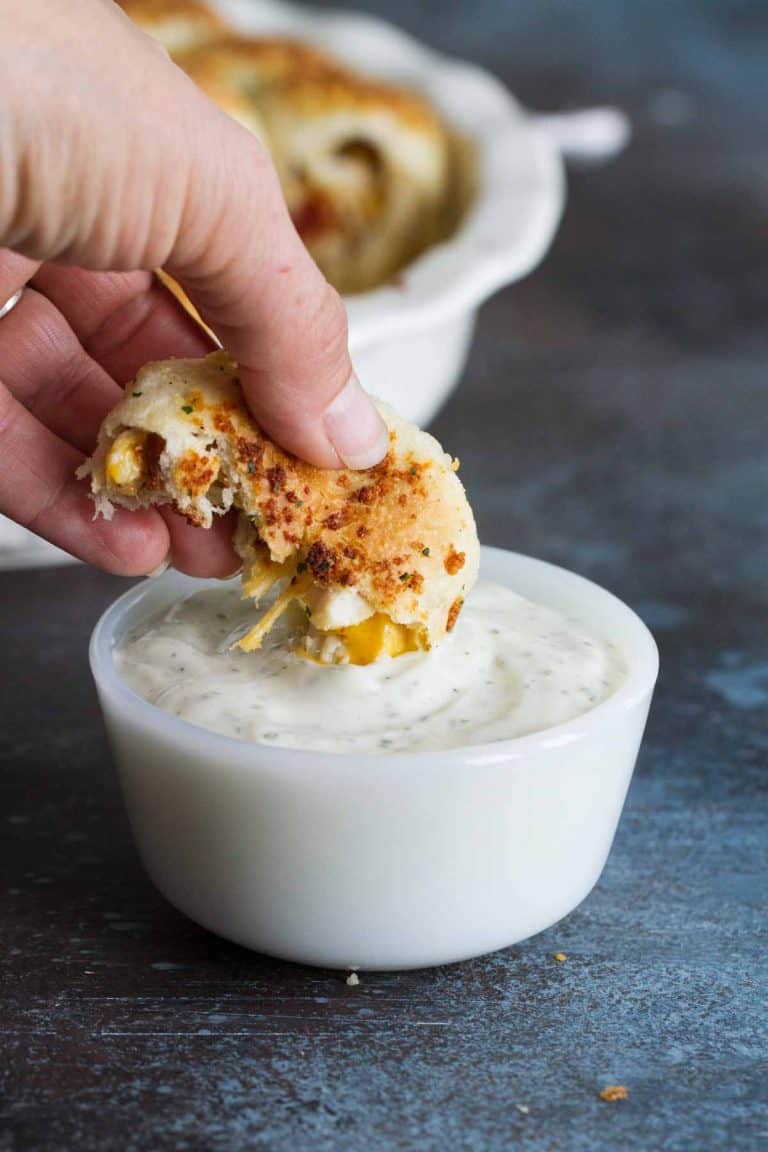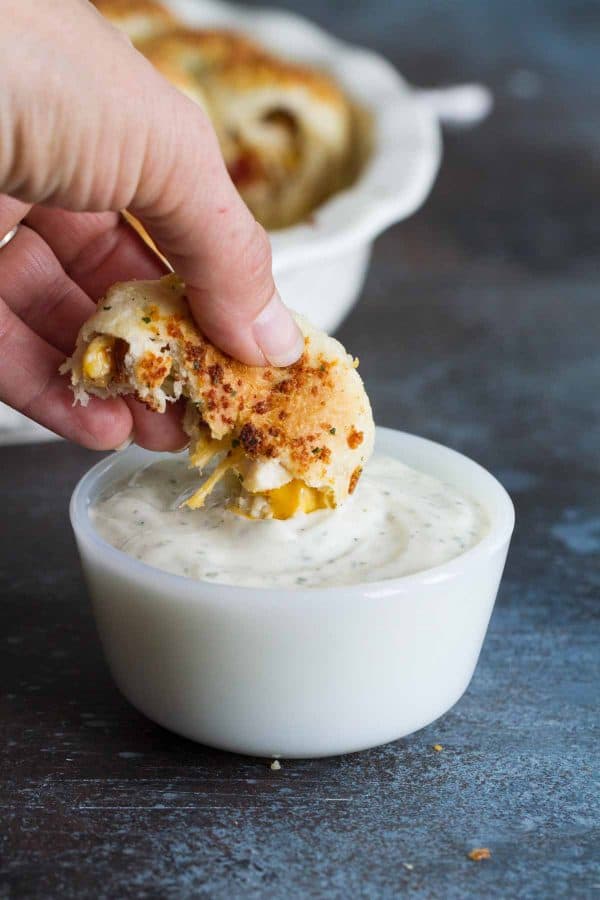 The rolls are also perfect for dinnertime. My kids love these, and I'm guessing anyone that loves pizza would love these. You could even make them a couple of hours ahead of time, cover and refrigerate them, then bake them right before it's time to eat.
More Pizza Inspired Recipes:
Pizza Cups
Homemade Pizza Roll Recipe
Meat Lovers Pizza Tacos
Pizza Topped Grilled Chicken Sandwich
Puffed Up Pizza Casserole
Pizza Dogs
Tools I Used to Make These Stuffed Pizza Rolls:
A deep dish pie dish. You could use a regular pie dish, but a deep dish works the best.
A rolling pin for rolling out your pizza dough.
A pizza cutter. The best way to cut the dough into the squares.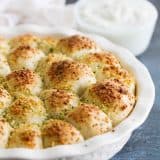 Stuffed Pizza Rolls
---
Author:
Prep Time: 30 mins
Cook Time: 15 mins
Total Time: 45 minutes
Yield: 6 servings 1x
Category: Main Dish
Method: Bake
Cuisine: American
Description
The perfect game day food or family friendly dinner – these Stuffed Pizza Rolls are always a crowd pleaser! Filled with chicken, bacon, cheese and ranch, you won't be able to eat just one!
---
Scale
Ingredients
1 pound pizza dough
1 1/2 cups cooked, shredded chicken
1/2 pound bacon, cooked and crumbled
1/4 pound cheddar cheese, cut into 24 small cubes
1 tablespoon butter, melted
1 (1 oz) package powdered ranch dressing mix, divided
1 1/2 tablespoons powdered Parmesan cheese
1 cup mayonnaise
1/2 cup milk
---
Instructions
Preheat the oven to 400ºF. Spray a 9-inch deep-dish pie dish with nonstick cooking spray.
Lightly flour your counter and roll out the dough into a 12×8-inch rectangle. Use a pizza wheel to cup the the dough into 24 squares 2-inch squares.
In a bowl, combine the chicken and bacon. Divide the mixture evenly between the 24 squares. Place a cube of the cheese on top of each square.
Carefully lift up each square of dough and wrap it around the toppings. Pinch the bottoms to make sure each ball is sealed shut, then place, seam side down, in the prepared pie dish.
Once all of the dough balls have been placed in the pie dish, brush the melted butter evenly over the tops of the balls.
Combine 1 teaspoon of the ranch dressing powder with the Parmesan cheese in a small bowl. Sprinkle the mixture evenly over the top of the rolls.
Bake in the preheated oven until they are golden brown on top, about 15 minutes. Start checking them every couple minutes after the 10 minute mark.
While the pizza rolls are baking, make the dipping sauce. In a bowl, combine the mayonnaise, the milk, and the remaining ranch dressing mix. Refrigerate until needed.
Serve the pizza rolls with the ranch dipping sauce.
Recipe Notes:
Adapted from Our Best Bites Cookbook
Nutrition information provided as an estimate only. Various brands and products can change the counts. Any nutritional information should only be used as a general guideline.
Nutrition
Serving Size: 4 rolls
Calories: 759
Sugar: 1 g
Fat: 52 g
Saturated Fat: 15 g
Unsaturated Fat: 25 g
Trans Fat: 0 g
Carbohydrates: 36 g
Fiber: 0 g
Protein: 33 g
Cholesterol: 83 mg
Keywords: pizza bites, pizza rolls