Pin It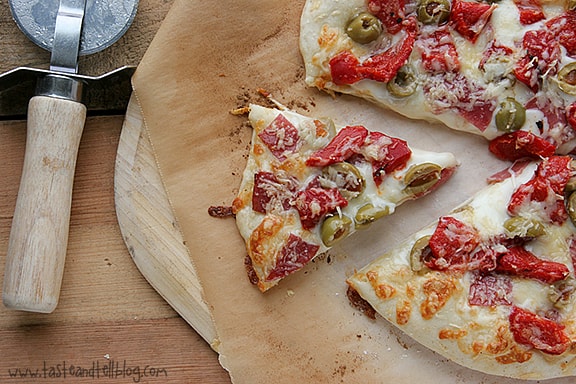 The first time my daughter had pizza, she was probably between 12 and 18 months old.  She was at a birthday party, and immediately discovered her love of pizza.  I think she ate 4 pieces of pizza that day.  And I think I ate 2.  Ever since, she pretty much always out-eats me when it comes to pizza.  Whenever you ask her what she wants to eat, she will almost always say pizza.
That being said, until recently, we haven't had pizza very often.  We love ordering delivery, but don't do it very often because it is so expensive.  And whenever I would try to make it at home, it would be good, but nothing close to the delivery pizza that we love so much.  And it always seemed like such a hassle.  Until I discovered this pizza crust recipe.  I'm not kidding – we have pizza almost on a weekly basis now.  This dough is so easy to throw together, and with the dough made ahead of time, it is seriously faster to make pizza than it is to order out.
We actually ordered pizza last weekend for the first time in months.  And after we ate, I honestly thought to myself that I like my homemade pizza better now than the delivery!
 
Pin It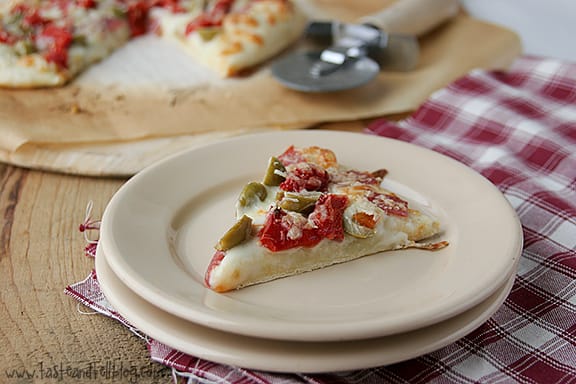 But this post is not really about the dough.  This pizza was seriously delicious.  I actually made  this pizza quite awhile back, not to blog about, but just for dinner.  I posted a picture of it on Instagram, and so many people commented on it that I knew I would need to make it again so that I could photograph it and share it with all of you.  Because I could eat this whole pizza myself.  I'm always a sucker for the salty flavors, but you throw them on top of a pizza, and I'm in pizza heaven!  And this pizza goes to prove that you don't need a heavy sauce to make a good pizza.  This is simply cheese and toppings, and I seriously wouldn't change a thing.  Not a thing!

 

Antipasto Pizza
Fan of antipasto? This pizza is inspired by the traditional Italian first course.
Ingredients
Pizza dough for 1 pizza (This is my very, very favorite!)
1 cup shredded mozzarella cheese
1 cup diced salami
1 cup roasted red peppers, sliced
½ cup pitted and halved green olives (I used olives with pimiento)
¼ cup freshly grated Parmesan cheese
Instructions
Place a pizza stone in the oven and preheat to 450F for 30 minutes.
Prepare and roll out your pizza dough. Top with the mozzarella cheese. Sprinkle on the salami, red peppers and olives. Top with the parmesan.
Bake in the preheated oven until the dough is cooked and browned and the cheese is melted, 10-12 minutes.
-------------------
inspired by Quick Fix Meals