This Teriyaki Chicken Pizza is a great way to change up pizza night with a teriyaki and pineapple twist.
Homemade pizza is our favorite!! Make a pizza buffet and serve a few different flavors – like this White Pizza Recipe, Buffalo Chicken Pizza, and BBQ Chicken Pizza.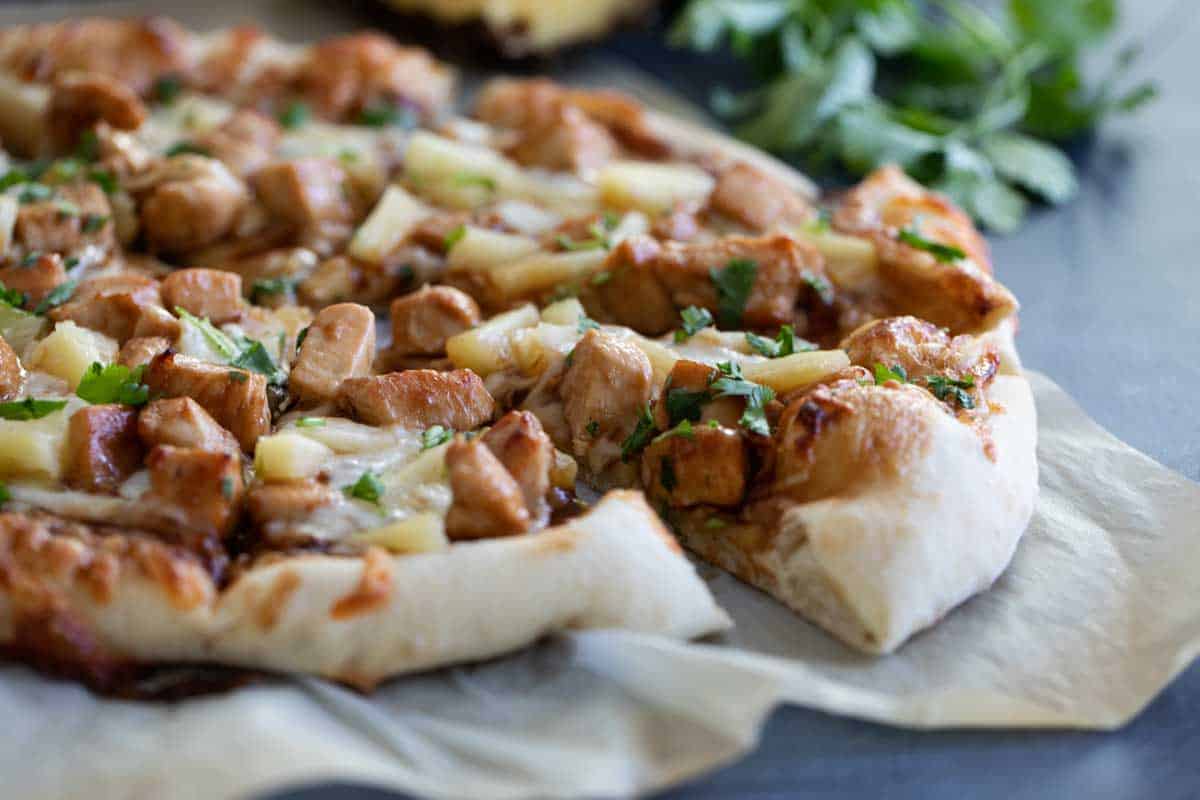 This has got to be one of my very favorite flavor combinations on a pizza. It's definitely not your normal, see this on every pizza menu kind of pizza, but what's not to love about this Teriyaki Chicken Pizza?
Teriyaki chicken. Pineapple. Cheese. A little sprinkle of cilantro to bring it all together at the end.
Love, love, love.
It's bold, it's flavorful, and it's a memorable one.
I think it's time for pizza night!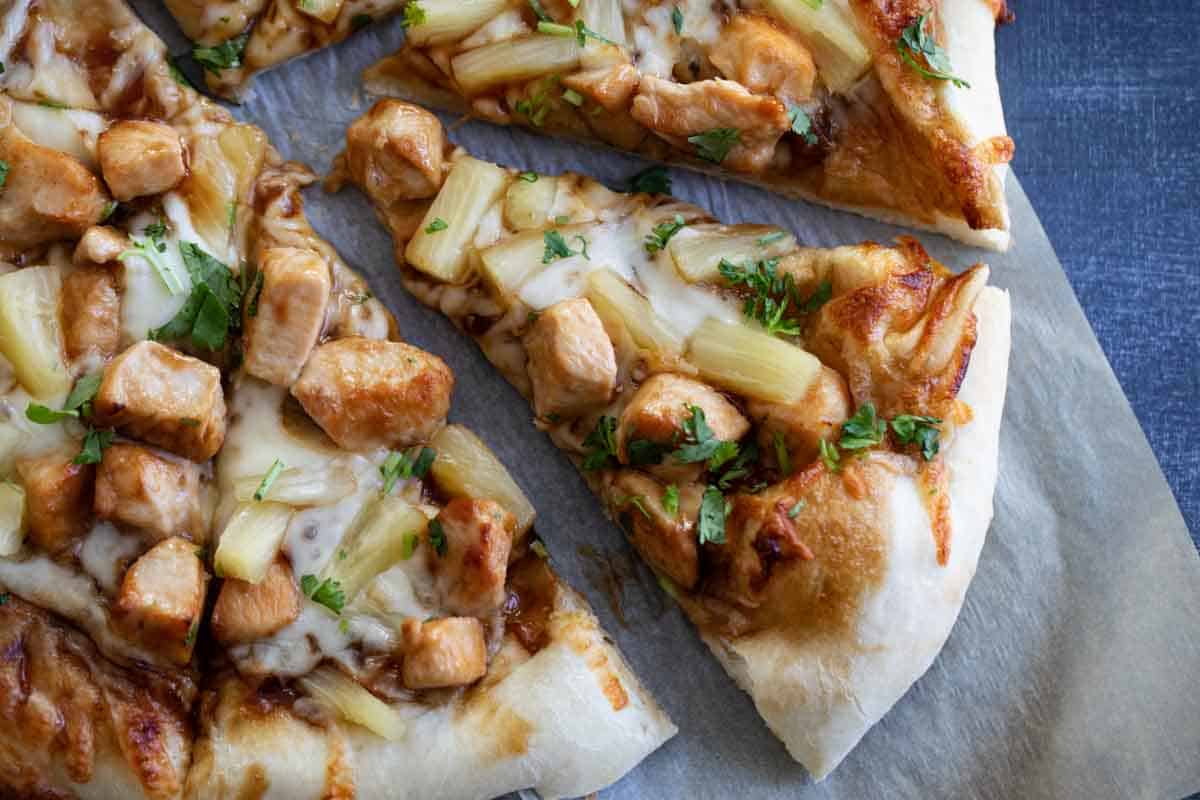 What You'll Need
This pizza in and of itself doesn't take a ton of time to make. But… if you are making all of the components from scratch (which I highly recommend!) it will take a little longer. The good thing is that much of it can be made in advance!
The Teriyaki – my homemade teriyaki sauce is perfect in this recipe. It's more like a glaze because it is quite thick, which is what you'll need for this recipe. It can be made even a few days in advance, plus you'll have extra to use in other recipes, as well.
The Pizza Dough – I have been making my homemade pizza dough almost weekly for years now. You could definitely use a store bought crust, but I have a feeling that if you tried my homemade dough, you'd be hooked, too! I will usually make the dough earlier in the morning for dinner that night, but really, you could make it a day ahead of time and put it in the refrigerator (be careful, though, as it will continue to rise, just not as fast) or you could freeze portions so that you just have to defrost your dough that day. Make sure and read through my post for all of the tips for making the pizza dough. I know it's long, but it is all important information!
The Chicken – All you really need to do is cut and cook the chicken, and this will just take a few minutes, especially since it's not a lot of chicken. Technically you could do this ahead of time, as well, but it's so quick that it's really not necessary!
The Pineapple – I have used both fresh and canned pineapple in this recipe before. While I definitely prefer the flavor of fresh, canned will work. You may need to cut the pieces smaller, though, so that you don't have big chunks of pineapple on your pizza.
The Rest – Cheese and cilantro are the last two ingredients you'll need. I recommend freshly grated Mozzarella, as it will melt better. You don't necessarily need fresh mozzarella, though – I just use the brick of cheese from the grocery store. Pre-grated cheese is coated to keep it from sticking together, and this makes it so that it doesn't melt as well. For the cilantro – I know some people don't like it, so you can leave it off. But I love the bit of freshness and flavor it brings.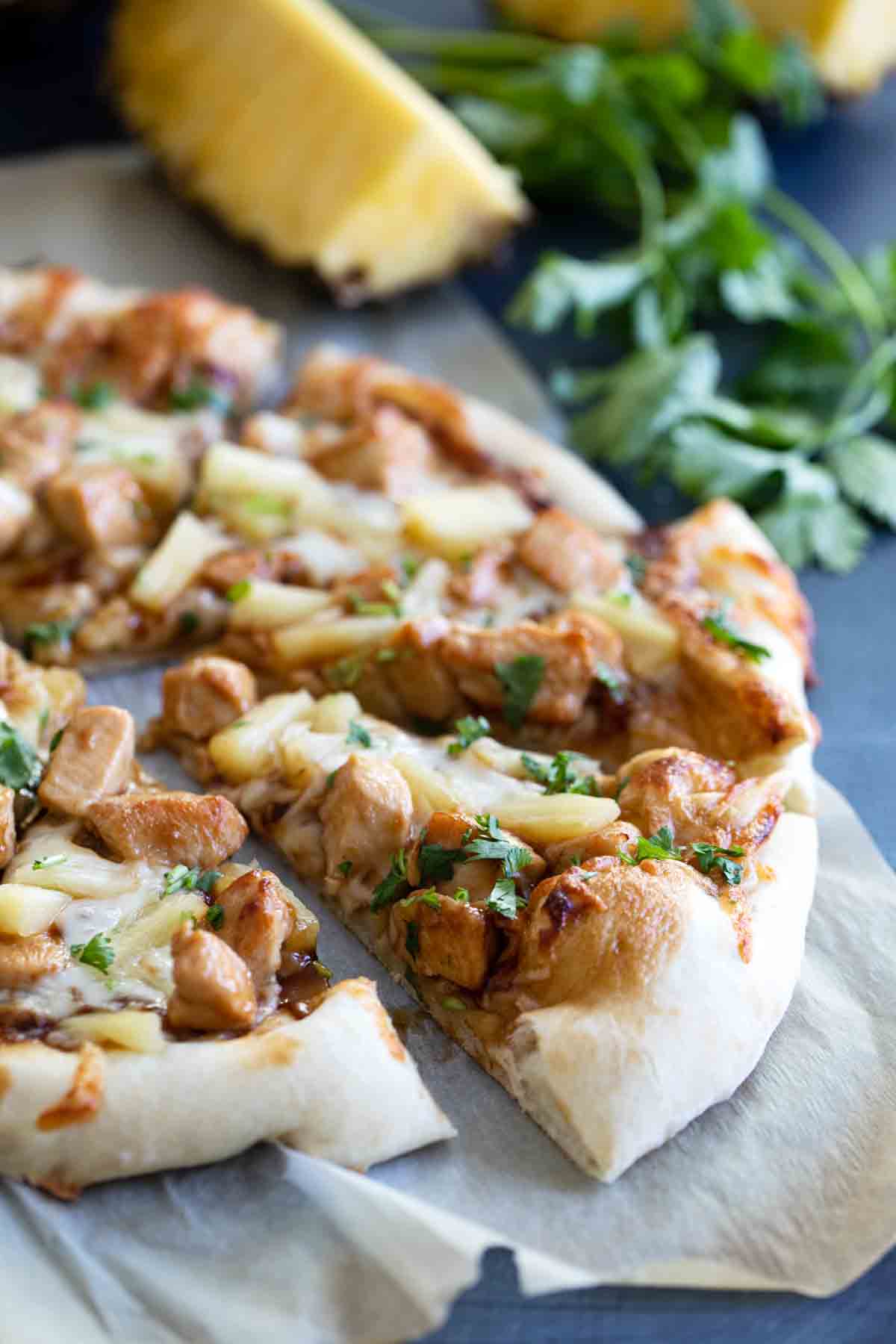 Even More Pizza Recipes
Chicken Bacon Ranch Pizza
Sausage and Peppers Pizza
Antipasto Pizza
Artichoke, Tomato and Spinach Pizza
Blue Cheese and Bacon Pizza
Butternut Squash and Sage Pizza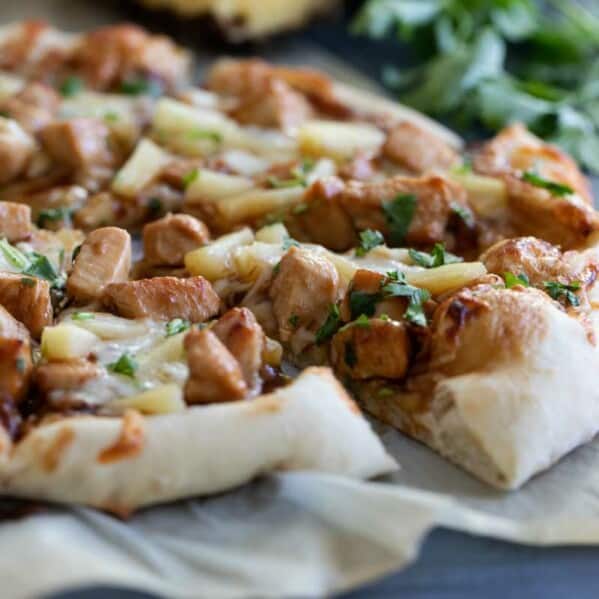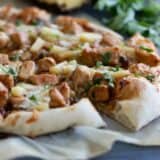 Teriyaki Chicken Pizza
---
Author:
Prep Time: 15 minutes
Cook Time: 15 minutes
Total Time: 45 minutes
Yield: 4 servings 1x
Category: Main Dish
Method: Bake
Cuisine: American
Description
This Teriyaki Chicken Pizza is a great way to change up pizza night with a teriyaki and pineapple twist.
---
Scale
Ingredients
1 tablespoon olive oil
1 (8-10 oz) boneless, skinless chicken breast, cut into 1/2-inch pieces
1/4 cup plus 1 tablespoon teriyaki sauce*
1 portion (1-lb**) pizza dough
1 1/2 cups shredded Mozzarella cheese
1 cup chopped pineapple
3 tablespoons chopped cilantro
---
Instructions
Place a pizza stone in the oven***. Preheat the oven to 450º-500ºF for at least 30 minutes.
Heat the oil in a large skillet over medium-high heat. Add the chicken and cook until cooked through. Add in the 1 tablespoon of teriyaki sauce and stir to coat.
Lightly flour a piece of parchment paper and flatten the pizza dough into a large circle, about 14" in diameter.
Spread the remaining 1/4 cup of teriyaki sauce over the pizza crust. Top with the shredded cheese, then the cooked chicken and the pineapple.
Bake the pizza until the cheese is melted and the crust is golden, 8-10 minutes.
Top with the chopped cilantro and cut into slices to serve.
Recipe Notes:
*I use my homemade Teriyaki Sauce, which is thick like a glaze. If not using homemade, you'll want to use a teriyaki glaze instead of a teriyaki sauce.
**1 pound of pizza dough will make a fairly thick pizza. I use my pizza dough recipe and instead of cutting it into 3 1-lb portions, I use 1/4 of the dough to make 4 pizzas. That way the crust is a little thinner.
***If you don't have a pizza stone, just preheat the oven to 450º-500º – no need to preheat for 30 minutes. Total cook time includes that 30 minutes to preheat, so if you are skipping that, you'll probably have your pizza on the table in even less time.
Nutrition information provided as an estimate only. Various brands and products can change the counts. Any nutritional information should only be used as a general guideline.
Nutrition
Serving Size: 2 slices
Calories: 524
Sugar: 7 g
Sodium: 491 mg
Fat: 16 g
Saturated Fat: 6 g
Unsaturated Fat: 4 g
Trans Fat: 0 g
Carbohydrates: 59 g
Fiber: 1 g
Protein: 37 g
Cholesterol: 78 mg
Keywords: teriyaki chicken pizza