This Teriyaki Chicken Pizza is a great way to change up pizza night with a teriyaki and pineapple twist.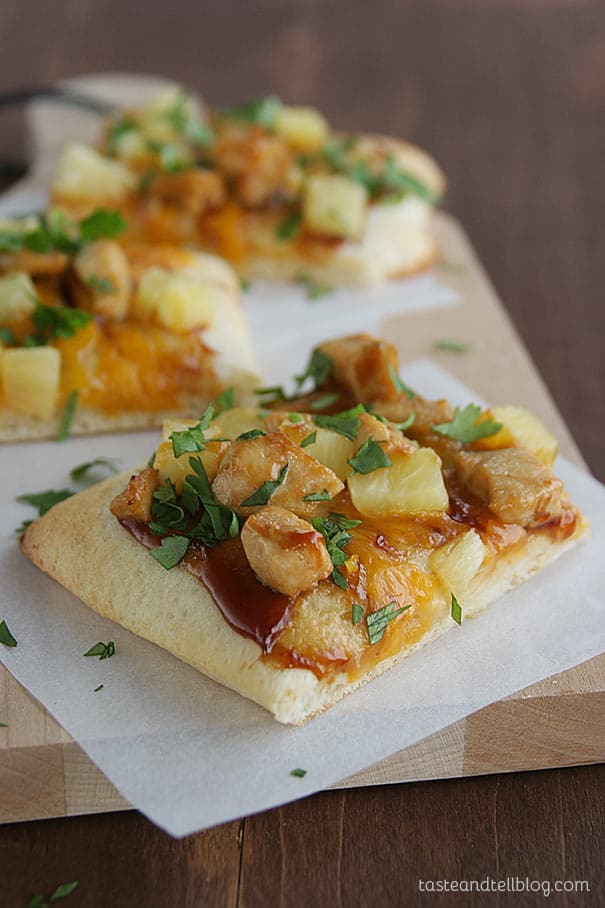 As a food blogger, you learn to make do with your circumstances in order to make things work. During these winter months, this means I am often making dinner at lunchtime so that I can photograph the food while the light is good. This translates into reheated dinners most nights. It really does mostly work well for us, to be honest. I can never guess how the kids are going to be acting when dinnertime rolls around, or if I will have a newborn that is wanting mom's attention. But if I can make dinner during the day, the chances of us actually having dinner that night are higher.
I guess I should say that usually this works.
This one particular day, I made this teriyaki chicken pizza in the early afternoon. The pizza was made, the pictures taken, and then the whole thing was wrapped up and put in the refrigerator, waiting to be reheated for dinner. (I guess I should say all of it except for the piece that I had to sample when the pizza was fresh – I couldn't resist!) I went about my day. Dinnertime came, my husband got home, and all chaos broke loose. I think all three kids wanted attention at the same time. I stuck the pizza in the oven to warm it up. My husband took over the two older kids while I worked on making the baby happy. Later, while I was sitting on the couch and my husband was at the front of the house entertaining kids, I remembered the pizza. I yelled to my husband who ran to the oven, only to discover a deeply charred and inedible pizza.
I can't tell you how sad I was. Because this teriyaki chicken pizza was good. And this is when I was very grateful that I did sample that piece earlier in the day, otherwise I wouldn't be able to tell you if this was good or not. But part of me wished that I didn't know, because it only made me that much sadder that we wouldn't be eating pizza for dinner.
But I have promised my husband that I will make this Teriyaki Chicken Pizza again soon. I told him that I will make it so that he will be able to find out for himself how good it is, but really – it's because I want more!!
Like what you see here? Make sure you are following Taste and Tell for more great recipes and ideas!!

Facebook ** Pinterest ** Twitter ** Instagram ** Google+
or you can subscribe to my newsletter or Feedly or Bloglovin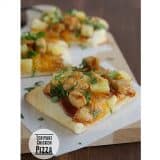 Teriyaki Chicken Pizza
---
Prep Time: 15 minutes
Cook Time: 18 minutes
Total Time: 35 minutes
Yield: 6 servings 1x
Description
Change up your pizza with a teriyaki and pineapple twist.
---
Scale
Ingredients
1 tablespoon vegetable or olive oil
1 (8-10 oz) boneless, skinless chicken breast, cut into 1/2-inch pieces
1/4 cup + 1 tablespoon Teriyaki glaze
1 can (13.8 oz) Pillsbury® refrigerated classic pizza crust
1 1/2 cups shredded cheddar cheese
1 cup chopped pineapple
Chopped cilantro (optional)
---
Instructions
Heat oven to 400°F. Spray a large baking sheet with cooking spray.
Unroll the pizza crust on the baking sheet. Press dough out to the edges of the sheet. Bake for 8 minutes.
Heat a large skillet over medium-high heat. Add the oil. Add in the chicken and cook until cooked through. Add in 1 tablespoon of the teriyaki glaze and stir to coat.
Spread the 1/4 cup teriyaki glaze over the pizza crust. Top with the shredded cheddar cheese. Sprinkle the cooked chicken and the pineapple over the top. Return to the oven and cook an additional 6-10 minutes, until the crust is golden brown.
Top with chopped cilantro, if desired.
**This is a sponsored post, but all opinions are my own**