This Migas recipe makes a breakfast with Tex-Mex flair! Eggs, tortilla chips, and a little bit of spice, all in an easy 1 skillet meal.
A good, hearty breakfast recipe is my love language! Give it a good Tex-Mex spin, and I'm in heaven. This Breakfast Tortilla Stack or these Easy Breakfast Tostadas are two others that you need to try out!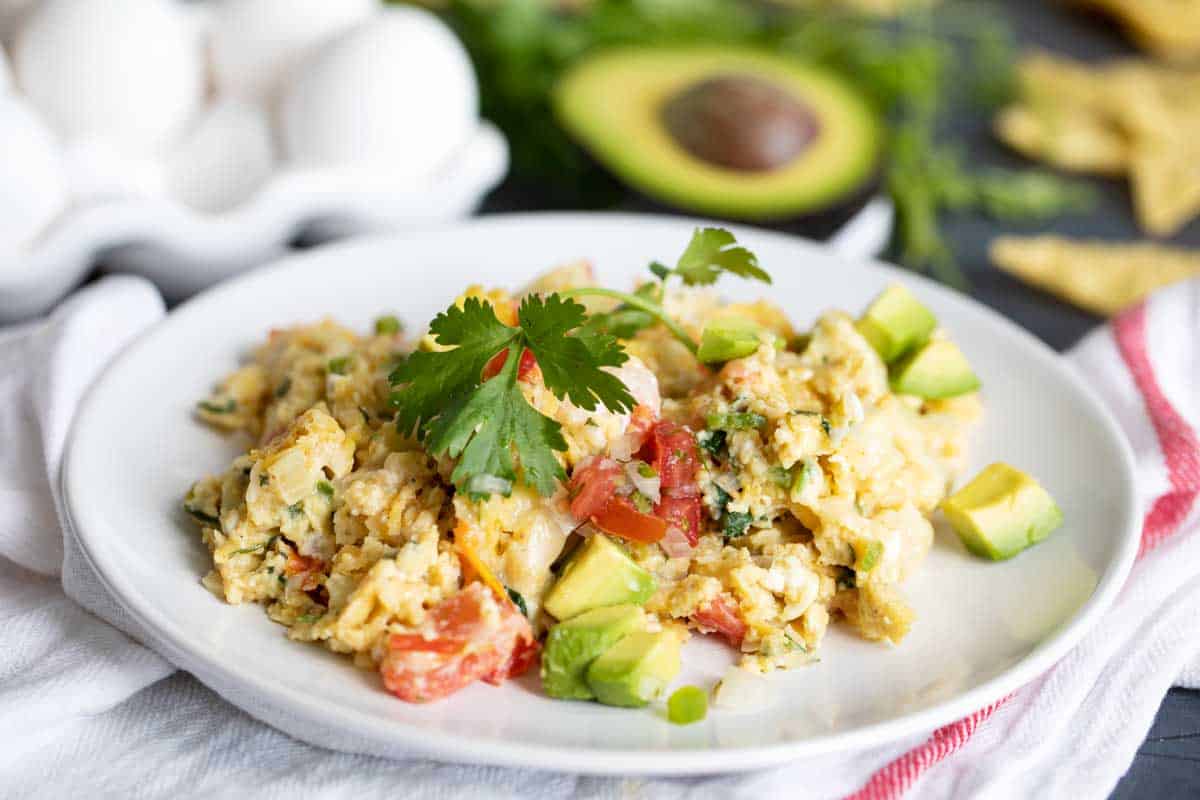 Have I told you all how much I love breakfast? Oh yeah, probably about a bazillion times. But I love breakfast. And as much as I love the sweet stuff – pancakes and waffles and cinnamon rolls – if you put an egg in front of me, it will get me every time.
This breakfast idea is perfect for any Tex-Mex lover.  Tortillas, jalapeno, hot sauce, all mixed in with delicious eggs – this is my kind of meal. And even though this is technically a breakfast dish, I made it up for lunch one day and it was the perfect lunch. It would make a perfect breakfast for dinner idea, too! Oh, and hey – how about a midnight snack?  Ok, so you get my point – this would be perfect 24 hours a day!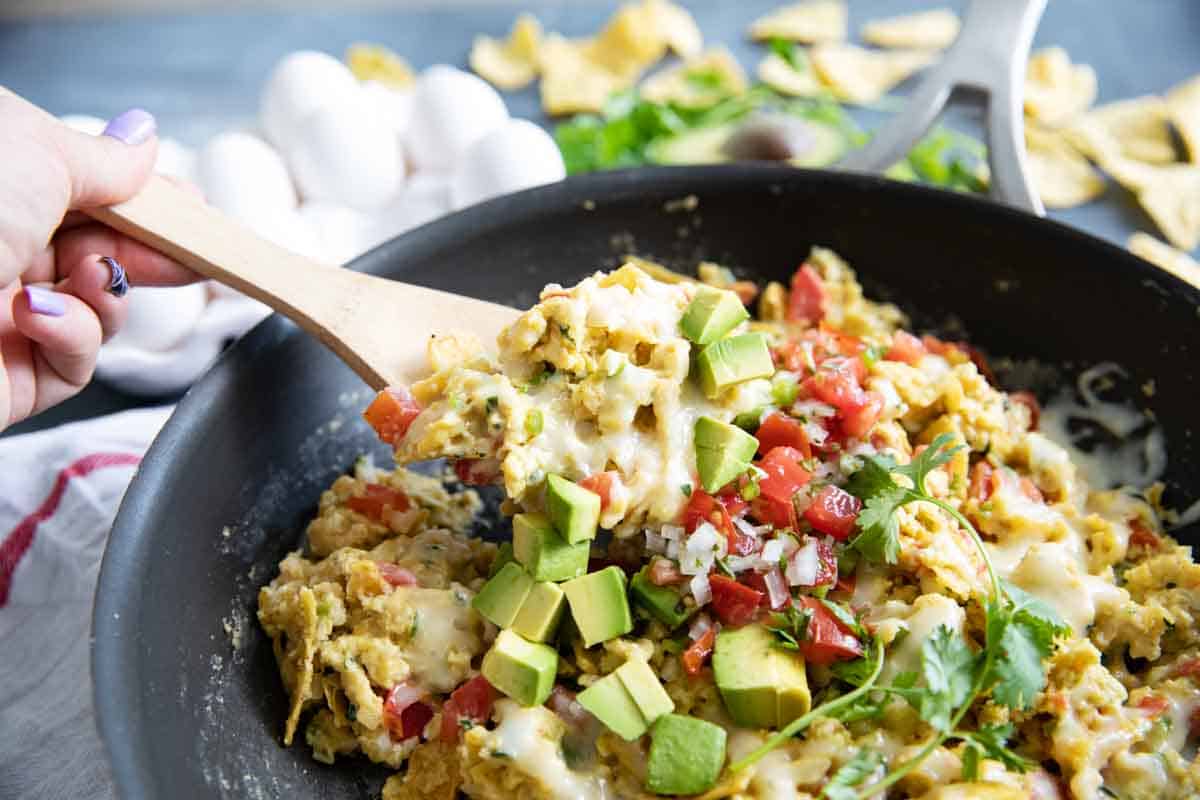 What Are Migas?
You might be wondering – what exactly are migas?
There are actually many different versions that vary depending on what cuisine you are talking about. There is a popular Spanish version that differs from this version I'm sharing here.
This version is a very Tex-Mex version, but similar to the Mexican version.
The Mexican version of Migas is a way to use corn tortillas that are left over from previous meals. It usually starts by taking strips of the tortillas and frying them in oil, then adding eggs and scrambling them all together.
The Tex-Mex version adds in all of the other flavors – such as onions, peppers and tomatoes.
It's actually quite common to have migas served with tortillas, and then eaten as tacos. Which is one of my favorite ways to eat migas – and I even have a recipe for Migas Breakfast Tacos here on Taste and Tell.
I love that this is a hearty meal that is inexpensive and can usually be made from what you have on hand.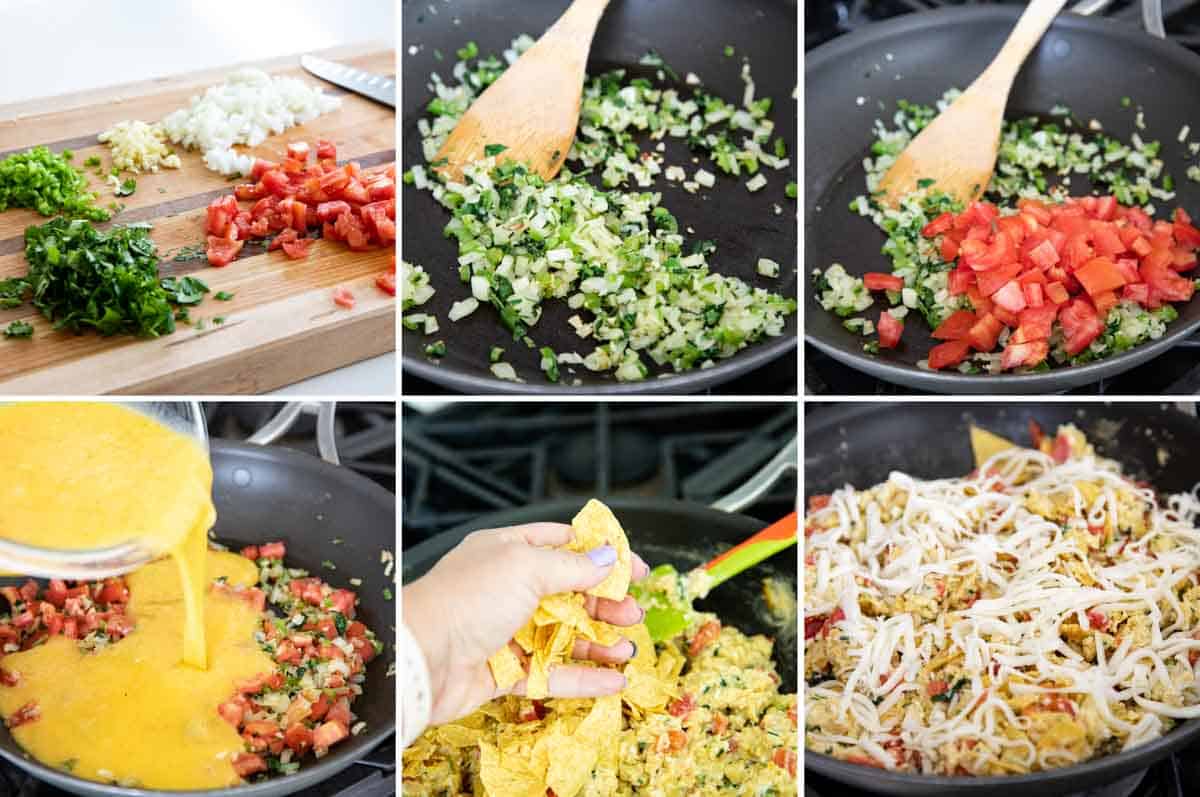 How to Make Migas
Start by prepping all of your veggies – onion, jalapeno, garlic, cilantro and tomatoes. It all cooks pretty quickly, so it's good to have it ready to go before you actually start cooking.
Saute the onion, jalapeno, garlic and cilantro in a large skillet.
Add the tomato and cook just another minute or so.
Stir in a mixture of eggs and hot sauce that have been whisked. Cook the eggs until they are done as much as you like them.
Add in a few handfuls of tortilla chips that have been lightly crushed.
Top with shredded cheese and let it melt, then you're ready to eat!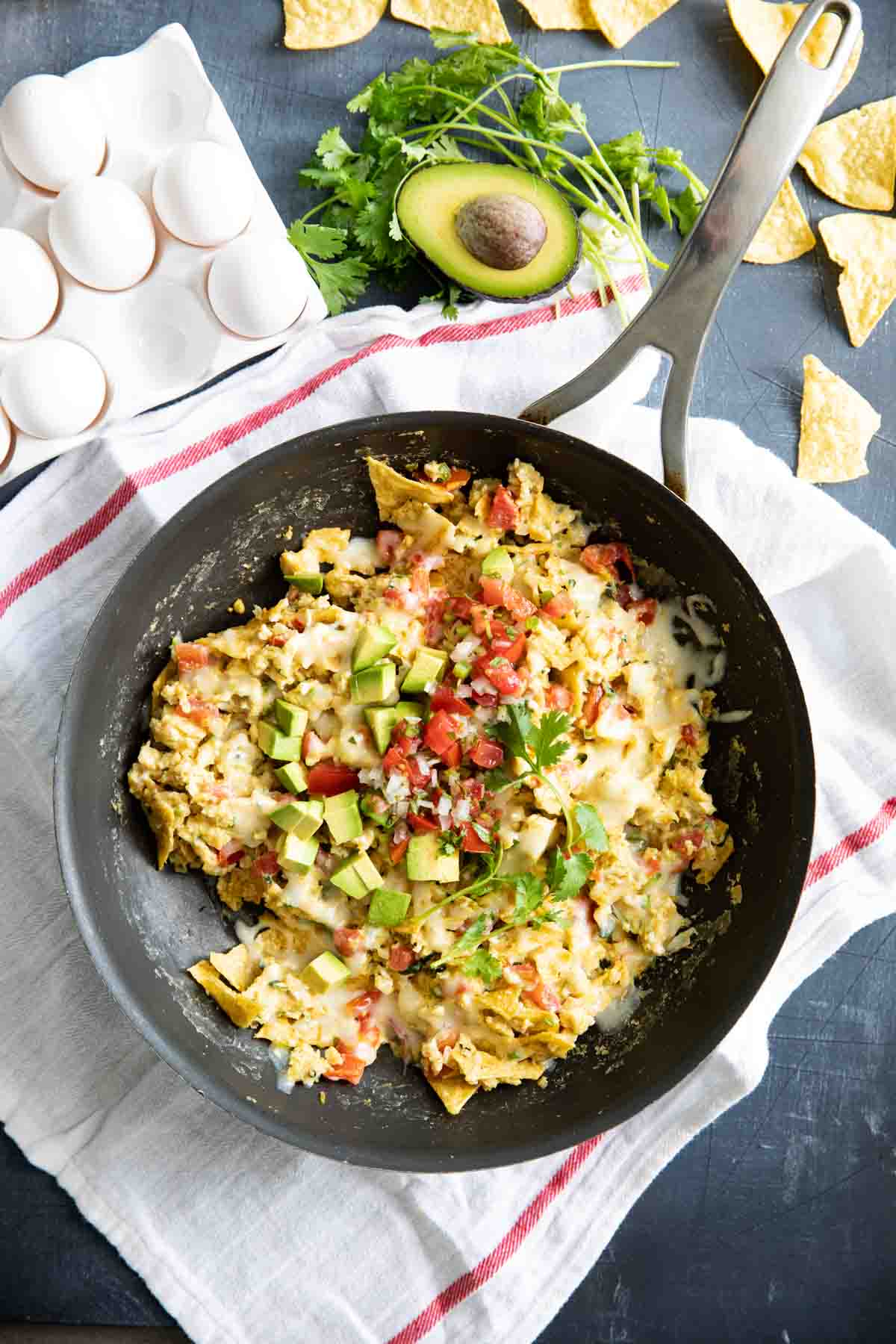 Tips and Tricks
This migas recipe is great for breakfast or brunch, but I love it as an idea for an easy dinner.
If you like it hot, leave the seeds and ribs in the jalapeno. If you want it more mild, remove them.
It's best if you seed your tomatoes before adding them. This just makes it so that there isn't a lot of added moisture. I cut my tomatoes in half and use my finger to scoop out the seeds into the garbage. Then dice the tomatoes.
This recipe is super versatile – there's no need to even measure anything. You can also add in bell pepper, or take out the tomatoes if you don't care for them, or use cheddar cheese instead of Monterey Jack. Make it how you like it!
The toppings are one of my favorite parts of this meal – I love extra cilantro, diced avocado and fresh pico de gallo. You could also add guacamole, sour cream, queso fresco, sliced green onions – basically anything you love. I've even seen them served with a serving of refried beans on the side.
These are best served right after making them. The longer they sit, the soggier the tortilla chips get, and it's definitely best when they still have some crunch to them.
More Tex-Mex Recipes
Beef Enchilada Casserole
Crispy Shrimp Taco Recipe
Tex-Mex Bacon Cheeseburgers
Southwest Egg Rolls
Chicken Chimichanga Recipe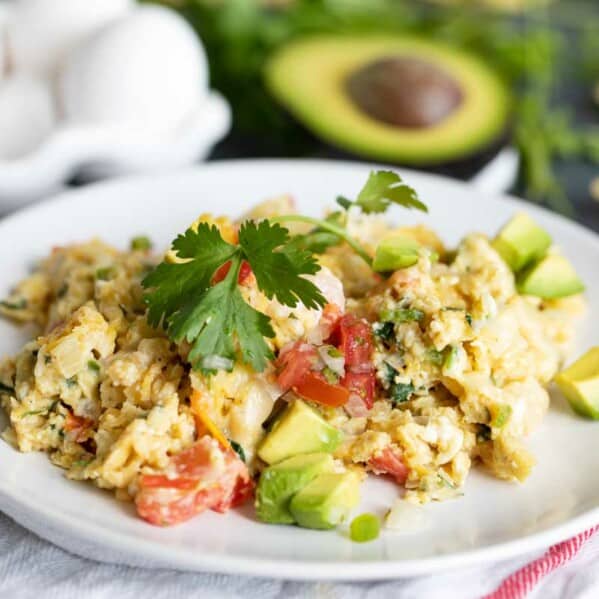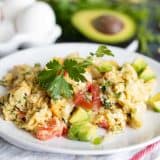 Migas Recipe
---
Author:
Prep Time: 15 minutes
Cook Time: 15 minutes
Total Time: 30 minutes
Yield: 4 servings 1x
Category: Breakfast
Method: Stove Top
Cuisine: Mexican
Description
This Migas recipe makes a breakfast with Tex-Mex flair! Eggs, tortilla chips, and a little bit of spice, all in an easy 1 skillet meal.
---
Scale
Ingredients
1 tablespoon extra virgin olive oil
1 small onion (or half of 1 medium), chopped
1 jalapeño, chopped (seeds and membranes removed for less heat)
2 cloves garlic, minced
Handful of cilantro, chopped
2 tomatoes, seeded and chopped
12 large eggs
1 tablespoon hot sauce
A few handfuls of tortilla chips (about 3 ounces)
1 cup (4 oz) shredded Monterey Jack cheese
Toppings – additional cilantro, diced avocado, pico de gallo, etc. (optional)
---
Instructions
Heat the oil in a large nonstick skillet over medium-high heat.
Add the onion, jalapeño, garlic and cilantro. Cook stirring occasionally, until softened, about 5 minutes.
Add the tomatoes and cook for another minute.
In a bowl, whisk the eggs with the hot sauce and season with salt and pepper.
Pour the egg mixture into the skillet and scramble according to your desired doneness. Turn off the heat.
Lightly crush the tortilla chips and add them to the skillet. Stir them in.
Top with the shredded cheese and cover the skillet until the cheese is melted.
Top with cilantro, avocado, or pico de gallo to serve.
Recipe Notes:
The recipe that was published here originally started with frying corn tortilla pieces in oil, then adding the other ingredients. This updated version just adds tortilla chips towards the end to make it easier and faster.
Nutrition information provided as an estimate only. Various brands and products can change the counts. Any nutritional information should only be used as a general guideline. Nutrition information does not include toppings.
Nutrition
Serving Size: 1/4 of recipe
Calories: 474
Sugar: 1 g
Sodium: 563 mg
Fat: 34 g
Saturated Fat: 10 g
Unsaturated Fat: 3 g
Trans Fat: 0 g
Carbohydrates: 17 g
Fiber: 2 g
Protein: 27 g
Cholesterol: 580 mg
Keywords: migas, migas recipe